10 Cocktails Tailor Made for the Modern 'Man'
Not dogs, but Jack and Jim are man's best friends. After all, from fictional characters to real-life inspirations, alcohol has been a significant part of our lives. This article looks into the history, influences, and preparations of the various forms of liquor which, for any mood or place, you probably should make.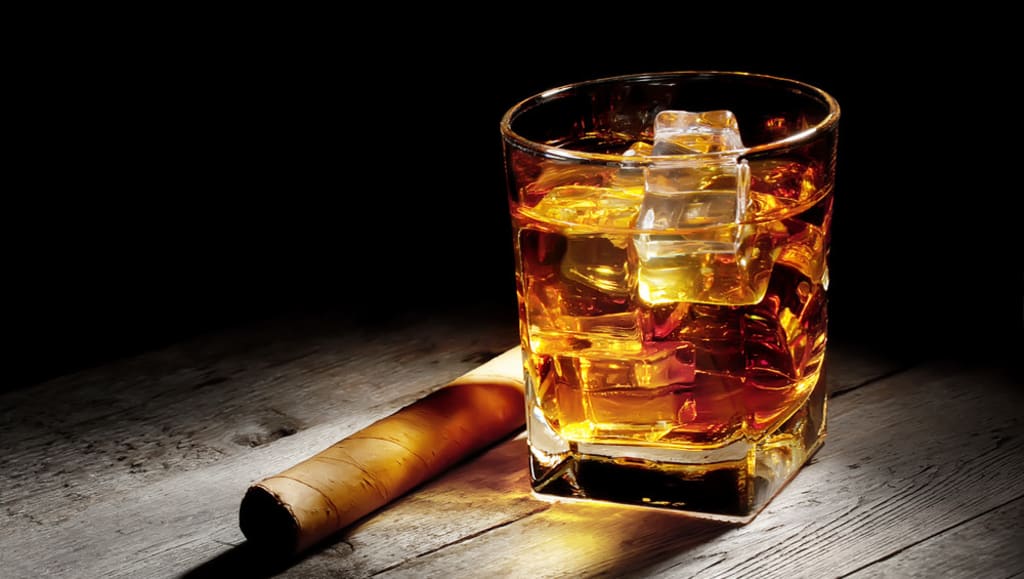 Fragile masculinity aside, men are typically (and biologically) known to consume, quite the variety of cocktails. Below is an (almost) exhaustible list of drinks, cocktails or just straight-on pleasures that you need to have in your closet—either for a lone night in, or for partying with the 'lads.'Cheers, let's get started.
1. Scotch on the Rocks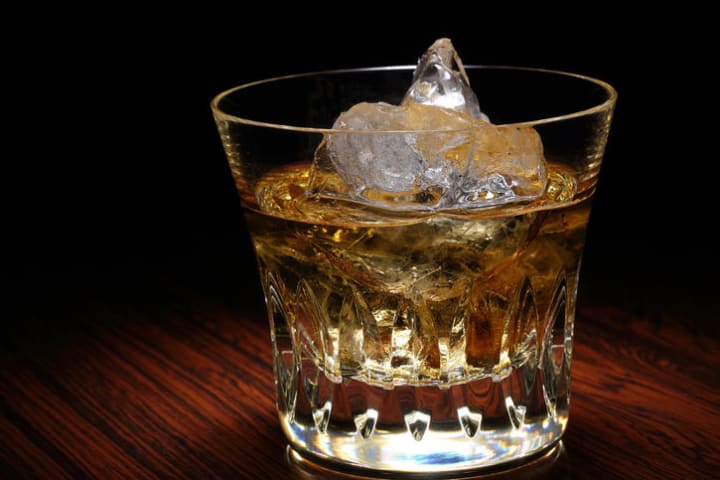 Ingredients:
1-2 oz scotch whisky
2-3 cubes ice
Let's start with the basics, shall we? The classic go-to drink for a night in, you possibly cannot go wrong with this. Any brand will do, but the author would politely recommend getting the popular ones—the Johnny Walkers or Dewar's of this world will always stand by your side no matter what. Serving it with a cube or two of ice elevates this to a whole new level, and sipping it while relaxing on the chair while the blues serenade in the background might well be the quintessential way to unwind. Oh, and don't forget the cigar. Never forget the cigar.
Author's Note: If you fancy a Peaky Blinders' twist, use Irish whisky instead of scotch (preferably, a fruitier brand such as Paddy's)—it provides a different, deeper flavour that goes very well with ice. After all, if Tommy Shelby tells us to do something, we should probably do it.
2. White Russian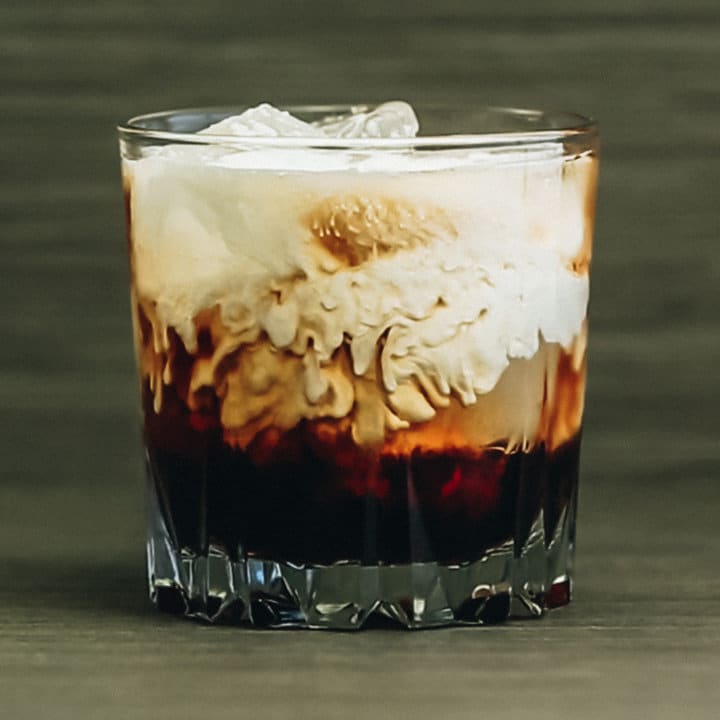 Ingredients:
1 oz vodka
1 oz Kahlua/coffee liquor
1 oz ounce fresh cream
This was popularized by Jeff Bridges in The Big Lebowski (an incredible movie, I highly recommend a watch), where it has been referred to as the drink of the dude. The combination might sound weird, but by Jove does it produce a good drink! You'll get enough alcohol with the vodka and the coffee liquor, and the cream at the end adds that subtle flavor and makes the drink turn quite delicious. A couple glasses of this wouldn't hurt your throat, and will get you to a nice, mellow state. But we can't be blamed for abiding by the rules of His Dudeness, can we?
3. Irish Car Bomb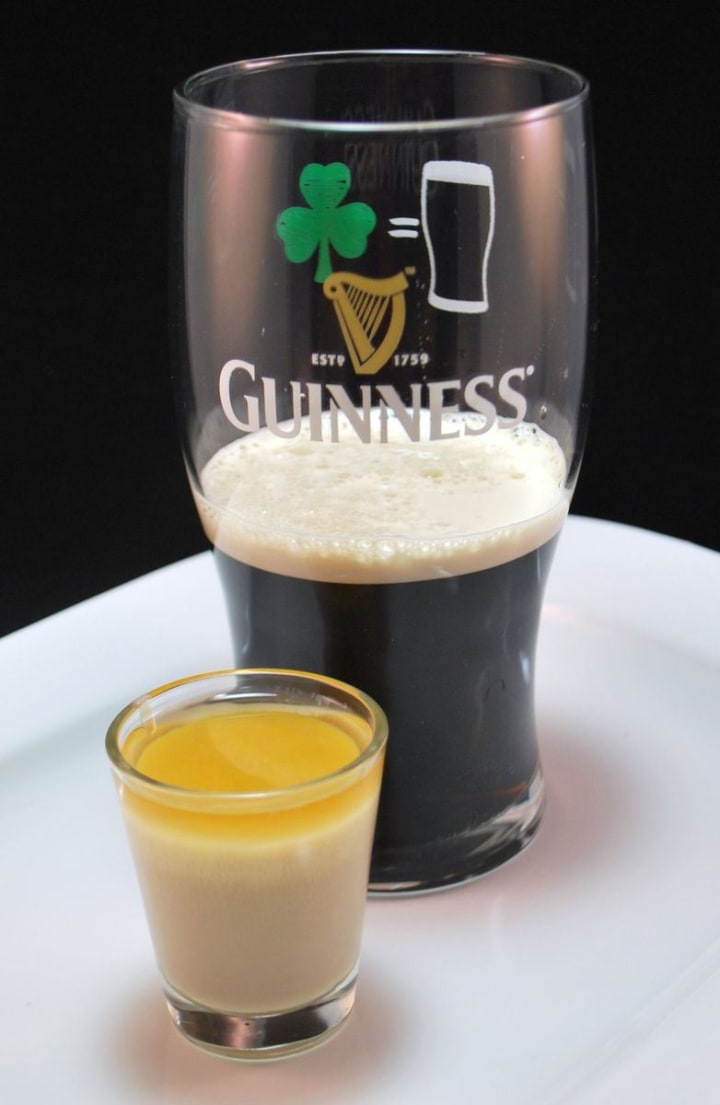 Ingredients:
3/4 pint Guinness (stout)
1/2 shot Irish whisky
1/2 shot Irish Cream
If there's any cocktail which screams 'Irish' it is definitely this one. Everyone's discouraged strongly to order this drink at any pub in—this one sadly has a very dark past. As the name suggests, it's a stark reminder of the bombings during Ireland's times of conflict during the 70s and 80s. In any case, this drink is a winner. My Irish friends have always reminded me that even though the choice of whisky or cream might differ, the beer has to be Guinness—the yellowish hue of the cocktail is due to the specific stout-like properties of the beer. So grab a pint like the Kingsmen do, and drink up!
4. Old Fashioned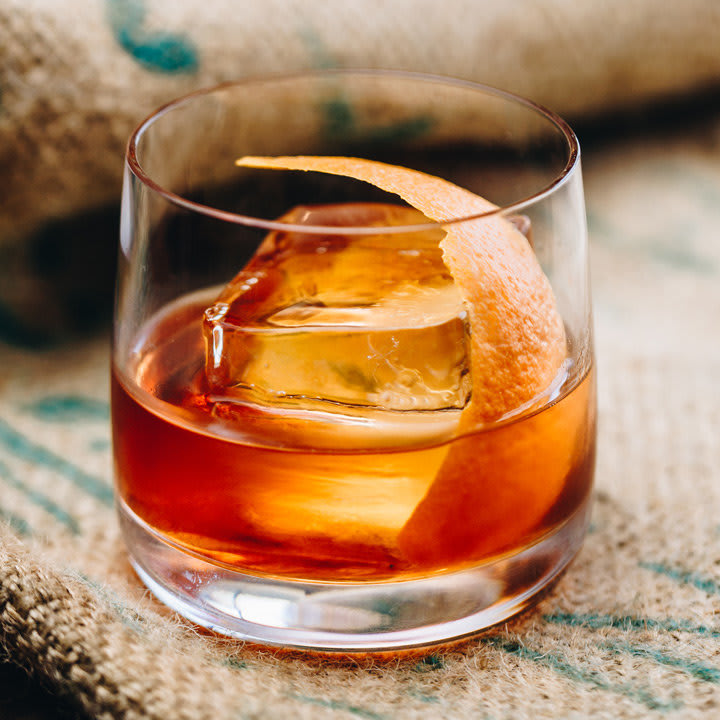 Ingredients:
2 oz bourbon
1/2 tsp sugar
1 tsp water
3-4 dashes Angostura bitters
This list cannot, cannot be completed with the classic Old Fashioned. This one has been made incredibly popular by the magnanimous Don Draper from Mad Men, but actually was a pretty famous drink in the United States in the early 20th century.The actual fixing of the drink is pretty simple—first the sugar, bitters and water need to be mixed thoroughly inside the rocks glass. Then, ice and bourbon are added accordingly, and after mixing it one last time, twist an orange peel to release the essential oils, and just drop it inside!
Author's Note:
If you're brave, use plain rye. It's succinctly less sweet as compared to bourbon, and gives a drier, spicier taste—after all, Draper did tell us to use rye if we're 'damn out of bourbon.' If you're too worried about the overwhelming alcohol burn, just add a bit more sugar!
5. The Vesper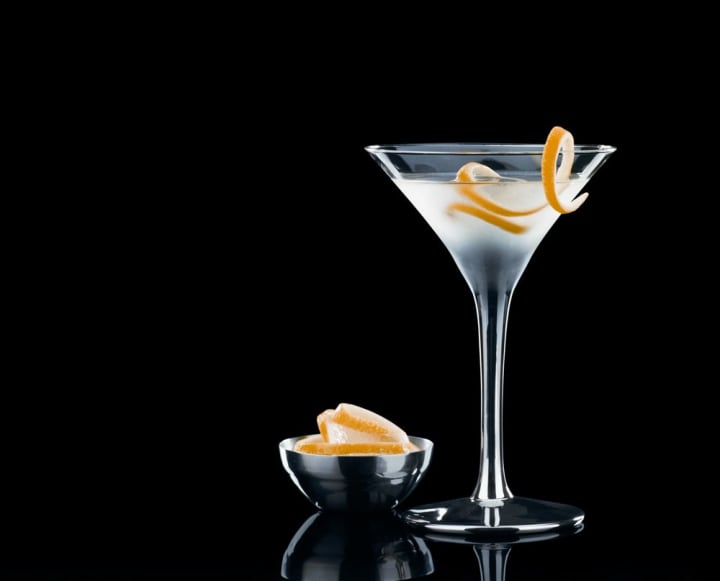 Ingredients:
3 oz Gin
1 oz Vodka
1/2 oz Lillet
Yep, you know it. Shaken, not stirred.
James Bond's classic has reverberated throughout the generations as the classy man's drink. Any variety of gin will do, although Bond, ironic in hindsight, uses Gordon's—quite a cheap brand. As well as that, many might not be familiar with Lillet, so a quick heads-up. Lillet is a sort of a wine-based aperitif (a drink consumed before/after a meal as a digestive) based out of France. It has many varieties, but Kina Lillet, the one Bond requests, is unfortunately not available anymore. So, use a Lillet Blanc Bordeaux—it can be used as a stand-alone drink as well in fact.
For a cocktail revered so much, this gin martini is surprisingly easy to make. Simply combine the ingredients, shake well, strain, and add a lemon twist at the end. Deceptive, I know.
Kinda like the man himself!
6. Gin and Tonic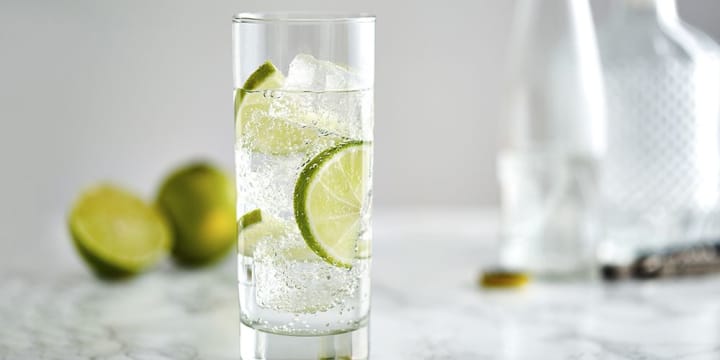 Ingredients:
1.5 oz gin
1.5 oz tonic water
Lemon or lime wedge
2 ice cubes
Probably the simplest and most refreshing cocktail on this list, this drink, first introduced by the British in India, is perfect for all seasons, but a pleasant summer evening is undoubtedly the best time to have it. Ice is very important to be added after the gin and before the tonic water, so the flavour of the gin can seep into the ice before the tonic water acts upon it. The garnish is equally important too, because the lemon (or lime) acts on the flavours to give it a nice, citrusy feel. It's also a very good choice to order at a bar—the flavour of this cocktail will probably wipe out the bad taste in your mouth with all the pre-gaming. Sounds good, eh?
7. Cuba Libre
Ingredients:
2 oz spiced rum
4-6 oz Coca Cola
1 ice cube
Relax, it's just a fancy term for the tried and tested favourite which all of us have probably made atleast once—the Rum & Coke. Being ranked the #1 Most Ordered Drink by the New York Times isn't a mean feat, but a drink this simple yet so extraordinary is coveted by most connoisseurs. The tricky thing here is the proportion. For a spiced rum like Captain Morgan, the ratio of rum to coke is better kept at 1:3 to not over-burn the drink with the alcohol. However, for a normal, lighter rum, 1:2 is probably the way to go.
Opinions differ with regards to the best way of making it, but the author finds that pouring in coke over a highball glass filled with rum and ice and garnishing with a slightly twisted lemon/lime wedge works perfectly, lending a hint of an acidic taste to the cocktail.
Bartenders also swear by the soft drink, a particular one in DC vehemently informing me that Pepsi simply will not do. 'Coke or nothing,' he said.
I suggest everyone to follow suit.
8. Sidecar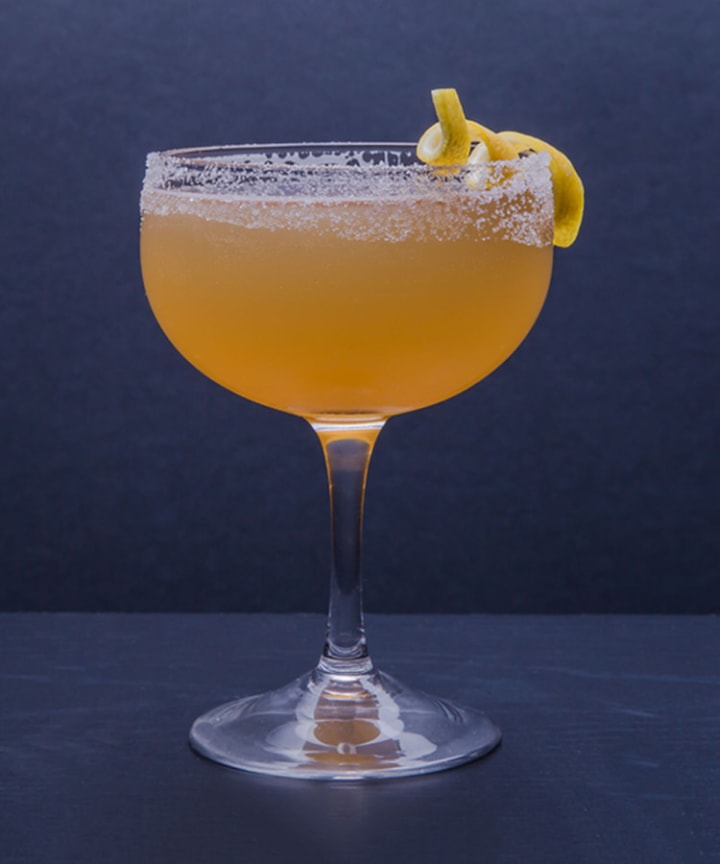 Ingredients:
2 oz cognac/brandy
1 oz orange liqueur
0.75 oz lemon juice
This is another one of those drinks which are deceptively simple to make, but taste quite amazing. Nobody's quite sure about the origin of the Sidecar, but it has been known to dominate the bar scenes in Paris, London and Lyons during the early 1920s—indeed, it was featured in the film Midnight in Paris too. Brandy, a classic English drink mostly used to treat the cold, was initially used, but nowadays people tend to go for the French version, Cognac, which gives it a more wine-based aftertaste.
Making the cocktail is as simple as shaking the ingredients vigorously over ice, but many variants suggest a finer approach. It entails a almost Margarita-like approach—run a slit lemon wedge along the rims of the glass, dip the rim in sugar lightly, and chill the glass for around 5-10 minutes. This guarantees a sweet taste in the mouth before the cocktail's flavours, and makes for a very enjoyable drink if prepared correctly.
But even if you don't do the dipping stuff, it's still a delicious cocktail which will leave a orange-flavoured kick in your mouth.
9. Tom Collins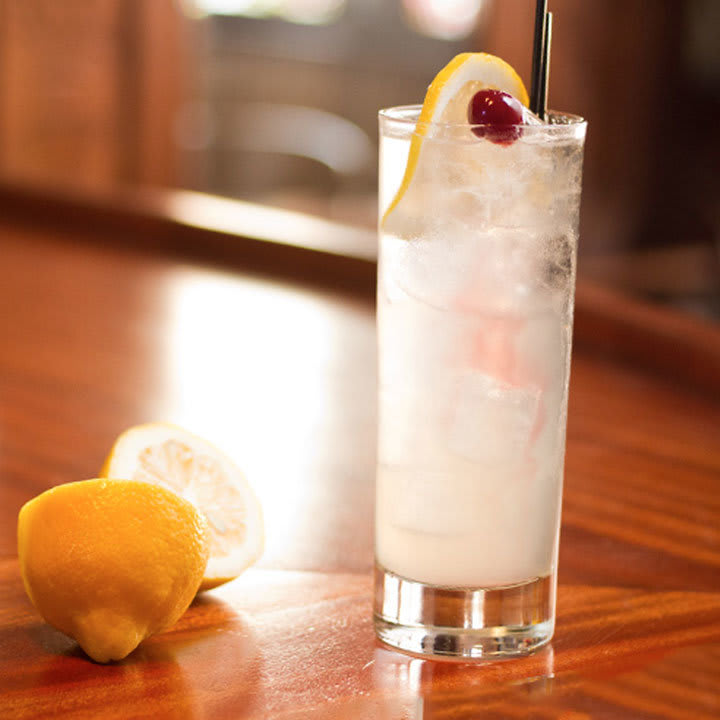 Ingredients:
1.5 oz gin
3/4 oz lemon juice
3/4 oz simple syrup
2 oz club soda
2 cherries
1 and 1/2 cups ice
There have been discrepancies regarding who invented this drink, with the British claiming in 1891 that it was their invention, named after John Collins. But it has been agreed upon that it was founded in 1876 by Jerry Thomas, a very influential figure in American mixology. Regardless, this is the said to be the drink of choice of the Wall Street hotshots in the mid-1980s, and why not!
To make this, shake the fluids with ice, drain it into a chilled glass and pour club soda on top. It is recommended to garnish this with a couple of cherries, and if you want to, a wedge of lemon. Don't have syrup? Just combine equal parts of water and superfine sugar!
If you're looking to 'drink healthy' or whatever that is, this drink is low-sodium and relatively low on calories. So, worth it.
10. Classic Manhattan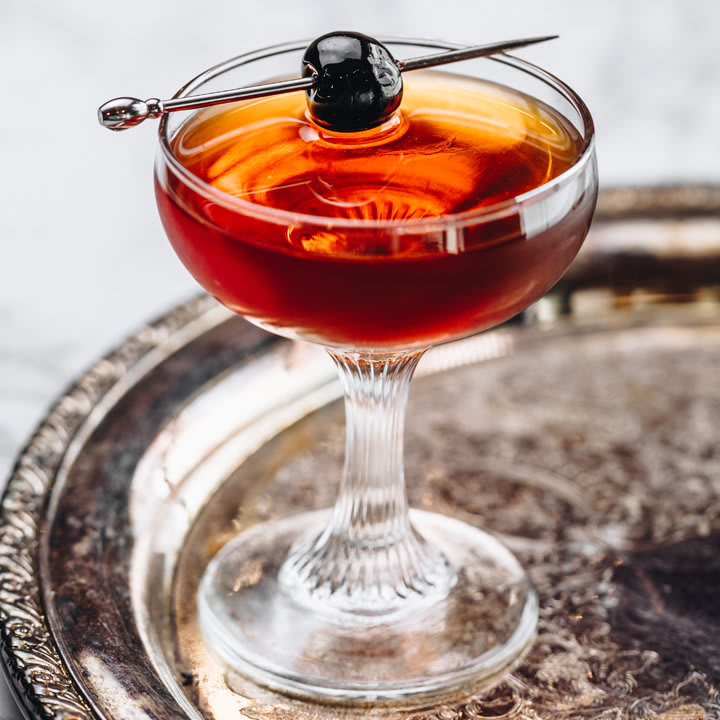 Ingredients:
2 oz rye whiskey
1 oz sweet vermouth
1-2 dashes bitters
Orange peel
Maraschino cherries
Another American classic, this is said to have started from the Manhattan Club in New York City, although that claim is disputed. Rye is the preferred variety, particularly due to its density of flavour and its excellent combination with vermouth. The composition is very similar to the Old Fashioned, except that the maraschino cherries give it a distinct, fruity taste. If you don't have maraschino cherries at hand, simply mix together some cherries with either maraschino juice, or some sort of orange liqueur—it won't be the same, but it'll still be pretty damned good. Another version is the Rob Roy, predominant in Scotland, but they use scotch instead of rye.
Author's Note: If you're in for some risk, use Canadian whiskey instead of rye, which is what was used during the Prohibition in the 1920s. Definitely worth it, though.
So, this is the list of 10 of the best cocktails for the world of both the brooding or partying man, and everyone in between.
Of course, anyone regardless of their gender can make these and have a good time. There are a lot more excellent cocktails which fit the description, and hopefully they're for another day. As of now, I hope you all enjoy making these at home, or ordering them at the bars.
And I end with the usual warning.
Drink 'responsibly!'
list
(Blissfully unaware) researcher, (9 countries and counting) traveler, (tactfully un-eloquent) orator, (with an unfinished novella) writer, (eastern-music-loving) singer, and (next-door) charmer.
Instagram : theshaunak_insta
Receive stories by Shaun Mukherjee in

your feed