10 Aperitif Cocktails You Need to Try
Want to kick it old school with fine pre-dinner drinks? Aperitif cocktails whet appetites and give you a nice buzz.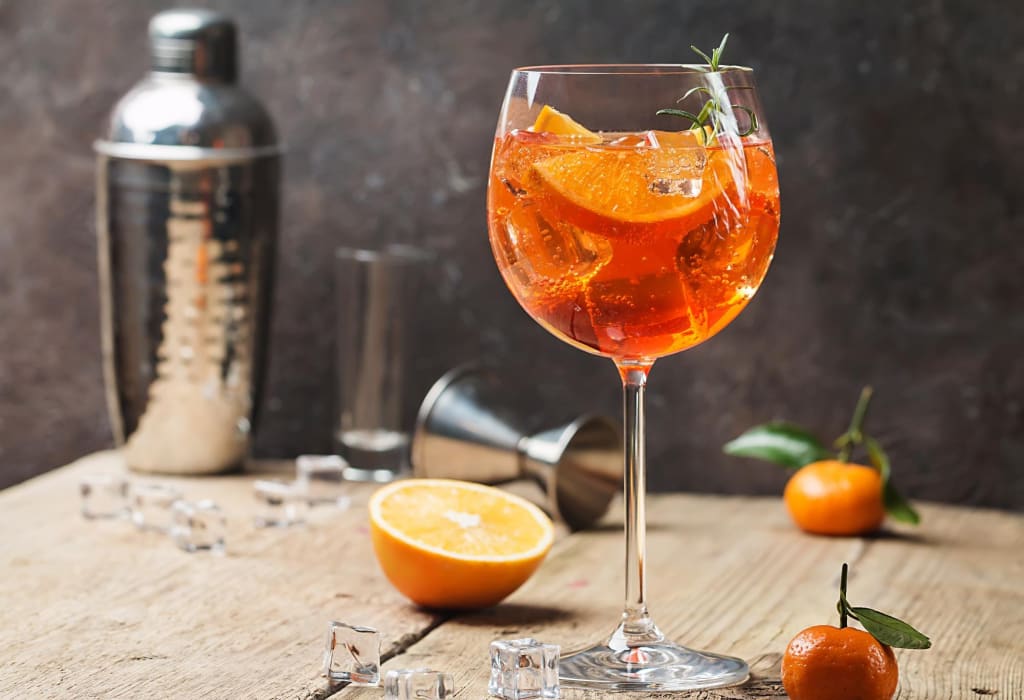 Far be it from me to sound like Mugatu, but aperitif cocktails are so hot right now. They are light drinks that pair well with appetizers, look amazing, and can also be made quickly enough for a larger dinner party.
You see, an aperitif is a cocktail that is meant to whet your appetite right before a big meal. They aren't as heavy or hearty as a typical glass of dry red, nor are they as cloyingly sweet as dessert drinks. They are crisp, often savory, and were created to help you unwind.
The aperitifs of yesteryear were either really good or absolutely terrible libations that used too much Fino sherry for anything else to make a flavorful impact on its way down. Bad aperitifs are something of nightmares. Good ones are a bar fiend's dream come true.
A good aperitif is something everyone should try at least once, especially if you're a fan of retro cocktails like myself. Here are my personal picks for the best aperitif recipes you can drink—as well as why you'll love them.
With a name like Rivington Punch, you totally have to expect this to be an old school drink—and it is, too. This is one of the most popular aperitif cocktails that blends Aperol and a wine spritzer for a savory and refreshing blast.
If you want to wow guests with an amazing "opening drink," you really can't go wrong with this country club classic. It pairs amazingly well with steak, but can also go well with salads thanks to that splash of St. Germain in it.
If you've been wandering around the hottest speakeasies in Brooklyn, you are probably already well-versed with the Negroni. Campari is what makes this cocktail stand out, and man, does it ever do a good job of it!
This heady cocktail is ideal for people who want to have a classic drink that's complex and flavorful, without actually sitting in your stomach. It looks gorgeous, too, which can be credited to the sweet vermouth.
Once relegated to the realm of bars serving septuagenarians, the Aperol Spritz is starting to get the love it always deserved. If you're a fan of earthier herbs and spices, you'll understand why this classic cocktail is seeing a resurgence.
You see, Aperol Spritzes are made with a bitter, orange liqueur that was specifically made for aperitif cocktails called Aperol. It's an acquired taste for most, but absolutely a taste worth acquiring since it's one of the all time great classic cocktails you can drink.
I'm just saying, there's a reason why it's one of the most popular drinks in Italy.
A lot of Campari cocktails rank highly among the most popular aperitif cocktails you can create. This cocktail isn't just a cocktail with Campari; it's the OG cocktail.
Campari is one of the most popular aperitifs on the market. This juicy cocktail proves why, and oh God, you haven't lived until you've had a sip of a classic Campari Cocktail while eating egg rolls.
The Aviation is a personal favorite of mine, and not just because of its pretty purplish-blue color. I'm also a fan of the history behind the drink. The Aviation was one of the first blue-hued cocktails ever made, and actually gained its popularity because of its violet-blue shade back in the 20s.
A little bit of violet liqueur is what gave it a splash of color, but surprisingly, this cocktail isn't overly sweet. It goes very well with fruit salads, and will start the conversation up among dinner guests because of its unique appearance. They'll probably be talking about this fun party drink that everyone will love long after your party ends, too!
Gin is a main ingredient among many aperitif cocktails on this list, and it's for good reason. Vodka can be too harsh and heavy. Gin is both light and satisfying, has a little bit of an herbal kick, and mixes well with actual aperitif liqueurs.
A Gimlet is just as easy to make as it is impressively tasty. All you need is some gin and your favorite lime liqueur. In the United Kingdom, this cocktail is a staple for dinner parties and summer outings. Once you sip it, you'll understand why.
It's really rare to find a light cocktail that still has a creamy, slightly nutty profile. This pretty, pinkish-red drink gets its color from crème de noyaux, a very obscure liqueur that's typically only used in upscale bars.
Most cocktails that have this pinky-creamy appearance are very sugary, but don't let the cutesy look of the Pink Squirrel fool you. This drink is actually more herbal, savory, and nutty than anything else. But you'll just have to taste test it yourself to find out just how good this can be with dessert.
Unlike a lot of the pre-dinner drinks that have become bar staples, the High Horse wasn't invented in the early 30s. This was a fairly recent invention by the New York City bar, Death and Co.
It uses a nice splash of sweet vermouth, Kirsch, and aged rum to create a potent drink that's best sipped slowly. Trust me, you're going to want to savor that flavor.
One of the things I love about aperitifs is the sheer number of different colors they come in. For every drink that looks like a carbon copy of a Manhattan, there's another that has a beautiful, almost surreal shade to it.
The Grasshopper is green, light, and minty. Though it's considered to be a pre-dinner drink, I usually would suggest this as a dessert drink because it's so sweet.
When I have a rough day at work, few (if any) aperitifs are as adept at making me smile as is a Kir Royale. This is a simple mix of sparkling wine and raspberry liqueur. I freeze real berries ahead of time so that I can add them into mine. It just makes this low-calorie summer cocktail that much better.
Anyone who loves berry flavors needs to give this a try. It's one of my favorite aperitif cocktails to come home to, and one of the best ones I like to make for parties.