Cake of the Gods
It's not every day Cupid walks into my café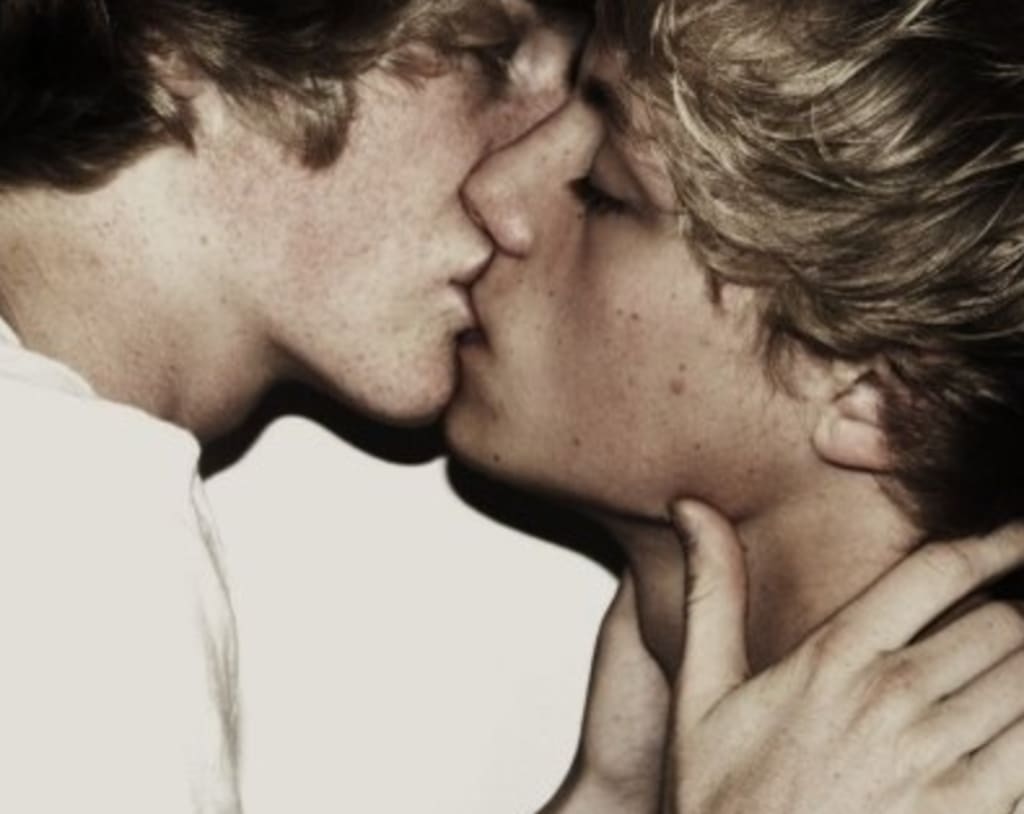 "Delivery's here!" Marnie called from the back of the shop. I frowned – we weren't due a delivery till Thursday. Probably another mix-up at the suppliers.
"Take over here, I'll go deal with it!" I told her, leaving the counter and heading out back.
I glanced up and down the back alley in confusion. There was no sign of Preston's delivery van, only some dude on a shiny red Suzuki. He took off his helmet, shaking his head, dark curly hair falling to his collar like a guy in a perfume advert. He smiled at me, and my pulse quickened. Wow. What a perfect smile – no way was this guy just a courier. Must be a wannabe actor with a part-time gig to pay the rent. L. A was full of them. With those sparkling green eyes and that tiny scar on his chin, he was going places for sure.
"Delivery for Cupid's Café?" He said, climbing off the bike and reaching into his pannier for a small package.
"Right, that's us… but I don't think I ordered anything…" I trailed off, admiring the easy way he walked, his tight gray-washed jeans and dusty black biker boots. He laughed, a dimple appearing in his left cheek.
"We get that all the time. Bakers ordering special ingredients out of season. You probably placed the request last year – we can only fulfill a few orders, these things are rarer than white truffles."
Now I was really confused. Whatever was in the box, it sounded expensive. "Can I see the order form?"
"I don't have it, I'm afraid… must have left it back at the depot. It's already paid for though – just need a signature…" He ran a hand through his luscious locks and handed me his electronic signature pad. I felt a tingle as our fingers brushed, and knew I must be blushing. It's hard to hide when you're as blonde as I am.
He handed me the small brown box and squinted at my handwriting. "Gabriel?" He asked. "Nice name, though I had you down as more of an Apollo."
Is he flirting with me?!
I watched as he swung his leg over the bike, kicking the support up and revving the engine.
"Word of advice with the chocolate – a little goes a long way." He put on his helmet, lowering the visor.
He's about to leave! Say something!
"Why don't you come by tomorrow, be my taste-tester?" I asked, feeling the blood rush to my cheeks.
"Hmmm, maybe I will!" He waved, and disappeared around the corner, leaving me open-mouthed and wondering if he was even real.
Back in the kitchen, I opened the package. Inside was a kilo of what appeared to be chocolate, a pale pink colored block. Ruby chocolate was fairly new, and still fashionable in L.A. But I already had several pounds of that in stock, it wasn't that rare really. What made this one special? I turned over the plastic-wrapped chunk, looking for the label. "Arcadia," it said on the back and no list of ingredients. That wasn't good – all products needed to be FDA approved for use in the bakery. Still, maybe it was an oversight. I opened the wrapper, cutting a tiny corner off the block and letting it melt on my tongue.
Wow! This was definitely not ruby chocolate – the distinctive berry flavor absent. If anything it tasted more like a cup of Mexican hot chocolate, spicy and with a slight kick in the endnote. It was creamy and tantalizing and just sweet enough without being sickly. No wonder it was so special!
Marnie came through, curious. "You've been out here for ages, Gabe. I'm run off my feet out there… what have you got?" She came over, and I gave her a small flake of the candy.
"Why so stingy? This is delicious!" she exclaimed, reaching for more.
I slapped her hand away. "Hands off! It's super rare and expensive, apparently. I haven't decided what I'm going to do with it yet."
"Well, decide later. Get your butt out front and help me out – I'm too old for this." She grumbled, and I followed her out front.
As the day drew on I couldn't get the courier out of my mind. I found myself daydreaming as I served cupcakes and lemon bars to the patrons. I should have asked for his number.
Marnie was acting strangely, too. I watched as she sat down at one of the tables out front on the patio, joining Joe, a regular. He came in every day at 5 pm on his way home from work, always sitting in the same spot and ordering the same thing – a mocha latte and Marnie's special cherry shortbread. It looked like she'd slipped him an extra slice today. Joe wasn't unattractive, for an older guy. Sort of a silver fox, if you liked that sort of thing. Was Marnie actually flirting? Wow, in the six years since her husband Fred died I'd never seen her like this. She looked almost young as she tossed her head and laughed, placing a hand over Joe's on the tabletop. Cute.
We closed up shop at 7 pm, and I couldn't resist teasing her. "You and Joe looked awfully cozy there. Do I hear wedding bells in the future?"
"Oh, hush child! Don't give me that cheek." She tried to sound angry, but she was smiling too much. "Actually though, he did ask me to go on a date with him on Friday. He has tickets for Bruce Springsteen – how could I say no to that?"
"Hmmm, sure – can't let The Boss down. I'm sure that's the only reason you said yes."
She swatted me with her wet dishcloth. "Joe's a nice guy. He's always polite and he tips well."
"I'm happy for you, Marnie. It's about time you started living again." I meant it. Fred would have wanted her to be happy.
Next morning I was in at 4 am. Since the café had become a success I no longer had to do all the baking myself, leaving the majority of it to my night team. But I was too excited to sleep in – the mystery chocolate calling to me. I wanted to come up with something really special. I went through my old recipe folder, considering adaptations of my muffins or brownies. Not exciting enough. I wanted something decadent and gooey, something that made love to your senses.
A chocolate mousse cake. I whistled to myself as I mixed the batter, adding egg whites to keep the sponge light and airy. Now a rich, dark chocolate ganache layer – not too thick. Some more sponge, then a layer of pureed raspberries for a kick of acidity. More cake, and a light milk chocolate mousse on the top, whipped to perfection and filled with bubbles. All well and good, but I hadn't used the special chocolate yet. I melted a chunk with heavy cream, adding light pink swirls on to the top for decoration. I admired my work – it was truly beautiful, a sumptuous and decadent dessert.
Marnie came in, and the shop opened. We had a rush on our Pride-themed treats – the frog and toadstool-shaped cupcakes selling out first to those in the know, while Soccer-Moms dropped in for the rainbow cookies and sprinkle cakes to support their LGBT kids. I was on edge all day, waiting, hoping that the messenger would walk through the door.
As 5 pm drew near, Marnie grabbed my arm. "Are you going to cut up that cake or what? I'm dying for a taste, and it won't be as good tomorrow."
I hesitated. I'd really wanted to save it in case he showed up, but as the clock ticked on I had to concede it was looking unlikely. I sighed.
"Go ahead and slice it then, I guess. But save a piece back for… me."
Over the next hour, a steady trickle of customers chose my mousse cake, and I watched with pride at the looks of joy on their faces as they took their first bite.
"It's a big hit," Marnie said, taking one of the last slices and heading off to Joe's table. "You'll have to put it on the menu."
I looked around the room, noticing something strange taking place. The patrons were the usual eclectic lot – street musicians in boho dresses and corduroy pants, businesswomen and construction workers on a break… usually they all sat alone at the counter, or awkwardly shared tables with the safety barrier of a newspaper or laptop between them.
But today was different. A woman with severe shoulder pads and a navy pencil skirt sat fiddling with her hair like a schoolgirl, chatting and giggling with a dude in dirty overalls. I watched as she took his hand and wrote her digits across his palm, biting her lip seductively as she did it.
And they weren't the only unusual couple. I noticed Mario, the scrawny delivery driver from the Italian across the street making googly eyes at a pretty Asian student, whose pile of textbooks was set aside, unopened.
The two elderly ladies who came in for a cup of tea and a natter once a week were canoodling in the corner booth - funny how I'd never realized they were a couple before. It seemed so obvious, looking back. Outside, Joe and Marnie were holding hands, looking for all the world like a pair of honeymooners.
"Looks like love is in the air," A voice startled me from my whimsy. I looked up, and my eyes met his – the dreamy biker from the day before! He looked around the busy café admiringly. "Not sure there's anywhere for me to sit, I take it the chocolate was a big hit."
I nodded. "I only used a tiny bit, in my mousse cake… would you like to try it? I… I saved you a slice."
"Thanks! Sounds amazing." He leaned forwards, reaching a hand out to me over the counter. "I'm Logan, by the way."
I beckoned him around behind the counter, out into the kitchen. "Really? I had you pegged for Cupid."
I took out the last piece of cake, watching as he took a large spoonful and raised it to his full, bow-shaped lips. He closed his eyes as he let the flavors hit his palate. "Mmmm, this is the cake of the Gods for sure! Did you have a piece already?"
"No – I forgot to keep back a slice."
"That's okay, here." He held up the spoon to my mouth, gently sliding it inside. "Isn't it divine?"
The chocolate swirled in my mouth, creamy, rich, and sweet. I had to concede, it was probably the best thing I had ever made. As I swallowed, I felt my pupils dilating, a feeling of intense happiness swelling within me. "What is in that chocolate, Logan? Is it some kind of aphrodisiac?"
He grinned. "No, not really. But the locals who harvest the beans say it is a stress inhibitor… it helps release our natural urges, makes us more open to our secret desires and pleasures."
"And what's your secret desire?" I asked him, my head spinning as I dropped the spoon and reached for him.
"Oh, I think you know," he replied softly, as we melted together in our first, chocolate-coated kiss.
About the Creator
Angel Whelan writes the kind of stories that once had her checking her closet each night, afraid to switch off the light.
Finalist in the Vocal Plus and Return of The Night Owl challenges.
Reader insights
Be the first to share your insights about this piece.
Add your insights