Book Review: Craig Silvey's HONEYBEE
"Find out who you are and live that life"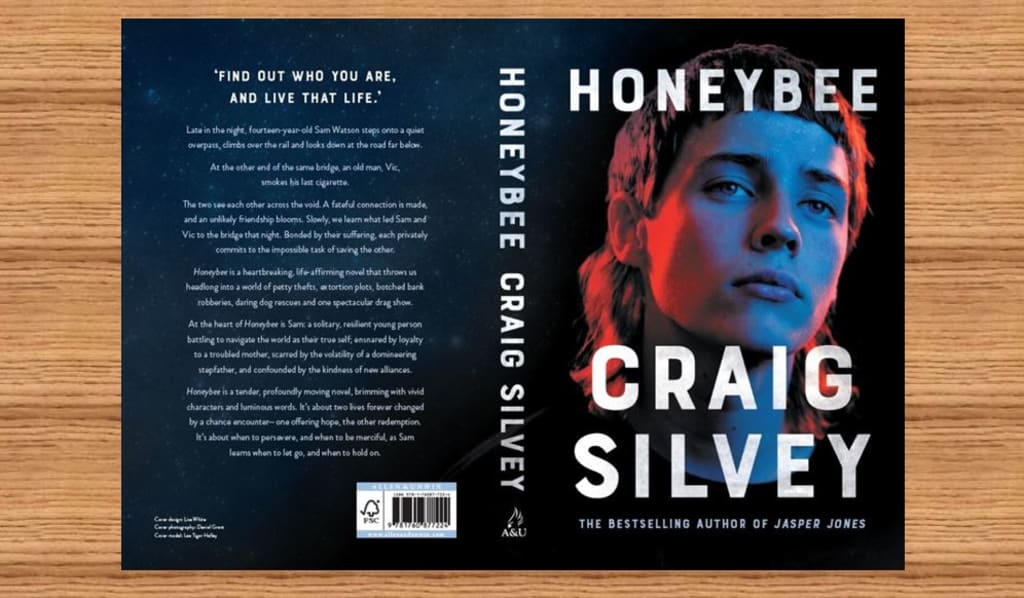 After having read the blurb on the back cover of Craig Silvey's HONEYBEE, I have to admit that after I had finished reading it this novel was definitely not what I had expected . . . but I mean that in a good way, of course!
I had fallen in love with Silvey's previous novel, JASPER JONES, which is now considered a modern-day Australian classic, and had been eagerly looking forward to a follow-up – it had been eleven years after all – so just as soon as I heard that a new novel had been released, I was straight down to the bookstore. Picking up a copy and reading the back cover I skimmed the blurb which outlined the story, part of which read . . .
"Honeybee is a heartbreaking, life-affirming novel that throws us headlong into a world of petty thefts, extortion plots, botched bank robberies, daring dog rescues and one spectacular drag show."
Now if that doesn't sound interesting, I don't know what would!
In my haste to skim through the blurb, however, what I didn't fully take in were the statements which read, "Find out who you are, and live that life", along with the words "true self". That should have given me a clue as to what the story was really about, but in a way I am actually glad that I missed that, because with each new chapter this story unfolded in so many surprising and different ways, taking this reader on a roller-coaster ride that I will long remember.
The novel centers on two lost souls, Sam and Vic, each contemplating the unthinkable when they meet late at night on a bridge.
Narrated by fourteen year old Sam, his story is at times confronting, with suicide attempts, self-harm, substance abuse, a queer bashing and instances of domestic violence; all described in sincere detail through his eyes. Yet at the same time, this story takes the reader on a journey of self-discovery, as Sam searches for a place to belong while also discovering his true self, with just a little bit of help from a diverse range of friends he meets along the way. These friendships, different from any he has previously known, form a secure background against which Sam can come to terms with his turbulent childhood, brutal step-father and crime-riddled life.
Vic is an old man, a widower who, instead of finishing his last cigarette, walks over to Sam, beginning an unlikely friendship as they try to save each other. Sam and Vic bond because they are both suffering and can find no way to deal with the terrible secrets that haunt them. They soon develop an unconventional friendship which becomes a different sort of family when Sam moves into the bedroom Vic once shared with his wife. Vic tolerates Sam's exploration of his late wife's extensive wardrobe, while also benefiting from his young boarder's culinary skills.
A rich cast of neighbourhood characters includes the irrepressible Aggie and her family, who befriend Sam. A neighbour, Mrs Boyd, who takes an unhealthy interest in the comings and goings at Vic's home. A drag-queen, Fella Bitzgerald (a.k.a. Peter), who shows Sam compassion and understanding and a way forward, introducing Sam to therapist Diane who helps him explore the unfolding direction of his life. With both Peter and Diane having lived through adolescence as queer youth, knowing the identity struggle that comes with that first-hand and coming out the other side, their guidance and mentorship to Sam is invaluable.
HONEYBEE also deals with, among other difficult topics, the dysphoria that Sam experiences as his body matures in ways that do not fit with his perception of his gender. It explores issues such as cross-dressing, gender difference, pedophilia and homophobia.
This novel had me hooked from the start and held my attention right to the finish. For those who may be struggling with their identity I can see this story as one which would offer them hope. For those who are unfamiliar with what it means to be a young gay or trans person, then this story is one that will enlighten and educate and is a must read.
Pop Culture
About the author
Aussie, Queer & Country
LGBT themed fiction with an Aussie flavour, reviews, observations and real life LGBT histories.
W: https://ponyboysplace.wordpress.com/vocal-media-index/
https://www.facebook.com/mark.p.peters/
Reader insights
Be the first to share your insights about this piece.
Add your insights