Vh1 Couples Retreat S2E1
MiMi's TV Talk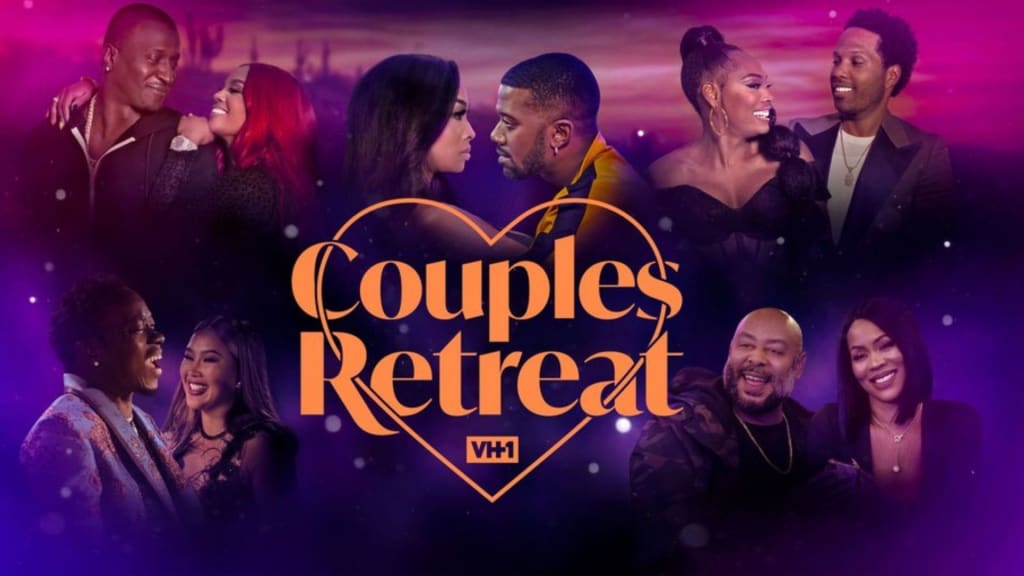 Photo Courtesy: ReelGood.com
Hey…HEY!!! What it DO? How's it goin? How are y'all?
MiMi?
MiMi is shocked 😳cuz I ain't see neither hide nor hair of this show comin until today.
And from what I'm seein, we draggin back couples from the past Love & Hip Hop shows again 🤣🤣🤣 for another retreat.
MiMi was not expecting this😳…at all.
I was just minding my own business lookin for somethin to watch on a random Monday night.Then I look up cuz I hear the voiceover on Vh1 announce it's now:
Level Up Monday's on Vh1
🙋🏻‍♀️ Quick question: Who is leveling up?
MiMi wasn't sure so she researched for more information and came across this synopsis from Paramount Plus:
Three famous couples, aided by life coaches and relationship experts, are ready to open up and have honest, candid conversations about the challenges of intimacy, romance and commitment(Online ParamountPlus).
However I gotta little confession for y'all. I thought folks from the first season were coming back. 🤦🏻‍♀️
So, after MiMi figured out there wasn't gonna be any other familiar couples besides the DeVoes, I Googled this season's show for some research to discern whether or not I know anything about the other "famous couples". According to one description, there are not three but five couples:
🍹Ronnie & Shamira DeVoe 🍹
🎤 Styles P & his wife 🎤
🤷🏻‍♀️Claudia Jordan And KJ🤷🏻‍♀️
🤷🏻‍♀️ Nick Young And Keonna🤷🏻‍♀️
🤷🏻‍♀️Jess Hilarious And Daniel Parsons🤷🏻‍♀️
⏸ 🙋🏻‍♀️Are Michael Blackson and his, now, wife Rada the "life coaches"? Or are the life coaches AJ and John Salley?
Am I supposed to know who Michael Blackson is? 🤦🏻‍♀️🤣🤣🤣. Like besides the fact that I recognize him as a dude from the last season🙄.
Wasn't he on last season? So Michael and Rada got married and now they're qualified to give marital advice? Is this how this show is set up 😳🤣?
All I remember from the show I saw, Michael and Rada I was that Michael has a "contract" with Rada.
Sidebar: Whether this contract is a legally binding document or not is a totally different story.🤷🏻‍♀️
But, from what I understood, this agreement allows Mr. Blackson to have one "side chick a month"as long as she doesn't stay for breakfast?
That's a train wreck waiting to be filmed, so of course Vh1 should film it and show us all🤣🤣🤣
But what concerns me is that their "open relationship" is somehow a qualifier for this couple hosting the retreat. Maybe Michael & Rada are hosting it cuz nobody knows ANY of the other couples 🤣
🚨🌴🌴🌴🚨⬅️
(Majique MiMi shade alert).
For now on when y'all see
🚨🌴🌴🌴🚨… what you're about to read may in fact be shady and inappropriate, but that doesn't mean t'aint true.
🤷🏻‍♀️#ISWISAIIWII
I'm also upset that AJ irks me so much because I have no idea why she irks me. But every time she speaks, I roll my eyes 🙄
🚨🌴🌴🌴🚨
I'm not a fan of Shamari DeVoe at all. Maybe if she sobers up a lil bit, I could tolerate her.But I understand she's been celebrating on vacation from workin so hard being as a founding member of the chart topping group, Blaque.
🚨🌴🌴🌴🚨
It was Blaque right?
🤨🤫🤣 Just checkin, they the ones who sung that "Boom like an 808,"song- right?
The one from back in 1999?
🚨🌴🌴🌴🚨
No not 1999, the Prince album 🤦🏻‍♀️ , if y'all thought that for one moment, y'all should be ashamed. Tap the X on your screen and go to bed 🤣🤣🤣.
🚨🌴🌴🌴🚨
But on some for real stuff, big up to Ronnie for loving his wife so much he hypes her up by announcing her being in an girls group back in the 90's . At home he probably dusts all her awards on the case he made for her by hand 😑
🚨🌴🌴🌴🚨
🙋🏻‍♀️John Salley, 4× NBA champion (1989, 1990, 1996, 2000)is a relationship expert? Since when? And how he know AJ?
AJ is the dark skinned chick from the 1990's classic "film" House Party? In other words, she's not Tisha Campbell. 🤷🏻‍♀️
How and why are either one of them qualified to assist anyone in relationships?
So, because of all of the chopped and screwed commercials shown during this show, MiMi can't tell who is who and what problems they have 🤷🏻‍♀️.
But below are some brief observations:
• I giggle every time a couple mentions "it just feels good to get away without the kids". Then I laugh. #ABFAD
•I think Stylez P and his wife are adorbs.
•I think all of Mrs. DeVoe's problems will be solved as soon as she stops drankin. And, YAS 👏🏼, I meant DRANKIN cuz not for nothin, SHAMIRA DEVOE looks like she stays two ice cubes away from sloshed all the time for no reason.🙄
That's not 🚨🌴🌴🌴🚨. Thems the facts 🤨
And when she did that nasty belch in Ronnie's face and stumbled…that confirmed it🤷🏻‍♀️. Shamira annoys me like Kimbella from #LAHHNY annoyed me.
***At this point MiMi takes a drag offa her German Chocolate 🌱💨 vape and a swig of ice water. Yeah 🤣 I had to. That's how annoyed I am by the first episode of this show.
But I will be back next week, 🤣and hopefully by then I'll get to know who these folk really are and and I find out what they actually do.
✌🏼💜💨
Peace, Love, Exhale
pop culture
About the author
You can call me MiMi. I'm a Brain Aneurysm & Stroke Survivor & Former English Professor. I write to stay sane and to keep gratitude in my Spirit & Praises in my mouth.
Reader insights
Be the first to share your insights about this piece.
Add your insights