Ultimate ​Classic Rock Stoner Songs
Smoke your way up the stairway to heaven with the ultimate list of classic rock stoner songs.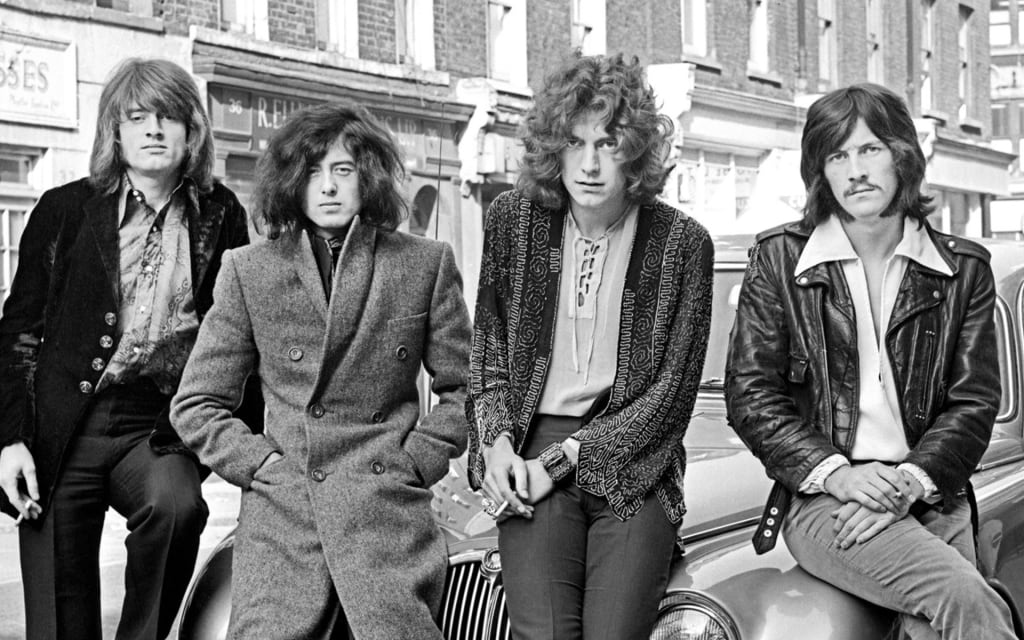 Good music should be enjoyable when you're sober, but some of the best tracks out there are enhanced when you're high. A good high can make the instruments pop in your ears, make you analyze the message the song is trying to send you, and take you on a trip that wouldn't be possible while sober. Classic rock stoner songs present addicting guitar riffs, powerful lyrics, and a party-worthy atmosphere. Classic rock, born from drug use, is the perfect music genre to listen to while high. Here are some songs to get you started.
Is it predictable that we put this song, which is one of the most popular classic rock songs of all time, on this list? Sure. But Led Zeppelin's signature track is great no matter how experienced you are in listening to music high. A gradual progression from a soft guitar and flute to an all-out guitar solo, accompanied by lyrics that seem straight out of Lord of the Rings (this is no coincidence) will blow anyone's mind—high or not. At eight minutes, the ride is perfect, as the song length is neither too long nor too short.
Any song by The Doors is good to toke up to, but "Light My Fire" still reigns supreme as the number one song to, well, light your fire. Like "Stairway," the album version is lengthy (around seven minutes). However, the song is not so long that newcomers to classic will get overwhelmed. Lyrically, the song isn't anything too deep. It's just about sex! What makes this song is the keyboarding. The Doors always had their signature keyboards that sound like no other band, and this song has a lengthy keyboard solo that takes the fire and turns it into an explosion.
Have you ever missed someone? A friend that lost his way, whom you wish would return so things could go back to how they used to be? Or maybe an old flame? Or perhaps someone whom you're still friends with or dating, but is currently far away? This song has you covered. Its signature guitar riffs give you a feeling of nostalgia. When you're high, you'll feel reminiscent of times long gone, as you and your pal used to be "two lost souls swimming in a fish bowl."
Lyrically, Pink Floyd knows how to punch you in the gut. Like the Doors, any of their songs are good high—especially the entirety of Dark Side of the Moon.
This track kills it with its guitar riffs and harmonica solos. Lyrically, Tom Petty's track is one that can be interpreted in many ways. As someone who grew up in a small town, this song encapsulates the feeling of helplessness. You "feel summer creepin' in and you're tired of this town again." You're exhausted with failed relationships, so you take a "dance with Mary Jane," and you promise it'll be your last.
It's quite a deep song, and it's a classic rock stoner song that your brain will be working overtime to process as you toke one up.
This is another Zeppelin classic rock stoner song that is just the perfect length. It's the band's interpretation of a classic blues song, and boy, is a storm about to damage a levee. Every drum feels vital. The guitar brings out a sense of urgency. The harmonica sounds smooth. The vocal effects, mimicking the sounds of drowning, work perfectly as well. This underrated Zeppelin song is the perfect storm, and it will break the levees of your own mind whenever you're experiencing a nice high. Best of all, it's on the same album as "Stairway to Heaven."
Progressive rock band Rush is definitely in a league of their own. Their songs— especially their older tracks—are rock ballads filled with fantasy and philosophy. Personally, I'd recommend their entire catalogue as classic rock stoner songs.
But if you're a beginner, you can't go wrong with "Tom Sawyer." With Neil Pert's powerful drumming and Rush's unique synthesizers (which were their signature in the 1980s), you'll be introduced to one wild ride. Listen to "Tom Sawyer," and if you like it, check out some of their other tracks.
This is one of those songs where the cover is much more popular than the original. This was first a song by Bruce Springsteen, which is also a classic. However, Manfred Mann's Earth Band's cover ended up being the popular version. This cover is characterized by its high vocals, trippy keyboard and instruments, and its length, which is around seven minutes on the album. It's a great song to listen to while getting high. Get blinded by your own light! Springsteen's version is great as well. Listen to both if you can.
And no matter how high you are—it's "revved up like a deuce," not "wrapped up in a douche."
If you want more of a typical rock song to jam out to while high, "All Right Now" is the way to go. Its guitar riffs are memorable and its lyrics will put you in a good mood. Most of these songs are about heartbreak and finding yourself, but this is the classic rock stoner song you listen to whenever you're making love or chilling out for a bit. "All Right Now" will make your problems—you guessed it—all right now. So kick back, grab a drink, and take a few puffs to this classic song.
The Talking Heads are the epitome of new wave, as they captured that sound of the early 80s that has not been replicated since. There are some good Talking Heads songs out there, but "This Must Be the Place" is the best choice if you want to get high. It's that funky new wave sound you love, but it's also a fun little song about romance.
Of course, this genre is a bit different compared to the others on the list. See if you enjoy it enough to make it part of your playlist.
Another Zeppelin track—and from the same album, too! More proof that Led Zeppelin IV is iconic. This is an acoustic ballad mixed with some cool vocal effects. The song gives you a sense of travel, love long lost, and adventure. It's a smooth ride if you're high, but also a good song on its own. Plus, it's a relatively short song—unlike the other tracks here—so it's good if you're not into ballads that push ten minutes. It's a great starter and a Zeppelin classic!
This is another Pink Floyd song, but it couldn't be more different than "Wish You Were Here." While "Wish You Were Here" is relatively radio-friendly, "Echoes" is over 20-minutes long. Filled with sonar blips, whale calls, and some intense riffs, you'll feel like you're in a submarine in the bottom of the ocean while exploring the mysteries of the deep. Pink Floyd proves they are the masters of psychedelic, progressive rock, as you'll never know what you'll run into with this song. Just make sure you're on some stuff that gives you a high that lasts.
Supertramp's track is a little criticism of the education system, which encourages conformity and jargon instead of critical thinking. Despite coming out back in 1979, this song still applies to life. Education at its core hasn't changed too much. It's exciting to analyze when you're high, and the word play with "–ical" is fun to listen to. Plus, it has a little sax solo. What is there not to like? It's one of the more underrated classic rock songs out there, but it's definitely worth listening to if you want a short-but-deep progressive rock track.
list
pop culture
Born in Kingsland, Arkansas. Spent way too much time watching TV. Daily toker. Still in Kingsland, Arkansas.