Things to Know About Hemper Box and Its Essentials
Hemper Box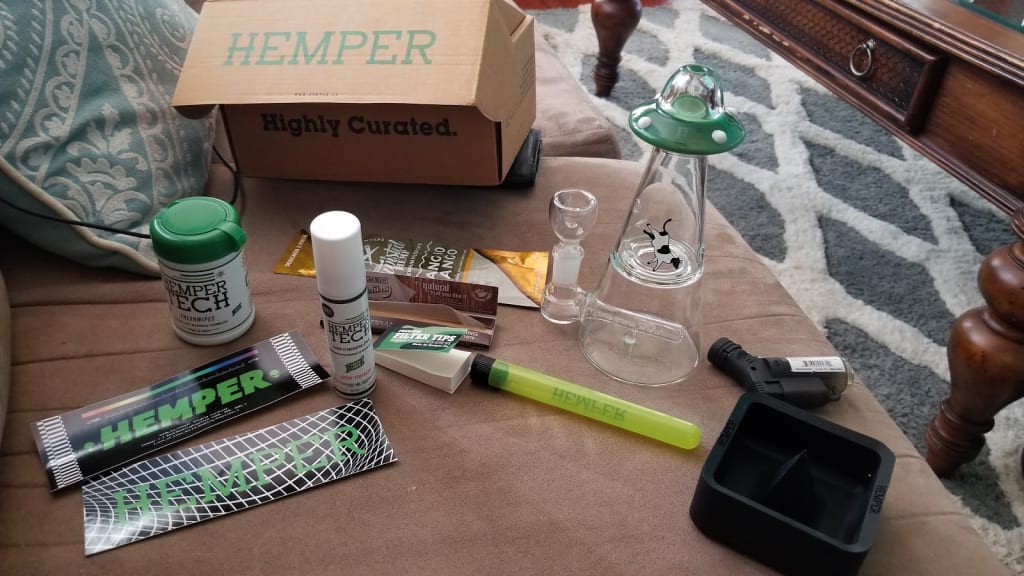 The word hemper is related to a company's name based in New york. The Hemper company offers smoking essentials that may include rolling papers, lighter, filter tips, hemp wick, doob-tubes, grinder, and weed herbs. The weed herbs are the extract that comes directly from the hemp plant or marijuana. 
As we know that technology has made everything easy and convenient. In this fast time, you can buy anything online and can get the product at your door. Weed suppliers also take care of this facility for their customers. The Hemper offers subscription boxes to their customers so that they can get their hemp products according to their demand. Like they can subscribe to the hemper box after three months, six months, and on an annual basis. The number of Hemper items varies according to their packaging subscription. The things that you must know about hemper items may include the following.
Core Essentials
The basic items of hemp packaging are as follows:
Rolling Papers: Rolling papers are meant to be used for making cigarettes. One can make cigarettes of their own choice by using these rolling papers. They are wrapped inside the cardboard paper. These rolling sheets are different in size. These small sheets can be rolled either by someone or by using rolling machines. Tobacco, weeds, and herbs are filled up in these sheets and then folded to get a rolling cigarette shape. You can get these sheets either already rolled up or flat sheets
Filter Tips: These tips are used in the manufacturing of cigarettes. They are present at the bottom of the cigarettes inside the cardboard paper. The use of filter tips is of importance. Filter tips let a less amount of smoky substances enter the smoker's body. These smoky substances are dangerous for health, and so the use of filter tips plays a role from a health point of view.
Lighter: Lighter can be used for other purposes, too but is commonly used by smokers to burn the cigarettes.
Hemp Wick: Hemp wick is made from hemp fiber and is available in the form of twine. The hemp twine, along with beeswax, uses to burn the weed or tobacco. You can also burn hemp wick by using a lighter. The use of hemp wick is far better than using a lighter. The direct use of lighter will make you inhale butane that can be dangerous for your health. Therefore, it is better to burn the herb by using another herb.
Doob-Tubes: These are the small containers made up of plastic material. They are used to keep the pre-rolled cigarettes. They are generally helpful during travel. Because doob-tube is small in size, you can easily keep it with your other stuff or in your pocket. Doob-tubes are of different sizes. These are durable air-tight containers that you can use to keep your pre-rolled cigarettes, especially during travel.
Packages:
You can get four items out of the core essentials at almost 5$ without shipment charges.
Hemp Pack: You can get other stuff other than the core essentials in your subscription box. In the hemp pack, you will get cleaning gear for ash, smell eliminators. It has a worth of 15$.
Hemper Box: This package has a worth of 30$ and has many more other items other than the essential ones. These items are ten in number, along with a glass piece. This box is considered a premium because it has all the items that any stoner needs. The items may include assorted tips, tin ashtray, manifold twisted hemp, hemp lighter, bowl, air freshener, dab tool, hemp stickers, bangers for airflow, and rig.
Conclusion
Before buying hemper products, make sure you have complete knowledge about how you can use them, what are the essentials and other stuff. Also, how can you subscribe to timely boxes? 
If you are living in the USA, the delivery charges may be up to 4$. But if you are living in a foreign country, the charges will vary depending upon your country region. The approximate charges for overseas are almost 11$. So, it is suggested to order a big package when you are not living in the USA. It will become economical for you as you can use your hemp products later too.
product review
About the author
Hi, Its Teresa. I am a Designer. I am a multi-talented. I love to explore the world and my Knowledge.
Reader insights
Be the first to share your insights about this piece.
Add your insights