The Weed that Changed the World
The Plants that Revolutionised the Grow Room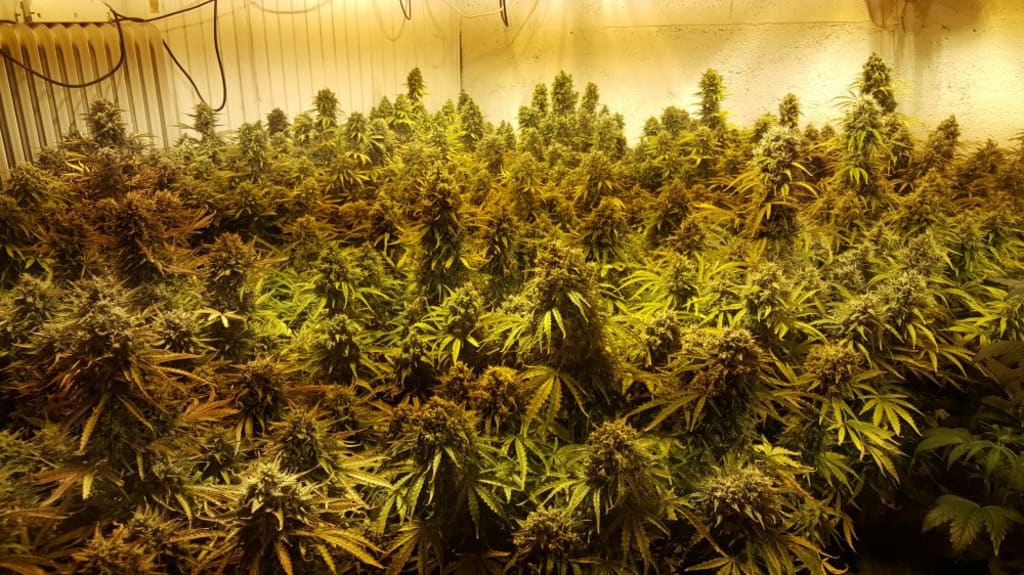 The Modern Grow Room
With only 50 years of history, growing stabilised indoor cannabis strains is a fairly new innovation. But that half a century of hydroponic horticulture is brimming with a rich heritage of stories and ancestry. From Afghanistan to Colombia, Thailand to Russia, intent humans have bred some of the most astounding cannabis plants and we are now tooting the fruit of their victories. For that is all marijuana is, a fruit. The humble plant has fed the brains of our kith and kin for centuries but now we are entering a new potent world of weed.
In the 1960's the war on drugs really ramped up pressure on the people who still risked growing outdoors. We, the smokers of the future, needed a global effort to learn to grow our green gold indoors. In the early days of the 1970's weed was ripe for a true revolution. California and Holland were the epicentres of research over the next two decades. Almost in competition, or maybe with a hint of morphic-resonance, researchers at the two locations would shine a light for those to come. These brave humans created new and powerful strains, aiming to mix the flavours to create the 'Uber-Bud'. These are some of the strains that defined the age and would become the family of all the best cannabis available in the modern age.
Skunk #1
Skunk #1 has been one of the most varied producers of strains in marijuana history, by that I mean it has produced so many different smells and flavours. It is the mother of all cheese varieties today, Skunk #1 is often praised as the first ever stabilised hybrid. It is also where the ominous slang term for some stinky sticky icky originates. People who know nothing about weed often refer to it all as 'skunk'. Yes it got its name from the almost violent smell that can often cause wobbly knees and love bubbles inside of you. The exact parent plants are thought to be Colombian Gold x Acapulco Gold/Afghani, and it was created around 1969 somewhere in the San Francisco Bay area by the Sacred Seeds Breeding Group. This strain would be bred relentlessly through the 70's and 80's. Often found only in clone form in those days. you had to be connected to someone in the group if you wanted to help in Skunk #1's evolution. Though, as in any group, people started giving plants away to friends and this plant would soon dominate the globe.
Northern Lights
Northern Lights Afghani was first spotted in North West America, around Seattle, and female clones would be smuggled across the pond to Holland in around 1985. The strain was destined for Neville Schoenmaker, owner of one of the first ever dutch seed banks that would eventually become the renowned Sensi Seeds. Neville crossed the females with an unknown Afghani male plant and would then inbreed the strain. This would bring to the surface further dimensions of the plant's characteristics that had been previously locked away, genetically speaking. Northern Lights hit Europe like a big green nuclear winter and became the connoisseur's strain of choice. It would be unrivalled in its awards and positive critique, with a strong line of potent children that included the Hash Plant, Shiva Skunk, and Jack Herer. It would also make up 50% of the AK47 strain that dominated European markets in the mid-nineties.
Orange Bud
Orange Bud is an indica dominant strain developed by the Dutch Passion Seed company in the Netherlands and California Orange was developed in secret somewhere in the Golden State. Their similarities in smell, taste, look, and effects would make it hard for an untrained eye to tell them apart. This was one of the first signs that the revolution had begun. Orange Bud remains popular today and has even been crossed with it's American counterpart. Both strains are genetically similar, owing their citrus like genetics to a Skunk #1 ancestor. In 1990's the entire European scene was obsessed by the fruity flavour that Orange Bud offered. It also had all the style at a time where a lot of amateur smokers believed orange hairs meant powerful weed. To an extent the noble novice was correct, although only just coming to understand the difference between low quality home grown with THC values estimated around 5%, and this new variety of 'Super Skunk'.
Cheese
In the early 1990's in Bedfordshire, England, the 'Exodus Collective' had formed. Their main aim was to set up illegal raves and to dance the nights away. But whilst they were growing Cannabis in an occupied stately home they were to come across the first ever 'Cheese' strain. Again, it was from a batch of Skunk #1 seeds, and would be heavily cloned to keep its lineage alive. In fact, to protect its pungent powers from possible extinction during a police raid, or a party gone awry, the mother plant was smuggled out of the UK and to the Netherlands. It became known as 'Exodus Cheese' in Europe, 'UK Cheese' in the USA, and was crossed with every other strain possible to create an army of offspring. Triple Cheese, Cheese Dawg, Blue Cheese, Cheesy Dick, Cheese was a winner and it is still sought after today. Cheese was a different level of stinkiness. People started to realise the range of flavours cannabis could offer them. The plants were almost offensive in smell, with a slight chemical overtone, and the strength of the smell would lead to many arrests. With the arrival of cheese, smokers were making a statement. 'We're as stinky as hell, and we ain't gonna be quiet about it anymore!'.
White Widow
By 1994, Holland had taken centre stage as the global centre for cannabis genetic research. The forming of the Green House Seed Company by Arjan and Shantibaba would introduce the world to White Widow. A blend of strains from Brazil and India, White Widow was a true designer weed with an impact that cannot be overstated. Shantibaba worked alongside the veteran weed man Neville Schoenmaker to help create new strains that would inspire the next generation of growers. The revolution was in full swing and the path was open to the variety we have today. White Widow proved that the world held an abundance of new strains that could now be stabilised for hydroponic horticulture. Shantibaba and Arjan had made a beautiful baby but they couldn't make their relationship work. Shantibaba sold his half of Green House Seed Company to Arjan in 1998. Most modern seed banks claim to stock the original White Widow but this has often been questioned.
Since the strains became stable and accessible to the world we have seen a green baby boom. With so much diversity it has become almost impossible to choose your favourite breeds. This is what makes all the strains discussed so very special. We have choices that were once just dreams in the foothills of California and the coffee shops of Amsterdam. These are our forefathers and we should revere them. They changed people's attitude to Cannabis with intoxicating smells that could not be resisted, and highs that were life changing.
growing
industry
list
strains
About the author
Follow me @JohnnyVedmore.
I'm a UK based Investigative Journalist, Musician, I hunt child abusers online, and I believe that the UK government should legalize cannabis! Come to my website with lots of content at:
Reader insights
Nice work
Very well written. Keep up the good work!
Top insight
Expert insights and opinions

Arguments were carefully researched and presented
Add your insights