The Rising Trend of CBD Oil
Today, we will take a look at how CDB has gained so much popularity.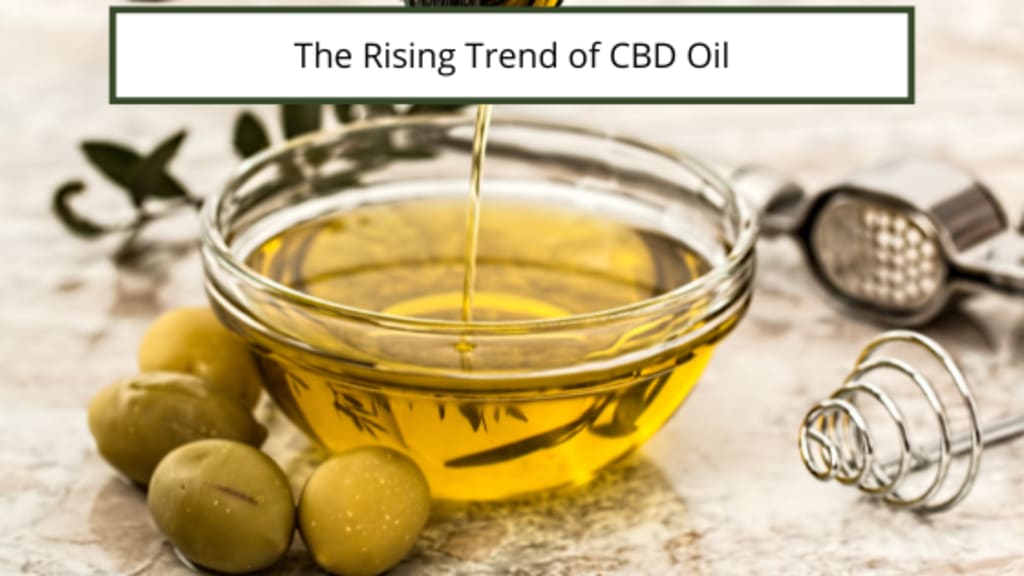 CBD oil is becoming an increasingly popular natural remedy. Its popularity is due to the many potential health benefits that it may offer. These include reducing inflammation, relieving pain, and improving sleep quality.
One of the main reasons CBD oil is gaining popularity is that it does not produce the psychoactive effects associated with THC, the active ingredient in marijuana. It means that people can use CBD oil without worrying about getting high or experiencing other unwanted side effects.
CBD oil is also being studied for its potential anti-cancer properties. Early research suggests that it may help reduce the size of tumors and improve survival rates in some types of cancer. In one study, CBD shrinks human breast cancer cells in vitro (in a petri dish). The researchers believe that CBD could be an effective breast cancer treatment. Moreover, another study looked at the effect of CBD on brain cancer cells in mice. Researchers found that CBD could reduce the growth of brain tumors and improve the animals' survival rates.
CBD is an excellent supplement for women's health. It has been shown to help with anxiety, depression, and even pain relief. CBD is also known to help with menstrual cramps and PMS symptoms. Therefore, if women are looking for a natural way to improve their overall health, CBD may be the right choice.
The rising trend of CBD oil usage suggests that more people are beginning to see the potential health benefits. As research continues, there will be even more about how this natural remedy can improve people's health.
If someone is interested in trying CBD oil, they talk to their doctor first. It is essential to make sure that it is safe for someone to use through the doctor's advice and get a high-quality product. Once you have received the all-clear from your doctor, doing some research on the use of the oil can also be helpful. Checking out online reviews from other users can also assist in having an idea of what to expect from CBD oil. Also, it is crucial to purchase from a reputable source. A reputable source can be one licensed by the government to create and distribute the product.
ABOUT CAMERON FORNI
In 2015, Cameron Forni pioneered the first vape cartridge free of silica fiberglass. From his creation, Select, the best-selling cannabis brand on the West Coast, was born. Five years later, Cameron has become a power player in cannabis and has been recognized by some of the industry's most reputable publications, such as High Times Magazine, Inc. Magazine and Marijuana Venture Magazine.
Considering himself an entrepreneur by trade and blood, Cameron has always had a hand in building companies. His first venture was selling flowers on the side of the road as a child. As a high school student, he made money by managing a car detailing business. While working towards his degree in Business Administration from the University of Oregon, he built an event company. The ability to solve problems that no one has ever experienced is an entrepreneur's cross to bear, but Cameron Forni always reveled in the challenge.
When he graduated from college, he set out to create jobs rather than take one. Cameron's first official foray into entrepreneurship came when he co-founded TextNoMore, an app that rewarded drivers who avoided texting while driving. Then, he co-founded TryEco LLC, which produced a patented, starch-based, and biodegradable, super absorbent polymer used in agriculture. To Cameron, his business focus has always revolved around a mission to build companies and products that would offer people a better life and achieve more. Eventually, that mission led him to cannabis.
After creating what is now the industry standard vape cartridge, Cameron Forni launched Select Oil and, later Cura Cannabis Solutions. His companies saw record-breaking success in the industry. Select's products are sold in over 900 retailers, and Select Oil is the #1 selling brand in the country. In 2019, Cameron continued setting records, leading his companies in a billion-dollar acquisition by Curaleaf, essentially creating the largest legal cannabis company by revenue.
industry
About the author
Cameron Forni is the President of Select at Curaleaf, as well as the former CEO of Cura Cannabis Solutions and the Co-founder of Select Oil.
Reader insights
Be the first to share your insights about this piece.
Add your insights