The 10 Best Dry Herb Vaporizers for 2020
2020 Ultimate Guide To Best Dry Herb Vaporizers from Beginner to Expert, Traveler To Medical Users and More...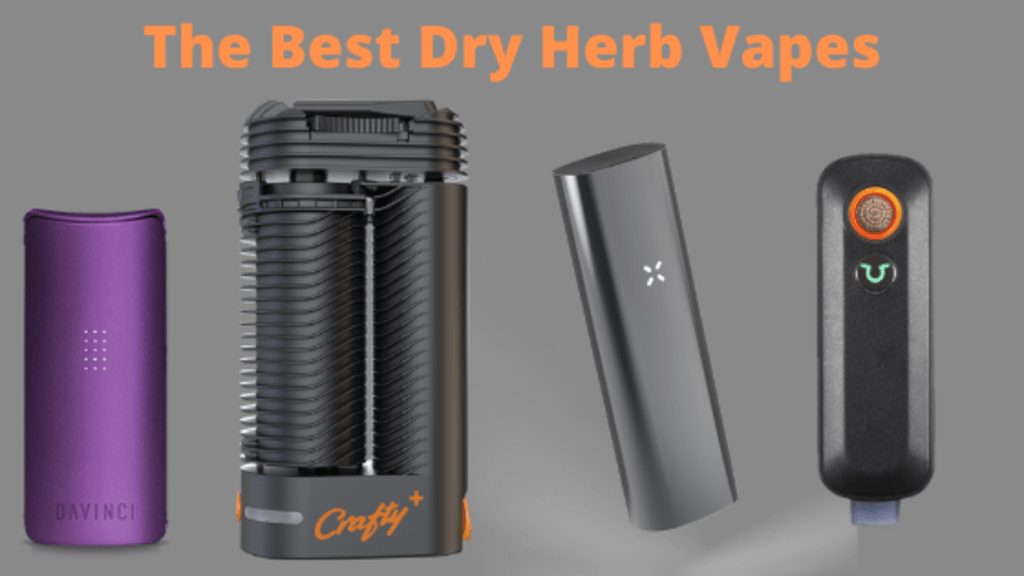 Best Dry Herb Vaporizer 2020
As we look back on 2019, there is undoubtedly much to be thankful for… I mean, if you don't think about the environment, your Instagram followers count, or politics... Well, there's much to be thankful for when it comes to dry herb vapes! Technology has still been advancing, design has still been modifying, and vapor quality is at an all-time high.
But don't think that this relaxed sense of security has led to a plateau in the dry herb vape universe. Oh, certainly not. So while we say goodbye to 2019 and all the greatness it could offer, what, pray tell, does 2020 have in store for us??
Well, here's our list of what we think will take center stage in 2020, ranked not by bland comparison with a number rating, but rather by the categories we think are most important in a dry herb vape buyer:
The 'I need the newest model!'
The one who needs awesome vapor quality
The one who needs a good deal
The one who likes to keep things secret
The one who needs accessories
The Firefly 2 Plus - Best for the Experienced
If you require more intensity and performance in 2020, the Firefly 2 Plus is for you. Released in 2019, this vape made some excellent advancements from the (don't get me wrong, absolutely great) Firefly 2, all for a lower price!
We mean it, the 2 Plus is newer, sure, but cheaper too. That in itself is a great reason to pay attention to this vape, but there are a bunch of other great reasons too. With a 33% improved airflow, improved firmware that excellently manages power usage to extend battery life, and one of the fastest heating elements a dry herb vape has ever seen (just 3 seconds).
So what makes this vape so excellent for the experienced? Well, for anyone who wants a perfectly customizable draw, this vape is intelligent enough to keep up. Compatible with both dry herbs and concentrates, the Firefly 2 Plus uses dynamic convection heating. With every draw, the temperature increases over a range of heat rather than remaining a steady temperature. This allows for a sophisticated vaping experience, allowing you to fully appreciate the terpenes and flavor notes your dry herb has to offer. We think this vape is great for the experienced because a newcomer may not know how to let this vape dazzle the way it's intended to!
Volcano Hybrid - Best New Dry Herb Vape
I promise, no best of list for 2020 will forget to add this colossal drop from Storz and Bickel. A desktop vaping unit, the Volcano Hybrid follows on from a long line of excellence - the Volcano Classic, the Volcano Digital, and the Plenty. It might seem like a bit of a curve ball to declare a desktop unit the Best New Dry Herb Vape, but the only thing we can criticise with this vape is the price (it's an investment!).
But for absolute perfect performance, durable design, medical grade materials and vapor, whether you're vaping dry herbs or concentrates, this vape will deliver every single time, for many, many years. And let's not even start with it's versatility - the Volcano Hybrid is both whip and balloon compatible, for on the spot vaping or for stocking up for later. There's a redesigned heat exchanger that heats up in under two minutes and it now only takes 35 seconds to fill a balloon, they've added conduction heating to preheat your dry herbs so they quickly vaporise when using the pump or whip.
Pax 3 - Best for beginners
This vape isn't the best for beginners just because it's easy to use, but because it can give a beginner the best vaping experience imaginable without confusing the socks off of them. That's right, just admit that the Pax 3 is smarter than you and that this is a good thing. Following on the torch of easy to use vapes from Pax, the Pax 3 includes intuitively smart features to make your experience as easy as possible without needing to know a whole lot about vaping in general.
For one, it's easy going and can vape both dry herbs or concentrates. It also takes very little time to heat up and produce an excellent vapor. In just 15 seconds, any newbie will be able to enjoy a crystal clear and delicious vapor (this is three times faster than the Pax 2). Your temperature stays consistent throughout the entire session thanks to a powerful little conduction heating element, and smart paths can help any beginner choose a perfect temperature range that the LED petal display indicates beautifully (There is a green petal to indicate 360F, 2 yellow petals to indicate 380F, 3 Orange Petals indicate 400F, 4 red petals for 420F, and 5 purple petals for custom). And, once you've chosen your path and packed the oven, all you have to do is press and hold the mouthpiece while the vape heats to your perfect temperature and wait for haptic feedback to let you know when it's ready to go!
To turn the vaporizer on and off, simply press the center of the mouthpiece once. The LED light will flush purple and only turn green once your vaporizer arrives your set temperature setting. And to check the battery level, simply shake the device and the display will show your battery level. A fully charged battery will show 4 petals, while only 1 petal shows when the battery is running low. Honestly, the Pax 3 is always about 5 steps ahead of the game while not being overly showy and complicated, perfect for any beginner!
Mighty Medic - Best Medical grade dry herb vape
Anything that Storz and Bickel produces just oozes quality manufacturing and sophisticated technology, but the really spectacular thing that makes this vape stand out is that it's the first ever portable vape to be 'upgraded' to a medical standard of excellence - meaning that a governmental third party has tested and approved this device as safe for medical use, officially.
And this, my friends, makes the Mighty Medic the first medical grade portable dry herb vape. If you require a vape that is powerful enough, smart enough, and potent enough to cater to medical needs, this portable vape is for you. And, considering any competition in terms of potency and vapor quality comes in the form of desktop vaping units, the portability of this little powerhouse cannot be ignored.
What makes the Mighty so Mighty? This has to do with its sophisticated, powerful, and precise heating element, coupled with the magic combination of conduction and convection heating styles. The precision and power of the heating element coupled with both heating techniques means that vapor is produced at the very first draw. If you're a medical user, fast acting relief cannot be understated, and this portable vape can get you back to feeling your best in literally no time.
Davinci IQ2 - Best vapor quality/flavor
The Davinci IQ2, following on from the original IQ, is the newest Davinci device making extremely big waves throughout the vaping world. Davinci is no new player in the game of vapor quality, and the IQ2 has somehow managed to improve upon this perfection by ensuring, as usual, consistent and powerful heating and temperature control, but by adding new levels of user control through their new air flow system and dosage calculation app.
The IQ2's temperature is controllable both manually or through the app, with 5 smart paths to choose from for your perfect vaping experience (The IQ2 will automatically heat up and vibrate when the designed temperature has been reached. When on smart path mode, the IQ2 will gradually increase the temperature over an eight minute session. Mode 1: starts at 350F and increases to 370F, Mode 2: starts at 370F and increases to 390F, Mode 3- starts at 390 and increases to 410F, and Mode 4: starts at 410 and increases to 430F). And, of course, the Zirconia Ceramic air path does a fantastic job of keeping vapor pure and those terpenes delicious. Here are the features that have made this vape the king of vapor quality:
Air Dial for Adjustable Air Flow
Users can now adjust their units using the IQ2's air flow dial for easier draws and vapor that is said to be 50% cooler than other dry herb vaporizers. This feature allows you to reduce draw resistance while experiencing denser, larger, and more satisfying vapor.
On Device and In-App Dosage Calculation:
The Davinci IQ2 wants to create more educated vapers, and its ability to calculate and track dosage is a great start. All a user has to do is input the strain potency into the app and the amount of dry herb or extracts in the oven and the IQ2 will track and report the dose per draw and per session. Moreover, users can add a maximum dose per session in the app and the IQ2 will alert when the desired dose has been reached.
By giving the power of knowledge and adjustability back to the consumer, the Davinci IQ2 has created a portable dry herb vape that creates perfect vapor based on individual needs rather than assuming that any two vapers are the same. Brilliant!
Arizer Solo 2 - Best Budget Dry Herb Vape
For the most advanced portable dry herb vape for a great price, the Arizer Solo 2 continues to demonstrate everything Arizer stands for - impeccable quality at an affordable price. Arizer has always strived to create vapes that are attainable, and the Solo 2 certainly does just that.
The Solo 2 has been created to be a consistently dependable vape, over and over again, and has added some new extras to make your vaping experience anything but mundane. Powerful as any Arizer vape, the Solo 2 has actually improved the original Solo's heat up time with the Solo 2's ceramic heating element, and can reach 200 degrees celsius in 30 seconds flat. There's a customizable auto shut-off feature that will turn off your vape after a period of inactivity for up to 15 minutes which conserves not just the Li-ion battery, but your material as well. Moreover, every surface your dry herb touches is made of 100% borosilicate glass, making for a super clean, pure, vapor quality.
No matter what you're vaping, whether it's different herbs or concentrates, or whether you're taking advantage of the aroma top for aromatherapy, the Solo 2's excellent build quality and many, many extras make it stand out. With this much going on, we'd expect this vape to be way more expensive than it is!
G Pen Elite - Best Vape Pen
Vape pens are comprised of a precarious balance that's hard to get spot on, teetering between compact size on the one hand and performance quality on the other, but the G Pen Elite, like the G Pen Pro before it, has certainly succeeded in figuring it out. Comprised of, really, just a mouthpiece and an oven, the device looks as simple as it is to use, but don't let yourself be deceived, this vape pen packs a punch.
There's only two main parts to this thing: The mouthpiece, and the rest. The body of the Elite has a single power button on the front and a micro-USB charging port on the bottom. On the side of the Elite you'll find an LED screen that indicates the device's temperature and battery life, because, really, do you need anything more? The mouthpiece has a silicone cover and a stainless steel screen at the bottom, again indicating that this vape pen is built for one purpose - discreet functionality.
The Elite will give you about 45-60 minutes of use from a full charge, and takes about 2 hours to fully recharge. This vape heats up very quickly, typically in 30 seconds or less, and the temperature can be adjusted in 1 degree increments with the unit's side-buttons. For perfectly discreet vaping that's completely perfect for a busy lifestyle on the go, this vape pen is ideal!
Crafty Plus - Best Dry Herb Vape for Marijuana
The Storz and Bickel range of vapes will probably never fail to appear numerous times on any best of list, and the Crafty Plus, what with its recent release, was bound to find its way onto this list eventually. By applying some excellent upgrades, the new Crafty Plus improves upon the original Crafty and makes it the best current dry herb vape for marijuana use.
The Crafty Plus boasts impressive vapor quality, simple use, and long-term durability. The performance is consistently great, and maintenance is minimal and easy to maintain. As you can assume by the name, the Crafty Plus presents an upgrade that keeps the same form and functionality as the original, with a few upgraded features and better performance that make it perfect for anyone looking for ultimate temperature precision, control, and longevity.
Although compatible with solid wax concentrates using a drip pad that inserts into the oven, the Crafty Plus is king when it comes to vaping cannabis. Pressing the power button twice (boost) or three times (super-boost) during a session activates modes that are great for just this purpose. Boost will increase the temperature by 10 to 15 degrees and the super-boost will increase to the maximum temperature so you can gradually increase the temperature and make the most out of everything your herb has to offer, terpenes and all!
Davinci MIQRO - Most portable/discreet Dry Herb Vape
For the most discreet, powerful dry herb vape, look no further in 2020, the MIQRO will deliver. With a single 18350 battery and dimensions of 1.34'' W by 3.13'' H by 0.91'' D, this vape is teeny tiny - but fear not, it's just as powerful, well made, and durable as anything else created by Davinci! The Davinci MIQRO is small, lightweight and resembles the IQ. The anodized aluminum construction resembles that earlier device, and both vaporizers have the same configuration:
A top mouthpiece section (leveled and extended)
A separate vapor path (made of ceramic zirconia)
A removable top-loading battery
A bottom-loading ceramic oven
The MIQRO has some pretty excellent features packed into this little package, too:
Precision temperature control between 370F and 430F
Four Smart Paths – Smart Path 1 = 350F-370F, Smart Path 2 = 370F-390F, Smart Path 3 = 390F-410F, Smart Path 4 = 410F-430F
Boost mode takes the temperature to its highest setting
Standby mode cools the vaporizer down saving material and battery life
What else could you want or need in a super discreet, portable vape??
The Grinder - Best Dry Herb Vape Accessory
So why is a good grinder the best accessory you can get in 2020 for your dry herb vape, you ask? A grinder isn't something you can choose to use or not with your dry herb vape, it's become a necessity. Whatever vape suits you best, a good grinder is an integral companion. For dry herbs, it's extremely important to get an even grind and consistent material size. This will ensure that every bit of your herb is heated evenly, for a consistent vaping experience without blockage or waste. Trust me, a good grinder will save you money in the relatively short term as well as the long term!
Choosing a grinder that can tackle any bud, with sharp teeth and preferably more than one chamber for catching your goodies, is ideal. The best type of grinder for dry herbs will have effective teeth for grinding, and a good grip to hold while twisting, and should have effective holes to collect pollen. Grinders come in a vast price range, and if you're unsure of what will work best, we would suggest going for a mid-priced unit to test the waters. If it can handle your usage needs with ease, great! If not, you might need a more complex, potentially more expensive unit.