Halloween is just around the corner, and if you're looking for the best way to celebrate this scary season, consider picking up some ghost glass. Here are our picks for the creepiest, most hair-raising rigs and bongs that will scare your friends and make your guests green with envy.
11.5" TATAOO Shower Head Blood Eye With Horn Shape Glass Water Pipe
TATAOO Glass pipes and dab rigs showcase stunning designs. The exterior artistic features make the skull the center of attention framed by the curved horns. This unique water pipe has a disc perc at the bottom of a large beaker flask lower chamber that produces large uniform diffusion for smoother dabs. The upper skull chamber and bent neck prevent any splashback while allowing for a more relaxed sitting position while dabbing.
Lookah Third Eye Heady Glass Bong
The third dazzling glass bong is a beautiful creation from our Original Design Glass collection. It has vibrant colors and awesome attention to detail, making this an eye-popping work of art.
The lower perc is decorated with detailed small skulls, which will sit in a sea of bubbling filtration. Three ominous eyes stare eerily out at you from the second chamber.
If you want a powerful, aesthetic glass pipe, the Lookah glass rig won't let you down.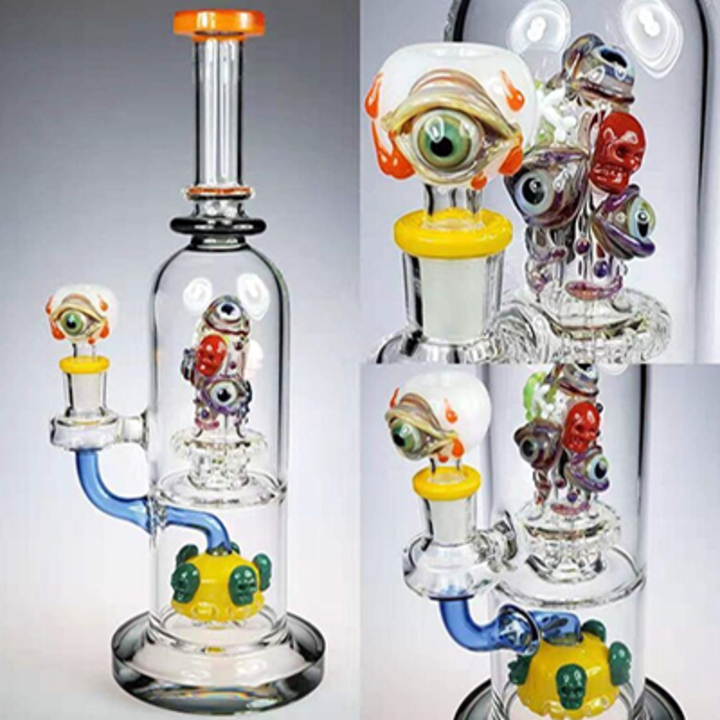 11" TATAOO "Monster" Shower Head Bent-Neck Glass Water Pipe
Take this dab rig by the horns and let it rip for delicious hits!
This glass water pipe from TATTOO Glass is the epitome of unique designs and excellent functionality. It looks totally badass, and so will you with this piece in your collection of oil rigs.
The realistic face in the midsection has large bulging eyes. Pay attention to the meticulous detail in the features of the nose, teeth, and ears. It screams craftsmanship.
Two pointy horns frame the face; they are scarily realistic with their brown and black color pattern. Around the base of this water pipe, you will also notice a skull peering out questioningly at you.
This dab rig is aesthetically pleasing in its complexity. The beautiful indicate design is of the highest quality craftsmanship. Make this the centerpiece of your collection, and it will undoubtedly draw admirers from among your friends.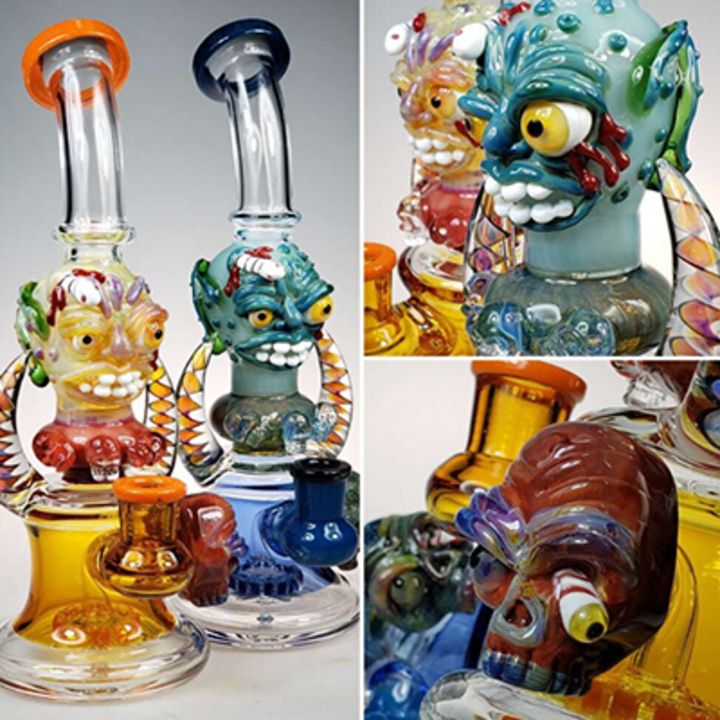 12" Monster Head Bent-Neck Glass
TATAOO Glass is hitting the industry with its fully worked pipes and rigs that contain innovative percolator designs and external artistic accents. If you're looking for a badass dab rig, this monster head water pipe with the bent neck is a magnificent choice.
The base of the neck has a demonic head peering out at you with its menacing exploding eye. Like a creature from beyond the crypt, this glaring face is finely detailed in hand blown glass. A grinning skull acts as a drip or ash catcher and completes the piece. When it comes to smooth smoking, this oil rig has a fat showerhead disc perc diffuser that produces even dispersion of smoke, allowing for a much cooler hit.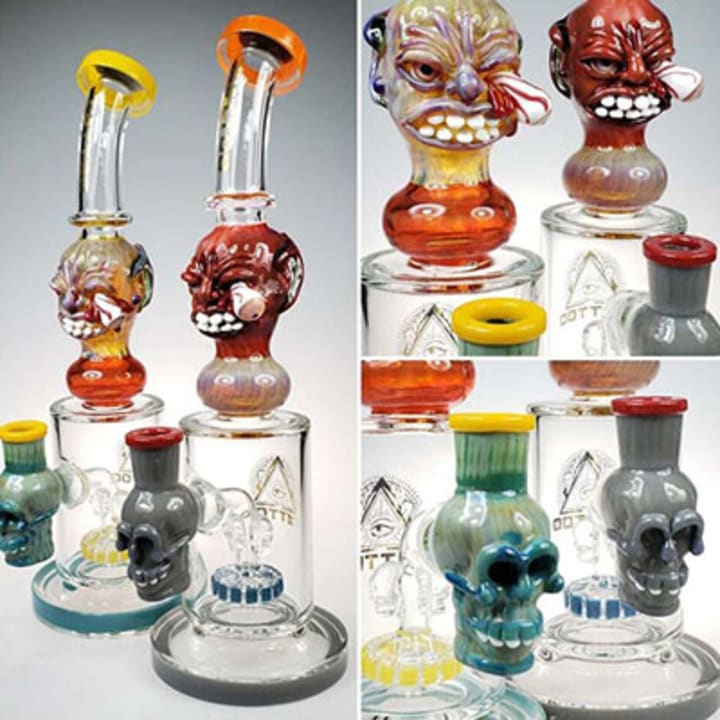 8" Spiked Head Monster Design TATAOO Water Pipe
This small dab rig draws everyone's attention, thanks to some dark arts. A hand-blown glass head with a spike driven through it, complete with seeping blood! Our Tattoo Glass designers have pulled it off again with another great piece of glass!
The head has a high degree of detail, especially on the nose, mouth, and probing eyes, one of which is dripping blood!
Maybe it will take your smoking session on a cool dark twist. Or perhaps the third eye on this dab rig's body will deliver insight and powerful visions once you start taking hits.
At just 8 inches, this small dab rig is more portable than our larger models. It has a classic beaker base with thick round bottom for added stability and an intricately worked percolator for smooth full flavor hits.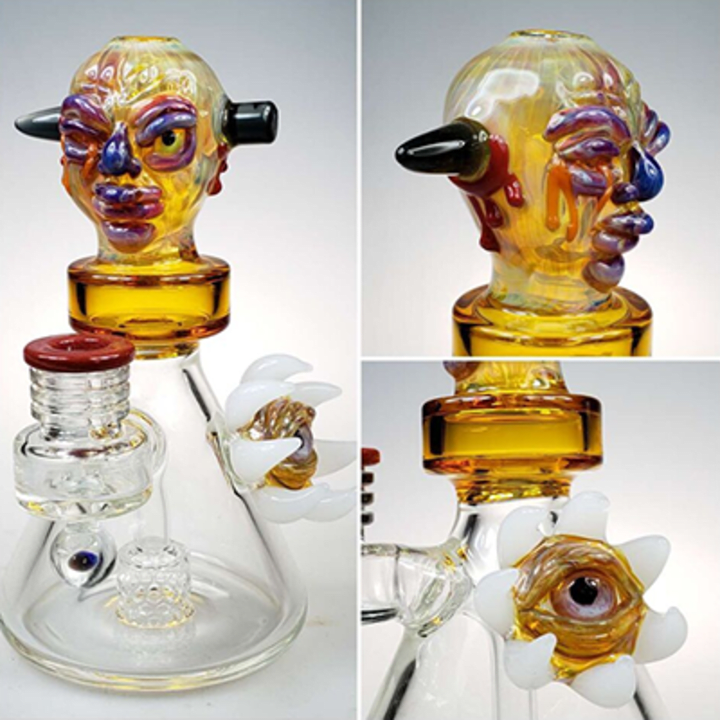 8" TATAOO Gobline Troll Beaker Base With 2 Arms Glass Water Pipe
One of the best unique themed dab rigs for sale under our TATAOO Glass range is this troll head, muscle man.
The mouthpiece sits atop the finely detailed head. The muscular arms make a good place to grip as you draw ripping tokes from this dab rig. It has a good size perc, which evenly disperses the vapor and creates many bubbles that not only look cool but will put you on could 9 with some ridiculous smoke. At 8 inches high, this is a small dab rig ideal for those who want something easier to hold or a more portable glass water pipe.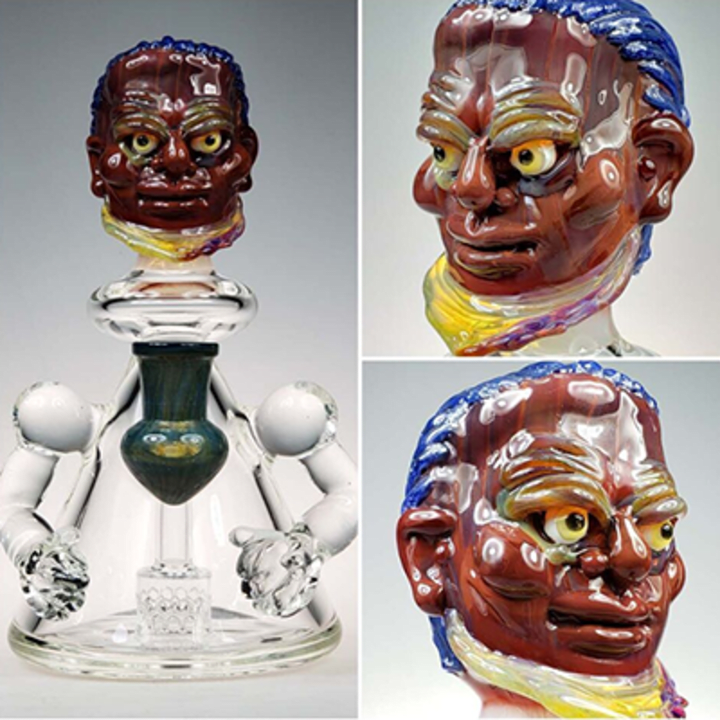 10.5" Monster Head Diffuser Rig
Another heady rig from our Tattoo Glass line, this water pipe, brings a whole new style of art and design to the industry. This water pipe features a monster's head as the percolator, with two diffusion holes to filter the water through.
The diffuser tubing actually incorporates a technically challenging action of running the pipe through the inside of the rig and having it wrap behind the piece externally before entering back into the water.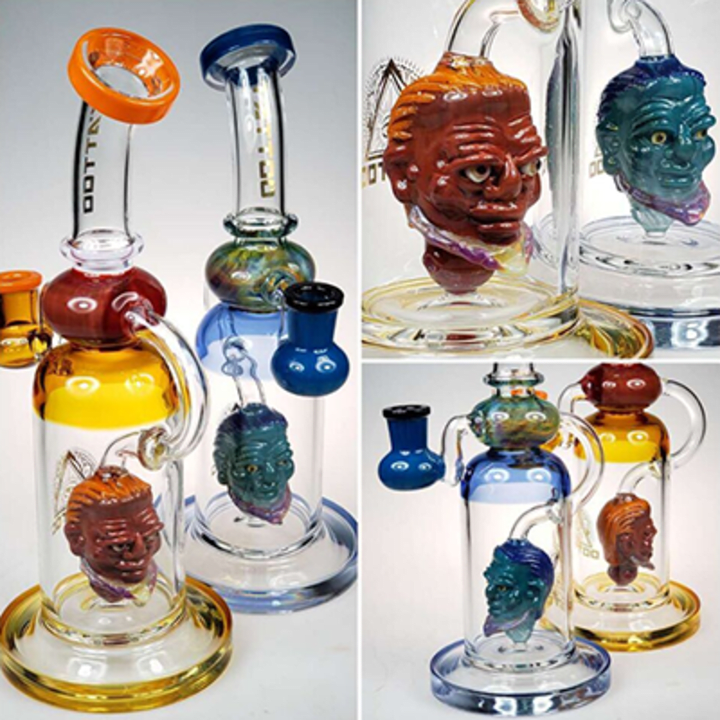 With plenty of freaky and funky dab rigs and bongs, we're sure you can find a cool bong or dab rig for an awesome Halloween smoking session.