Legalize
Pot Advertising Hasn't Gained Altitude with In-Flight Pubs
Marijuana-related ads in in-flight airline magazines don't reflect the pace of states decriminalizing or legalizing herb.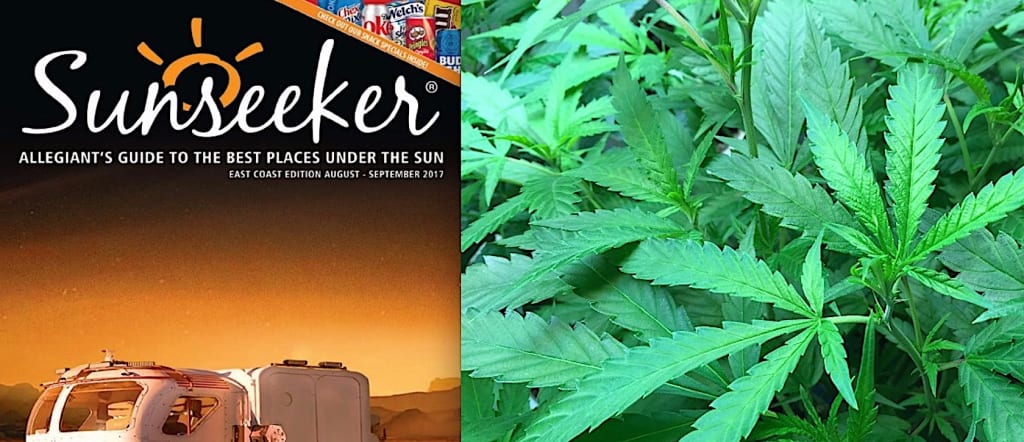 As the United States adjusts to sweeping changes in marijuana laws — 26 states and the District of Columbia have decriminalized or outright legalized the herb for personal recreational use — a new green industry has emerged. Marijuana dispensaries and cultivators are actively soliciting new business in the states where it's legal, and makers of other cannabis-related products are likewise selling their wares in a wide range of earthbound publications.
But marijuana advertising hasn't yet taken off with one part of the publishing world: in-flight airline magazines whose route systems service the states where marijuana is legal. Almost without exception, you won't find ads in those publications. And it may not be an accident, despite the growing consumer appeal for recreational pot — and the benefit to states' bottom lines.
Acres Cannabis, a pot business in Nevada, scored a coup this month when it tied up with Allegiant Airlines, a Las Vegas-based airline, to become the first marijuana dispensary in the nation to advertise in an in-flight magazine, Allegiant's Sunseeker.
◊ ◊ ◊
Allegiant Publishing, the airline's publications company, took a calculated risk on the ad from Acres, the company whose 20,000-square foot cannabis dispensary and edibles production facility are well poised to take advantage of Nevada's legalization of pot, in effect as of July 1, after Nevadans approved it last November. Almost 43 million people visited Las Vegas and its environs last year, spending more than $35 billion.
Kevin Forde, Acres Cannabis marketing director, said in an email to Potent that public response has been "extremely positive. This is a huge milestone not only for us at Acres, but the cannabis industry as well. It shows the continual shift of mainstream acceptance of medical and recreational marijuana."
What's curious is why magazines for other airlines haven't followed suit. Case in point: the in-flight magazine for Alaska Airlines, a major international carrier based near Seattle in Washington state… which has had recreational marijuana for adults since December 2012, a direct result of voters approving Initiative 502 that November.
◊ ◊ ◊
True, other airlines are based in states where recreational marijuana hasn't been approved. Atlanta-based Delta Airlines, for example, is in Georgia, which legalized medical marijuana in 2015, but hasn't taken the legislative steps to make recreational herb a reality.
American Airlines is based in Texas, where recreational use is still against the law and even medical marijuana use is tightly restricted — approved only for treating people with intractable epilepsy. Senate Bill 269 is intended to expand legal use of medical marijuana, and only medical marijuana.
United Airlines (the third-largest airline by revenue) calls Illinois home. Medical marijuana was approved there by state lawmakers in 2014, but recreational pot is, well, still a pipe dream — despite two-thirds of the state's voters supporting it, according to a March 2017 poll by the Paul Simon Public Policy Institute.
With such a patchwork of regulations in a number of states, some with recreational pot, others without, it might be that in-flight magazine publishers may not want to get out in front of laws that aren't laws yet.
◊ ◊ ◊
Or maybe it's something else. Despite the gradual shift in public sentiment and state laws, recreational marijuana is still a violation of federal law — something that U.S. Attorney General Pete Sessions supports. With major airlines necessarily interacting with the federal government on a regular basis, it may be that the big carriers just don't want to ruffle Washington's feathers.
What's hanging in the balance is advertising for a legal cannabis industry that, according to Bloomberg News, could top $50 billion to state economies by 2026. Allegiant's in-flight magazine may be the first one to take flight with marijuana advertising. Whether other purveyors of the wisdom in airliner seat backs do the same remains to be seen.
"It is a process," said Forde of Acres Cannabis. "With some great relationships within our ownership we were able to get a seat at the table with individuals who are seeing marijuana as a strong business opportunity… It is starting to become evident that the business sector in America simply cannot ignore the financial upside of our industry."