Not All Glass Blunts Are Good Or Safe
Unsafe levels of lead found in many glass blunt pipes for sale.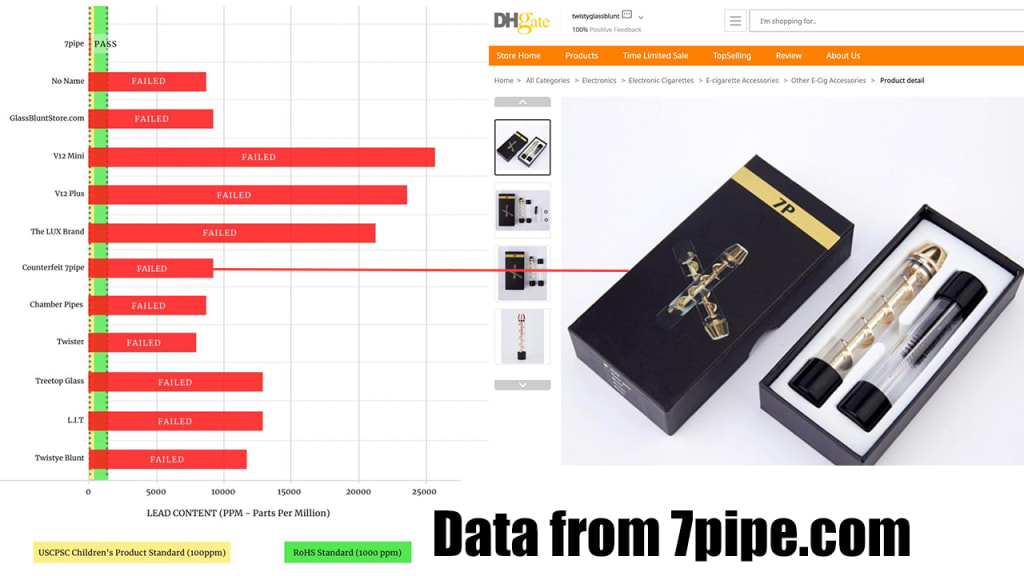 This article is going to reveal the truth behind what makes glass blunts good and terrible.
The glass blunt pipe first came to market in 2016 with the 7pipe brand. But it really didn't catch its huge popularity until around 2016 according to the search volumes on Google trends for glass blunt. The reason for its sudden surge in popularity is thanks to celebrity endorsements and online influencers. The marketing of rappers smoking a glass blunt pipe really made the demand for it skyrocket. It didn't take too long until there was some competitor glass blunt pipes for sale online. Although the competition did introduce some better made glass blunts for sale, others made products meant for maximizing profits at the expense of their customers health.
The original twisty glass blunt discovers counterfeits with dangerous amounts of lead found.
The company behind the first glass blunt did an independent lab test on many others, and what they discovered was unsafe levels of lead found. Below is a screenshot of the report on the findings from the company behind the 7pipe twisty glass blunt, they show graphs revealing unsafe traces of lead from counterfeits and competitors.
The Best Glass Blunts Are Made With A Ceramic Spiral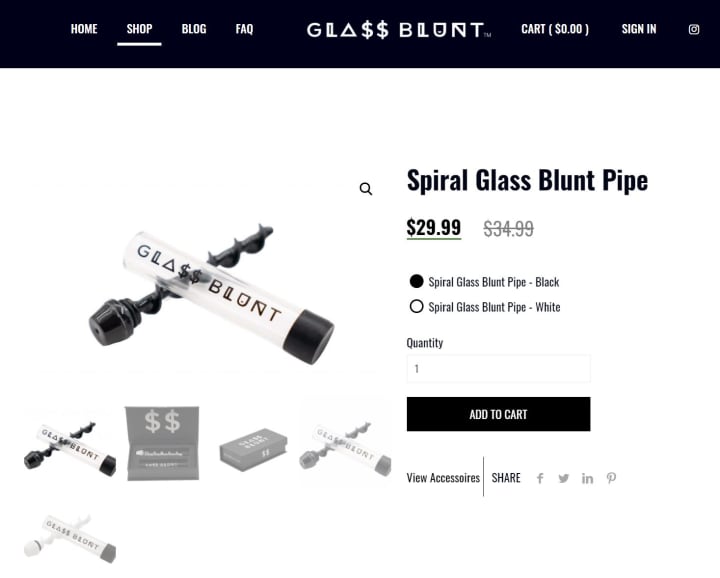 Although the majority of glass blunt pipes are made with a metal spiral, there are some made with ceramic, a much safer material to use with fire. This completely removes the chances of the dangerous and cheap metal lead being used. Other companies went a different direction and made the spiral twisting component out of glass. We recommend using a glass blunt with a ceramic spiral for more durability purposes. These once very popular and new types of marijuana pipes are making a combat with the demand for them.
The reason is because of their solution to smoke cannabis without having to know how to roll. They provide an easy way to get high with a little amount of weed too, or 2 grams to pass around with friends with the ceramic option above. New versions of the glass blunt pipes have been substantially improved to combat the counterfeit problem with dangerous levels of lead.
How to use a glass blunt?

Most glass blunts come with a glass tube, and a twisting spiral inside it that's connected to the mouthpiece. Users simply need to grind their marijuana buds extremely fine, and pack the amount they want to smoke! Think of glass blunts more like pre-rolled cones that can be reused, but they will not alter the flavor from your buds. Okay lets review the simple steps to getting baked with a glass blunt pipe.
Grind your weed
Pack your glass blunt
Light up!
These simple three steps above will cut down the time it requires rolling cannabis and provide a cooler smoking experience. The glass tube slightly reduces the temperature of the cannabis smoke that passes through it for a more enjoyable session. Its also small enough to through in a bag or pocket and not take up too much space. A rubber cap comes with this pipe so that sessions can be saved for later, and it will seal the smell of the cannabis from escaping.
To summarize everything, don't be discouraged from the cheaply made fake glass blunts. Instead, avoid them and only buy directly from the website of the brand selling the cannabis pipe. It's also important to read the many glass blunt reviews online, and learn about the features of the pipe before buying it. We recommend trying ceramic and all glass blunts, they emphasize the flavor of the cannabis and delivery tastier smoke. Please advise any stoner friends of this article if you know of any who uses a glass blunt, it can help avoid health issues.
product review
Live in California, work online, and puff the best THC oil and weed in existence