Mollo 5, It's Beer, Sort Of
An unfortunate consequence of an unfortunate rule
Photo by the author
Hello, there! If you're new to this series, maybe check out this article here before continuing. If not, then welcome back.
This is, realistically, supposed to be a review of Mollo 5. A review of Mollo 5 will be included in this article. Unfortunately, that isn't really the heart of this conversation, though. I'm sure the topic will come up more than a few times, which is not a prospect that brings me much comfort.
So Mollo is a cannabis beverage produced by Hexo, which itself is a massive company with (as far as I know) four different beverage brands under their umbrella. Mollo comes in two strengths, 2.5 and 5, which contain those respective amounts of both THC and CBD in milligrams. These are reasonable numbers, especially at $3 and $6 per bottle, but something strange caught my eye while checking out the product that led to ultimately only trying the stronger version. Like most places with legal cannabis, there is a purchase limit at the SQDC's here in Quebec. For products that are derived from cannabis, this is most often calculated by converting milligrams to grams, which is fine. The problem, is this...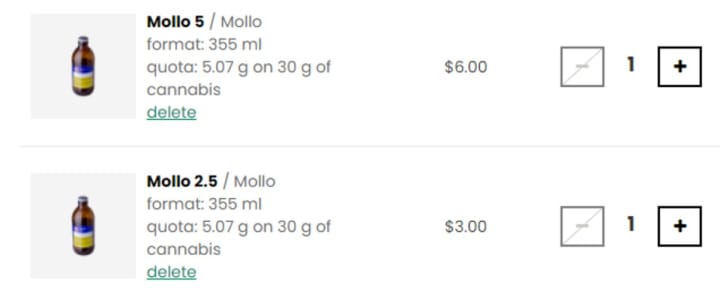 For whatever reason, both of these products convert to 5.07 grams out of the total 30 gram limit. I do not understand why. This could be the result of a bug, which would beg the question of why no one has found and fixed it yet, which would have a simple enough answer - Not enough people are buying this for anyone to have noticed.
Now, I've tried plenty of edibles and solubles and beverages that contain cannabis, but few in Quebec. We don't have wax, or shatter, or carts, or candy, or chocolate, or topicals, or anything with any noticeable amount of sugar in it, and the list goes on. Here, I'll show you.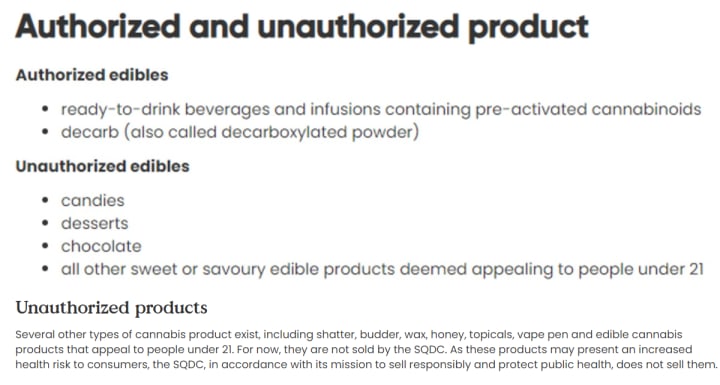 These are two screenshots from the SQDC website explaining just what is and isn't legal to purchase in Quebec when it comes to anything other than cannabis itself. While "ready-to-drink beverages and infusions" are authorized, the fact that they cannot be sweet or savoury enough to be "deemed appealing to people under 21" creates a serious problem.
I have tried around a dozen different ready-to-drink beverages from the SQDC. Of those, two were tolerable enough to finish rather than pour down the drain. Don't think I didn't try to fix them. I've got over a decade of bartending and micro-mixology-bullshit under my belt. I tried. They were all just that bad. All but two, that is, and of those two that I did indeed finish, the one that I genuinely enjoyed was not Mollo.
Mollo is made to look as much like a beer as it can. It sort of tastes like beer, even though it is completely non-alcoholic for other regulatory reasons that make far more sense than the "nothing sweet" rule. In fact, it isn't even the lack of sweetness that proves to be a problem for this particular product, but rather the "nothing savory" part of the rule, because that effectively ends up translating to "nothing with flavor."
Mollo is dry, it is crisp, it is so many of the things that make a good light beer (and, yes, there is good light beer. Let people enjoy things and read some damn American history before shitting on a product that was carefully engineered to fill a gap the market had overlooked and underserved during a crucial boom in industrialization). Mollo is also bland. It's a barley flavored soda that isn't allowed by law to have any flavor profile that might make it appealing to anyone under the age of 21, which means it isn't allowed to taste like much of anything when the legal drinking age is 18. But holy shit, does the lack of any real flavor profile of its own mean you can taste the cannabis extract in the worst kind of way. The best way I can describe the flavor of Mollo 5 is a stale, non-alcoholic beer that was somehow tainted with talcum powder. When I went to the park for a socially distant meet up with some of my wife's friends and everyone's children, I brought two bottles and drank one of them. When I felt like trying it again for this article, I got two sips deep before ditching the stuff and just breaking up some bud like a regular person.
Apart from everything else, Mollo is potent, even if 5mg isn't a huge amount of THC for many regular users. It definitely hits your system much faster than most other edibles, and even most of the other beverages that I have tried. The effect of one is pretty nice as well, imparting a loose, relaxed calm on the body while the mental high is perky and clear, lasting about an hour before tapering off. It didn't leave me lethargic afterwards, though I imagine I would have been after two or three bottles. Honestly, if it tasted better, it would almost assuredly become a mainstay in the back of my fridge.
I'm not trying to be unnecessarily harsh on Mollo or the company that produces it, even if I do have some strongish feelings regarding Hexo that I'll dig into in a later article. The point of this piece isn't to outline one of the few canna-bevs available in Quebec that I will begrudgingly consume. Instead, what I'd like to highlight is how these well meaning but misinformed regulations on the cannabis industry in the province have led to a market saturated with subpar if not outright bad products.
I'll review some more of the other beverages available from the SQDC, and I always promise that when discussing a product I will be as objective as humanly possible. I don't hate Mollo. I wouldn't turn one down if someone offered it to me at a barbecue. I won't be buying them for myself again, no matter how much I want the idea of Mollo in my refrigerator at all times. I will, however, be on the lookout for something better, and if you know what that is, you can tell me all about it at any of the social media links below. Seriously, if you know a better canna-bev in Quebec, message me about it. I am both parched and disappointingly sober right now.
John Dodge can be found writing about comic book stuff at CBR.com, and infrequently posting about other things here and here. Give those links a click and maybe follow or subscribe to a couple of the places they take you. If any of those places are Narnia, contact your doctor or nearest Jesus allegory immediately.