Marijuana Ads of the Future from the Past
1970s advertisement agencies had a very traditional view of marijuana ads in the future.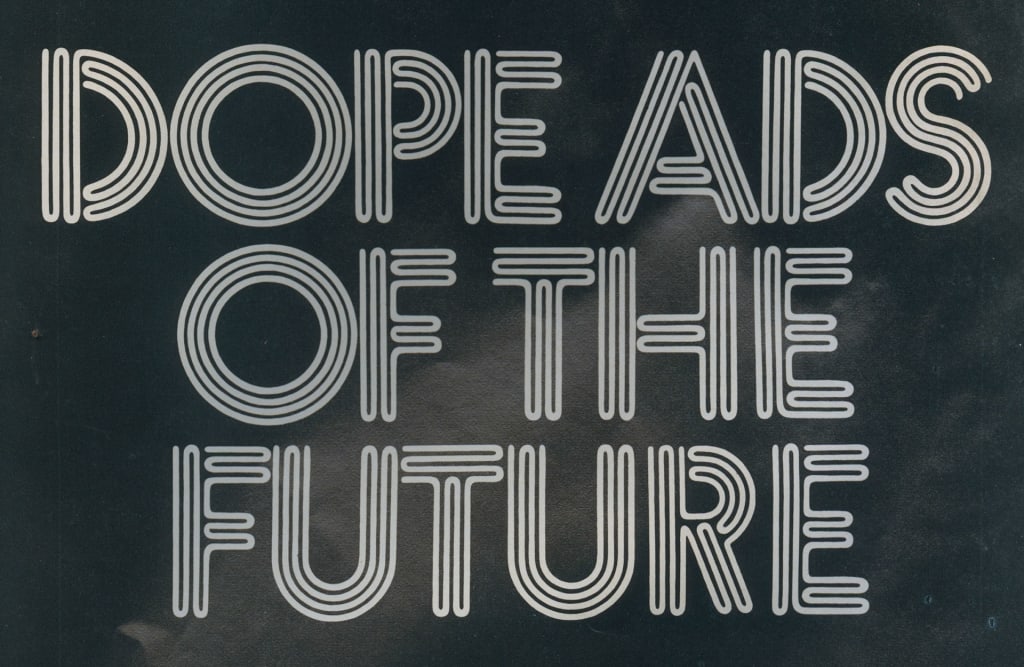 The way things are going, buying marijuana will soon be as easy as buying alcohol or cigarettes. It will be interesting to see how marijuana will be advertised once it is federally legalized. There are innumerable approaches that can be taken in marketing pot. Will it be treated as if it's a health product, like aspirin? Or will it be toted as a recreational product and sold to the public like sounds systems or games? Maybe it will be packaged as exotica, like perfume. Or a status symbol, like an expensive automobile. The possibilities are endless.
More than likely, marijuana will be placed in the same league as cigarettes. And the SoHo and Madison Avenue ad agencies, who already have the big institutional accounts, will probably get the marijuana accounts.
The creation of a fictitious marijuana company called High and its advertising campaign of the future is not to dissimilar to the actual advertising campaigns of marijuana paraphernalia of the past. It all gets very confusing and hard to tell the difference between real and fake.
The High Standard of Living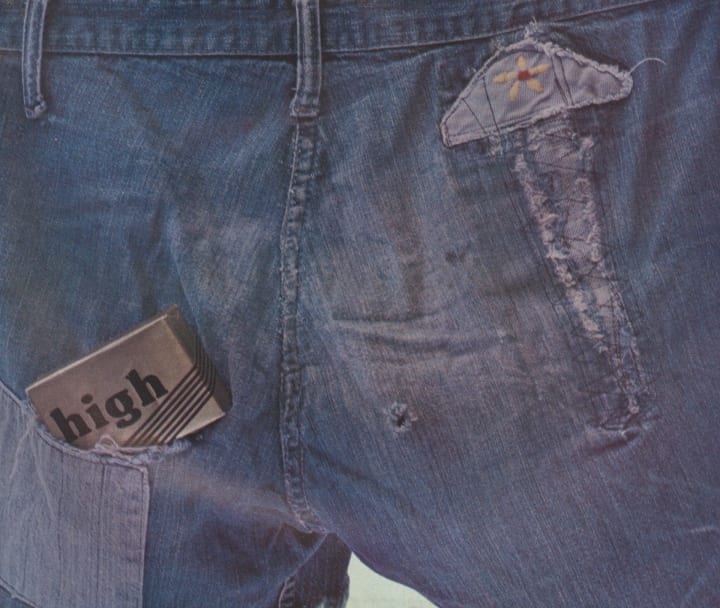 So what would an ad for a ficticious marijuana company of the future look like. Well, in 1970s, they pictured it to go a little something like this:
You have just paid $125 for a pair of denim shorts because they looked cute, so you don't mind paying a little more for your weed. Especially since it's High.
No other smoke will get you into the textures of your shorts as deeply as High. No other cannabis makes everything feel so good as High. No other smoke will make hard core heavy metal music sound as good as High.
And no other marijuana makes you forget that the dog is shitting on the carpet, something is burning in the stove or something is 2 months late.
Who would have guessed that marijuana and denim went so closely hand in hand? Well, probably any hippie in the 70s. Have you seen those bell bottoms??
Marijuana Conversation Pieces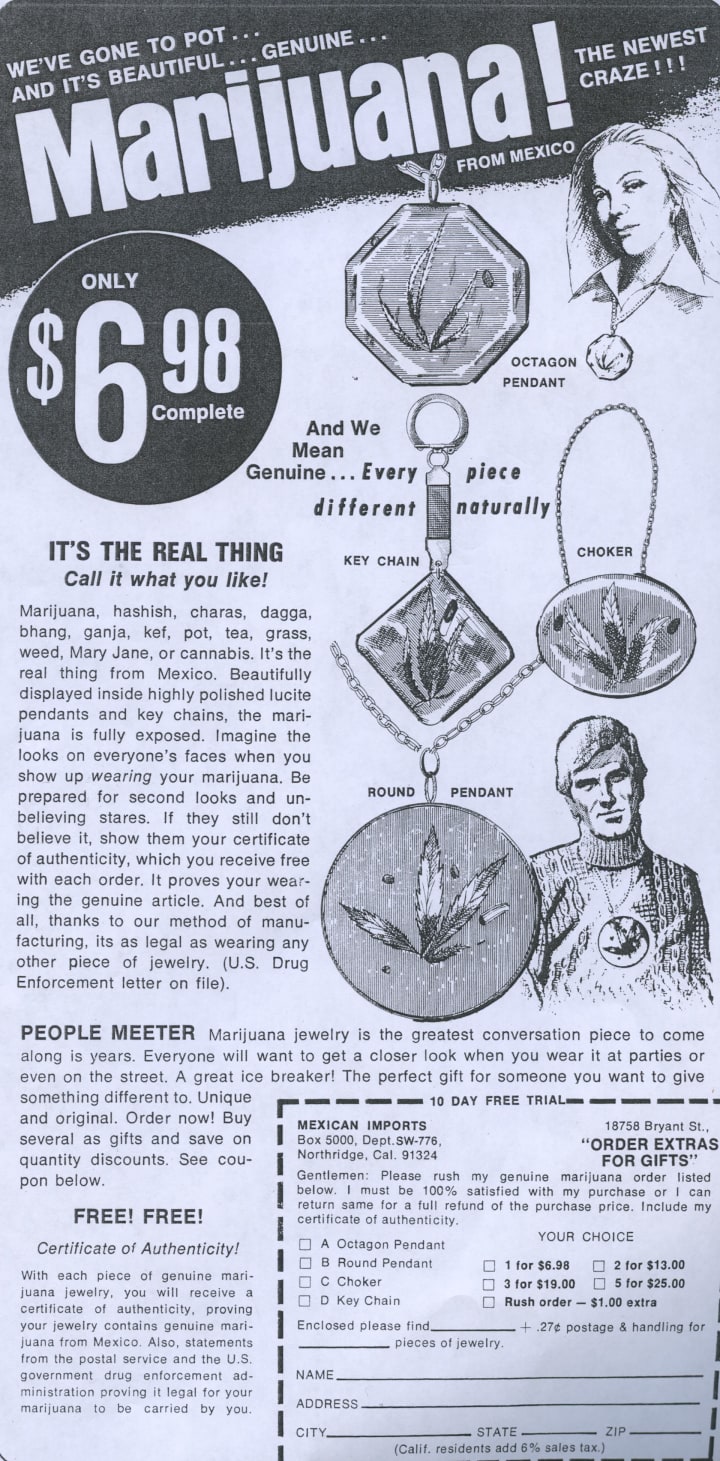 We've gone to pot.... And it's beautiful... Genuine.... Marijuana! The newest craze!!
It's the real thing, Call it what you like!
In the past, they believed that marijuana jewelry would be the greatest conversation piece to come along in years. Everyone will want to get a closer look when you wear it at parties or even on the street, or so they thought.
Marijuana, hashish, charas, dagga, bhang, ganja, kef, pot, tea, grass, weed, Mary Jane, or cannabis. It's the real thing from Mexico. Beautifully displayed inside highly polished lucitependants and key chains, the marijuana is fully exposed. Imagine the looks on everyone's faces when you show up wearing your marijuana. Be prepared for second looks and unbelieving stares, If they still don't believe it, show them your certificate of authenticity, which you receive free with each order. It proves your wearing the genuine article. And best of all, thanks to our method of manufacturing, its as legal as wearing any other piece of jewelry.
Looking at the marijuana accessory industry today, much of these ideals still stand. Companies like HUF have capitalized on the novelty weed market. These pieces of clothing are meant to make a statement, while still fitting in with a particular style. Marijuana conversation pieces were a thing of the past, and will continue to be a thing of the future as long as consumers keep buying them. Marijuana ads of the future from the past started a trend that is still in full swing today. What else did the Mad Men of the past picture for the future? For starters, getting High, the E-Z way.
Get High With a Friend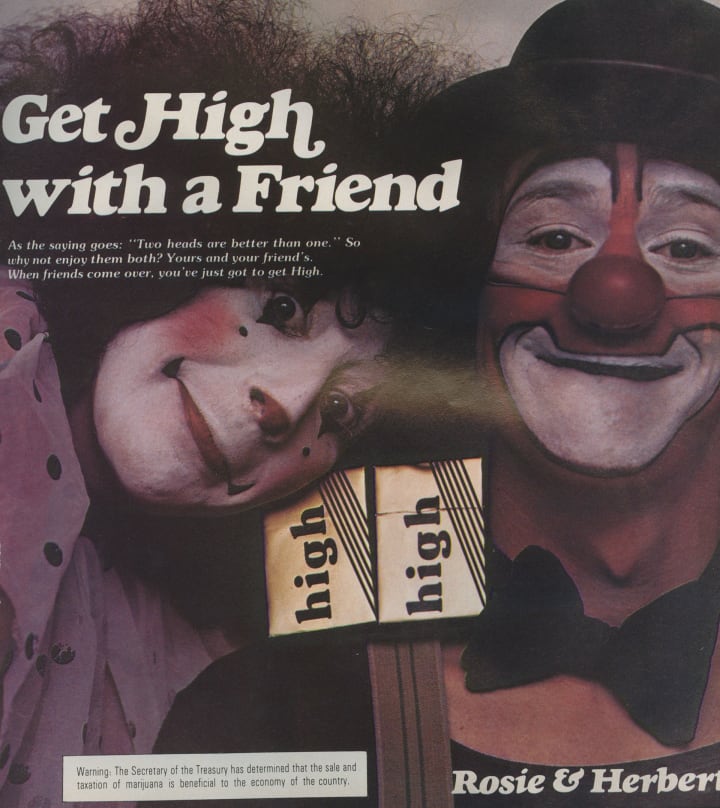 As the saying goes: " Two heads are better than one." So why not enjoy them both? Yours and your friend's. When friends come over, you've just got to get high.
Get Off E-Z Wider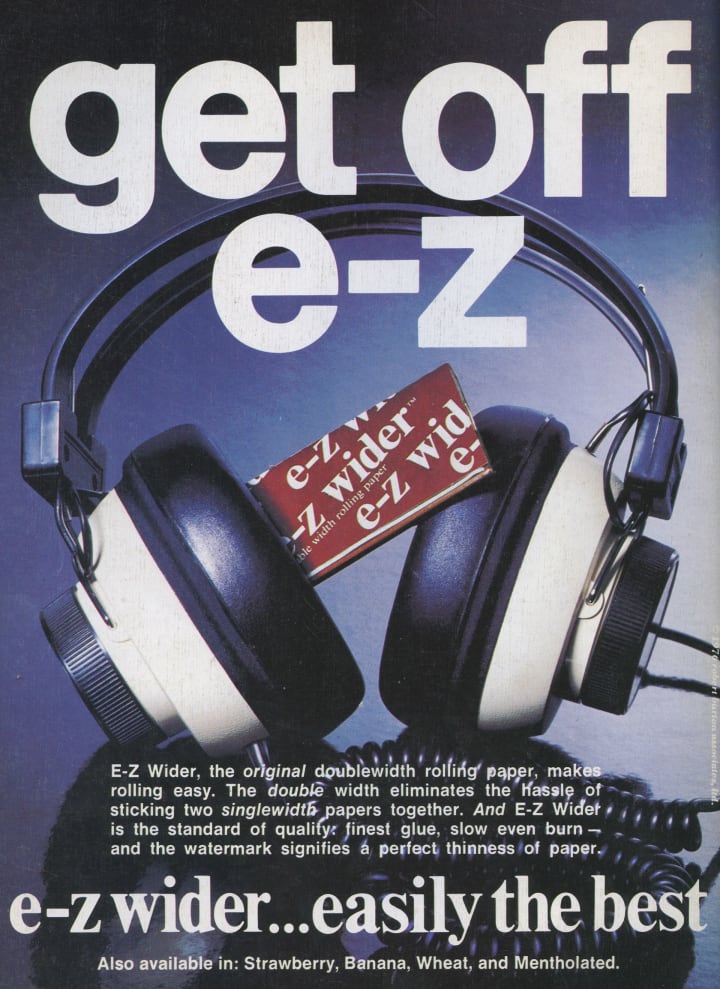 E-Z Wider, the original double width rolling paper, makes rolling easy. The double width eliminates the hassle of sticking two single width papers together. And E-Z Wider is the standard of quality. Finest glue, slow even burn - and the watermark signifies a perfect thinness of paper.
High, Gets You There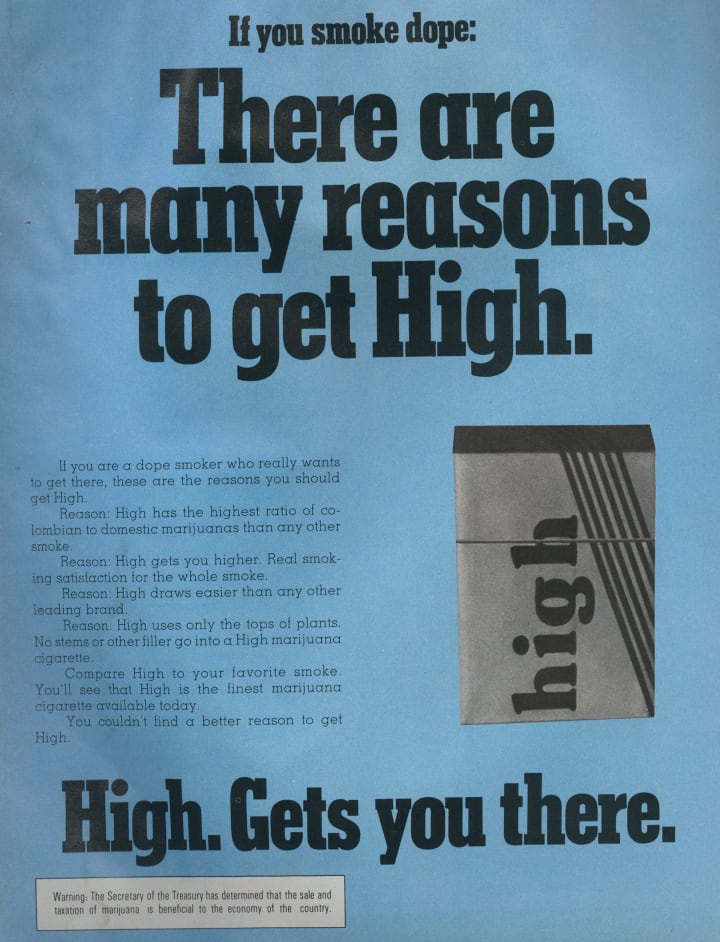 There are many reason to get high.If you are a dope smoker who really wants to get there, these are the reason you should get high.Reason: High has the highest ratio of Colombian to domestic marijuanas than any other smoke. Reason: High gets you higher. Real smoking satisfaction for the whole smoker.
Reason: High uses only the tops of plants. No stems or other filler go into a High marijuana cigarette.
Compare High to your favorite smoke. You'll see that High is the finest marijuana cigarette available today.
You couldn't find a better reason to get high. High. Gets you there.
A Paper and a Half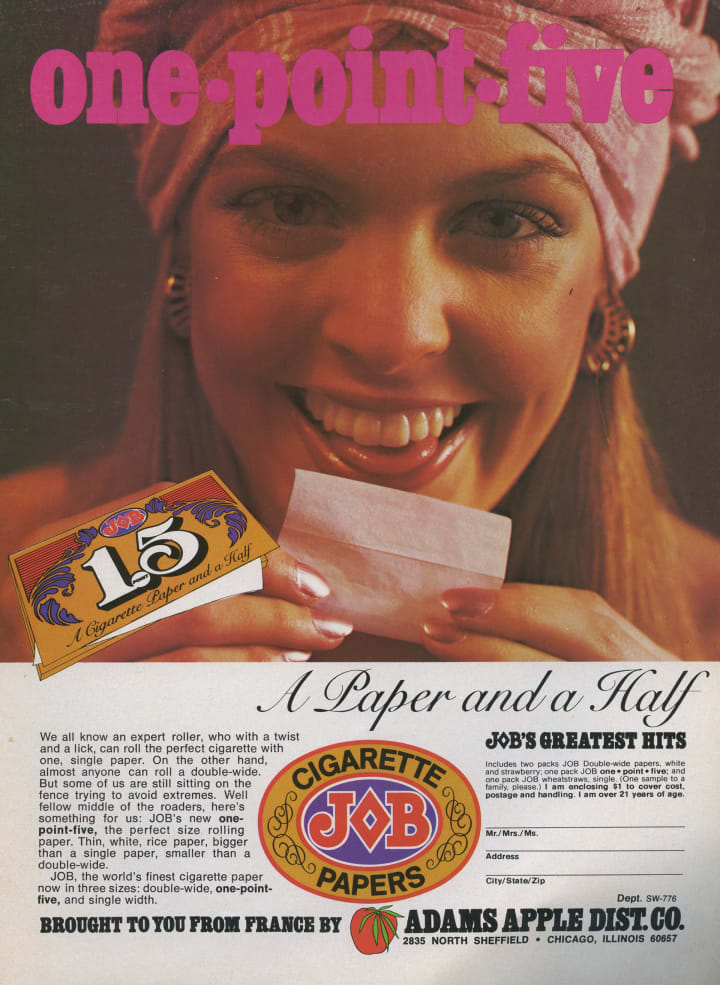 We all know an expert roller, who with a twist and a lick, can roll the perfect cigarette with one, single paper. On the other hand, almost anyone can roll a double-wide. But some of us are still sitting on the fence trying to avoid extremes. Well fellow middle of the roaders, here's something for us: JOB's new one-point-five, the perfect size rolling paper. Thin, white, rice paper, smaller than a double-wide.
JOB, the world's finest cigarette paper now in three sizes: double-wide, one-point-five, and single width.
Show Us You're High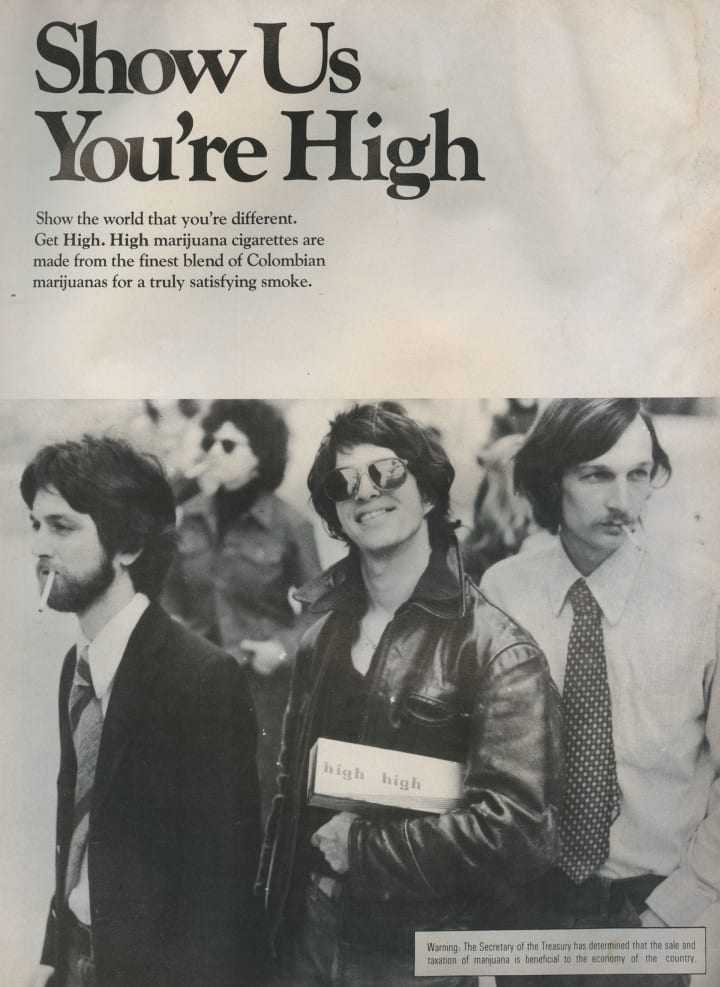 Show the world that you're different. Get High. High marijuana cigarettes are made from the finest blend of Colombian marijuanas for a truly satisfying smoke.
Reader insights
Be the first to share your insights about this piece.
Add your insights