Jefferson Airplane's Paul Kantner Interview
Jefferson Airplane guitarist Paul Kantner reveals how hallucinogens like marijuana and LSD inspired his creative artistry in a vintage interview.
Unbelievable. It was right there on the radio, coming at you with 50,000 watts of power over every major AM station in the country. It was called "White Rabbit," and not only was there an assortment of LSD-laced lyrics about Alice in Wonderland and hallucinatory mushrooms, pinned by a refrain of "feed your head" bombarding you from the car radio everywhere you went, but the song was actually beautiful—a compelling melody with fascinating bass and guitar lines, the first of something they were calling the "San Francisco sound" that had psychedelics written into every quarter note. And God, could Grace Slick sing!
They were called the Jefferson Airplane, and they were born out of the turmoil of the 1965 San Francisco street scene, where national sentiments of peace, flowers, and LSD were just beginning to seed and flourish. Originally formed as a folkrock group by folksinger Marty Balin and guitarist Paul Kantner, who met one night in a San Francisco Club called the Drinking Gourd, the Airplane was the very first of many groups nurturing on the hippie agar of San Francisco to get a major recording contract, with RCA Records (thanks to the help of a little known concert promoter, Bill Graham, who was managing them for a while).
With a willowy blond lead singer, Signe Anderson, the group recorded their debut album, The Jefferson Airplane Takes Off, and managed to romance a large national audience who at first was leery about buying the hype about a new kind of music from San Francisco. Although the first Airplane album became a chart hit and was certified gold for sales over a million dollars, it wasn't until ex-model Grace Slick replaced Signe Anderson and recorded "White Rabbit" and "Somebody to Love" for their second album, Surrealistic Pillow, that the Airplane took off and soared. From there, along with new drummer Spencer Dryden, the Airplane flew a nonstop success route into the early seventies. They were proselytizing drugs, free love, and free living, and all the time orchestrating the social consciousness with massive hit songs like "Ballad of You and Me and Pooneil," "Watch Her Ride," "Crown of Creation," and the unforgettable "Volunteers."
But by the early 1970s something was happening in the group that was undercutting them musically. Marty Balin, the key to the group's hit compositions, was unhappy. With a lot of grumblings and very un-love and peace-like accusations, the group splintered Jorma Kaukonen and Jack Casady who went off to form Hot Tuna—and failed. Grace Slick and Paul Kantner went off and made solo albums, which failed. Marty Balin seemed to have just disappeared from the rock scene. The Airplane seemed to be doomed to dry storage in the hangars of our minds, but then...
Unexpectedly, a new incarnation of the Airplane suddenly appeared in 1975, when Balin, Slick, and Kantner unofficially re-formed as the Jefferson Starship with the aid of lead guitarist Craig Chaquico and bassist David Freiberg. The group released Dragonfly, which became certified gold in February of 1975. Red Octopus, the Starship's second album, was released soon after, and not only did it quickly turn gold, but egged on by Marty Basin's song "Miracles," was the first album from the group members to reach the number one position on the charts. The Starship also released Spitfire, which was shipped to record stores with gold certification.
Through their many stages, the spiritual pilot of the group had always been Paul Kantner. Born in San Francisco on March 12, 1942, Kantner's social awareness and sensitivity was a vital part of the group's growth. A soft-spoken, intelligent, friendly man with blue eyes and long blond hair, he looked like a hip Dobie Gillis. Kantner lived in San Francisco with his and Grace Slick's daughter, China, and although the romantic relationship with Grace came to an end, the two still maintained a close musical relationship and share in bringing up the baby.
Kantner died on January 28, 2016 at the age of 74 after suffering a heart attack just days earlier. Grateful Dead drummer Mickey Hart reflected after his death, "He was kind of the backbone of the band." Kantner's legacy will live on forever, as he will always be known for his outspoken political activism, as well as his incredible musical talents.
Head Magazine caught up with Kantner in the late 1970s in Cambridge (Boston), where the group was staying while playing gigs in the northeastern United States. His red and yellow hotel suite was littered with science fiction books, newspapers and magazines, dirty and clean clothing, and a healthy stock of cassette tapes.
A solid, stocky thirty-five-year-old who studied martial arts including Tai Kwan Do and White Crane Kung Fu, Kantner smoked an endless chain of cigarettes while talking about the Airplane, the Starship, his daughter China, the country China, and marijuana—a favorite topic.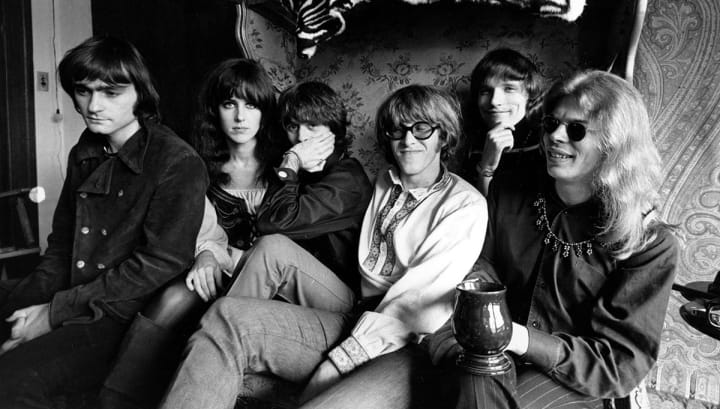 Head: Since the Jefferson Airplane was born out of the drug culture, and is to this day associated with the song "White Rabbit," do you think the Starship still carries a drug connotation?
Kanter: Well, the group came out of that environment, and we still take drugs, but I never felt it was a stigma. We never did songs just about drugs. There were also songs about politics, love, beauty, truth, justice. But I like drugs, certain drugs. I mean, John Denver smokes dope. It's not that awful.
In the beginning, people focused on the drugs because they were an immediate part of what was happening in San Francisco. It was against the law and it represented a threat to the children of America, and all that bull. But drugs weren't any more important than they are now. They were like ice cream with a meal. You don't go to dinner just to eat ice cream. I happen to love ice cream, but if I only ate ice cream I wouldn't be very healthy.
As far as politics, the group was only commenting on the revolution. A lot of people took us as saying, 'Let's have a revolution and tear up the streets. We were commenting positively on it: we weren't orchestrating it. I never saw the Jefferson Airplane as prophets standing on a stage and pointing across the waters of the Dead Sea. I understand that a lot of people thought we were encouraging drugs and revolution, and I can applaud that. But actually, we just put on a piece of wax what other people were thinking. We weren't political, though: we didn't involve ourselves. We were right then and we're right now. Politics sucks.
Do you ever worry about taking chemicals?
If I get the clap I'll take penicillin.
What about grass? You have a near-legendary reputation for ingesting large amounts of very good weed.
I don't know how much I smoke, but I know it's very good. When you light a joint you pass it around and who knows how much of it you get. Enough, though. Grass made me a whole man. Before I started smoking marijuana I was painfully shy at times. It's probably altered what I would have been, but it doesn't alter my daily consciousness that much that I notice. I started smoking in 1962 when I was in college. Jorma Kaukonen came over to the house one day and offered me a joint, but the only exposure I had to marijuana was the movie Reefer Madness. I turned him down at first. I said, "I heard about that stuff."
Do you think you get ripped-off for your dope, overcharged because you're a rock star and make lots of money?
Rock and roll people definitely overpay for their drugs, but by overpaying they get the best. Anyway, what's overpaying? It's expensive in rock and roll, but it's more expensive to buy it in the straight business world, like down on Wall Street where they'll pay any price to be in and smoke grass. But I never get strung out to the point where I need grass so badly I'll overpay for it.
Do you ever get too stoned to function?
Well, if I smoked Thai weed before I went on stage I wouldn't be able to play my guitar, but I don't do that. I have what I call day dope. There are certain kinds of marijuana that are brighter, zippier, higher. For me, good high-altitude Mexican grass is best for the daytime.
Aren't you afraid of being busted out on the road?
No. If they wanted to get us they could have done it over the past ten years. We're just sort of fuck-offs to them. Of course, we have been busted, but it was only a Keystone Kops kind of thing.
Is this story going to be a contender for the "Great Dope Busts Hall of Fame?"
It's probably just a footnote. We were in Hawaii in 1970 with the Airplane and we rented a house on the ocean. A local reporter had come by and we did a rap. I was smoking a joint and he put it in his article that I was toking a "log-sized" marijuana cigarette. It incensed a bunch of old ladies in the social circles in Hawaii who contacted the police department. The narcs set up watch on us from the house next door, which was owned by some local guy.
Driving home from the gig the cabdriver pointed out the car in front of us and said it was an Hawaiian narc car. It pulled into the house right next to ours as we pulled into our own driveway. There were four or five guys in there. I went to the back of the house and walked along the sea wall up above the ocean, huddling in the shadows so I could check out what they were doing next door.
Suddenly somebody screamed, "You're under arrest! What's he doing here?!" There was this big grabbing scene where they all jumped on me and I started yelling, "The cops are out here! The cops are out here!"
Anyway, they busted me, for one joint, which I was supposedly smoking while I was looking for them. We got a lawyer but I was found guilty. The judge asked me if there was anything I wanted to say before sentencing and I stood up and said, "This is a lot of bull! This is why the whole country is falling apart," and my lawyer yanked on my sleeve and said, "Sit down!" The judge said, "Don't bother me," and fined me $100.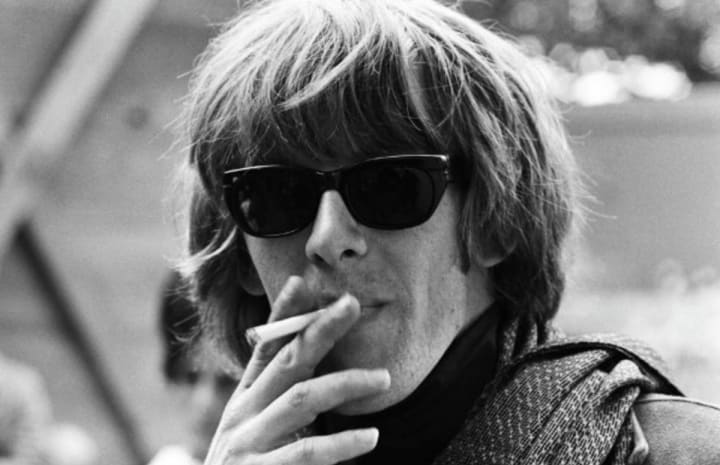 What are your feelings about heroin?
Heroin is embarrassing. I'd kill a heroin dealer. I don't see that drug doing any good. Everybody I know who used it was completely fucked up, no good to themselves.
There are people who feel the same way about acid.
Yes, and I'm surprised none of us blew out on acid because everybody in the group did a phenomenal amount. But we never had a bad trip. Improperly handled, acid can hurt you, just like driving a car. I certainly don't think it's a drug that should be left up to the general populace, but we've been lucky. I don't use it anymore. Everybody I know stopped using it four or five years ago. We'll sniff a little occasionally, but we don't do any big acid trips like we used to where you go out for two and a half days. It opened a door, and once the door has been opened you don't have to keep on re-opening it. It may just have been applicable to the time it was in. I mean, it may have been introduced by extraterrestrials...
When Marty Balin left the group he was quoted as saying that cocaine caused the breakup of the Airplane. Is that true?
I wouldn't pin it on cocaine. The Airplane fell apart because everyone became selfish, self-indulgent, a kingdom unto themselves, and they felt they had no need to do any politics between people, but that wasn't cocaine. That was the inevitable process of a personality clash that cocaine helped along.
Do you still use cocaine?
No. Coke, I think, is really dangerous. I see people doing coke until they can't talk. I stopped doing it when my daughter China was born, but not consciously—it just seemed to happen. You know when you sniff coke your nose gets stuffed up and you need the equivalent of Sinex Nasal Spray to keep your nose open. That or more cocaine. I was driving to the studio late one night and I panicked because I had forgotten my nasal spray and it was too late to find a drugstore open. I just did a 180-degree turn. I don't like it anymore. It doesn't really get me off and it just makes me nervous.
Your daughter is named China after the country. What's your fascination with the Orient?
Bruce Lee first turned me on to the whole Chinese thing. I'm a real movie freak and I went to see one of his films one day. I'm real easily impressed by heroes. Bruce Lee was phenomenal. The movies weren't so good but watching him orchestrate himself around the screen was terrific. I started learning more about the whole Chinese culture then. It was almost like finding Jesus.
I think it was the whole fifties Communist trip with McCarthy that forced us to wipe out a whole segment of history. In school I never learned anything about the Chinese. I never heard of Mao. All I heard was God Bless America.
I first started learning about China with martial arts, the whole macho side of it. Ron Dong was my instructor. He's also an acupuncturist and sometime she'll come out on long tours and give us a tune-up. By putting an acupuncture needle in the proper spot, it acts like a charge. You know, you can even get into breast enlarging with acupuncture by redirecting the flow of water to the breasts. Of course it makes the woman very thirsty and you have to keep drinking water to keep the proper balance in the body. I guess you can get like, um, a boob junkie.
Featuring classics like "White Rabbit" and "Somebody to Love", Surrealistic Pillow by Jefferson Airplane brings you back to Haight-Ashbury circa 1967. This album is perfect for long time fans and new listeners of Jefferson Airplane with its classic vintage sound.