How Juneau, Alaska's Weed Makes My Heart Beat
Phoenix Rising explores Juneau, Alaska's legal cannabis culture.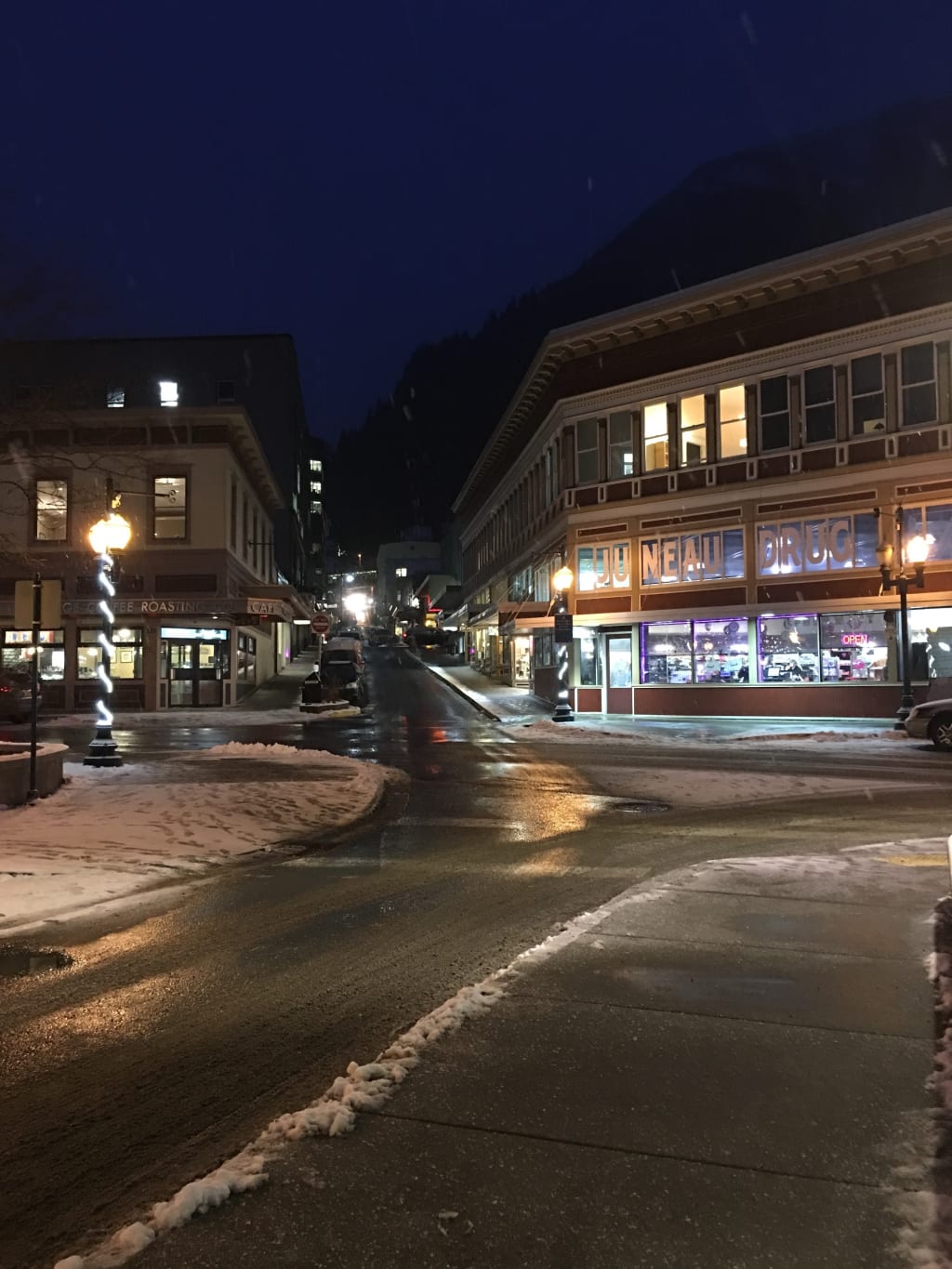 Kindness. My lasting impression of Juneau Alaska and the cannabis culture there was kindness. I arrived January 23rd for the three-day Marijuana Control Board meeting where my clients, Northern Dreams, LLC had an application for approval on the meeting agenda for a Limited Cultivation Facility.
Our first stop was The Hangar by the Wharf for a late lunch, a Long Island Iced Tea and a connection with our waiter, William. He told us where the two retail stores were located and a story about buying his daughter a new glass piece at Rainforest Farms.
After lunch we walked the three blocks up the street towards Rainforest Farms, Juneau's first cannabis retail store. We found ourselves distracted by the Zootz smoke shop along the way. The unique glass pieces and excellent customer service led me to buy a small white spoon pipe to enjoy the flower I would no doubt be purchasing at Rainforest Farms next.
Rainforest Farms: Juneau's First Legal Cannabis Retail Store.
After leaving Zootz, we walked around the corner to the beautiful exterior of Rainforest Farms. James Barrett, owner of Rainforest Farms created such a bright and welcoming storefront with white cannabis leaves acting as the window film to block the store from public view.
I opened the door and walked in to the open concept space that first introduced me to branded merchandise and a glass display case of smoking accessories. I was greeted by a smiling face seeking to check my ID. After proper age verification I turned to see a shelving unit of books about cannabis that acted as a barrier between the area where the line would circle around had it been busy. I followed the roped off path to the beautiful wood counter and was greeted by another set of smiling faces behind the counter. It was only then that I took a moment to look around and recognize the white walls, light wood floors, and light green paint accents. It felt sophisticated, classy, and bright.
All cannabis was displayed on or behind the counter. The selection of flower, concentrates, and edibles were professionally displayed both in presentation and on a screen with names, quantities, and prices. I was surprised at the only four strain selection, all of which had been grown by Anchorage based companies, Danish Gardens and Parallel 64. After realizing I had no cash to make a purchase, I noticed the store had an ATM. After visiting the ATM I purchased two half joints of pre-rolled cannabis flower. One for $7 and one for $8. The strains were named DG Kush and THC Bomb.
Rainforest Farms: Open Concept Storefront Design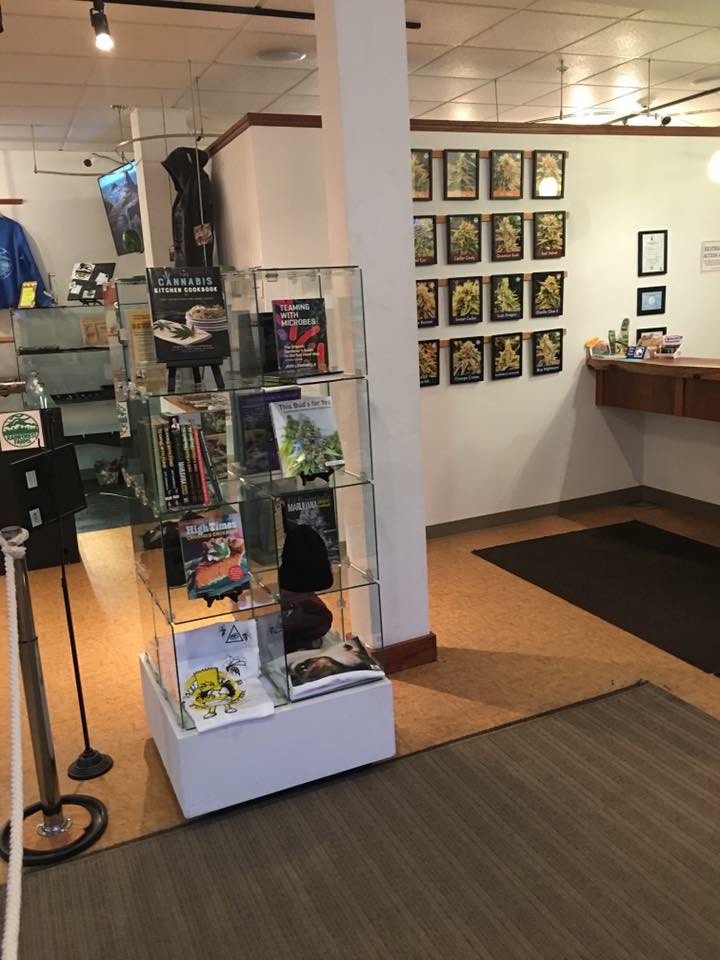 Rainforest Farms: Providing Quality Cannabis for Juneau, Alaska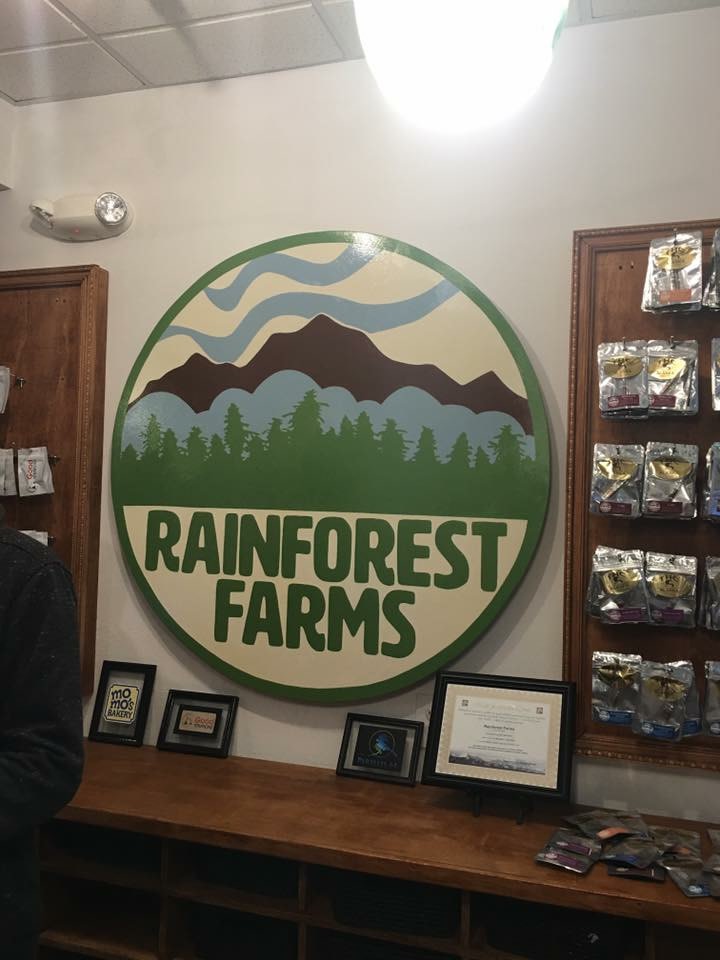 Rainforest Farms: Screen Menus Making It Easier for Selection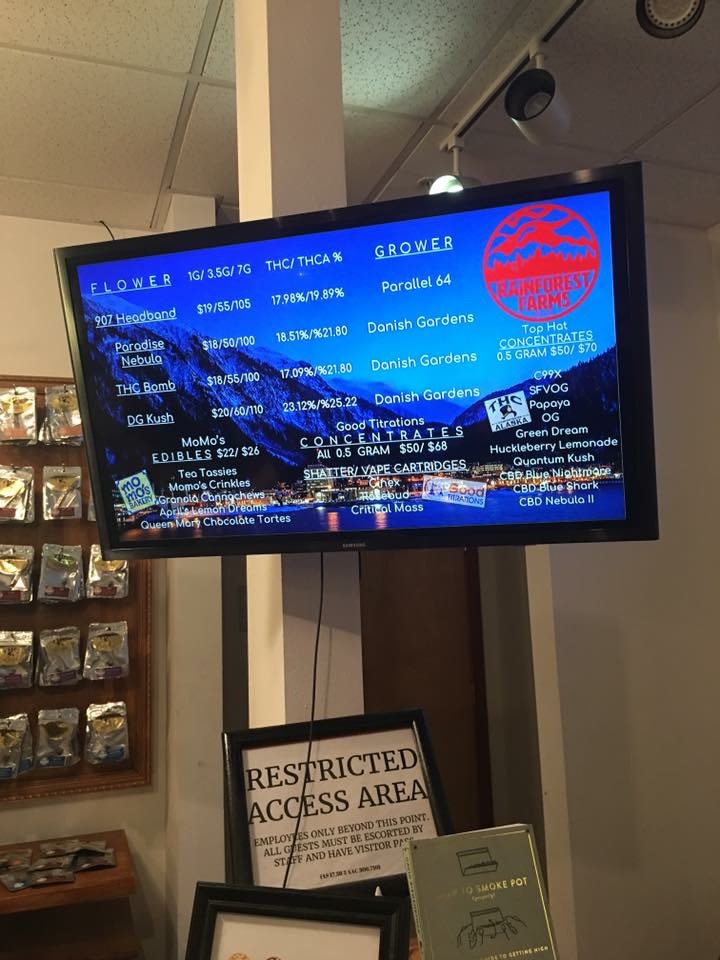 On the way back to the hotel I smoked half of a DG Kush joint that my client had purchased, and we stopped at a convenience store for snacks. The worst place ever to go when you are medicated on cannabis and trying to eat healthy on your trip! It took great self-control to avoid purchasing the cookies or fudge covered Ritz and opted for healthier options like Clif and Luna bars! At the refrigerated beverages I made eye contact with a beautiful woman and smiled. I laughed and said, "I'm too stoned for all of these choices" and introduced myself and my purpose in Juneau. She lit up and said she had once worked in a Grow in California and asked me what strain I had smoked. The cashier was equally friendly when I told her why I was in town and she said she loved the DG Kush strain as well. The whole interaction was progressive for me showing me that instant girlfriends can be made over the common use of cannabis.
After returning to the hotel and taking a bath, I attempted to find my smoking spot for the next three days outside of the hotel that would be discreet enough to avoid a public consumption fine. There are no on-site consumption locations in Juneau or statewide for cannabis consumers. I asked one of the hotel employees where one may go if she wanted to smoke something other than a cigarette and he simply suggested some place in the bushes.
I found a place at the back of the parking lot behind the last row of the cars that faced the airport. It was a snow-covered area of rocks and a walking path between the hotel parking lot and the road separating the airport. I plugged in my headphones and started Pandora as I lit up the half joint of THC Bomb. I smoked the whole thing and danced and sang not caring for what anyone who walked up on me might see.
I reached enlightenment when Kelly Clarkson's "Heartbeat Song" began, and the THC Bomb rolled through my body. It had me so creatively inspired as I considered how I would write this article. It became clear to me that I drop THC Bombs of knowledge, awareness, love, and joy when I am consuming cannabis.
The next day was the start of the three days of the Marijuana Control Board meetings. I spoke during public testimony to release the Phoenix Rising Compliance Audit that I had created out of sheer determination to see my industry succeed by avoiding compliance violations and license revocations.
The Fireweed Factory: Juneau's Home-grown Cannabis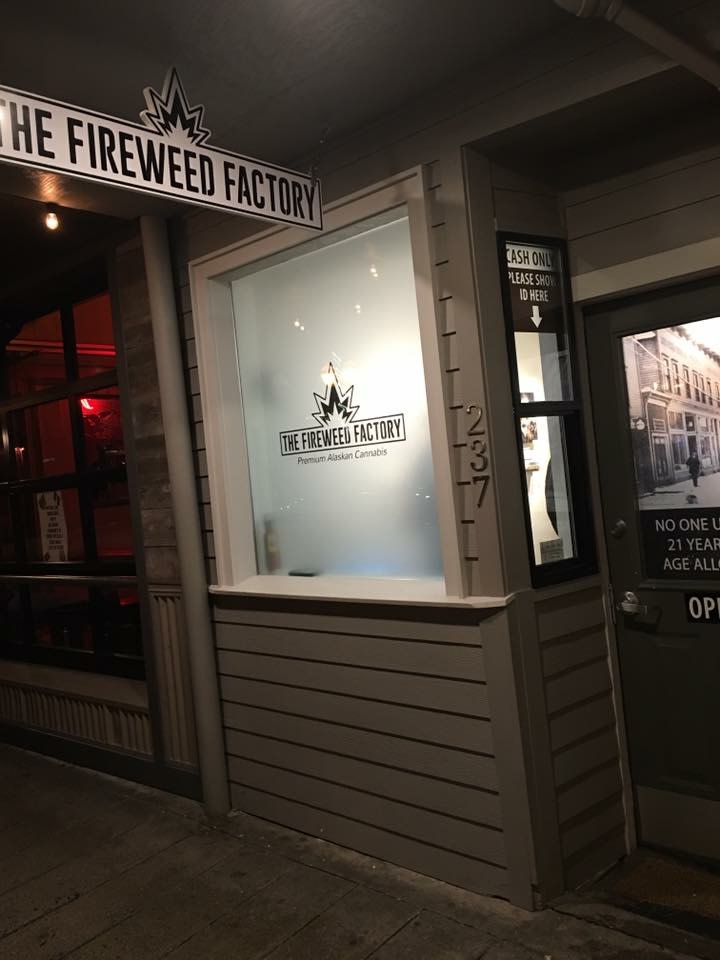 After the meeting that night we visited The Fireweed Factory, which was a block down the road from Rainforest Farms. The approach and entrance were wildly different this time. The storefront presence was tiny both on the exterior and interior, but the impression made was powerful.
When I approached the door, a small window to my left opened and a beautiful man with a red beard asked politely for my ID. Upon age verification he opened the door for me. When I stepped through the door, there were three others in a space maybe 10 feet wide and 15 feet deep. It had white walls with beautifully framed single photos of the magnified colas of the product grown by The Fireweed Factory's Standard Cultivation Facility that decorated the walls. Under the photo was the strain name and a detailed experience and terpene description. Below that was a shelf with a dish holding a sample for smell and sight purposes.
The Fireweed Factory: Size isn't everything....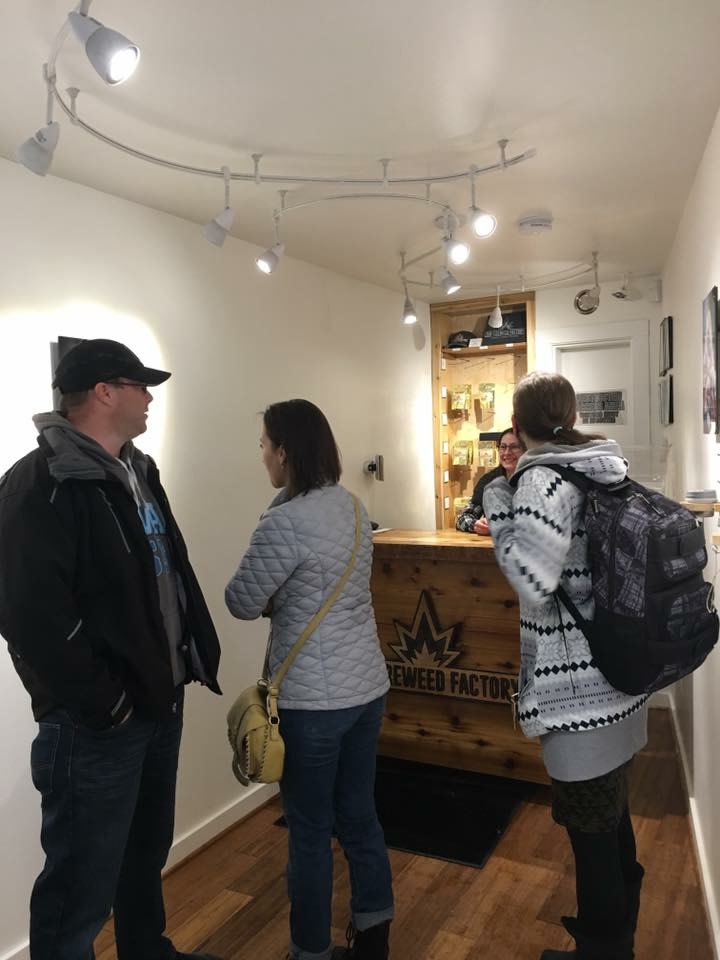 Taku Thunder Grown by The Fireweed Factory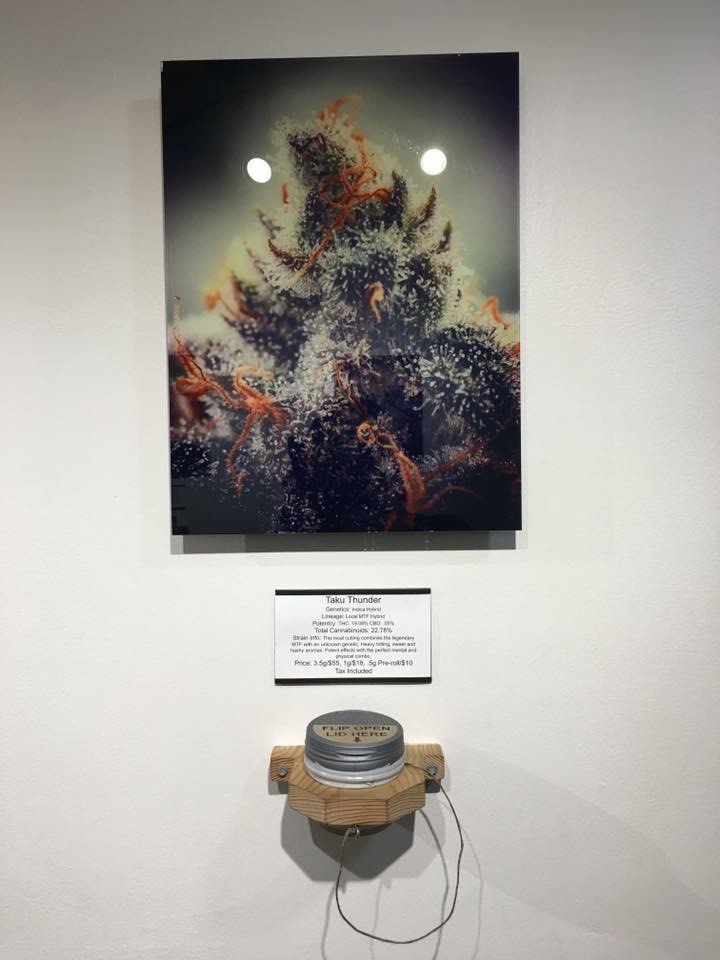 They were out of pre-rolls at the time, so I opted for one gram of Taku Thunder. Realizing I had no cash, I walked the block to Rainforest Farms and while I was there to use the ATM I picked up a half joint for $7 of Paradise Nebula grown by Danish Gardens in Anchorage Alaska.
Labels and potency testing are the benefit of a legal market.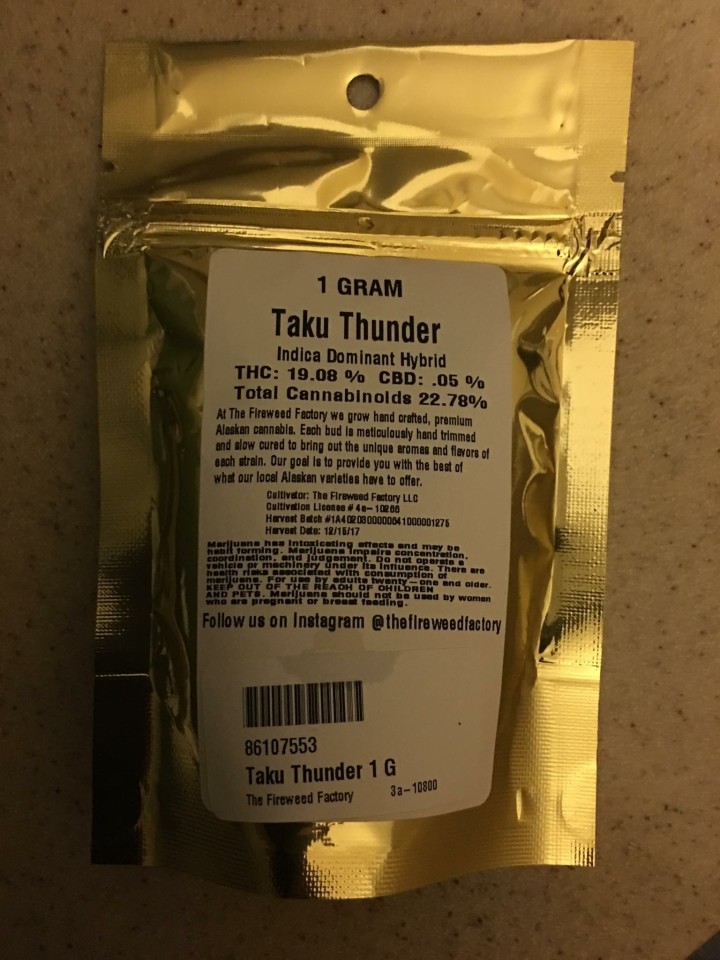 Branding is everything: The Fireweed Factory packaging is the Gold Standard.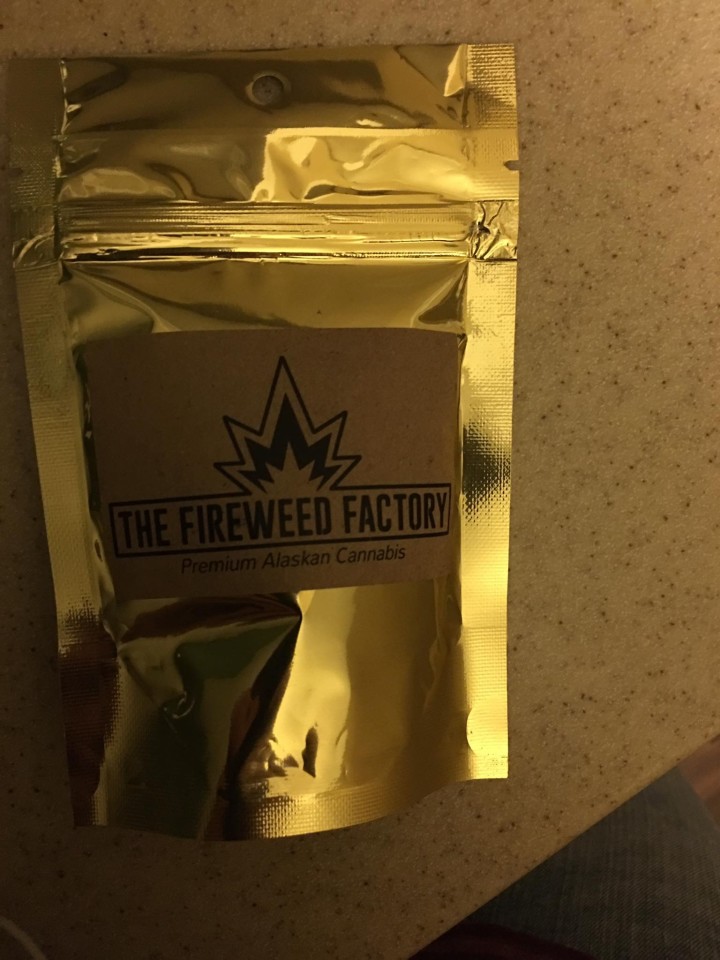 My favorite cannabis experience that night was the Paradise Nebula. An uplifting mind and body high. I felt like I was floating through a Paradise Nebula because I was so blessed to be in Juneau in the first place supporting the Alaskan Cannabis Industry. I found that smoking joints while traveling was easier even though I had no "legal" place to smoke them and not feel like a criminal.
Paradise Nebula: The Best Cannabis Experience of the Trip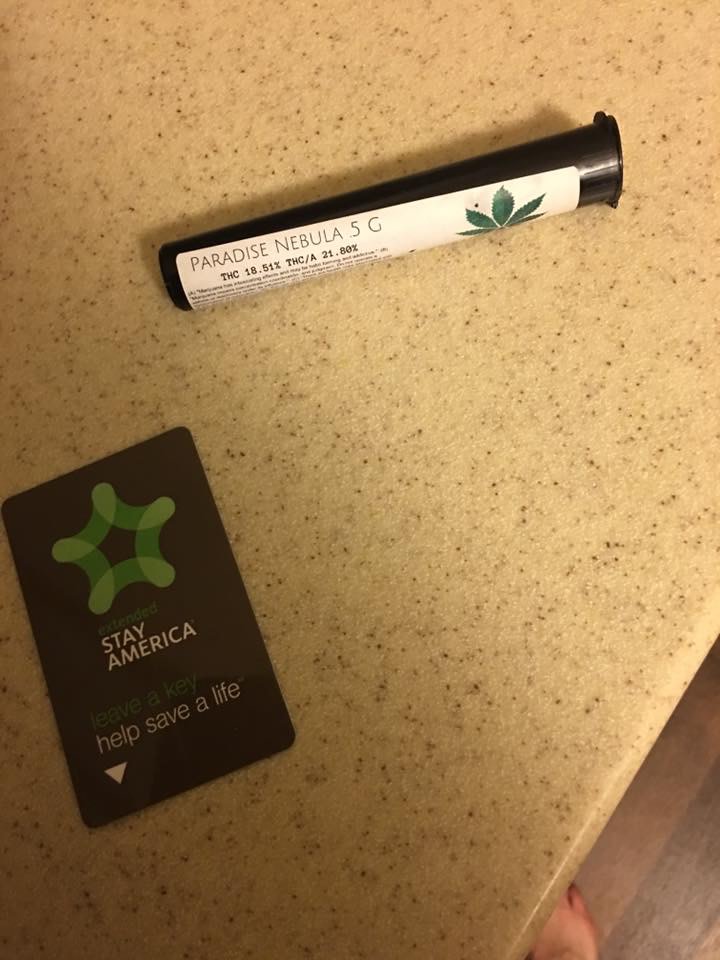 My Juneau trip was full of friendship, connections, joy, and lots and lots of quality cannabis. I consumed strains called DG Kush, THC Bomb, Paradise Nebula, and Taku Thunder. I loved that I could walk into a store and see and smell the products before buying. I loved the potency profiles being listed on the labels. I loved the interstate commerce from Anchorage, Alaska businesses flying product to our state's capital Juneau, Alaska, which is located on an island. I loved that I could experience some home-grown cannabis from The Fireweed Factory.
As I write this just over a week after I left, I realize I miss it. The culture. The art. The history and beauty of this coastal city that houses our state's capital. It was all breathtaking and most of all I loved the people and their kindness.
Thank you, Juneau, Alaska, for having me! Until next year…Grow on!!
Sara WilliamsPresident, Phoenix Rising, Inc.
Phoenix Rising saves the world with cannabis.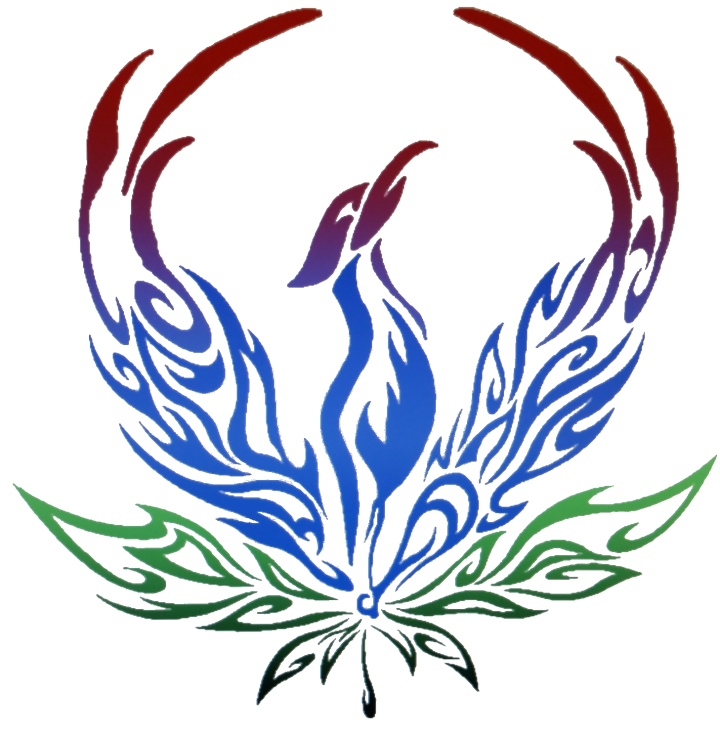 Sara Williams is a cannabis business consultant in Alaska's legal recreational market. She is President and CEO of Phoenix Rising, Inc., whose mission is to revolutionize the economies of the world by supporting the growth and development of the cannabis industry into an economically viable tax revenue resource for local governments and the people. She is passionate about saving the world with cannabis for her four-year-old son and many generations to come.