High Stream Flavors
In California, soon to start recreational pot sales, streaming TV giant Netflix makes a bid to elevate lifestyle marketing (and its own new programming) with a pop-up store in L.A.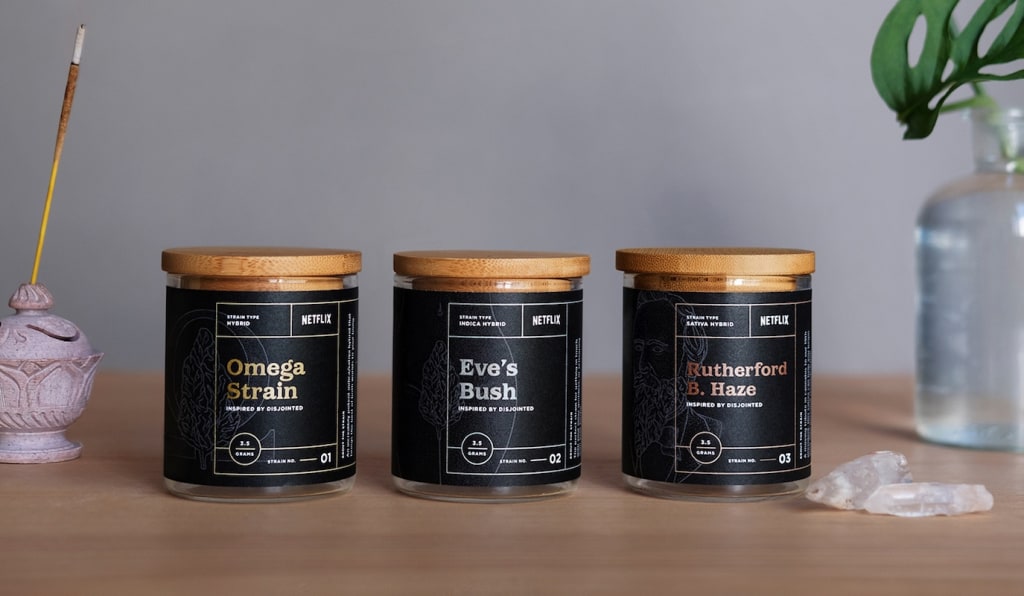 The tastes of Disjointed. Netflix's new workplace comedy gets a line of herbal supplements all its own (Jennica Atkinson/Carrot Creative for Netflix).
Entities of commerce often make strange bedfellows. A great example of how marijuana's intersection with the wider culture yields surprising synergies between products happened in Los Angeles over the weekend when Netflix, the streaming-TV media giant, opened a pop-up store at a local medical-marijuana dispensary to sell various strains of marijuana as a promotion specifically for one of its newest shows and for other Netflix shows. "Netflix and chill," indeed.
The pop-up project, which ran August 25–27 at Alternative Herbal Health Services, a medical cannabis dispensary in West Hollywood, was created to promote Netflix's new workplace comedy, Disjointed, which debuted August 25. Oscar winner Kathy Bates stars as a lawyer and die-hard legalization supporter who realizes a personal dream when she owns and opens a cannabis dispensary in L.A. "Joining her are three budtenders, her twenty-something son, and a deeply troubled security guard," says a Netflix press release about the show. "All of them are more or less constantly high."
Quite a Cast of Characters
It's a tandem that makes sense and a natural given the vast Netflix audience and pot's emotional affinities with other Netflix shows. The pairings at the weekend event were inspired, all right. Three of the cannabis strains available — The Omega Strain, Eve's Bush, and Rutherford B. Haze — were "inspired by" Disjointed, created by Chuck Lorre, whose CBS series, Two and a Half Men and The Big Bang Theory, are two of the most successful sitcoms in U.S. television history.
Other shows weren't left out. Banana Stand Kush, recommended for rolling into "a big yellow joint," was blended to watch with Arrested Development. Camp Firewood, described as "a very chill indica," is intended for viewing with Wet Hot American Summer: Ten Years Later. Mystery Science Theater 3000 pairs well with Moon 13, a sativa hybrid named for the show's base location. Prickly Muffin, an indica hybrid, was tailored with Bojack Horseman in mind.
Watching Chelsea? Vodkush is the suggested fumée du jour. Got a Lady Dynamite jones? Roll with Sassafrass OG. If you're binge-watching Santa Clarita Diet, Baka Bile is recommended. And for Orange Is the New Black, you gotta go with Poussey Riot.
One-Off or Trial Balloon?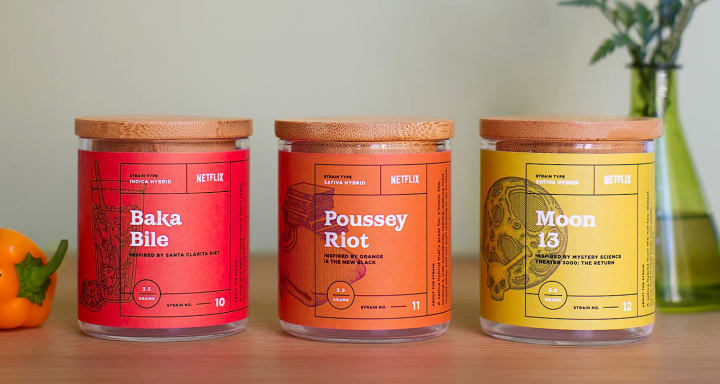 Because of federal laws, Netflix got no profit from the cannabis sales over the weekend; the pop-up sale was solely for promotional use. And also because of federal regulations, the strains weren't available by mail.
Under current California state law, only those with qualifying medical conditions, confirmed with a medical marijuana card, could buy the Netflix-branded herb (or any marijuana product). But the state law is about to change.
The brandy-and-cigars aspect of Netflix's marketing tactic is well-timed for the arrival of recreational marijuana in California, a social and legal sea change set to begin in early 2018.
◊ ◊ ◊
Netflix's one-time pop-up gambit comes as the state preps for the brave new world of recreational marijuana sales via implementation of Proposition 64, the initiative passed by voters in November 2016.
The nation's most populous state would join Washington state, Colorado, Nevada and 22 other states and the District of Columbia in decriminalizing or legalizing marijuana for use by adults over the age of 21. In California, the move that could net between $4 billion and $7 billion for the cannabis industry, and $1 billion in taxes, by one estimate.
The weekend's presumably one-time pop-up has the feel of a trial balloon for Netflix, whose programming taps into popular culture at a number of levels, with shows created with an energy, frankness, and conceptual daring that broadcast networks can't match. And the buying public likes it. "The response from the community has been great, amazing," said Jason Beck, co-owner of Alternative Herbal Health Services with Dina Browner, a Disjointed consultant (and a "medical-cannabis consultant" for Snoop Dogg and 2 Chainz).
◊ ◊ ◊
It's hard to think that Netflix, newly aggressive in its hunt for quality content and its inclination for breaking established media patterns, would do this, go to this much trouble and detail, for a one-and-done marketing gimmick. One that happens to be a novel way to gauge public reception to a surely untapped market: recreational marijuana chemically paired with TV programming.
The company seemed to note the possibilities in a statement before the event. "Each strain was cultivated with the specific shows in mind, designed to complement each title based on their tone. For example, sillier shows may be more indica dominant, while dramedies will be more sativa dominant to help the more powerful scenes resonate."
Federal law apparently won't permit this one-off experiment to go any further, even though the impact of current state law isn't clear (and the force of next year's law isn't known). But David Javerbaum, Disjointed's co-creator, clearly understood the potential of this lifestyle marketing idea in an August 25 interview with NPR: "I mean, people are watching Netflix stoned with or without our show," he said, "by the millions, I would imagine. If the only people who watch us are stoned people who watch Netflix, that's an enormous audience."
About the Creator
Michael Eric Ross writes from Los Angeles on politics, race, pop culture, and other subjects. His writing has also appeared in TheWrap, Medium, PopMatters, The New York Times, Entertainment Weekly, msnbc.com, Salon, and other publications.
Reader insights
Be the first to share your insights about this piece.
Add your insights