Blueberry Muffins Cannabis Strain Review
Taste, Smell, Terpenes, and Effects.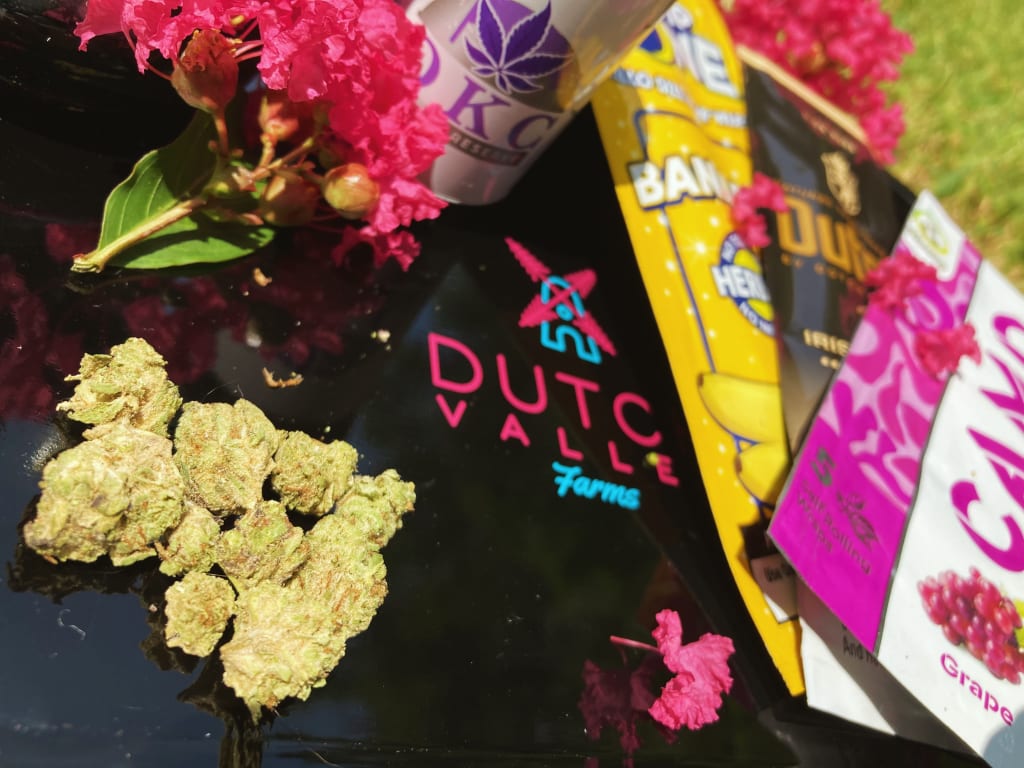 Photo by Author
I'm very skeptical of the strains that I adopt into my list of favorites. Most of them I forget shortly after trying. It's only rarely that I remember a strain because of how good I felt. When the stars align, and your anxiety melts away. You're giggly and relaxed but not asleep within the hour. That is what I found in Blueberry Muffins.
I stumbled upon her accidentally, looking for something cheap to get me by. The last time I'd had some was in Oregon, and because it was legalized earlier there than Oklahoma, the product usually shows a quality difference.
I approached a little hesitantly, but let my nose make my decisions for me. A sweet pastry-like aroma hit my nostrils, and I was hooked. Upon looking closer, I also detected some gassy notes. The buds looked a little small but nothing to write home about. I picked up an eighth and then went to my local smoke shop to collect some wraps for the occasion. Below I'll do a quick overview of the strain at a glance, and then we'll get into the nitty-gritty, including the terpene profile and possible ailments this strain could help with.
Blueberry Muffins at a Glance
Taste: 9
Smell:10
Appearance: 7
Effects: 10
Taste
This strain is fruity like blueberries but warm and vanilla-like a pastry (hence the name Blueberry Muffins). It fits perfectly with the smoking experience. I paired my flower with a slow-burning grape Camo wrap that didn't overpower the strain's flavor.
About halfway through my blunt, I noticed the tip of the tongue was a little numb and tingly. (I usually only get this effect if the marijuana is good quality, so I was happy to feel it coming on.)
Smell
As I noted earlier, smell is one of the most critical factors for me. On the surface, it's sweet and soft, but when you're breaking it up, you detect the gassy aroma that lies underneath. I like a more funky smell to my weed, but if you prefer more of a sweet terp profile, it may be offputting. Blueberry Muffins is a pungent strain for better or for worse.
Appearance
Sadly the quality differences between Portland cannabis and Oklahoma's were most apparent in the appearance. The flower looked a little dry, and the buds were small. On the other hand, the vibrant green color was there, and it broke up well for joints. However, nothing was noteworthy about the appearance and, if anything, almost deterred me from trying it.
Effects
The high a strain produces is my top priority. We all medicate for different reasons. Some people value good flavor above all else. For me, if my high isn't potent, I'm not a happy camper.
Blueberry Muffins never disappoints. It's incredibly euphoric for an indica. It creeps in around the shoulders and back, easing the tension. The strain then starts to set heavily into the body, making you not want to do much, but you aren't falling asleep either.
Blueberry Muffins made me giggly and more childlike than usual; it was perfect for unwinding at the end of the day while I enjoyed dinner and spent time with my family. It made me feel light and carefree. Yet, it set into the mind enough to turn off my anxious thoughts but didn't disorient me.
This strain produced one of my favorite highs and kept me stoned for hours after my initial smoke. I highly recommend it.
Possible Medicinal Benefits
Research studies on cannabis and terpenes are still being conducted. Therefore, the following is based on the available information and should not be taken as medical advice but for education and entertainment purposes only.
Caryophyllene is one of the highest concentrated terps in Blueberry Muffins. The terpene is also found in black pepper and rosemary. Research indicates that caryophyllene can help with inflammation of the body caused by ailments like high blood pressure. It could also help treat pain and mental health disorders.
Terpenes and cannabinoids that interact with the CB2 receptor directly can influence depression and anxiety. Caryophyllene is one of those molecules, making it especially effective as a mental health treatment.
Songs That Pair Well With Blueberry Muffins
Parting Words
If you're having a particularly stressful stretch of life or just looking to be uplifted and light, I recommend this strain. It's tasty, smells lovely, and the high is pure and long-lasting. Although it's an indica leaning hybrid, it doesn't couchlock you; it just cuts the edge off and melts the stress and worries away.
I'm trying my hand at growing my own medical cannabis at home. Subscribe so you don't miss the first edition of my grow journal. I'm going to take you guys through the process of growing for beginners or just those who are curious.
Until then, happy smoking!
———————————————————————
Hi,
One last thing.
It can be impossible to earn a living as a writer by reads alone, if you liked what you read, please consider leaving a like or if you really enjoyed it, a small tip.
It means more than you know, thank you!
Talk to you soon,
RJ.
Looking to start creating with Vocal+? Start here.
strains
About the author
Something new every week or so, thank you for stopping by!
Find me on Instagram at @awriterwhodraws
Reader insights
Be the first to share your insights about this piece.
Add your insights