Best Weed Processing Accessories
Be sure to have an arsenal of the best cannabis accessories to increase enjoyment to your smoking experience.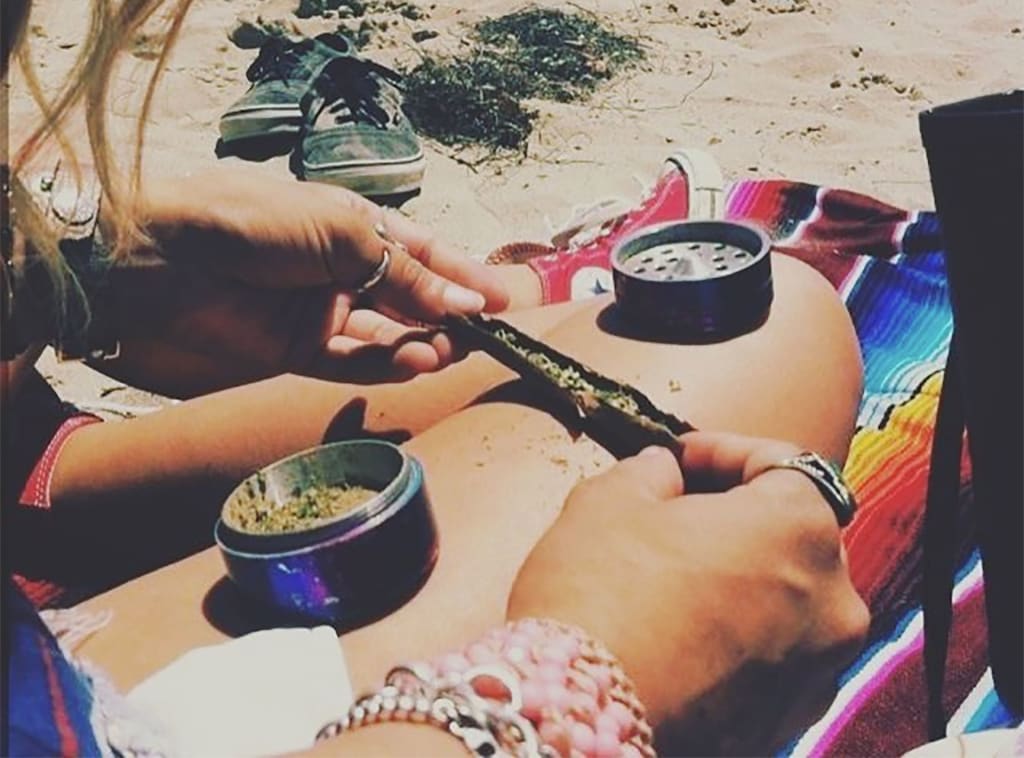 Every red-blooded, weed-smoking American runs into the same problem before rolling a joint or filling a pipe from a new stash: 'How am I going to clean this stuff?' Cleaning methods vary in the speed and efficiency with which they work and in the final texture of the cleaned dope. Whatever method you find best suits your desires, it is important to remember two things about grass. Firstly, you shouldn't manicure your dope until right before you're going to smoke it, because marijuana quickly loses its potency once it's cleaned. Secondly, if you're planning to use your seeds for planting, be careful that they don't get bruised in the cleaning process, since bruised seeds won't be able to germinate.
With those thoughts in mind, let's take a look at some of the grass cleaners that are available to serious weed smokers and see how they pan out.
The Raw Special Wood Rolling Box is the perfect size for your rolling needs. The top is magnetic, fully removable, and features curved edges. The bottom has multiple compartments for storage. The Chrome Crusher 4 piece grinder is a 4 piece aluminum made of a strong anodized aluminum that will strongly resist wear and tear over time, making it perfect for portable use. There are actually two storage compartments when you take the bottom storage and the stainless steel sifting screen into account.
This weed grinder is a small cylinder, made out of aluminum, designed to shred weed into fine, even strips. The grinder consists of three main parts, two halves of a grinder that each have sharp, interlocking teeth and a collection chamber below the grinder to catch the shredded herb. There is a screen at the below to catch the kief too.
The Medtainer is a stash jar with built-in grinder that is 100% air tight and water tight ensuring your weed stay fresh and secure. The Medtainer can literally be held under water without any ingress and they are 100% air tight meaning no unwanted odors can escape.
Sifter Box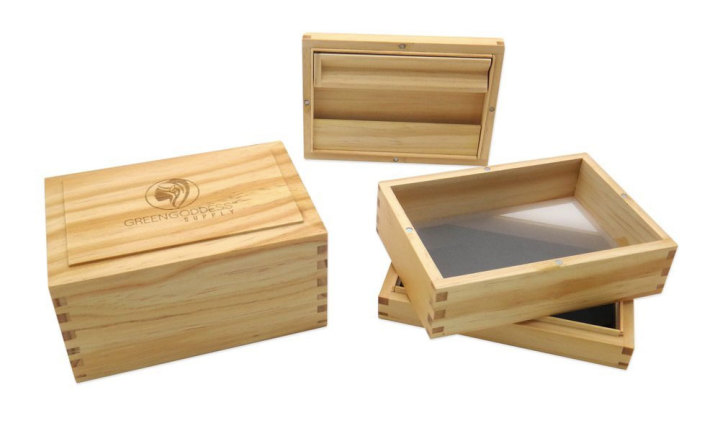 The Sifter Box is perfect for storage of your herbs and kief byproduct. This box is made from sturdy pine wood and features a high quality, mesh screen in the middle, to help filter the kief from your weed. The filtered kief is collected in the bottom catch tray the box, which is lined with a piece of acrylic to make for easy collection The box features removable top and bottom pieces, which are secured with high strength magnets to ensure that your weed & kief are secure at all times. As a bonus feature, the lid has a magnetic rolling 'V' and paper storage compartment.
The Cookies rolling tray 2.0 is made with heavy duty construction and fire retardant plastic. Features a deeper removable ashtray/mini rolling tray. Also includes 6 holes for holding your rolled cone cigarettes and 3 holes for holding cigarettes with glass tips. The tray now has a space for holding a standard Clipper lighter. Measures approx. 11"x6".
This box is clearly a long-term solution so you will never have to worry about storing your stuff again. Made from 100% cherry wood with none of that cheap MDF. Your herbs are at the perfect humidity in an airtight container to preserve their flavor, effectiveness and keep them sticky icky.
Put a Boveda Humidipak in your Icky Humidor and keep relative 62% humidity and freshness. Perfect humidity is essential for keeping smoking material fresh for any length of time. Don't let your weed dry out and damage! You can now ensure yours smoking material longevity in their storage container with the addition of the Boveda 62% Humidity Pack. Boveda's 2-way humidity control is the only technology that can be pre-formulated to a specific humidity level with an accuracy of +/-2%. Boveda guarantees a constant level of humidity that never fluctuates or cycles. It also eliminates growth of bacteria, mold or mildew.
This wooden chopping drawer by Black Leaf is the ideal tool for chopping up larger amounts of dry herbs. The top of the drawer acts as a chopping board. Its concave recess acts as a bowl making sure all your chopped herbs remain on the board. The drawer has a handle for easy access and is not only great for stashing your herbs, but also contains a stainless steel double-handled curved blade. The quality stainless steel blade will easily chop up all your dry herbs and can be sharpened for years of efficient chopping.
Designed for the weed connoisseur who loves to roll high quality joints, the RAW Magnetic Bamboo Rolling Tray can take your rolling game to the next level. Each hand crafted wood box was made from bamboo and features a magnetic lid with product accessory cutouts for rolling papers, as well as a 2 ½" cutout for a grinder.
list
how to
product review