A Real Joint Venture
Cali-based BurnTV bids to be an entertainment and lifestyle choice for cannabis aficionados, and for those who aren't.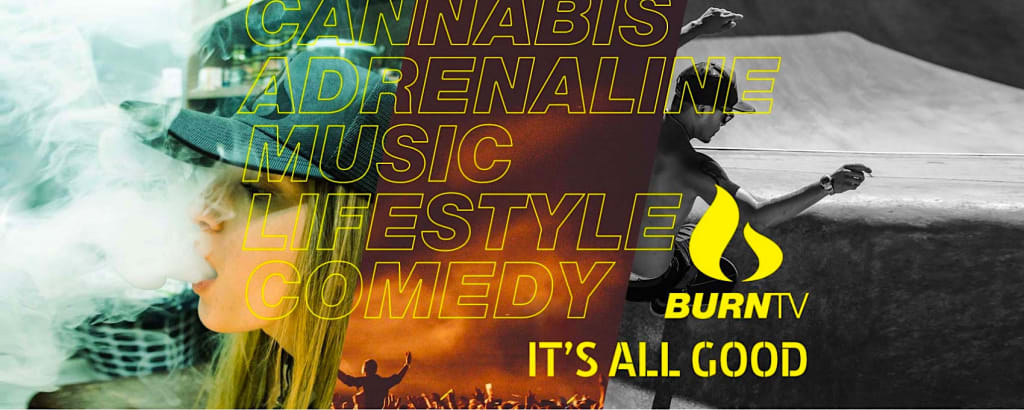 CEO Jason Santos: "We're trying to embrace the lifestyle and spirit of the cannabis industry, and do it in a way that makes those outside the industry feel comfortable." (Image: Detail from the BurnTV homepage) 
Few things say "normal" like television, our public square, our soapbox in Hyde Park, our platform for the popular and unpopular alike. For friends of herb who watch TV, BurnTV, a new West Coast-based entertainment channel, hopes to fill a niche with programming that both informs and enlivens — presented through the lens of the marijuana experience more than 40 million Americans enjoy on a regular basis. Americans for whom pot is utterly, totally normal.
At least that's the plan, according to Jason Santos, BurnTV's man of many hats. "We've built our own apps, and we're beta testing and putting them through rigors, making them more robust, making sure we get as many of the bugs out," said the CEO, founder and chief evangelist, cornered by phone for a brief interview with Potent, after sprinting from one bit of pressing business to another. "Our target is October, but we haven't committed to a date yet. As we get closer, we'll be able to pinpoint an exact date. It's the nature of the beast.
"We hope to have a final announcement of the launch date in a couple weeks. It's exciting."
It's all a long way from BurnTV's humble beginnings, as a rough sketch of an idea Santos laid out on a napkin at a bar in New York City years ago. "I had the concept in my head for a little bit, but it didn't really have an identity until I wrote down the name 'BurnTV' on a napkin in a bar while doodling names," he said. "Ironically, it was the first name I had ever written down despite writing down 20 to 30 others, most of which were terrible."
From there, Santos (who'd been trained in real estate) and like-minded partisans formed a company and doubled down on their passion, connecting with deep-pocketed investors in order to grow the business. The process of building BurnTV has been underway ever since.
Santos, 41, prides himself on thinking things through; in an interview, he's as likely to talk about what he can't talk about (in general terms) as anything else.
◊ ◊ ◊
Santos is similarly aware of just how risk-averse advertisers can be, wary of compromising a reputation that's sometimes decades in the making. "When I created BurnTV, the entire thought process was not to build not a weed channel but a full entertainment channel," he said. "That way, consumers who don't identify with this industry — and brands who don't want to be associated with the industry — could come in and feel welcome. We want to bring in non cannabis-related companies and let them feel like their brand is safe here."
"Forty-two million Americans give or take — it's always growing — most of those people aren't the people that are the stereotypes people think cannabis users are," he said. "We're trying to embrace the lifestyle and spirit of the cannabis industry, and do it in a way that makes those outside the industry feel comfortable. You won't have to smoke weed to use our channel."
At first, BurnTV will derive its programming from aggregated sources, some unrelated to the cannabis-friendly ethos. "We're working with a lot of top brands in cannabis-related media, more or less building the distribution portal that can service those brands," he said. And mainstream non-cannabis brands are coming in, in categories like action sports, lifestyle, travel, things that have nothing to do with cannabis."
◊ ◊ ◊
It all sounds consistent with programming the company promised in a June 2016 press release: "content across multiple genres that is edgy, fun, entertaining, and educational."
"We're focused on diversity in the content," Santos said. "You can only see so many dab videos or so many grow rooms."
One of BurnTV's planned programs is My Life, My Story, an original reality-based series. "We released three short-term versions of the series. The first focused on a gentleman who used cannabis in his fight against cancer and the role cannabis played in his journey," Santos said.
The second episode, he said, concerns a man with muscular dystrophy, how the disease has impacted his ability to function, and the role of cannabis in improving his circumstances. The third focuses on an entrepreneur, "a father who works in the industry to provide for his family and the ups and downs of what comes with working in the industry, including getting one of the largest fines as a dispensary operator."
"We're showcasing compelling stories," Santos said. "It's however this plant touches someone's lives."
◊ ◊ ◊
Given what's been coming out of Washington lately — notably from US Attorney General Jeff Sessions, who has vowed to oppose changes in federal marijuana possession laws, making sure pot possession and use stays a federal crime — news matters to BurnTV. "Definitely, news is going to be part of what were doing," Santos said.
For the company, based in Playa del Rey (southwest of Los Angeles), some of the important news will soon be local as national. Starting in January, California will begin implementation of Proposition 64, which voters approved in November, and which legalizes marijuana use for those 21 years old and older. The nation's biggest state by population would join dozens of others making the same move; the California cannabis industry could net up to $7 billion, and $1 billion in tax revenue, according to one estimate.
"It's obviously an important topic here in California," Santos said, adding that BurnTV would feature a weekly one-hour show dealing with hot cannabis-related topics particular to California.
Santos anticipates working with various herb-related content partners, including DOPE magazine; Civilized, a Canadian digital lifestyle publication focused on cannabis culture; and the granddaddy of 'em all, High Times. "We've positioned ourselves to be an asset to these publications, not competition," Santos said.
"A lot of media still embraces the stereotypes," he said. "We want this industry to feel normal. Cannabis is on that path, and we want to accelerate that path, to show people the real world about cannabis and let them make informed decisions. We hope to create conversation — and that's where the change really comes."