A Marijuana Man
a Dealer's Diary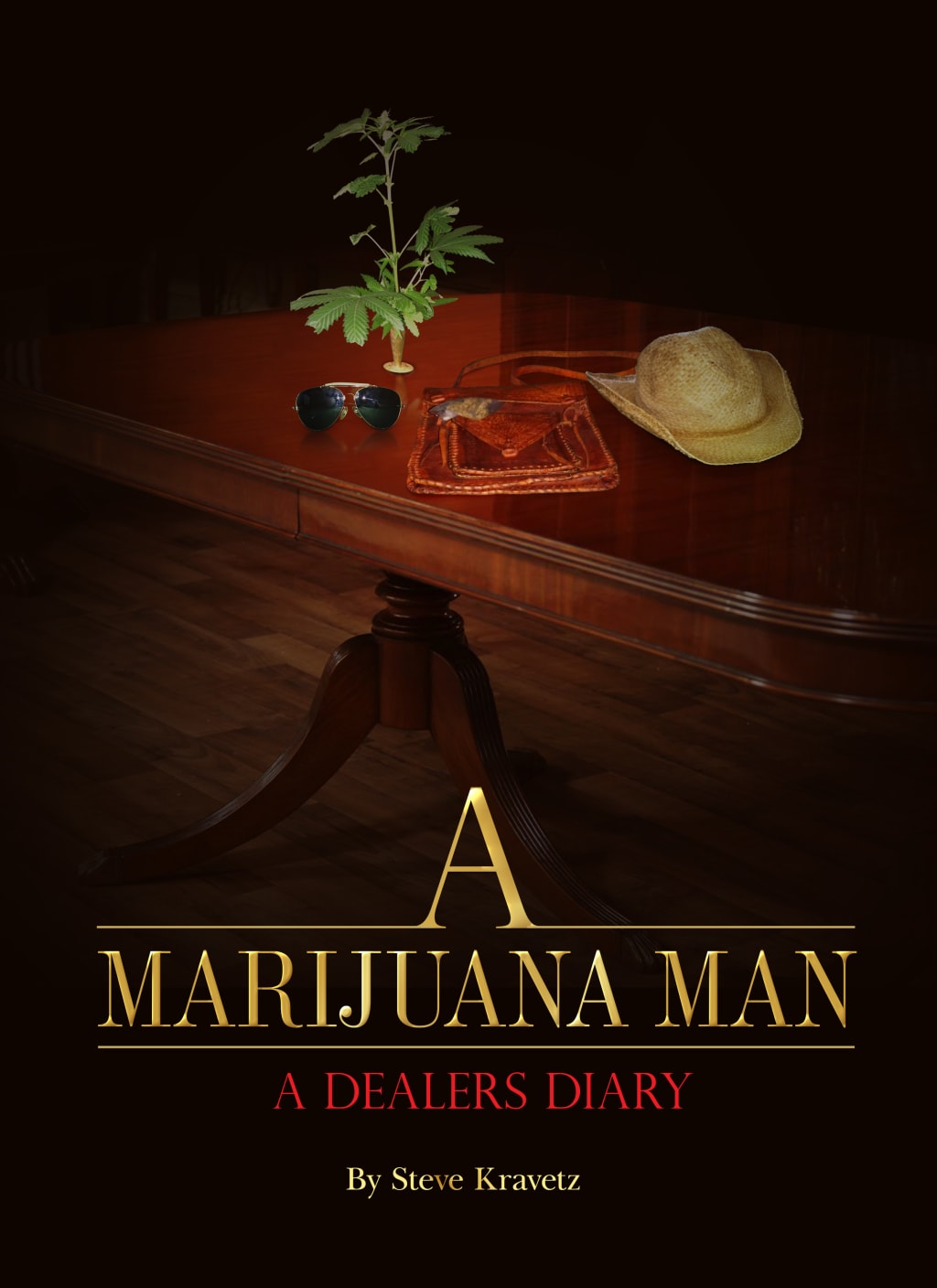 The Present: 1984
There is nothing like the clanging of a steel prison door against their iron frames to jar you back into reality. I am federal prisoner number S.T. 83-7964-976 and for the next seven years I will reside in the federal prison at Seagoville, Texas. Or any place else the United States Federal Prison System wishes for me to occupy space. My current elegant accommodation, with gourmet meals, and glamorous attire is not what this story is really about though.
My present situation is not the begining of this story but rather the end of a story that begun almost eighteen years ago. I was just another dumb teenager who knew everything and had life all figured out. My name is Max Gold. In the late summer of 1966 after I had graduated from high school in Dallas, my best friend, Rodger Sampson and I had planned a road trip to Austin, just 190 miles south, down I-35, as our last hoo-rah before our college classes started at North Texas State University in Denson.
I was almost six foot, a wiry one hundred sixty-eight pounds and I had shoulder length reddish brown hair. I have black eyes and rich tan complextion year round. My nose is larger than an average Catholic school kid, but smaller than some of my fellow Jewish friends. I also had an adventurious spirt and loved a challenge.
Rodger had been my best friend since third grade. At six foot two and two hundred and twenty pounds Rodger was shaped like an upside down pear, broad at the shoulders, and small at the hips. He had dark blond hair and most intense blue eyes. He was what my mom would call,"movie-star," handsome.
Friends for life, we complemented each other. I could get a wild hair and he would calm me down, so I could reconsider the bad decision I was about to make. I was the natural leader, Rodger the happy fun loving, agreeable co-pilot.
This trip was long overdue and well planned. We had change of clothes, plenty of cash, and a car full of gas. We would just have to drop a care package to my older brother Danny who was a senior at UT. After which we headed down town to 6th street in an area where there werte lots of small bars and clubs.
Over the next few hours we bar hopped, had a few beers while enjoying some Texas Country music, Jazz , then we caught Muddy Waters, the great old Delta guitarist and Blues singer. He played two of my favorites" I'm your Hoohie Coochie Man and "I Can't Be Satisfied." At closing time we headed down the street to visit my older cousin Bobby's work place.
"Do you guys have I.D's," Bobby asked as we walked in. He quickly pored us each a short beer inexchange we helped him clean up. and followed him back to his two bed room bungalow to spend the night. He lived there with Butch his German Shepherd and Cindy his lady.
"I have not been home very long myself," Cindy said, shortly after we arrived that night. "I worked a late shift at the hospital, but I did get a chance to sneak down stairs to visit Gail for a few minutes."
Bobby turned to us,"You guys heard about that crazy Ex-Marine Charle Whitman right ? He's that guy who shot those people from the university tower a couple weeks ago. That S.O.B. killed sixteen people. Well Cindy's friend Gail was one of the lucky ones, she caught a bullet inches from her heart."
"Didn't Whitman end up being killed by the Police officers himself?" Rodger cracked.
"Good riddance,"Cindy replyed. "That crazy son of a bitch should have just killed himself in the first place if he was that unhappy."
At 1:00 am we all crashed, Rodger took the spare bed room, I got the couch. Where I woke the next morning to the sound of bacon popping in a pan, toast springing from the toaster and eggs being whipped in a bowl. Cindy was busy making us all breakfast. After breakfast, as we got ready to leave , Bobby said," Hey you guys, I have got some new records you're going to go crazy over, plus there is something else here you need to check out." He sat down on the couch, pulled out a lid from a shoe box from under the couch. He proceeded to make a small cigarette, or so I thought. He lit it and passeed it to Cindy. They each inhaled the smoke, holding it into their lungs. The smell was like burning rope or dried cow manure.
Cindy passed the cig to Rodger, and he followed suit but let out a "Whoa" and shook his head as he blew out the foggy smoke.
It was my turn, "Go ahead and try this shit little Cuz."
I tried it, but at first all I could do was choke and cough. Thankfully Cindy came to my rescue, "Max pull a little more fresh air as you also toke, now hold that in your longs as long as possible."
Rodger and I had consumed beer and wine before, even some hard liquor, but no drugs. I had heard of marijuana, of course, but I did not know anyone who actually smoked this, "Wicked Weed." I do know that if I had not smoked that day, one day shortly after I would have found my way to this sweet euphoria, and became a life time member of the"Brotherhood" of Smoke."
The smoke went from my mouth through my lungs on to my blood vessels and finally to my mind. I sat back letting the grass take it's effect. The music on the stereo grabbed me like nothing before. I was there with the band focusing on every cord, every riff, and every nuance of tone. I looked over to Rodger. His eyes were shut, but his head seemed to be a musical instrument playing with the band. I had never been so relaxed yet so alive.
As the hours passed by unnoticed, we talked and laughed until after lunch when Bobby had to go back to work. Lunch was one of my greatest meals ever. The Grape Nehi exploded in my mouth, the salty crunchy potato chips melted on my tongue. When the peanut butter sandwich stuck to the roof of my mouth, we all had a big laugh on me.
Bobby asked if we were interested and buying some to take home."I get it cheap by buying it a pound at a time. So I'll sell you an lid, 1/16 of a pound for $8.00 each. We each left with two baggies full, and a fattie for the road.
This round trip I would make often, some times with Rodger some times not.
With in a week I moved out of my parents home and had a new residency, a small apartment off campus, My rent was $65.00 month including utilities.
Over the first few months I had started to turn a few new friends on to mother smoke. Of course they had responded to the magic smoke as I had. I was giving free joints to a small group of friends at first. As the group grew, I found myself selling joints for $2.00 each. A $4.00 worth of pot would get me $36.00 net return. The fact that we were all breaking the law, which could put us in Texas Prison for twenty years or so for just a seed or stem, also added to the mystique and titillation.
You know how this story ends, you have seen how it began. If you want to know what happened during those eighteen years between the two check out. amarijuanaman.com or Amazon books for E-book, Paper Back or Audio Book version.
fact or fiction
About the author
I am a 70 plus year old, award winning oral story teller from Rockwall Texas. My first novel took me 34 years to write, published in 2017.Since then I have published two books in 2020. Check out for more info. Authorstevekravetz.com
Reader insights
Be the first to share your insights about this piece.
Add your insights