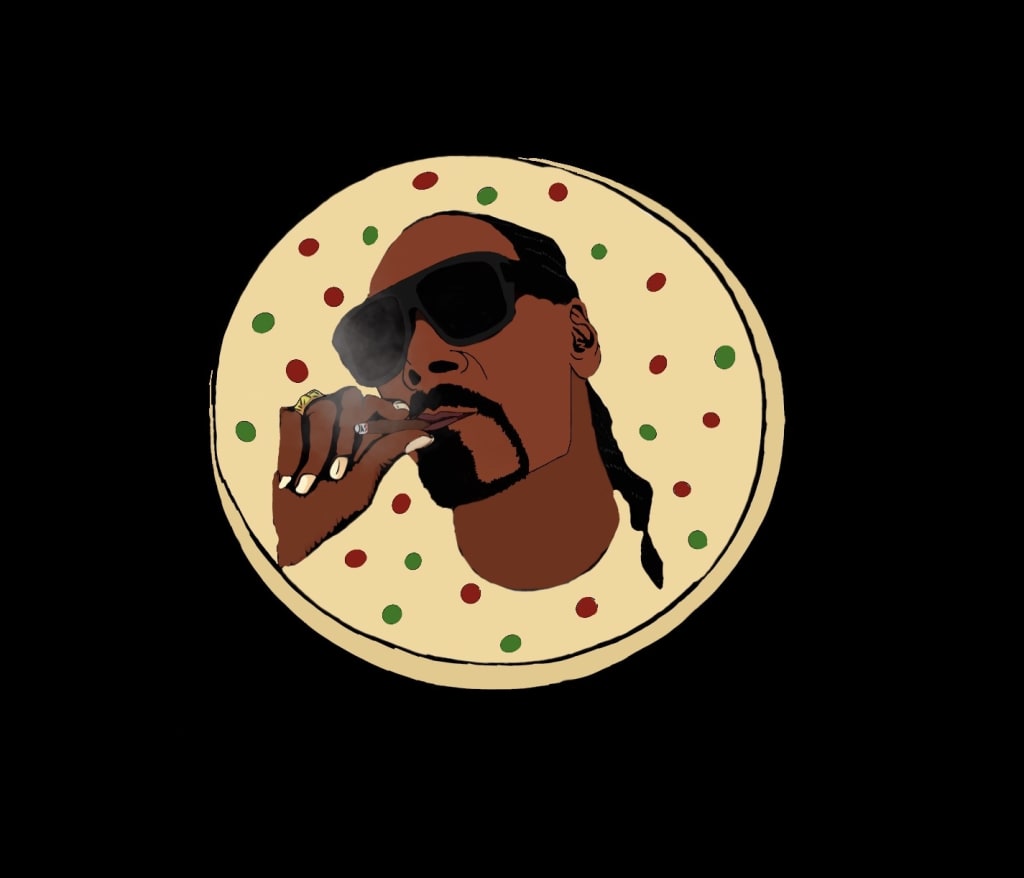 I bet I can guess what you're thinking about. Is it the pandemic? Elections? Protests? Your ever-looming mortality? Money? Maybe I'm speaking for myself, but I can't open any news outlet without getting a spoonful of depression and misery fed to me. It seems that everyone needs a break. I promise I won't even mention the dreaded illness. We're only baking cookies here- with a twist. All good stories have a twist.
"What about desserts?" I asked. "If the world comes to an end, I'm going to want cookies."

"We're all going to want cookies if the world comes to an end," Mrs. Nesbitt agreed.

― Susan Beth Pfeffer, Life As We Knew It
Nothing brings people together like food. And no food brings people together like dessert. Even the people I know who "don't like sweets" are known to put back a few sugar cookies. It's a fool-proof formula for happiness. But we can't take any chances; 2020 is strong enough to thwart our efforts toward bliss. So we need backup. These cookies will feature a secret ingredient- none other than...
Now we're sure to have a very happy holiday season. Twelve days, twelve cookies, and there's something for everyone.
How to Make Cannabutter
THC is fat-soluble, making it simple to infuse with your fat of choice and add it to any dish. The process is simple and easy to do in only a few steps.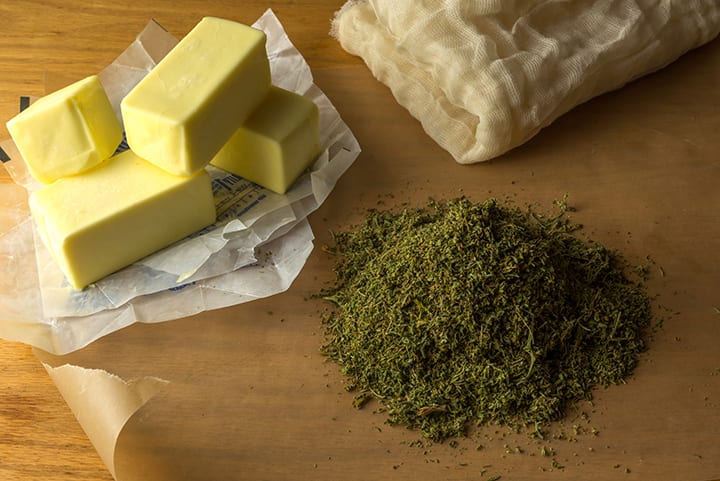 1. Decarboxylate your flower.
"Decarboxylation is a process by which applying heat to cannabis activates the compounds in the plant, converting THCA into THC. "

-Ben Hartman
Start by preheating the oven to 220 °F then break up about a half-ounce of cannabis and bake it on an oven sheet for 30-45 minutes. Babysit the flower while it bakes to keep from burning.
2. Mix With Your Fat and Bring to a Simmer
After decarboxylating the cannabis, add a cup of water and a cup of butter and bring to a light simmer. Mix in the decarboxylated cannabis and stir well.
Keep on low heat between 160-180°F (70-80°C) for 2-3 hours, making sure not to let it boil. After the allotted time, take the pan off the heat and let it cool before straining it through a cheesecloth into a container.
1. Choco-lit Chip
"It isn't magic, but who's never felt better after a cookie?"

― Rosie Pease, Cookies and Curses
The holy grail of cookies and my personal favorite. The chocolate chip cookie, gooey warm goodness. The chocolate chip cookie emerged out of the United States Great Depression by Toll House Inn chef Ruth Graves Wakefield. These cookies have always helped us through harder times.
"Lou pushes a plate of cookies in front of us. Chocolate pieces tease like jewels in sand. Please, she says, have some.

I don't want to be impolite,

so I take five."

― Katherine Applegate, Home of the Brave
The recipe we're using is the original recipe from Toll House.
Prep : 15 minutes
Cook : 9 minutes
Ingredients
2 1/4 cups all-purpose flour
1 teaspoon baking soda
1 teaspoon salt
1 stick butter, softened
1/2 cup cannabutter
3/4 cup granulated sugar
3/4 cup packed brown sugar
1 teaspoon vanilla extract
2 large eggs
2 cups chocolate chips
Preheat the oven to 375° F.
1. Combine flour, baking soda, and salt in a small bowl.
2. Mix cannabutter, butter, granulated sugar, brown sugar, and vanilla extract in a large mixer bowl until creamy.
3. Add eggs, one at a time, beating well after each addition. Slowly add flour to the mixture.
4. Bake for 9 to 11 minutes or until golden brown. Let cool on baking sheets for 2 minutes.
2. Oatmeal Blazin Cookie
"Early bird gets the worm. But cookie taste better than worm. So me sleep in."

― Cookie Monster, The Joy of Cookies: Cookie Monster's Guide to Life
Oatmeal cookies originated out of Scotland, where they would eat oatcakes when they needed extra energy. These won't give you energy. They're more for doing nothing and sitting on the couch. Don't worry; you deserve it.
Ingredients
1/2 cup butter, softened
1/2 cup cannabutter
¾ cup white sugar
¾ cup packed light brown sugar
2 eggs
1 teaspoon vanilla extract
1 ¼ cups all-purpose flour
1 teaspoon baking soda
¾ teaspoon ground cinnamon
½ teaspoon salt
2 ¾ cups rolled oats
1 cup raisins
Preheat oven to 375°F.
1. In a large bowl, beat together cannabutter, butter, white sugar, and brown sugar until smooth. Mix in the eggs and vanilla and beat until fluffy.
2. In another bowl, mix flour, baking soda, cinnamon, and salt. Gradually combine the two mixtures. Stir in oats and raisins as desired.
3. Bake 8 to 10 minutes, or until golden brown. Let cool and serve.
3. Remixing a Classic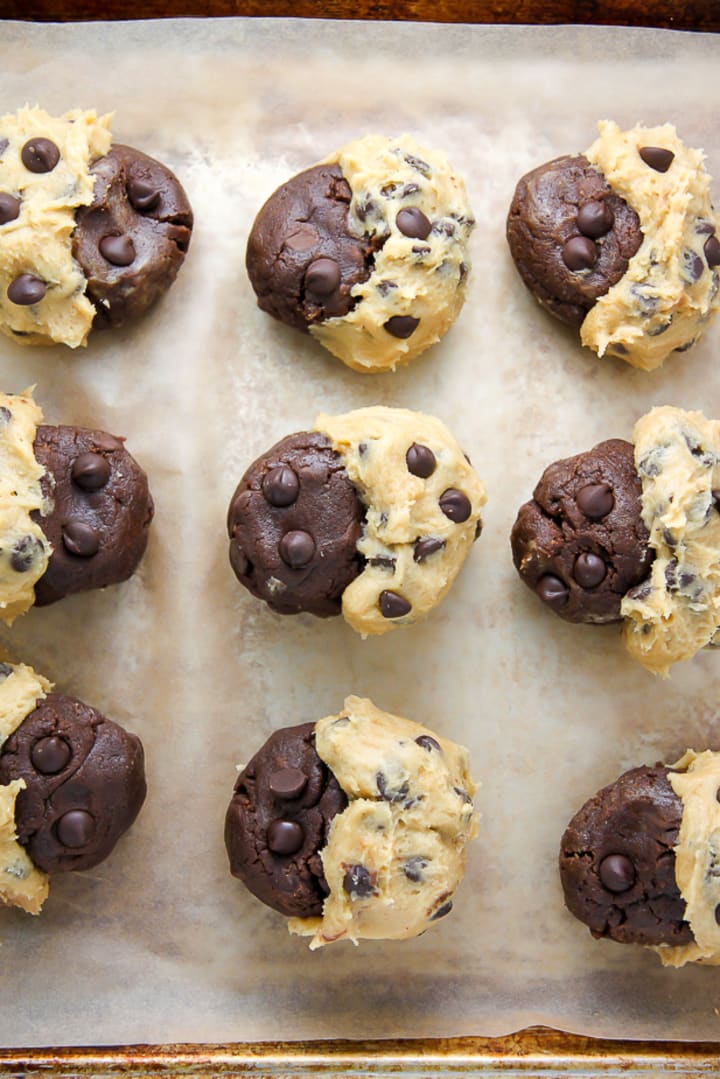 What normally comes to mind when someone mentions an edible? For me, it's a brownie. Most media uses brownies to represent all edibles. The problem is they're so thick and sweet that they are difficult to get through. Especially if that grassy cannabis taste is making a strong appearance. The other stoners are nodding their heads. Something needs to be done.
Yes, I know I said this was a list of cookies; I'm getting there. Since the brownie has so much nostalgic value to the stoners- we had to include it and improve it. Instead of just a block of chocolate, we're making it cookie formed. Word on the street is they call these "brookies."
Thank you to Ashley for the recipe, in order to make these treats medicated, replace half recommended the butter with cannabutter.
4. Smoker-doodles
"Home is where heart is. Heart where cookie is. Math clear: Home is cookie."

― Cookie Monster, The Joy of Cookies: Cookie Monster's Guide to Life
Snickerdoodles are relevant for any time of the year, but especially during the holidays. They are elevated versions of the traditional sugar cookie. My girlfriend and I make an event out of ordering cookies weekly. Each of us would get three, and two of those slots were reserved for Snickerdoodles.
The sugary crust along the outside and the delicious butter and cinnamon inside. They're irresistible, and they go down easy. How many can you eat?
The recipe I followed is from David Beveridge, who got it from his great Grandma Ruth. To make these cookies cannabis-infused, split the one cup (2 sticks) into one stick butter and one half cup cannabutter.
5. Peanut Bud-der Cookies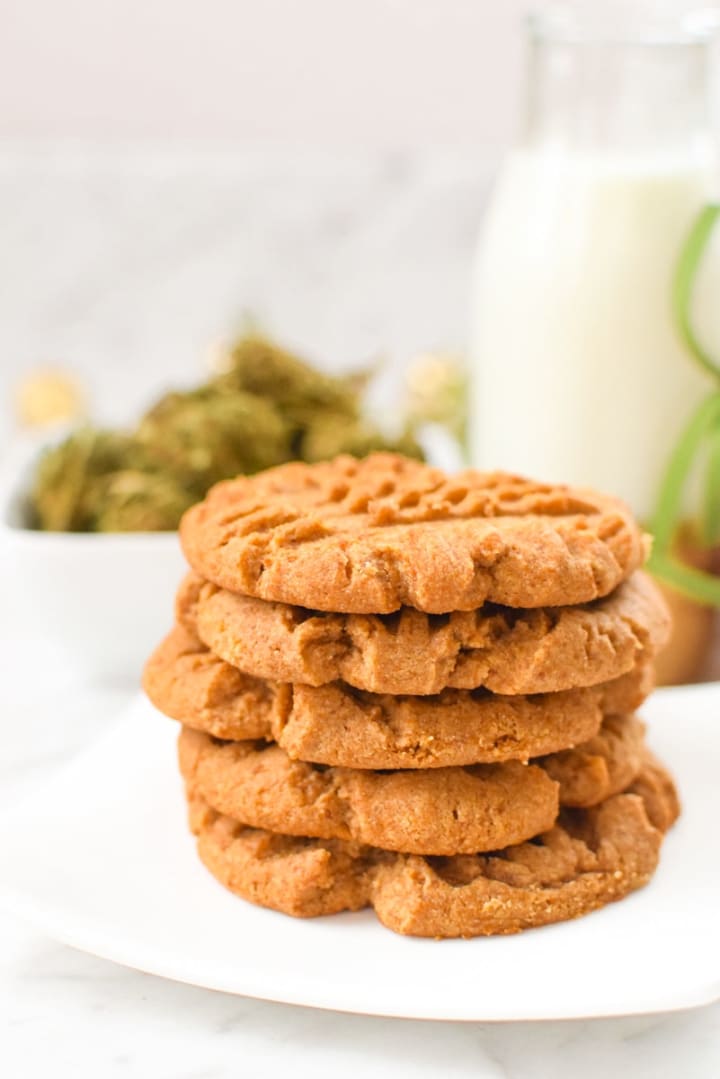 "STRESSED is DESSERTS spelled backwards. So when you're stressed, just grab a couple of cookies. Everything in the world feels right, when the delicious smelling, buttery soft, sweet melts into each corner of your mouth..."
― Priyanka R
The salty and sweet cookie. Peanut butter cookies are a classic. Although I stray away from them on the dessert table, my girlfriend and family love them. They are ever-present in my best holiday memories, and the savory flavor helps mask the cannabis taste.
Ingredients
1/2 cup cannabis-infused butter
1/2 cup granulated sugar
1/2 cup brown sugar packed
1/2 cup peanut butter
1 egg large
1 1/4 cups all-purpose flour
3/4 teaspoon baking soda
1/2 teaspoon baking powder
1/4 teaspoon salt
Directions:
Preheat the Oven to 375°F.
1. In a medium bowl, mix together the flour, baking soda, baking powder, and salt. In another bowl, beat the butter, and cannabutter (an electric mixer makes it easier) until light and fluffy. Beat in the brown sugar and white sugar well- lower mixer speed and beat in the peanut butter and the egg.
2. As the mixture comes together, add in your dry ingredients.
3. Wrap the dough in plastic wrap and chill for at least 3 hours.
4. After the dough has chilled, shape it into 24 small balls. Place about 2 inches apart on a parchment-lined baking sheet. Flatten the cookies with a fork, pressing a crisscross pattern onto the surface.
Bake for about 10 minutes or until light brown. Remove from oven and let cool before serving.
6. Sticky Icky Sugar Cookies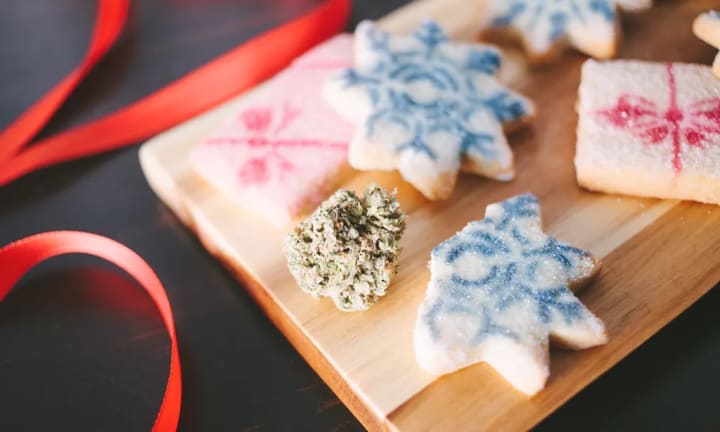 Sugar cookies and Christmas go hand and hand. Sugar cookies are like the glue that holds all cookie lovers together. It seems like a cookie in its most natural form. No toppings or additives, just sugar, and flour.
Even those with the most basic of taste buds (me) can enjoy them. I'm sort of a scrooge during the holidays because of the growing consumerism, but I love making sugar cookies, and when I am, it seems like society may survive.
The recipe I follow to feel warm and fuzzy is from Betty Crocker. To make them cannabis-infused, simply replace the 1 cup of butter for one stick and 1/2 cup cannabutter.
Pro tip: if you have them, use cookie cutters to make the cookies Christmas themed.
Frosting
Combine powdered sugar with milk and stir until desired consistency is reached, then add food coloring as desired. If you like, add a teaspoon or two of cannabutter to thicken the frosting and add an extra kick of potency.
7. Gluten Free and CBD
My cousin can't eat gluten, and I've grown very sympathetic. I love bread; some might call it an obsession. But I forfeited a beignet from Cafe Du Monde in New Orleans for her.
Ironically my cousin also doesn't really care for THC. It makes her feel weird and drives up her anxiety. I would want my cousin to have something to enjoy during our cookie party. And at family celebrations, there's always the box of gluten-free cookies with only one missing. Thus the birth of the gluten-free and CBD addition to our list. A rendition of an early list fan favorite, the peanut butter cookie.
Ingredients
1 cup natural creamy peanut butter
1/2 cup sugar
1 egg
1 scoop vanilla rice protein powder
1 gram CBD
Directions:
Preheat the oven to 350°F.
1 . In a small bowl, mix all of the ingredients.
2. Once the mixture comes together, divide the dough into servings. Place dough in the fridge and let cool for 15 mins.
3. Remove the dough balls from the fridge. Pat each serving a cookies' shape, then place the cookie dough onto a cookie tray. Just like the cream-based peanut butter cookies, place your fork in the center to create the criss-cross pattern.
4. Bake for 14 minutes, then pull from the oven. Cool for 8-10 minutes or until the cookies have completely set.
8. Plant-Based and Weed Laced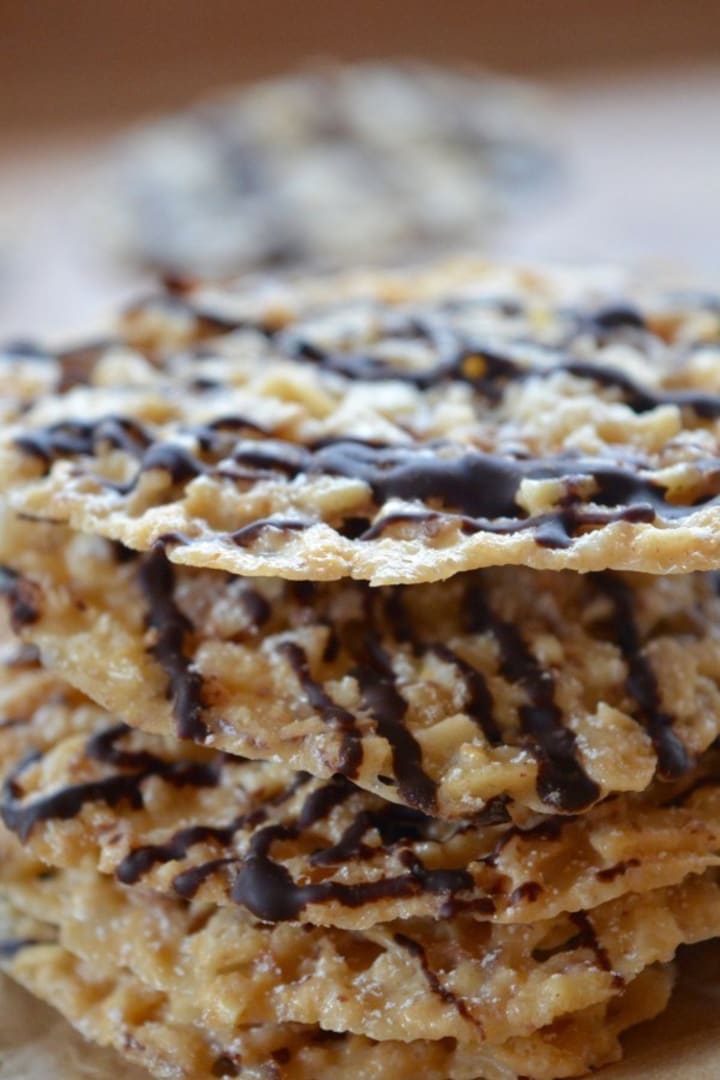 "They were almond cookies, although they could have been made of spinach and shoes for all I cared. I ate eleven of them, right in a row. It is rude to take the last cookie."

― Lemony Snicket, Who Could That Be at This Hour?
Did the vegans out there think I forgot about you? Of course not, and these are some of the best on the list. They're light and crispy, and best of all, cruelty-free. I can't guarantee they're the healthiest thing in the world, but you'll enjoy yourself.
There is another small step for the vegans. You will need to make your canna-infused fat, coconut oil instead of butter.
Recicipe from Corinne Tobias
Ingredients:
2 cups sliced almonds
3 tbsp gluten-free all-purpose flour or white flour
1 tbsp powdered or fresh orange zest
1/4 tsp salt
1/2 cup sugar
1/8 cup coconut oil
1/8 cup cannabis-infused coconut oil
2 tbsp brown rice syrup
2 tbsp full-fat canned coconut milk
1 tsp vanilla
1/4-1/3 cup dark chocolate chips
1/2 tsp coconut oil
powdered sugar
Directions:
Preheat the oven to 275°
1. Line 2 baking sheets with parchment paper.
2. Chop the sliced almonds into small pieces and add them to a bowl with the flour, orange zest, salt, and sugar.
3. In a small saucepan, over medium-high heat, combine your canna-infused coconut oil, coconut oil, brown rice syrup, and coconut milk. Stir just until the mixture comes to a low boil. Remove from heat and add vanilla.
3. Add the dry ingredients to the saucepan and mix until combined. Allow to cool for 10 minutes, or until the mixture is cool enough to handle with your fingers.
4. Using a tablespoon, scoop mixture onto the prepared baking sheets, leaving about 3-4 inches of space in between the cookies.
5. Bake 15-17 minutes, rotating the pan once during baking. Cool on sheet for at least 5 minutes before moving them onto a cooling rack.
6. Melt chocolate chips. Using a fork, drizzle chocolate over cookies and sprinkle with powdered sugar.
9. Platinum Girl Scout Cookies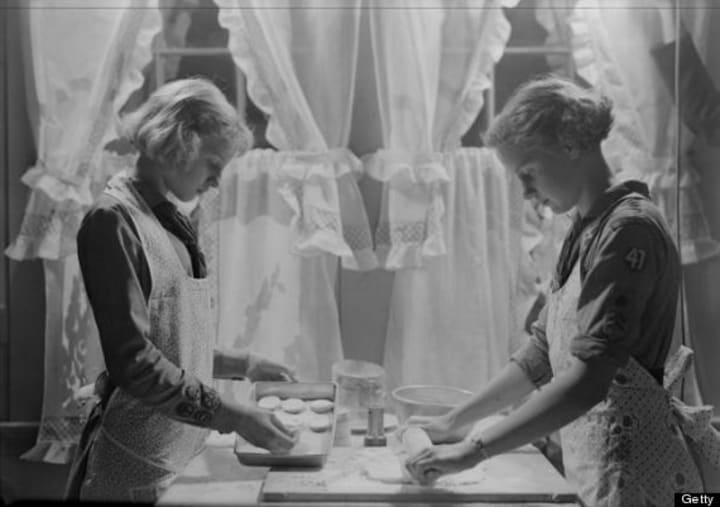 I love Girl Scout Cookies, the cannabis strain, and the thin mint cookie. It's hard to make a list of cookies without including the gang of girls with a monopoly on the market. Today you can find troop members in front of most grocery stores with shining, persuasive smiles.
But it all started in 1917 when a small troop held a bake sale. They made and distributed their own sugar cookies. The regional director for Chicago published the recipe in their newsletter; soon, all Girl Scout Troops started making cookies. Today thin mints are the most popular (and my favorite).
To make our medicated thin mint cookies, we're following a recipe from Jen at "Baked by an Introvert." As always, replace a half cup of the recommended butter with cannabutter.
10. Vanilla Wafers
The Vanilla Wafers in the store taste more like chemicals than anything else. But I like that home town feel that they supply. Add them to your pudding for texture, or eat them as a snack.
They're airy and not too sweet. "What if I'm not ready to commit to a super-rich cookie?" You're in luck; this recipe by Amanda Rettke is made with all-natural ingredients and simply delicious.
We also won't be including any THC or CBD in this recipe. I said there was something for everyone, including those who stray away from cannabis entirely."
11. Medicated M & M
"Cookies are the sweetest little bit of comfort food. They are very bite sized and personal."

– Sandra Lee
Adding m&m's to your chocolate chip cookies are like putting glitter on an art piece. They tie everything together but also push themselves to the front and take over the limelight.
It's hard to focus on regular smegular chocolate chips when there are ones with a flavored sugar coating. The best part is you can follow the same recipe as the chocolate chip cookies but add m&m's into the dough. After eating one of our medicated cookies, you'll be thankful for the simplicity.
12. No Bake (Still Baked) Cookies
These are technically cookie bars, but cookies nonetheless. My mother made me a fan of no-bake cookies. I used to think they were dry, but after she brought them home from work a few times, they started to grow on me. More for their familiarity, I can picture her sitting cross-legged on a recliner, savoring a no-bake cookie. And my sister clamoring to finish the container before anyone else got one.
Luckily this version is for adults, so I don't have to worry about them being eaten in the night. Well, aside from by me.
Ingredients:
1/2 cup melted cannabutter
1 1⁄2 cups graham cracker crumbs
3- 3 1/2 cups confectioners' sugar
1 1⁄2 cups peanut butter
1/2 cup butter, melted
1 (12-ounce) bag milk chocolate chips
Directions:
1. Combine graham crumbs, sugar, and peanut butter, and mix well.
2. Blend in cannabis butter and melted butter until well combined.
3. Press mixture evenly into a pan and crush chocolate chips, spread over mixture, and gently press in.
4. Chill 2-3 hours, then cut into bars and serve.
Parting Words
As the holidays approach, our sense of longing for our families and that connectedness will increase. It will be a hard year, but the best things come out of dark times. I can see that when I read other vocal creators and writers alike.
We are all searching for a way to put truth to this abnormal experience that is 2020. But I'm starting to think there is no explaining 2020. We can't put it in a box or confine it to a simple solution.
"And the Grinch, with his Grinch-feet ice cold in the snow,

stood puzzling and puzzling, how could it be so? It came without ribbons. It came without tags. It came without packages, boxes or bags. And he puzzled and puzzled 'till his puzzler was sore. Then the Grinch thought of something he hadn't before. What if Christmas, he thought, doesn't come from a store. What if Christmas, perhaps, means a little bit more."

― Dr. Seuss, How the Grinch Stole Christmas!
We have to look toward the future, into the gray, murky waters, and continue on shaky legs. We can't replace the warmth that our families provide. Yet, sometimes a soft and warm cookie, with a pleasant twist- can carry us through. Possibly even fill that spot temporarily. I hope you found a cookie you can make and enjoy by yourself or with someone special. Have a very happy holiday, and please, eat responsibly!