11 Cannabis Products & Stoner Essentials You Can Buy On Amazon
Yes, there are plenty of stoner essentials you can buy on Amazon—and they're amazingly good.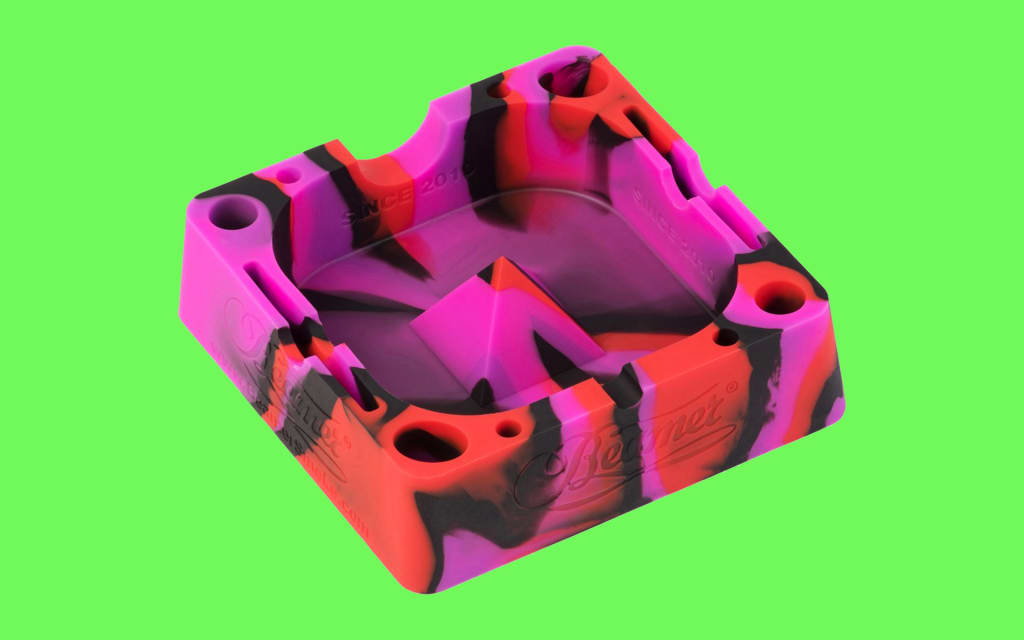 Cannabis might not be legal across the United States quite yet, but that doesn't mean that many companies haven't already jumped on the weed bandwagon on a massive scale. That's why you can invest in cannabis stocks, why cannabis beauty products are in, and why so many cannabis cookbooks are up for grabs.
Maybe it's because of the awareness that's raised by medical marijuana, or just the new way life is, but a lot of companies have been working to promote cannabis culture on the down-low. One of the biggest companies to give a low-key nod to Mary Jane is Amazon, which is why you can find great gear there if you know where to look.
Plenty of companies have been selling quality wares on there, but some of the stoner essentials you can buy on Amazon would even make Cheech Marin give you a thumbs up. Here are some picks we'd definitely want to snag.
We can't talk about stoner essentials you can buy on Amazon without discussing the epic and awesome invention known as the Kashtray. Dubbed as the "world's best ashtray," this is an ashtray that allows you to clean out your pipe, put out your joints, and clean it easily.
It also looks pretty beast, so, there's that bonus, too.
We can't really talk about stoner essentials you can buy on Amazon without one or two pipes, right? A pipe really is essential, if you think about it. This adorable piece from GSTAR measured only 11 inches but packs a powerful hit.
If you're a fan of smoking weed out of hookahs and enjoy smoking pipes with a stylish twist, this one will be one of the finer gifts you'll love to get for yourself. Its small size and small price tag make it a great travel pipe for potheads on the go.
Another essential accessory to any stoner, especially if you don't live in an area where green is not legal quite yet, is a stash can. Thankfully, these are some of the most plentiful stoner essentials you can buy on Amazon.
This coke can looks just like the real deal, but is actually a pop-top stash can that comes with a scent-proof bottle inside. Sneaky? Yep. And cool, too.
SmokeSafe is one of the many companies that is proudly sells their goods on Amazon knowing that they are geared towards stoners. They make some of the best padded bong bags on the market, and truthfully, their minis aren't too shabby, either.
This lockbox is smell-proof, water-proof, and designed to make sure that your piece doesn't get smashed. That's a great purchase, if you ask us. Sure, it might not be as low-key as others on this list, but it'll get the job done beautifully.
"I wanna be the very best, that no one ever was...To roll it was my real test, to smoke it was my cause..."
This Pokemon-styled grinder is one of the geekiest stoner essentials you can buy on Amazon, and that's precisely what makes it so cool. It might be a novelty, but it'll grind your goods well and be a cinch to clean.
Anyone who's a huge rolling paper fan will tell you that RAW whips up some of the best rolling papers in the world. They are malleable, tasty, and always keep your weed looking good.
If you bundle up their goods with a rolling tray and stash vial, you've got everything you need to teach your friend how to roll a blunt, too. That's why they're a cannabis culture favorite—and why they are some of the most popular stoner essentials you can buy on Amazon.
Finding decent pipes and bongs on Amazon isn't easy, but by all means, it's absolutely doable. Bonglove's pieces, though, prove that Amazon really does have all the essentials you need in order to light up in a stylish and potent way.
This cute 10-inch piece comes with a cannula, an easy to clean interior, and works as a perfect water bong for newbies. It's surprisingly sturdy, too, which makes it a great choice for stoners who tend to get a little rough when they party.
Though it's technically not an essential, per se, a cannabis humidor definitely is a must-have for folks who really want to keep their cannabis at perfect humidity and flavor. Icky is a company that has been making cannadors for ages, and now, they're selling their epic boxes online.
This beautiful Teak wood box is designed to keep cannabis perfectly safe. Their Icky Humidor 4 takes their craft to a new level with handmade artisan stylings, a beautiful stash jar assembly, and a hypnotic natural woody smell every time you open the box.
If you smoke using a pipe, then you already know that there are plenty of stoner essentials you can buy on Amazon for a smoother smoke. Most of these are ugly aluminum mesh pipe screens. If you want a different change of pace, you might want to try out glass screens instead.
These adorable flowers are easy to clean, come in a variety of sizes, and will add a nice pop of personal style to your smoking rig.
People who have ever tapped just a little too hard on their favorite weed pipe already know the awfulness that is losing your favorite piece to a rock-solid ashtray with a dash of clumsiness. It's not your fault. (Well, it is, but we don't want you to feel bad.)
Beamer came up with a way to ensure that that'll never happen again by creating a silicone ash tray. This ashtray is shatter proof, heat resistant up to 570 degrees, and also won't hurt your piece when you tap out the remainder.
Beamer also added different holes for all your cannabis goods like rolling papers, picks, and incense. It's one of the cooler stoner gifts for your girlfriend, in our opinion.
Of all the coolest stoner essentials you can buy on Amazon, this one is our favorite. It's a stylish glass stash jar that lets everyone know you love ganja, and also lets you store your goodies in a seriously nice way.
The pop top jar is airtight, and is coated with a special paint that allows you to write your strain's name on the jar. Since it's air tight, the nicest perk is being able to pop open the top and get a fresh whiff of the good stuff as you prepare to light up.
product review