Whitewater Rapids Girl
The joy of life and the beauty of a raging river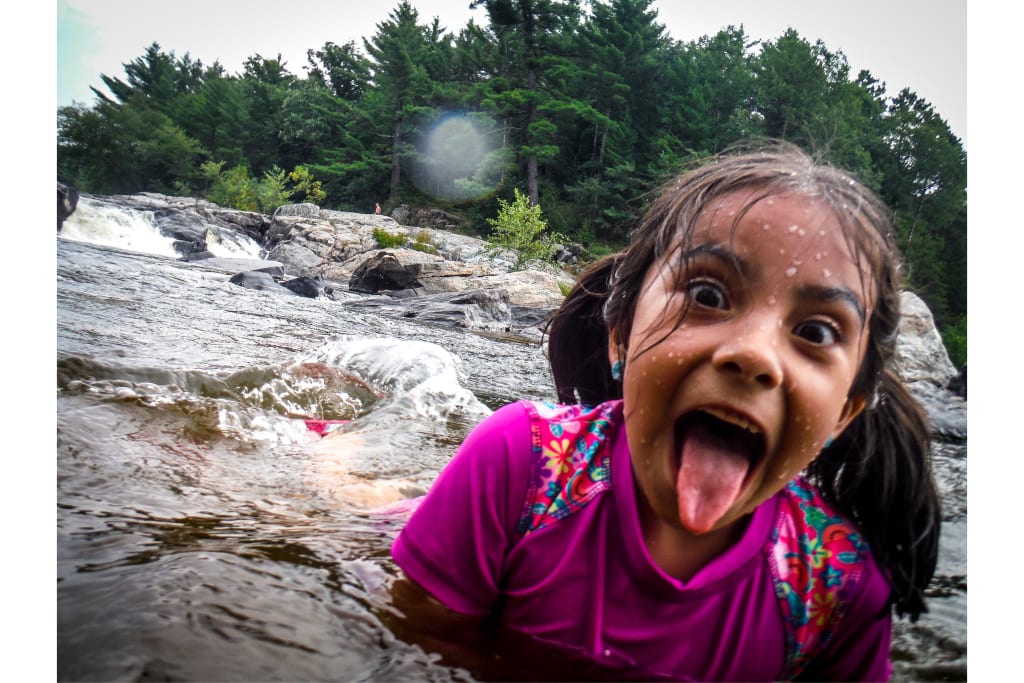 Photo by Walter Rhein
When it comes to taking pictures of my family, I prefer to try and capture real moments rather than artificial poses. I don't like going into a studio and watching as my children struggle to put on natural looking smile. I prefer a real smile with a twinkle in the eye that reflects their true and immediate emotions.
I took the above photo of my daughter on a family trip to Big Falls in Eau Claire, Wisconsin. The area is a city park with a small waterfall that is perfect for swimming, building sand castles, or simply relaxing in the sun.
Fujifilm FinePix XP120
The camera I used to get this shot is a Fujifilm FinePix XP120. It's a completely waterproof digital camera that I purchased as a back-up camera for family vacations. I actually purchased a refurbished camera off Amazon and spent less than $80 if my memory serves me right.
My wife is from Peru, and we try to take a trip to South America every year. However, this year, we have been unable to travel due to the Coronavirus. In Peru, near Machu Picchu, there are thermal baths, and I like to bring this camera along to take pictures while we relax after a hard day of hiking. This year, the camera is getting extra use on beach days as we try to escape the summer heat.
One thing I like about this camera is that it's a very simple point and shoot. It doesn't even have an extending lens which could potentially get gummed up with sand or water. I generally try to keep from submerging the camera, even though it claims to be waterproof for up to 10 meters. It's a perfect item for strapping to your wrist and catching moments of your children frolicking in the water.
Adobe Lightroom
I always take my photos and spend a few minutes on them in Adobe Lightroom. Lightroom is a marvelous program, and I was fortunate in that I was able to buy a version when it was still available to download. My understanding is that new versions of the program exist exclusively on the cloud, and require a monthly subscription.
Lightroom has some similarities to Photoshop, but it's much easier to use to enhance images. There is no layer feature in Lightroom, and the main control dashboard consists of toggling settings on clarity, exposure, contrast, color, and many more photo friendly settings. These are things you can also do with Photoshop, but it's much easier to work with Lightroom.
Lightroom also allows you to turn the image and crop it so you can correct your horizon line. In this photo, I left the horizon line at an angle because it makes the image more dramatic. I also like the droplet of water that landed on the camera lens because I feel it adds an element of realism and makes the viewer feel more connected to the scene.
The Raging Water
I love the image of the churning water in the background, the green trees, and the overall appearance of motion. Big Falls is a beautiful swimming area, and you can almost hear the thundering water as you look at this image.
The Expression
My daughter's expression is really what makes this a noteworthy image. It captures the pure focus of the moment of a young girl as she plays in the water on a hot summer day. She seems indifferent to the fact that her face is covered with droplets of water, and she appears to be on the verge of howling with glee.
There is energy, joy, and perhaps a touch of mischief in her face. This image captures her personality far more than any studio photograph ever could. This is a girl who is willing to wrestle with nature, cry out with laughter, and seize every drop of happiness from the day.
One of My Favorite Pictures
I'm so grateful to have captured this image. It's one of my favorite pictures and it combines the beauty of nature with the vibrant personality of my daughter. Every time I go out for an adventure with my children, I try to bring something superior to a cell phone camera. The versatility of my waterproof FujiFilm FinePix XP120 allows you to shoot in waist deep water and grab images that wouldn't be possible with a cell phone or even a DSLR.
Perhaps I could have grabbed a shot similar to this with a telephoto lens from the shore, but my distance would have changed the image. Part of my daughter's reaction is a result of the fact that I am only an arm's length away from her. She's paddling up to play with me, and part of her expression reflects my relationship with her. I am therefore present in the picture in a wonderful way.
I would have remembered this moment forever even without the image, but I'm very happy that it's a moment I was lucky enough to capture.
editing
I'm a small press novelist. Shoot me an email if you want to discuss writing in any capacity, or head over to my web page www.streetsoflima.com. [email protected]