Where's the Party At? – Music Video BTS
Behind the Song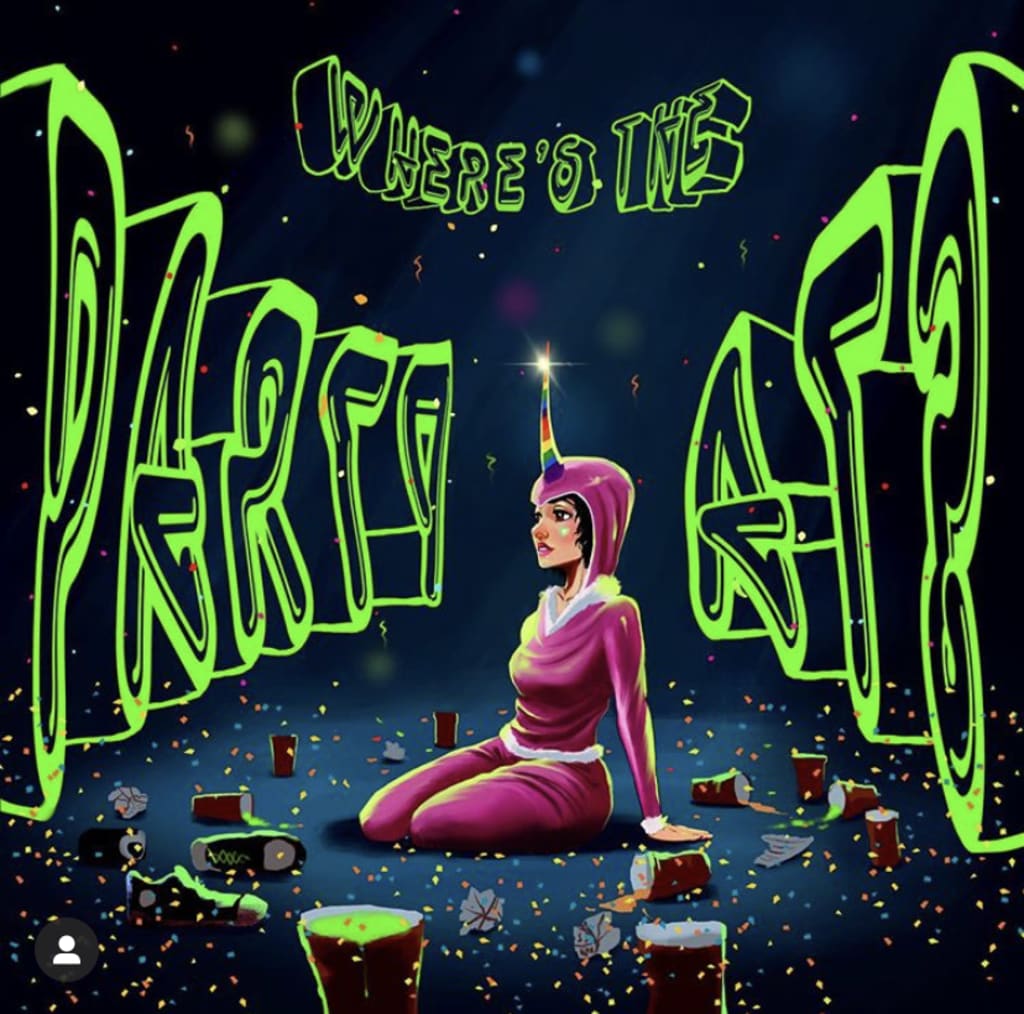 Art by: Austin S.J. Gordon @ajart777
Here we go again! Another music video in the books. This Halloween, Quinn Dorian released her new single Where's the Party At on YouTube with a music video filmed (with the assistance of Josiah Smithe) and edited by yours truly! This project was hilariously funny and a blast to edit.
"I don't party that much and yet I wrote a party song" Quinn told me while we were planning the storyboard. However, the song wasn't written from Quinn's perspective but in the perspective of one of her friends who was in this stage of life not too long ago. Living each day only looking forward to the parties was the life that was lived by the individual.
The moral of this song and the video is to show that living for the parties doesn't give your the long term satisfaction you are looking for. More often than not you're leaving the party feeling empty. This is metaphorically shown in the video by Quinn struggling to leave the party at the end, which is a circle back around to how the video starts with her passes out on the floor. Throughout the video, you see her the day after the party with the emptiness and loneliness returning as she walks through the trashed theater.
To conclude the little PSA, please make smart choices. Your life is valuable. The Great Almighty has you here for a reason and a purpose.
Now that we've had that serious talk, let's talk about the Behind the Scenes of this video! Let me tell ya, this was a train wreck and a comedy show all wrapped up in a weekend. The cast we worked with have such amazing personalities which made the scenes even more great and personable because you not only could see their true colors, but they brought their Halloween costumes to life too.
Buttercup (Quinn Dorian) faces the decision of either entering the party with an unrecognizable costume or hangout with a crippled friend... the decision is then suddenly made for her.
The shimmering green is dragged off frame to enter into the world of flashing lights, incoherent pumpkin suits, and a giraffe stealing candy. How could the night get any worse? The power puff girl thought...
Quinn Dorian rocked this video as Buttercup from the Power Puff Girls. Anna and Kayla, who play Blossom and Bubbles, equally show their character associations by clothing colors which would have looked so amazing if we had the whole gang together in full PPG outfits. Quinn spared no detail for this character.
The first day of shooting, Quinn opens up the mailbox at our apartment and lone behold her green contacts she ordered! She didn't think they were going to get here before filming. But they did!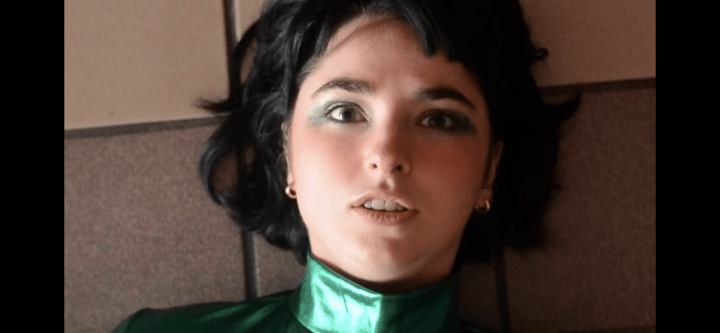 The green contacts bring that little bit of detail to her already dark-colored eyes. Lighting for this video was challenging and this was probably the only section of the song where her iris is actually noticeable as green instead of her usual chocolate brown. Her perfectly smudged eyeshadows drawers your eyes to her's because our brain's naturally think "Who would where that shade of eyeshadow out in public?" But look how much color it brings out in the contacts?! They pop!
A+ for the costume design of the modern day power puff girl. From the green eyes to the Mary-Janes, this girl is ready for Halloween, but will she enjoy it as much as she was hoping she would without Blossom and Bubbles at her side? Will people know what she is? Let's look at the details shall we!
Before I start going there, let me ask you a question. Do you think Quinn's hair is real or fake in this video?
I'll give you a minute...
*cue Jeopardy music*
"It's a wig," most people answered when we asked them during the shoot. This is actually her real hair that she cut and dyed herself. Besides the fact that it's dyed, it's also un-styled.
Now, let me tell you about the shirt. Quinn walked out into the living room a few weeks ago with the costume on and couldn't contain her excitement. She asked me what I thought and the first thing I said was... that shirt is the wrong color. I didn't mean for it to sound negative, but me being a detail oriented person with stuff like this I just wanted to make sure she knew how off it was to the character. Unfortunately, I don't have a photo...
We also had the disagreement about WHAT COLOR green it was. I said it was pastel. She said it was neon. It actually kinda wasn't either of those. It was slightly too dark for pastel, and too light for neon, but I digress. About a week or so later John asked me if I had seen Quinn's new shirt for her music video costume; I hadn't seen Quinn in general for a couple days so naturally I hadn't seen the shirt. He shows me a photo and I about screamed in excitement (but I couldn't because we were both at work) it was the PERFECTEST shirt for this. The shiny green to draw the eye and with the lights in the party was just going to look amazing!
A couple details Quinn added to her look which she thought would add to the character were the safety pins on the skirt. Not many scenes caught them, but those that did showed the sewing tools pinning the skirt closer to the hip. These are here for two reasons. 1) Quinn thought they added to the Tom-boy personality of the character. 2) the skirt was too big. To some of may look like a alteration mishap, and others may see it as creative license was taken in order to fulfill the role of a live-action Buttercup.
Coming soon: behind the scenes, blooper reel where you'll see and hear everything going on in front of and behind of the camera as we filmed this music video! Stay tuned for more laughs and entertainment.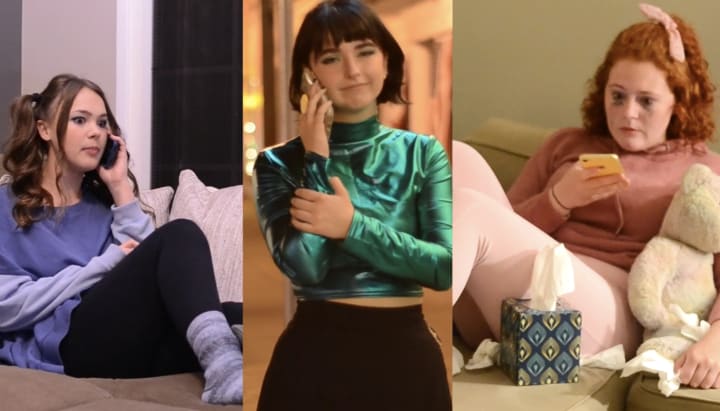 Please give the video a watch, thumbs up, and subscribe!
Thank you so much in advance for watching my latest project and reading this blog!
Please leave a tip if you enjoyed the video and what you read today :)
You can follow Quinn Dorian and myself on Instagram: @quinn_dorian and @sara_aulds_photography
See y'all soon!