[Ultimate Guide] How to Sharpen A Video
AI Video Sharpening Tool | How to Sharpen Video Online for Free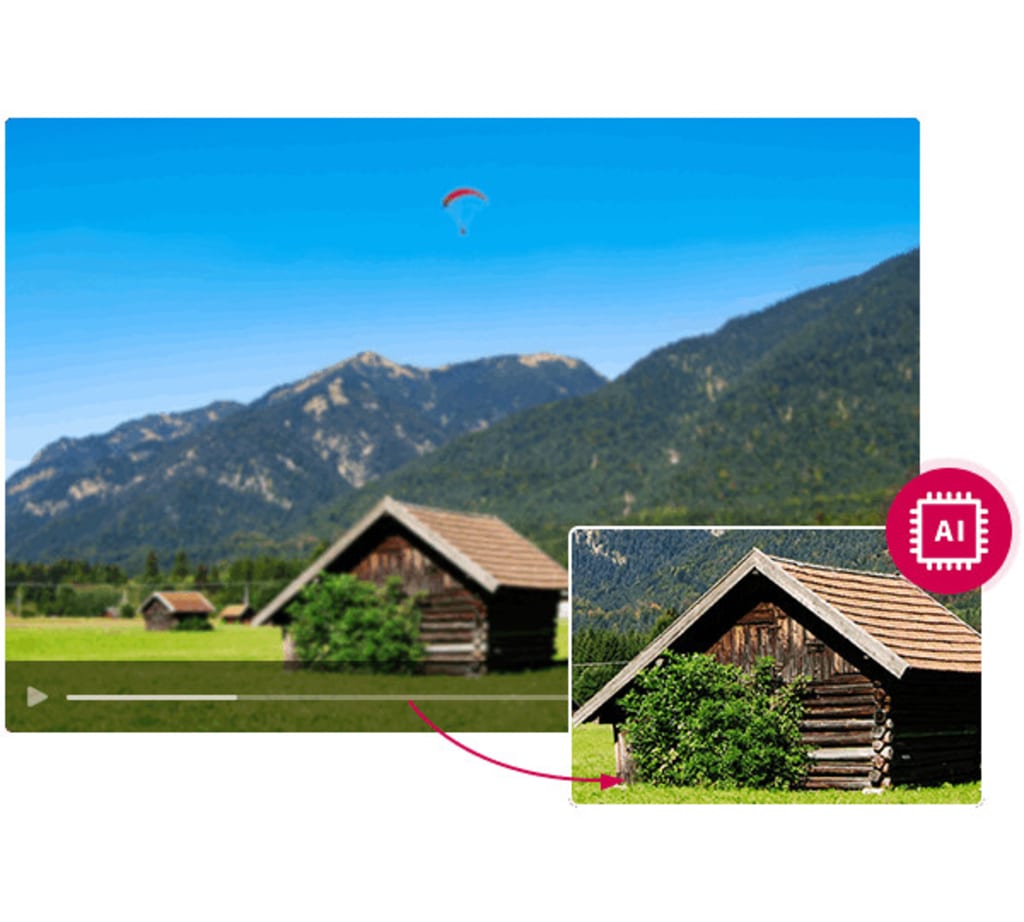 "How can I sharpen my video? Can you sharpen a video online?" - Chris Aust
Sharpening a video is vital if you want a punchier and more vibrant look in your video footage. However, sharpening videos can be a bit trickier than sharpening photos. Don't worry, here's an ultimate guide for you, even if you are a novice. This tutorial focuses on how to sharpen a video online for free or sharpen blurry videos on iPhone, Android, Mac, and Windows PC and remove the motion blurs and out-of-focus blurs to deliver you a crystal clear and crisp video. Just read on for more details.
Part 1: What Does It Mean to Sharpen A Video
Sharpening videos means increasing the contrast around edges which creates the perception of sharpness, making your blurry videos look crisper, clearer, and detailed.
You can make videos look sharper by adjusting the brightness, increasing the contrast, creating a more saturated image, adding exposure, and filters, and even enhancing the resolution of your videos.
In the next part, we are going to show you the best video sharpener with AI capability to help you sharpen blurry videos automatically to better visual quality.
Part 2: How to Sharpen A Blurry Video on Mac/Windows PC via AVCLabs Video Enhancer AI
Thanks to the application of AI technology in video optimization/editing in recent years, sharpening videos has become easier and simpler. You don't need professional Adobe Premiere Pro, After Effects, and other high-level video editing tools to sharpen the blurry videos. AVCLabs Video Enhancer AI is such an excellent video sharpening tool empowered by AI technology.
As a professional AI-based video enhancement and AI video upscaling tool, AVCLabs Video Enhancer AI uses a neural network to enhance the video quality and upscale video from SD to HD (720p or 1080p), to 4K, and even up to 8K automatically and intelligently in one click, with super-resolution upscaling and multi-frame enhancement. Driven by powerful AI sharpening algorithms, it enables users to remove all the visible motion blurs and out-of-focus blurs automatically and video noise. No advanced video editing skills are required during the process of sharpening videos.
Here are simple steps to sharpen blurry videos on Mac and Windows PC.
Step 1 Install and Run AVCLabs Video Enhancer AI
Firstly download the AVCLabs Video Enhancer AI from the above button and install it on your Windows PC or Mac, then double-click on the icon to launch it.
Step 2 Import the Blurry Video You Want to Sharpen
Directly drag & drop the blurry videos from your computer to the program or click on the Browse to import blurred videos to AVCLabs Video Enhancer AI. Additionally, you can click on the Menu button and choose "Open Video File..." to add a blurry video clip from the computer to the AI-based video sharpening program.
Step 3 Select the Appropriate AI Model and Set the Output Parameters
Before sharpening the blurry video, we recommend you modify some critical parameters like the processing model, output resolution, output format, and output path.
In the upper-right panel of the program, you can choose the appropriate AI Model according to your need.
You can also unfold the output preset and adjust the output to 200%, 400%, SD, HD, 4K UHD, 4K, and 8K.
To beautify the face details in your video footage, you are able to turn on the Face Refinement option.
Before starting to sharpen the blurry video quality, you are allowed to set the output video format according to your need. It supports exporting video to AVI (UnCompressed), MP4 (H.264) format.
Step 4 Trim the Output Video
If you just need to sharpen a clip of a blurry video, you are able to trim the unwanted parts frame by frame to save processing time. At the bottom of the program, you can trim your video to the desired length by dragging the slider bar. Or input the start and end of the frames to set a clipping point accurately.
Step 5 Start Sharpening A Blurry Video Automatically
Once all the preparation work is done, hit on the Start Processing button to perform the blurry video sharpening process. The final processing time depends on your computer's system configuration and video size.
After the video unblurring process is completed, simply click on the Open Output Video button to check the output sharpened video.
Part 3: How to Sharpen Videos Online for Free
If you are tired of the to-be-installed software, then you can sharpen a video online for free with Clideo Video Clearer. Clideo Video Clearer is also a great video enhancer that enables you to increase the quality of your video in clicks and fix blurry videos online for free. It comes with an Adjust Video tool that allows you to control Brightness, Contrast, Saturation and Hue values of the video clips to improve video quality.
Let's follow the steps below to fix blurry videos online for free with Clideo Video Clearer.
Step 1 Upload Your Blurry Video
Simply navigate to the Clideo Video Clearer official website and click on the Choose files button to upload a video from your computer, Google Drive, or Dropbox hat that has any blurry issues.
Step 2 Slide to Adjust
After the video is uploaded, you'll enter into the clear video editor. Here you can adjust the brightness, saturation, contrast and other settings. To remove the blur from the video, we highly suggest you up the brightness level and bring the contrast down a bit. It won't fix all your problems if your video is extremely out of focus, but it will definitely help clever things up a little.
Step 3 Select the Output Video Format
If you are satisfied with your adjustments, then select an output format such as M4V, MKV, MP4, MOV, M2TS, FLV, and F4V. The MP4 format is an optimal choice if you need to play the clear and sharpened video on your phone.
Step 4 Save the Clear & Sharpened Video
Now, you can preview the processed video. If you are happy with the result, hit on the Download button to save the clear and sharpened video to Google Drive, Dropbox, or on your computer.
Part 4: How to Sharpen Videos on Android
Are you wondering how do you sharpen a video on Android? Here we would like to introduce the best video enhancer app for Android named Videoshop to improve video quality on an Android device and make blurry videos clear on Android phone. It not only can help you increase video quality in a practical way but help you trim, apply slow/fast motion, and add voiceover to your video. The most impressive part is that it comes with the lip-sync tool, Instagram and TikTok lovers will certainly appreciate this feature. It allows you to add various sound effects such as animal noises, farts, explosions, and laughter and share your edited videos across social media platforms. Slideshow videos are supported.
1. Open Videoshop on your Android phone and tap Import clip to upload blurry video footage.
2. Tap the Adjust Display option to change brightness, contrast, saturation, etc.
3. Tap the tick when finished.
Part 5: How to Sharpen Videos on iPhone
Is there an app to clear up blurry videos on iPhone? Can I sharpen video clips in iMovie? Unfortunately, iMovie does not cover the sharpening tool for iOS devices. In this part, we are going to talk about how to unblur a video on iPhone using Inshot. Inshot is a superb free video quality enhancer that helps you edit and improve video quality on your iPhone and increase video quality on iPhone. The app is popular among social media enthusiasts who wish to improve video quality for free with simple and flexible video editing features. It's easy to resize videos for TikTok, Instagram, and so on.
1. Open Inshot on your iPhone and then import a blurry video.
2. Hit on the Adjust option to find the full range of available effects.
3. Now simply choose the Sharpen option to move on.
4. Regulate the intensity of the effect.
Conclusion:
That's all. After you learned the comprehensive guide on how to sharpen videos on Android, iPhone, Mac/Windows PC, or online for free, you will get a clear and sharpened video. The AI solution - AVCLabs Video Enhancer AI, utilizes intelligent and automatic blur correction to sharpen videos from your smartphone, cam, camera, or drone professionally, and get natural-looking results with excellent image quality. You can easily select the best tool to get your video quality improved.
Source: [Ultimate Guide] How to Sharpen A Video
Reader insights
Be the first to share your insights about this piece.
Add your insights