The Old Man Who Wanted Nude
A Decade of Stories from a Fine Art Photographer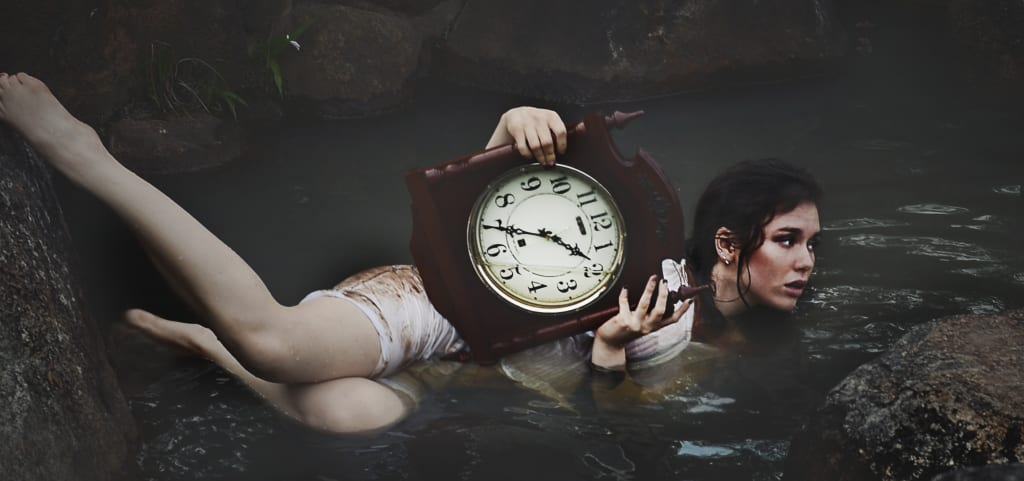 "Our Lives" 2013 Archived Photography by Reylia Slaby
In the summer of the year I turned twenty, I asked a friend of mine to model for me.
We walked up to this public center that was composed of a mishmash of things. It was a campsite, fitness center, gymnasium all rolled into one. It was a lovely spot, although it wasn't in the most convenient location. To reach it you had to either ride a bus for 20–30 minutes or walk through dense forest. It was popular with children and the elder generation.
I'm sure there were other places where we could have worked. I was quite young and new to photography, and the concept of location scouting wasn't one I was familiar with. In my mind, there were no other places other than my small town in Nara, Japan. It was familiar, and that's all I knew.
Despite being rather green to it all, I did know where I wanted to shoot. There was this man-made pond on the property. The rocks were jagged, and wild-looking, almost as if you were really in nature. If you didn't look around you and cropped the photo, I believed it could look interesting.
Little did I know, this photo would be the photo that changed everything for me. It would be my first Fine Art piece.
I had my friend get in the stream. I don't know exactly what I gave her to wear, but in my head now it looks almost like a onesie. I gave her a large clock, bigger than her face, to carry in the water as she posed. The week prior, I had found this particular clock abandoned in the trash on the side of the road as I was walking up my mountain. I have it till this day.
I don't believe I had her swimming for too long, but I knew that it was all I needed. My friend stood up in the river, water dripped from every part of her body as she crawled out. We attempted a hug, and I showed her some of the images that I had taken.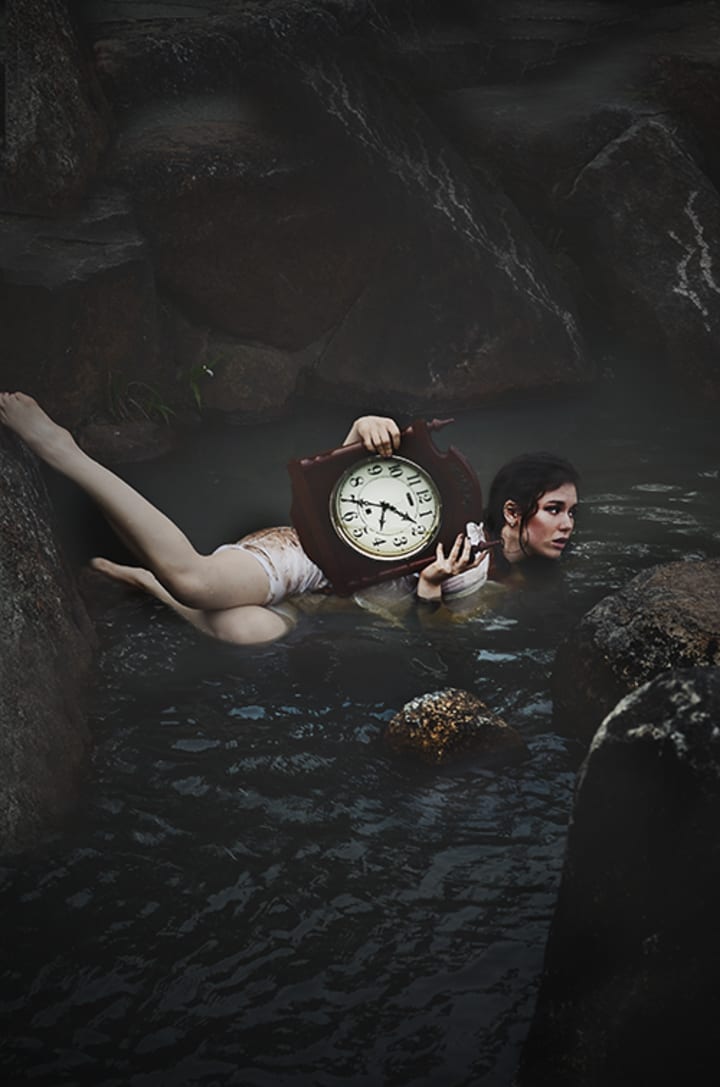 As I was showing her, an old man, probably in his 60s, walked by us holding a camera. He seemed to be one of these overly-friendly types, the kind who would only talk to you to try to practice his English on, the whole three phrases he memorized imperfectly.
He looked at us and saw we weren't Japanese and approached us. "I take photo." He said, and I wasn't sure if he meant it as a question or if he was just letting us know what he was going to do.
We hesitated, not sure if we wanted to indulge.
"Yes, her her." He said gesturing to my friend, who was still soaking wet. The old man smiled and gestured for her to come this way, suggesting a better spot of light. She went along with it, smiling and posing the whole way. Sure thing, sweet old man.
I wasn't too comfortable, as I could see her whole shape revealed. It wasn't exactly the most demure of clothing, being completely soaked. I also didn't like pushy older men. But perhaps I was just overreacting. Some old men feed birds, some take photos of strangers.
He looked down at his camera, examining the photos a bit. He then looked up at her. "Now take it off." We both looked surprised, wondering if we misheard him. But then we saw him gesturing towards his own clothes. "Off, off," he said. We were both surprised, and we shook our slowly heads, hesitantly saying no, leaving legroom just in case he actually meant something else. He guffawed, turned around immediately, and walked off.
My friend and I eyed each other in confusion and nervously laughed. "That was strange." We said to ourselves, brushing it off.
From that day on, I had a quiet premonition. I knew that somehow, no matter what scenario I got myself into, it would be a difficult road as a female photographer.
But besides all that, sometimes I wonder, if eight years later if that man ended up keeping the photos.
career
About the author
Reylia Slaby is a Fine Art photographer, writing about her love for creating, and how others can use art in their lives
reyliaslaby.com | Insta @reylia.slaby