The changes I have seen!
Bellows to tiny phones
Almost 100 years of photography in my family, and the changes are remarkable .
It all started with my Grandfather, Henry Dubois, In France
A studio called "Studio de L'abbaye" located in a small suburb in France called "Bonneval", a small eighth century town, surrounded by drawbridges and a river.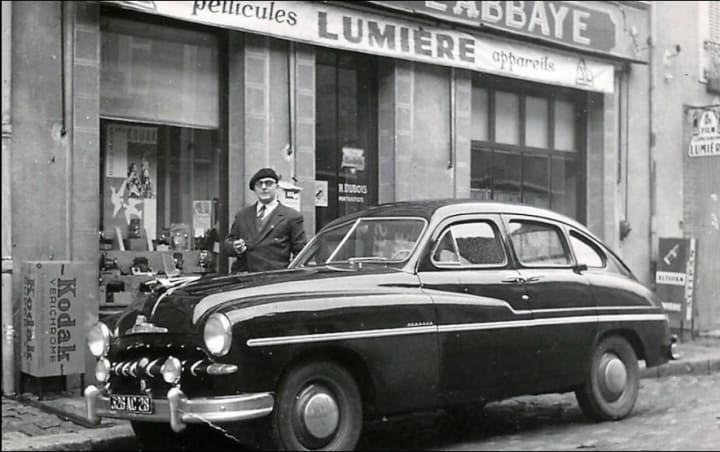 In this Studio , stood the most magnificent Bellow camera.
This camera saw many newlyweds, communions, baby shoots and portraits.
The studio was painted white with heavy greyish velvet curtains, on one wall. The props were simple. A kneeling chair for communions; a cane table covered with a lamb's wool rug for babies, a few candles on pedestals and some wonderful ornate iron frames for newlyweds.
I was not yet even thought of, when my grandfather ran this studio but, his son, my father, Guy Dubois, became his apprentice at an early age, taking over the studio, when he retired; then, I was able to observe the great techniques of the bellow camera.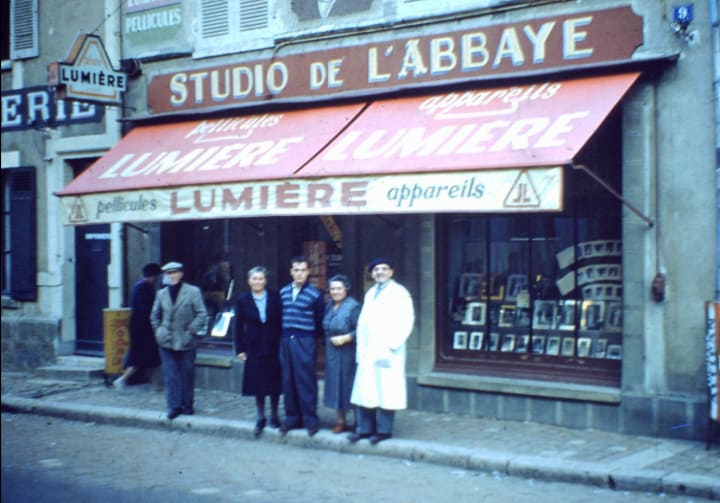 These large glass plates covered over by a timber accordion type curtain closure would keep the film and plate protected from light.
The studio lights were pretty big in those days.
I was often used as a Guiney pig when it came to having my photos taken and I have more photos than you could possibly count.
Yes, these were all black and white in those days but, my mother learned to colorize them with special paints and, Voila! Color on black and whites.
The pictures and negatives were all developed on site. Behind the studio was our house and behind that a massive area, that was created as a dark room.
The whole site use to be a hostelry, back in its very early days and had many rooms; it's construction made of solid stones, dated back to the 18th century.
Dad and I were inseparable and I would spend hours in the dark, watching his cigarette moving around as he developed the negatives.
The next stage was the negative to paper.
The enlargers he used were quite some size and he taught me how to create some wonderful effects.
Then, was the developing stage, which was done in massive stone tanks.
After that, were the drying, and the glazing stages for the glossy pics.
These pics then went through a guillotine to be trimmed but not a straight edge, these guillotines had decorative edges.
My parents decided to come to Australia in the 70's, and my father gradually went away from photography, as color had poked it's nose and he did not want to change.
I started High school and the first thing I did was join the photography club.
My dad had also transformed the back of our rental home into a small dark room, as his passion for photography was not gone but, he stuck to his black and whites.
I got married and had a child, but needed to also pursue a passion that had surrounded me all my life, and decided to create my own darkroom and began to dabble with color photography.
My father was impressed but could not be swayed.
My passion only became a hobby with some freelancing.
It was not till I was in my 40's that I decided to open my own studio.
Digital had now reared its head and my first portrait camera was the top of the range, a five Meg Olympus.
This portrait camera was much more than that… it saw countless weddings, portraits, family photos, Santa shoots, sceneries and events.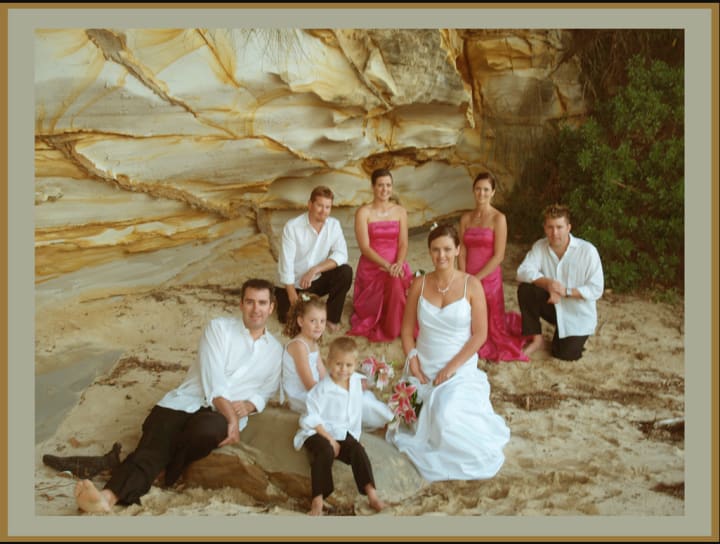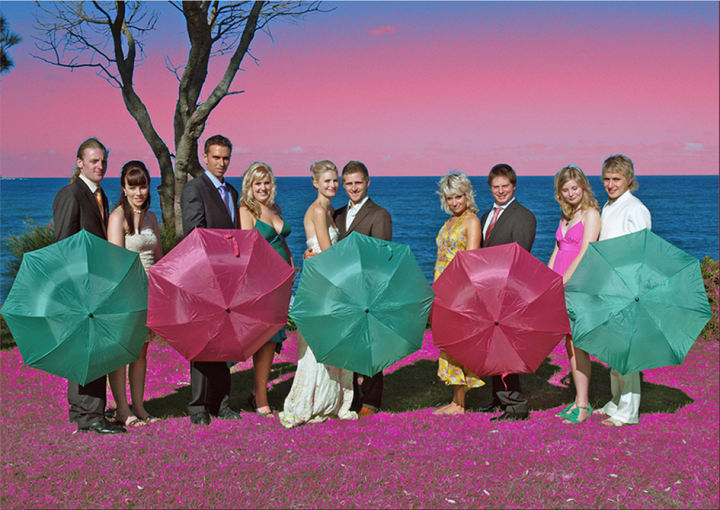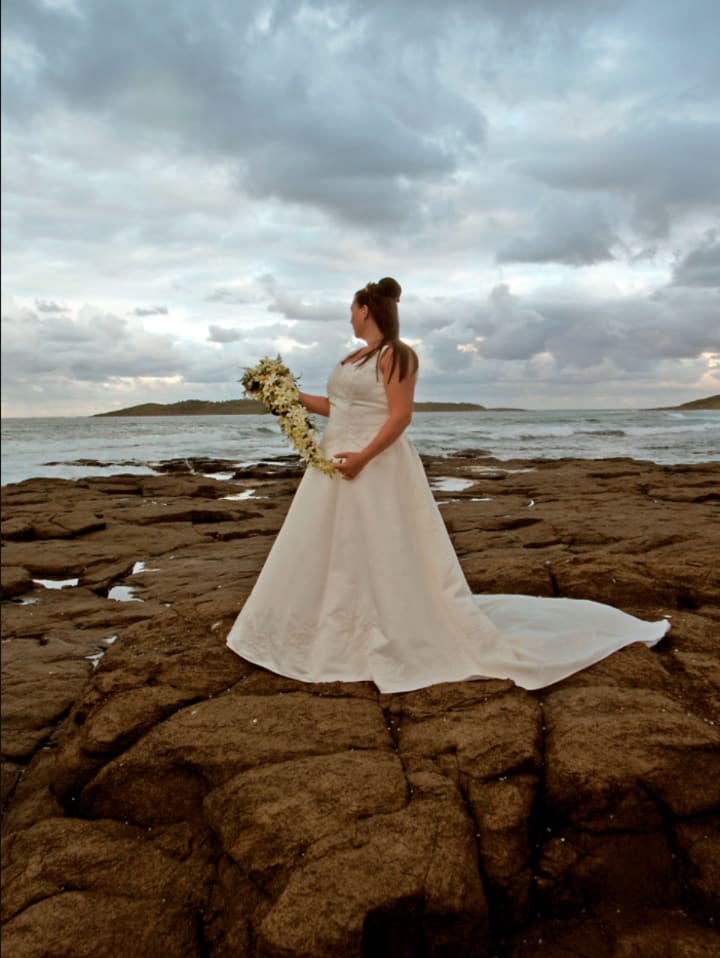 After five years of opening my studio, I soon realized, being in a small country town, that it was becoming hard to keep going… everyone with a camera or phone, were becoming experts.
I have not lost my love of photography, and I am incredibly happy, that I was around to see the changes.
I always think, it is a shame so many of our younger generations will never really understand, what a photo really meant… and how long you had to wait, to see if your pictures had turned out half decent.
From analogue, to digital…
I still have an old analogue… black and white films now costs a fortune but, I will never dispose of it.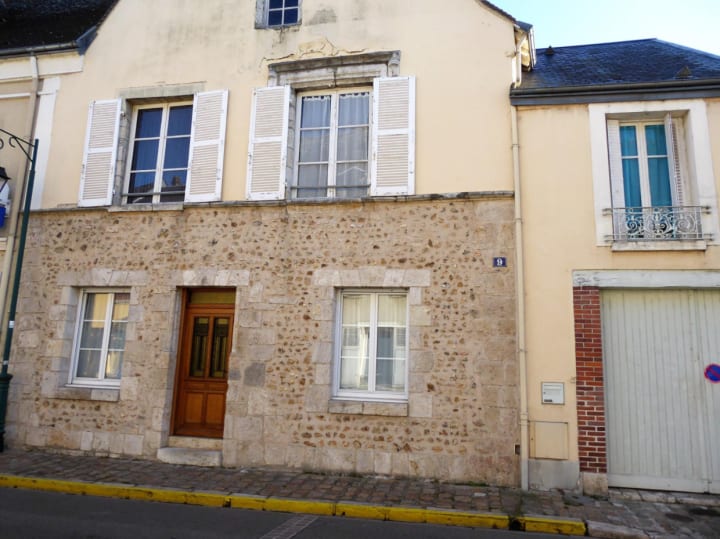 About the Creator
A very creative person with a passion for new adventures; expressing herself in 3 fields of creativity, art, photography and writing.
Her Scriptwriting is available at Script revolution
Her Art and Photography. at her Red Bubble page/shop
Reader insights
Be the first to share your insights about this piece.
Add your insights