The calm before the storm
Her silent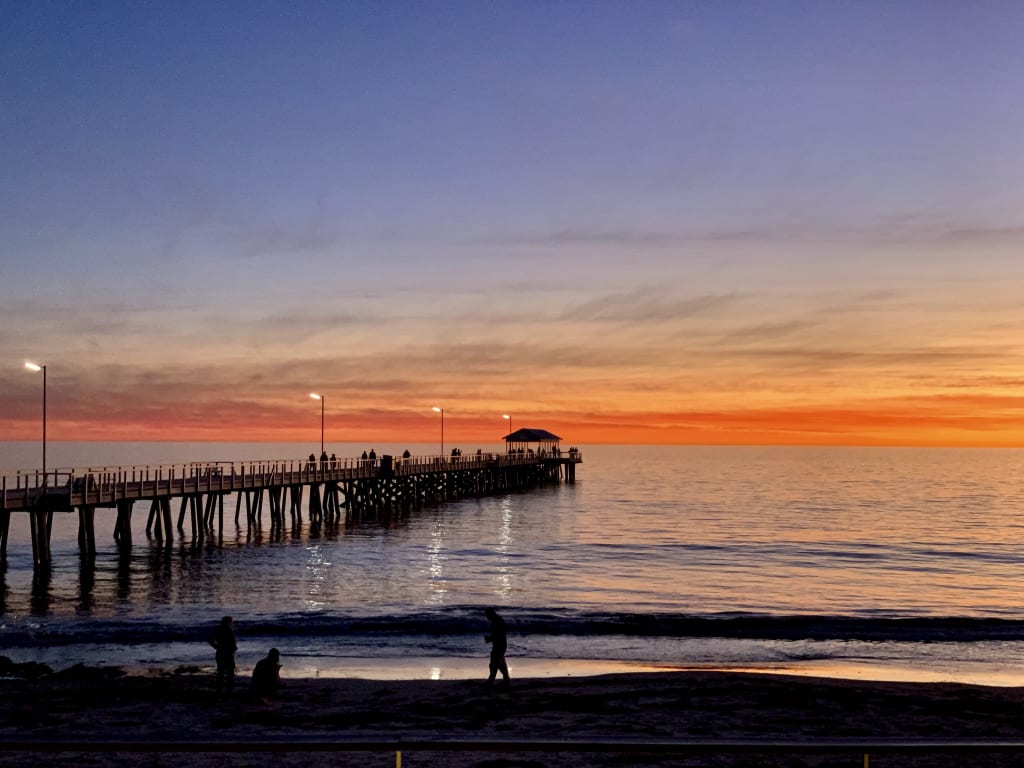 Henley Beach
They say never ever mistake her silence for weakness, and to remember that sometimes the air stills before the onset of a hurricane.
Looking at this image, I am reminded that no matter how strong or how long the storm is, there is and will always be peace and calm. This image also assures me that there is always light at the end of the tunnel. Take a minute and think on how many times you have seen or head of a rough ocean or even an angry storm, perhaps you have experienced it yourself. Tell me, while you were going through this experience, did you think you would ever see such calm and beauty on the ocean that was once rough or such a magnificent canvas of colors on a sky that was once in rage with an angry storm? No, you did not. well here is a piece of advice to you that is going through a rough season, you who need motivation, and to you who needs the courage. Well to you that is going through a rough season, Your time for peace and calm is coming, you may not see it yet but its coming, to you who needs motivation, you are the maker of your own peace, you won't feel at peace until you have completed that which you started, you can give up, but before you do that take a minute to look back or how far you've come, how much time you've already invested in this project or goal, you can give up now but the hours and effort you have invested into this project is not refundable, just like you cannot claim an award for something you did not accomplish. So, you decide. To you that needs that little amount of courage, just know that somewhere out there someone believes in you, it is not to late to start what you have always wanted to start finish what you have already started, you may be out of the time frame to which you should have completed that certain task in, but I say to you for as long as you have breath, time does not matter, you can do you.
We all go through different experiences in life, but as a race we are fighters and warriors. we are constantly hit with different waves of crisis daily, it may be, bills, friends, family, or just a case of bad luck, it is always one thing after the other. What makes us different is our ability to fight, survive to see another day or fight to see another day, that survival instinct hat takes over is your superpower. Stop letting other tell what you cannot do or cannot achieve. It is time to stand up for yourself, at the end of the day only you can defend you, because I believe that they are certain battles in this world only you can fight if you wish to survive.
The following image was taken at Henley Beach South Australian, with Nikon D7000 DSLR, attached to AF 18-55mm lens, 1/60 second at F2.4, iso 160. Edited with simple iPhone xs built in photo editor to darken the objects in the frame, soften the sky light and Brilliance at 50%, highlight at -49%, shadow at 50%, contrast at 50%, brightness at-50 %, black point at 50%, saturation at 48%, Vibrance at 51%,.
I hope this story touches and inspires someone out there to get out and about and start doing something new. Hope you it finds whoever needs to hear it. You can find my photography page on Instagram @JonnathanKphotography for more photos. Thank you .