The Art of Isolation
How a project in Northern England became eerily prophetic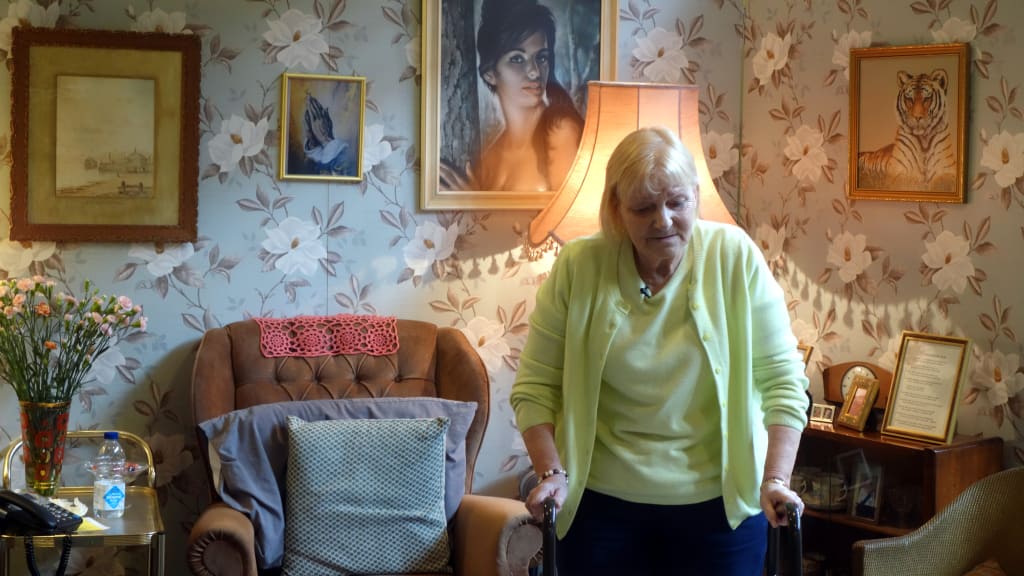 Actress Barbara Heslop performing in Home Alone. Picture courtesy of Sharon Bailey.
It started as a project to highlight the failings of Britain's care system. By a quirk of timing, it turned into something that captured the zeitgeist of 2020. 'Home Alone', Sharon Bailey's exploration of the often-isolated lives of elderly people, unexpectedly tapped into a universal experience as the COVID lockdown struck.
In the weeks before the big shutdown, Sharon recreated a living room with the help of various older people she had been visiting across the northeast of England. Together, they chose appropriate wallpaper, furniture and ornaments. Then, using a script derived from hours of interviews, actress Barbara Heslop performed a monologue written by Catrina McHugh of Open Clasp Theatre and based directly on the words of people describing their day-to-day lives in Tyneside or County Durham. Before self-isolation became a buzzword, this was a despatch from a forgotten frontier, a world where involuntary isolation blights too many lives.
"I just saw that conditions for older people were getting worse, mainly due to services being cut back," Sharon said. "Older people were getting caught in a poverty trap, increasingly stuck in their own homes. There are fewer day centres, things like luncheon clubs are losing their funding.
"I wanted to find out if things were as bad as I thought – and it turned out they were much, much worse."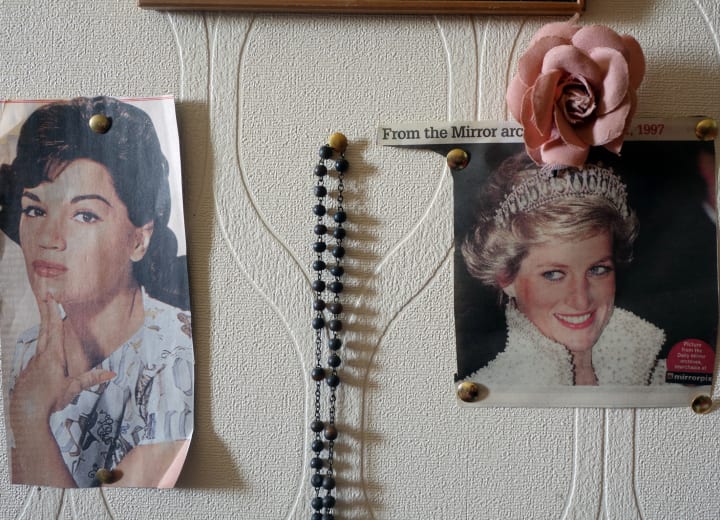 Creating the project was intense: Sharon, based in Northumberland, spent more than eight months of visiting elderly people in their homes. What was initially intended to be a couple of visits each quickly mushroomed into 20 or more trips to see people in their 80s and 90s, largely housebound and often trapped and fearful for their futures. It was a tale of laments, of how a decade of austerity had eroded so many of the small but vital cogs in the social networks – real, not virtual – that maintained quality of life in our later years.
The project – powerful in a way not usually associated with the 'safe' art often seen in shopping centres and similar public spaces – visited Newcastle's Grainger Market and the Castle Dene shopping centre in Peterlee before moving to Durham's Clayport Library ahead of a planned four-month tour across the north of England.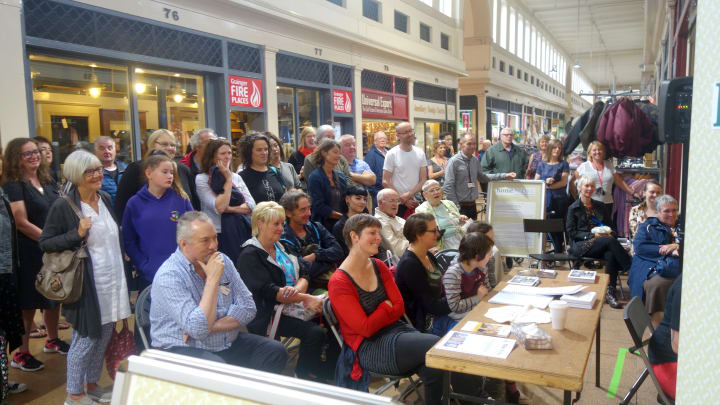 "I had hundreds of people in the Grainger Market and in Peterlee," Sharon said. "They were really stopping and engaging with it as well. We performed the monologue a couple of times a day, the rest of the time we could play recordings from the diaries. And there were lots of photos, details from people's houses rather than portraits. I wanted to tell the stories through things as much as faces.
"The response was completely overwhelming. I thought it might strike a chord with people, and we had so many coming and telling their stories – families looking after elderly relatives of their own, people's fears about their own futures. The live performance makes it really powerful. I asked the writer to stick to the actual words of the people I spoke with, we didn't make anything up. And to have that performed in front of you was powerful and the response was very positive."
Lockdown ... and greater empathy
Then came lockdown – and suddenly everyone was 'Home Alone'.
"Now it seems almost prophetic," Sharon reflected. "Suddenly almost everybody, to some extent, has been thrown into this situation. I'm hoping it will bring a lot more empathy when the show can go on tour.
"People have experienced a kind of confinement or imprisonment, they've lost that freedom to go outside. Now they are aware of what older people have been experiencing for years and depend so much on people coming to see them."
Lockdown has also taken its toll on the creative community. Galleries, exhibition spaces, performance venues all closed their doors. For Sharon, it was an emotional time - and not just because of the natural frustration at seeing three years' of planning forced into limbo.
"There was an awful feeling that I'd let down the older people who I'd worked with," she said. "It's so important to tell their stories at this time but I couldn't do it anymore. There was a sense of powerlessness because I couldn't help in any way.
"I could see lots of projects moving online but none of these older people had internet access at home, they didn't have computers or even smartphones. I really struggled with how we could keep in contact. Things would just deteriorate, and people would really suffer with their mental health if the only contact they had was with a masked carer trying to get round a list of clients."
A new way of thinking
An optimist by nature, she's hoping to resume the planned tour when conditions allow – and has ever more ambitious ideas. Campaigns to ensure wider internet available for everyone, especially in poorer communities; that's an issue brought into focus by the sudden move to schooling at home. Lobbying for local support networks to remain active – and supported – once lockdown ends; acutely aware that for many older people, reopening society won't immediately usher them out of their homes.
"We almost need a new way of looking at society. Our elderly people are not as valued as they might be and we need to think differently," Sharon explained – and she hopes recent weeks have brought evidence of how this might happen.
"I've been cheered by the way this has started changing people's minds, but I'm also angry that it's taken something like this for the government to realise that social care is in complete crisis and needs funding.
"Part of me is hopeful that this will lead to change, but another part is sceptical. They are talking about more funding and hopefully this lockdown will make it happen. There's been such a fantastic reaction [in society]. People have really come forward and rallied around the older people in their communities. We've seen support networks setting up for more vulnerable people and I'm really hopeful that will carry on.
"It's encouraging that we've been clapping and cheering for NHS workers and care workers because they've been totally undervalued for so long, they're almost as forgotten as the people they are caring for. If I'm able to get the project back on the road, I want to take it to Westminster to lobby for these networks."
Artistic uncertainty
Like a lot of artists, though, there are concerns about the future. Work has dried up overnight – just as bands can't play in locked-down concert halls, artists can't exhibit in shuttered spaces, be they galleries, libraries or market halls. And, for the most part, culture has been labelled 'non-essential'.
While it's tempting to assume that artists inhabit an ivory tower, thinking profound thoughts and awaiting the next bolt of inspiration, the reality is very different. The arts, like most activities, thrive on interaction and Sharon's work is no exception.
"A lot of my work is about engaging with people, visiting in their homes, putting on workshops, talking face-to-face," she said. "I've had some Zoom conversations but I can't see myself becoming the kind of artist who can run online workshops. For me, it's about the live experience, interacting with the audiences who see the work, having that conversation."
'Home Alone' became 'Home Alone Together', a series of video clips built around recordings of telephone conversations and letters with several of the people who contributed to the original monologue and extracts from Sharon's diaries of the project. In the longer term, the performance will likely be recorded and made available online as a counterpoint to the original and, potentially, a bridge to a larger audience.
Otherwise, though, it's a time of worry about funding – there are few commissions out there and Sharon admits that the way she works is unlikely to be viable for a while. The Arts Council was able to divert funds from its main programme to support creators during the immediate crisis, but that's a limited resource and can't hope to save theatres, music venues and the visual arts on its own. A pledge for £1.5 billion in government arts funding is welcome, but many are waiting on the precise details of how to access the money.
Meanwhile, although non-essential, the arts have been visible in public life throughout the crisis – from homemade rainbows in people's windows to virtual museum tours and online broadcasts of productions old and new.
"It's difficult to attract government funding, because the arts are not seen as a vital service," Sharon added. "But it's certainly been vital in keeping people entertained and positive during the lockdown. Where would people be without the TV, without their music or their books?"
This story is one of a series looking at the impact of the COVID-19 lockdown on the creative community in the North-east of England. Previous features include:
- Cruel Nature Records and the independent music scene;
- The Old Cinema Launderette, a unique live music venue in Durham;
- REfUSE cafe, a community hub in the heart of Chester-le-Street
In addition, two other pieces look at the impact on ice hockey and football at a time when contact sport is heavily restricted.