Sterling Chandler talks Mindset, Small Beginnings & Success.
Sterling Chandler is a 16-year-old Photographer & Creative Entrepreneur. I talk with him about mindset, small beginnings, success & staying creative during this time of uncertainty.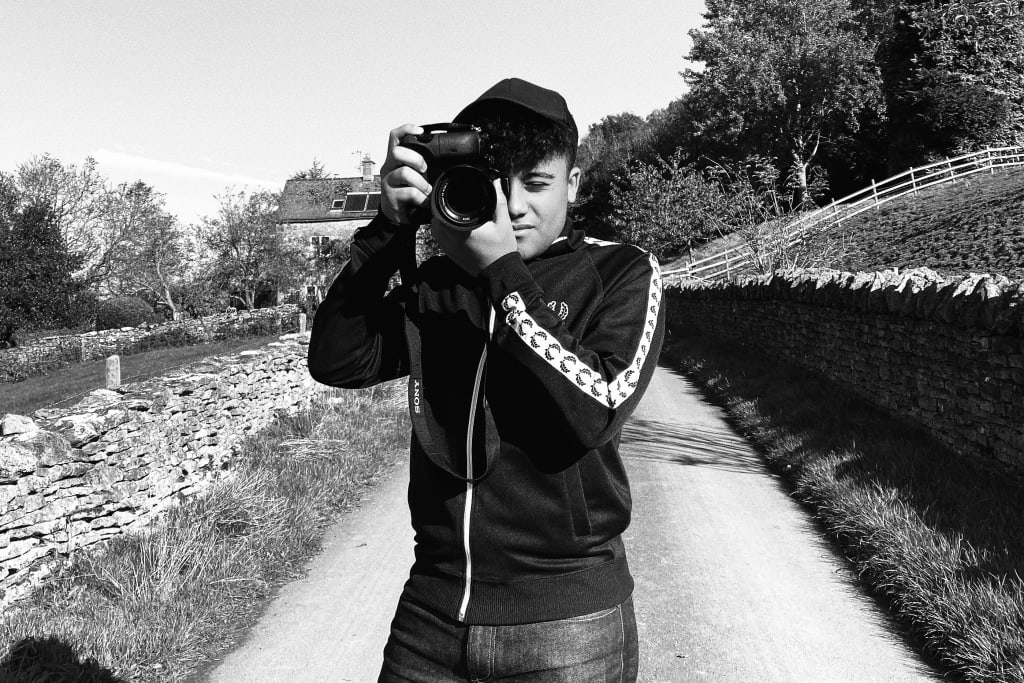 Pictured, Sterling Chandler
Sterling Chandler is a Photographer & Entrepreneur from London. This 16 year old has worked with many global brands and musicians. From Aston Martin to The Specials.
He has been able to do this whilst still living the life of an ordinary teenager, he explained to me that his passion lies within helping others, by building online businesses and utilising social media. We caught up with Sterling to see where it all started, as well getting the inside scoop on projects he is currently working on to help communities during this time of uncertainty. I asked him some questions about his journey that have insights you can apply in your own life.
1. Small Beginnings
Q: How did you get started, any inspiration?
"I started photography around 3 years ago. I remember going to an exhibition showcasing photographer Lawrence Watson's work, this is where my ambition stemmed from. It was a breathtaking experience. I have always had an interest in social media and marketing, my dad works in the music industry (although not marketing) he is my main inspiration to pursue entrepreneurship."
Q: What were the first social media strategies and techniques did you start with/still use?
"I still stand by it, but quality over quantity. Once you have created consistent content from there you can identify your audiences engagements and then tailor your work to that. Platforms have made it so easy to attract new audiences with creator and business tools."
2. Mindset
Q: Social media is a great tool but can also be a complicated place, what experiences have you had/how do you stay positive?
"I totally agree. I have had a lot of positives but also a lot of negatives from social media. It is a great platform to showcase your work and reach people who share the same interests as you, however it can be a very dark place. Over the last year I have been subjected to a lot of impersonation as well as nasty messages and attempted hacks. As you can imagine this is a lot for a 16 year old to deal with. I am very lucky to have a support system at home and have learned to take it on the chin, but for others this can be very damaging mentally but also to your business / social presence. Daily I receive messages from fans and friends alerting me of the latest fake account. The best way to deal with this is to take note, block and report. But most importantly talk about it to someone you trust. Hopefully social media companies can try to tackle this issue but it is hard. "
Q: How do you deal with setbacks?
"Before you reach your aim, you will always hit setbacks however big or small. It is perfectly natural to make mistakes along the way, from mistakes you learn to grow. It is important to pick yourself up and move on."
Q: Have you been working on any projects since being in isolation? How are you coping?
"Not too bad! Even though it's been quite a drastic change I'm just getting into it. It's hard as I can't do any photoshoots, but it doesn't stop me from doing digital work. I've offered to help creative freelancers, local businesses and charities with getting their brand online for free. At the moment given the circumstances, it is very hard for an independent physical business to make ends meet, by seeing the difficulty I felt it was necessary to try and help in any way that I can. I have recently started with Tonic, A mental health charity and I'm helping them market their fundraisers, create social content/ campaign and spread the support they offer across the internet!"
3. Achievements & Success
Q: What is your definition of success?
"My definition of success is when I have achieved my own personal aims, instead of being as or more successful than someone else, this is because it is important to measure yourself against your own achievements. "
Q: What has been the most interesting & rewarding project?
"Definitely working with the band The Specials. I started digital marketing for them around a year ago. Since then, I have been able to help grow their presence on social media, just over the last year we have reached around 45 million impressions across Instagram, Twitter & Facebook."
Over the next month, there will be weekly interviews from young emerging creatives and entrepreneurs. Stay tuned.