Shooting Underwater on an Indie Budget
Washington's Armor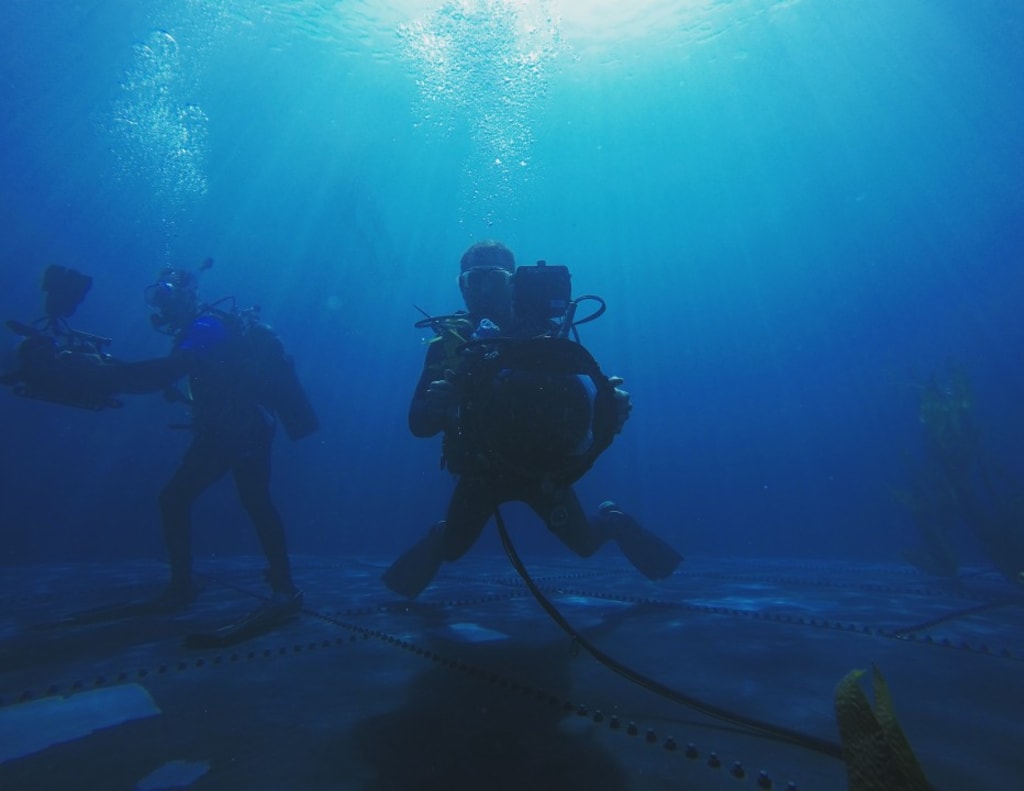 Training at Hydroflex
Ever since I was a child, I dreamed of becoming an explorer like Jacques Cousteau. I studied environmental science for 3 years until I figured out that the part of diving that I liked was when I had a camera in my hands for documenting and educating the public, so I shifted my career back to videography, except this time I focused on underwater. I took the professional underwater cinematography course at Hydroflex with Pete Romano: ASC. In case you're not familiar with Pete Romano or Hydroflex, he basically re-engineered underwater housings and cameras back from the stone age to state of the art technology. Before the mid-80's, underwater housings were primitive, cumbersome and difficult to get good results with. His debut was with James Cameron working on The Abyss and the rest is history. If you see a major motion picture with underwater scenes, most likely it's Pete Romano donning the SCUBA gear and getting the underwater shots. I couldn't have had a better teacher.
My first foray into shooting anything notable underwater was a film with the Historical Diving Society on the Guadalupe Great White Sharks. You can't put the cart before the horse. I would love to get clients asking for a Sony A7, FS7, RED, or Canon 1D for underwater work on a consistent basis, and then I could justify a purchase of one of these rigs, but the answer has so far been that I can provide the client with a rental camera if needed. Often, the housing costs up to 4 times what the camera costs for shooting underwater. But, once I land a TV series or something more frequent, I will gladly take the financial gamble of such a large investment. So, with that budget in mind and not wanting to take a large financial risk, I purchased a Sony RX100 with Ikelite housing and wide-angle wet lens for the trip. It's a quite capable camera, 4K and Sony Log, unprecedented for a camera in this class.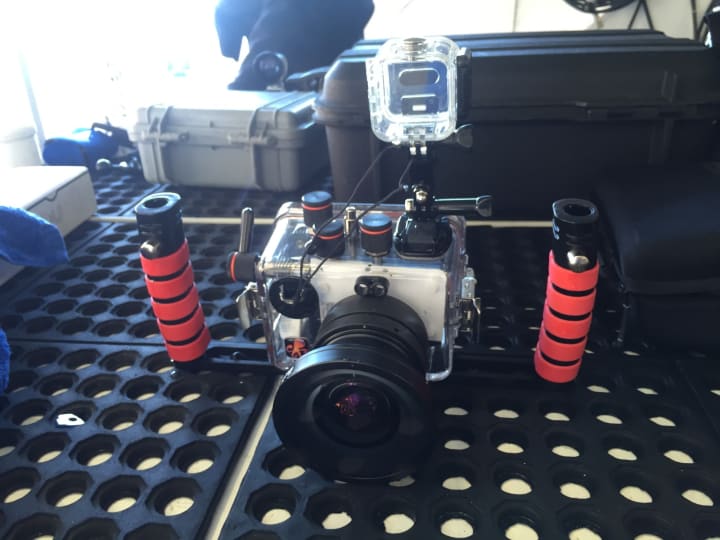 My mentor on the trip was Woman's Diving Hall of Fame inductee Nancy McGee, an intrepid explorer and brilliant filmmaker. With her help putting it together, the film received praise when it was shown at the Our World Underwater Film Festival.
Other than a Bonaire vacation, the camera and housing sat on the shelf until I finally landed my first paid gig shooting underwater. Scenes of George Washington falling in the Potomac for a biographical titled Washington's Armor. I was super excited. I suggested we shoot on the RED camera that the DP was using and renting a housing, but they did not have the budget so we decided to shoot on my RX100 instead.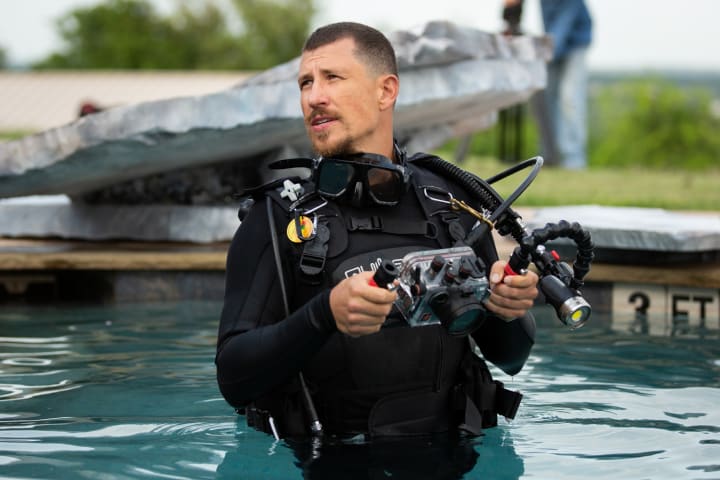 On big budget studio films, underwater shots are done in a specialized tank, but this can cost tens of thousands of dollars per day, and Caperneum Studios simply could not fund such an undertaking, so we decided with a plan B, which still works well, black duvateen in a swimming pool. Once the water is stirred up, the visibility is significantly reduced, so the duvateen looks quite natural as a background. The grip department ran out of duvateen so we ended up using plastic sheeting to supplement. Everything was weighed down with sandbags, the safety diver was in the water and we were ready to go.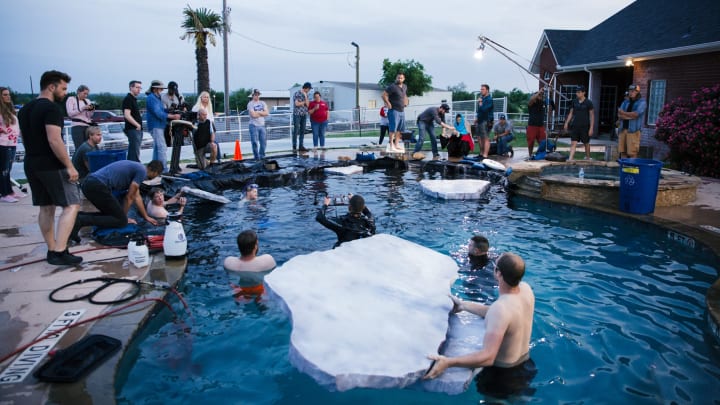 I used many of the techniques I learned in Pete Romano's Hydroflex class and applied them to the pool. I coordinated with my safety diver to move me through the water at different angles, and also to get some from below shots of the iceberg passing over George Washington. The grips used large trashcans to create turbulence and stir up the water, adding to the realism.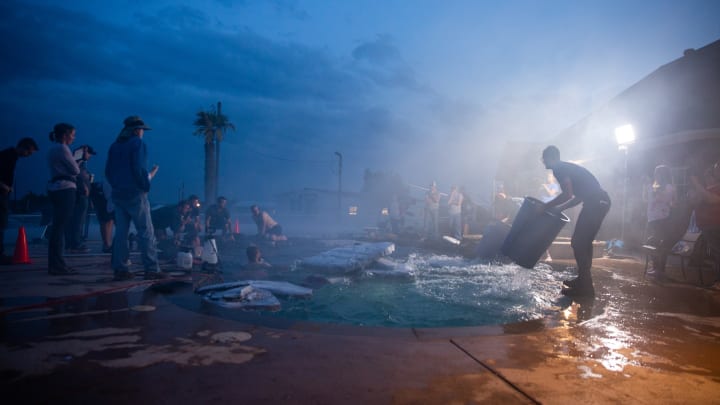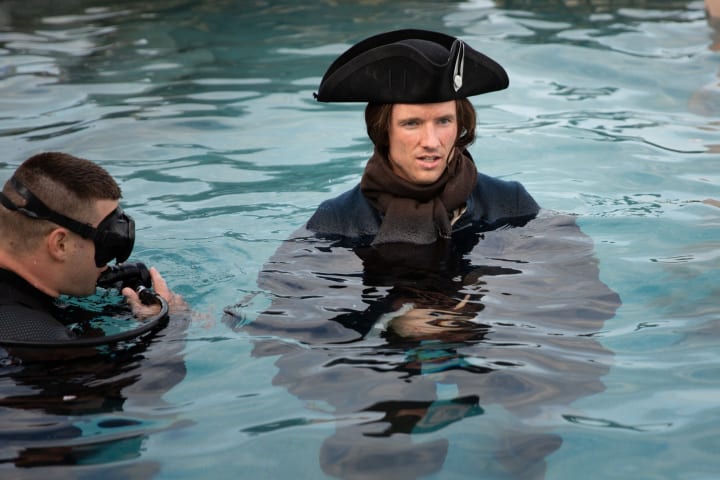 The images we saw post-shoot at the DIT table were even better than we had hoped for. Everyone was very pleased and I was honored to be part of such a wonderful production. I went on with the crew to location in Virginia to get some river and raft shots, while also working as first AC for some topside shooting on a historical plantation. I can't wait for my next underwater shoot. Patience truly is a virtue.
Webpage and trailer (Capernaum Studios):
http://www.washingtonsarmor.com
career
Jacques Star is a freelance content creator and producer. He currently lives in Dallas, Texas, and travels worldwide on new and interesting adventures.