Sam Keller: Empowering Women Through The Lens
"My sense of femininity is a connection with other women; being female feels like a superpower."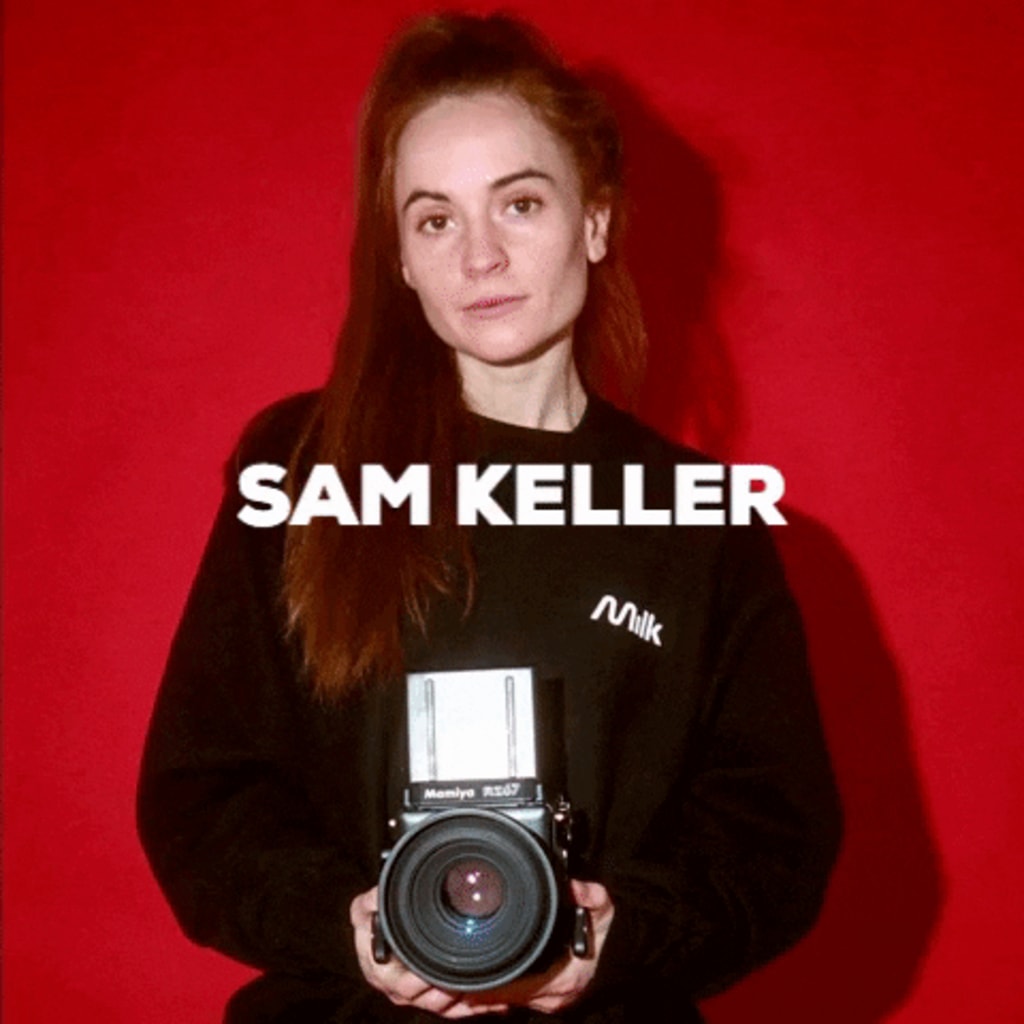 A 3D photo I took of Sam Keller and her RZ67
Sam and I met on a nature walk with friends in Boulder, Colorado by Lake Wonderland in the spring of 2014. She was shooting with a Yashica 124G using infrared film. We bonded over cameras and each other's photos on Instagram. Sam always has her style and aesthetic on point. She has become such an amazing photographer and powerful business woman, capturing stunning images of strong women. We reconnected last year when she moved to NYC and have since worked together on awesome projects, including the latest one she brought me into with Milk XYZ. Sam took photos and I made a behind the scenes video.
I've learned so much from Sam on set about her business ethic and mindset. She's motivated me to step outside of my comfort zone and constantly encourages me push boundaries in my own work. I have no doubt that the photo world will be hearing a lot more about her soon.
I decided the best way to describe Sam's influence on myself and others - especially women - would be through an interview about her roots, her work and her inspirations.
Tell me about your roots; where are you from?
I grew up in the suburbs of Philadelphia. I moved to Boulder for school when I was 18 and ended up living there for eight years. Colorado and Pennsylvania are definitely my roots. Especially Philly...it's the city my grandparents and great grandparents are from.
How did you get into photography?
I got into photography because of my mom. She always had a camera on her hip, constantly documenting our childhood, and she shot film. All of her photos from our 90's upbringing have the same aesthetic film grain, that nostalgic feel. She had a Polaroid and Nikon SLR so when I was old enough to understand and appreciate her tools she started teaching and encouraging me.
My mom got into photography because of my grandmother. My grandfather once threw away a box of photos not knowing the importance, so my mom and grandmother ran down the street in Philly chasing the garbage truck. They tried to save the photos and memories but were unable to. That story - that moment and those feelings - always stuck with me. I was scared of losing my memories, so I would document obsessively. Knowing my mom loved it because of her mom who I never had a chance to meet made me feel a connection to my roots. It's almost genetic at that point.
Describe your photographic style.
Film is at the core of what I do. I want to trigger memories people can relate to through my photos because that's what a great photo does for me. I tend to shoot in places that might disappear soon or moments that will pass by quickly. I'm influenced by Americana; old buildings and cars that we don't appreciate as much anymore. I'm just trying to keep the past alive with a modern twist and film plays a key role; digital wouldn't have the same nostalgic feel. We grew up with our memories captured on film and so many people can relate to that.
Favorite photo books: Instant: The Story of Polaroid, The Photograph as Contemporary Art, Stephen Shore: Uncommon Places
Film or digital?
I have to give an ode to digital. I used to feel so strongly that film was the only way, then through client requests for a mix of both and using my digital camera to set up my film shots realized they coexist. And digitizing film played a huge role in the analogue world; that's a lot of what we see today. But film has so much more to lose so I defend it.
Favorite cameras?
I have an arsenal of film cameras and every project is different. I choose my cameras before thinking of the images I'll create and what film to use. But my Mamiya RZ67 and Mamiya 7II take the cake. Those are the two that I grab first whenever I go on vacation or work on a project. Whether it's paid or just collaborative, those are my girls.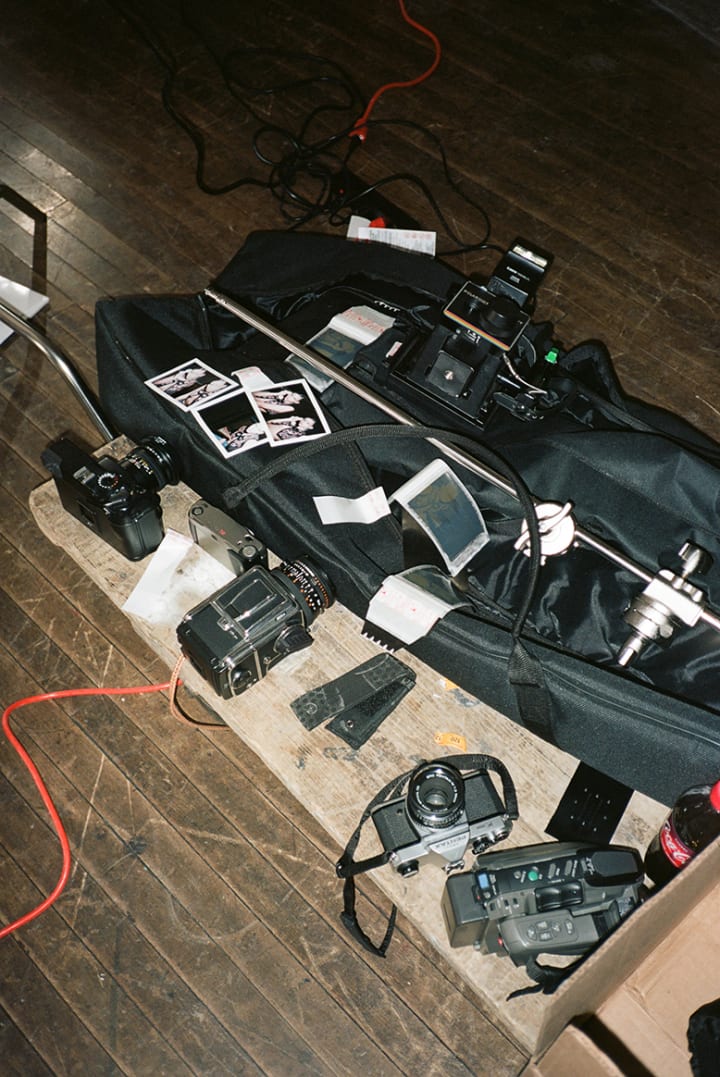 Who inspires you?
It's a collective of things that inspire me rather than just one individual person. I'm inspired by anything that triggers me to take a photo. I'm inspired by a lot of other women photographers. When I know a popularized photo is shot on film by a women photographer I get fired up; I love seeing it and being part of that community. I'm inspired by other amazing women like my mom, my family and my friends. I'm inspired by places, music, movies, books. I take it all in and build it up as the reason to capture a specific moment.
If you could photograph any three women who would they be? Winnie Harlow, Rhianna, Patti Smith
Are there challenges you've had to overcome as a woman in this industry?
Not being taken seriously as a woman. Showing up on set or pitching a project knowing I might be treated differently was so upsetting. I've seen opportunities given to men when I deserved them, and it hurts the most when I've helped them get there. My brother gave me the best advice: "Never feel bad about speaking up. You're fighting for your work and if you feel like something is off it normally is. Listen to your gut." I've learned how to defend my work and my worth. I carry on and do exactly what I do best.
Your photography is largely focused on empowering women; can you expand on this?
My sense of femininity is a connection with other women; being female feels like a superpower. Through the challenges I've faced in my own womanhood I know that others feel unheard, underrepresented or don't know how to claim their voice. I do my best to raise these powerful women up. I have a camera and can be a medium. I now associate myself with creative women who inspire me. A lot of imagery has developed from wanting to collaborate with them and give them their space to shine. I make sure that the photoshoot is about them and not just of them. That's just as important to the process.
What was your first big photography gig?
I think my 13 year old self would have been screaming when I saw that Urban Outfitters responded to me. At the time I was cold calling every brand and posting as many photos online as I could working my way to becoming a professional photographer. I had admired Urban Outfitters for so long especially having grown up in Philly with their corporate offices just around the corner. I was in the car when I saw their response and I screamed. That's when I knew I'm going to be a professional photographer...I don't care what anybody says I'm doing this. This moment confirmed everything I was working so hard to achieve. I formed a really nice working relationship with Urban Outfitters and I really enjoyed working with the team. They were super in touch with working with smaller artists and that excited me.
What's your greatest accomplishment in the industry to date?
Working with Kodak and Polaroid. I discovered film was dying the hard way. It was 2008, my mom finally gave me one of her cameras and I was ready to go out into the world. Then the recession hit; Kodak and Polaroid tapped out. I remember going to buy some film and the employee laughed at me and said, "Didn't you hear?! The companies are closing… film is dead." His response stuck with me forever. I had all of the gear but no film. I bought all the expired film I could find on eBay with what money I had and discovered film lover forums; I think this community's adoration for film single handedly saved it. For example, one person inspired by Polaroid began the Impossible project and bought the last working Polaroid factory in the world - that's why it's here today! Working with those brands made me feel like things had come full circle. It started with admiring them and hoping they would be around for me and my kids, just like it was for my mom.
Three photographers to follow on Instagram right now: Martin Parr, Rosie Matheson, Drew Vikors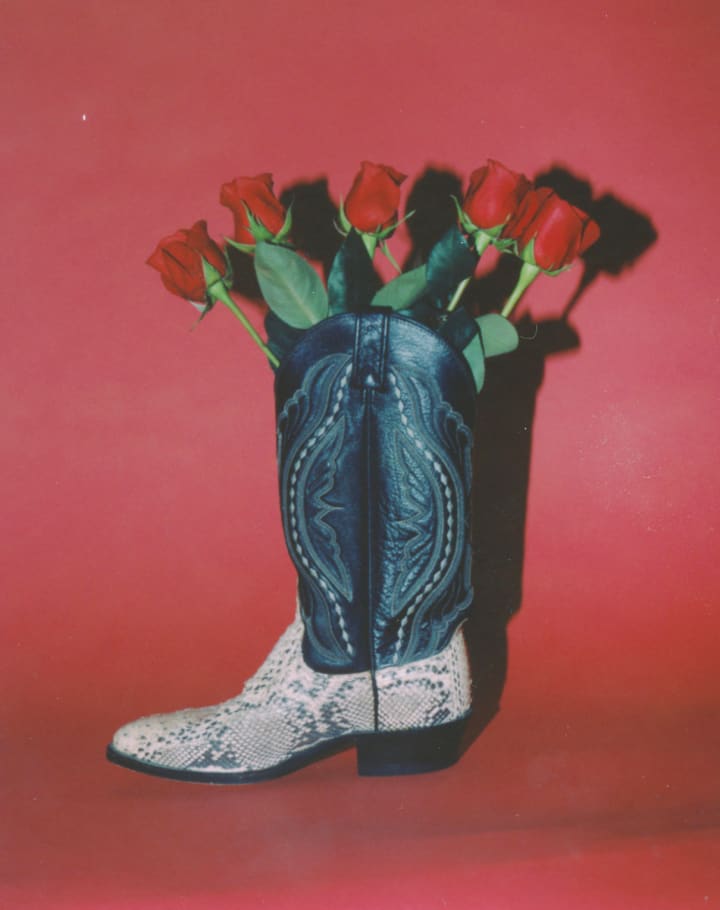 What are you working on right now?
I'm taking this downtime to reset. I feel like before the pandemic I was going into overdrive, especially having moved to NYC just a year ago. I was constantly working on projects, pitching new clients and working on personal projects all while juggling a social life. Right now I'm working on more personal projects, creative directing and honing in on my personal style. I want to take portraits of larger groups of women. I'm gathering ideas on paper for now, and deciding what I want to expand on versus what I want to shed. I'm lucky to still have a few projects and clients that also keep me busy enough.
**Favorite snack** Coca Cola all the way
What would you tell other women who are entering the photo industry?
I'd give them the advice my brother gave me; you have to stand up for your work and know your value. Nobody can take that confidence from you. Trust that you'll know when and how to speak up. Be your own hype man! There are going to be moments when you feel discouraged - don't let them affect your work or define you.
interview
About the author
My name is Christian Johnson and I am Brooklyn-based freelance photographer, cinematographer and camera collector intrigued by film.
Reader insights
Be the first to share your insights about this piece.
Add your insights