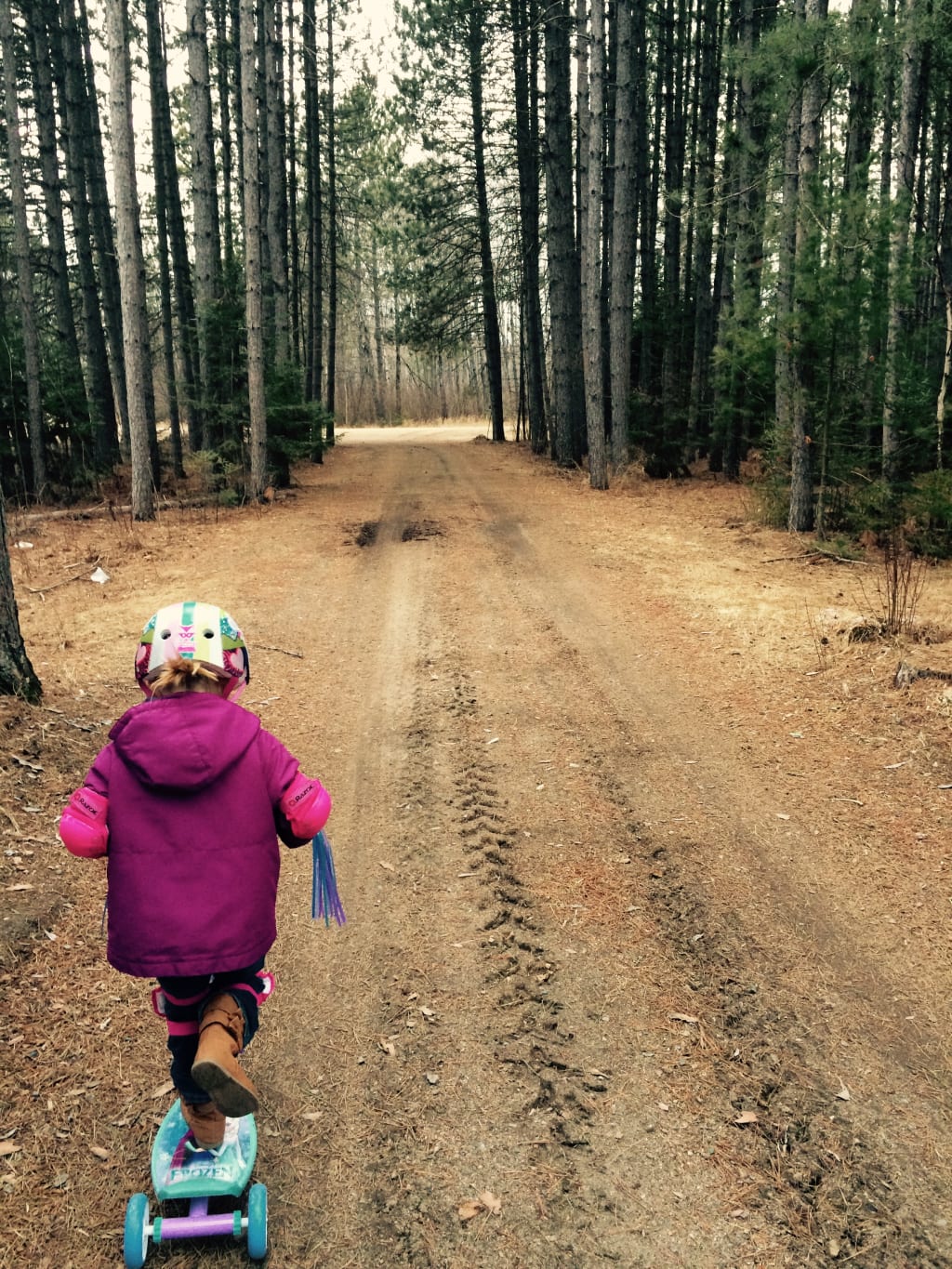 scooter novice in the woods
I adore this photo. Editing was simple because it was a perfect day; I simply adjusted the angle and brightened the whole thing because I love light. I'm a fan of centered photos often, but I adored have the subject at the center as the path in the woods and the girl being off to the side. Sometimes, most often, life is lopsided and not perfect so I like that to show through in photography too. When pictures are too symmetrical they just don't speak to my heart.
The story makes it extra special. This little girl had just endured physical abuse at the hands of a parental figure in her life. I got to get her out of that place and to a safe home in the woods for some heart healing. She was angry, insecure, relatively hopeless. But after a few good talks, a few favorite meals, and a new scooter, this girl opened her heart to the world again. She determined to keep loving even though she had been hurt. I couldn't have taken enough notes to cover all the sweet things she said, like chanting "you can do it, you can DO THIS" as she pushed her bruised legs down the pine needle path, or in her "love is tricky but love never hurts anyone" whisper.
We spent the rest of the weekend practicing. After two days, she deemed herself a "pro" and the scooter then was tossed in the trunk for every outing- the library, downtown, a hiking trip a few miles away. This darling girl let her small feat carry her heart towards hope, even after an event that would leave most people broken for a long time.
This photo, though simple, is a reminder to me of the beauty of resilience, taught to me by a tiny child. I've thought back to this weekend so many times. Days where I wake up just a little world-weary. Days that follow great heartbreak. Moments after disappointment or rejection or hurts have me heavy and eyes turned down.
I remember that "I can do it". I remember how easy it is to take stock of little victories. I remember how helpful fresh air is to start healing devastation. I remember how tall pines make me feel warm and small and safe. I remember how focusing on something small, the next step, the next right thing, can carry a person through past the murky ache of grief.
It's not always easy to show up in moments of crisis, but it also doesn't have to be hard. Advocating for the lost, hurt, and rejected is always the right thing to do. And it can be as easy as simply showing up. You don't need a fancy degree, a ton of money, the perfect words, a solution to offer. Most often we just need to be present, offer our hearts, offer our listening ears. Tender hearts can sense honesty and the "try" you offer when you just show up is always going to be enough. Even when the hurts are devastating. Even when there is no answer for their "why". Even when your own heart shatters over the hurts.
I love the concepts behind a village mentality. "It takes a village to raise a child." Honestly, it takes a village to do anything. I'm constantly reminded of how my bad days are balanced by another person's smile, how my greeting offsets your hopelessness, how someone sending a letter can change the course of the day or week for the recipient. The world is a big, beautiful place with every single moment offering the opportunity for us to be present, either in our needs or in our offerings, and often in both.
So, take the photo, hold it to your heart. Feel the resilience. Feel the beauty of brokenness. See the story behind the photo of the nature of tender hearts. See the healing. Enter in and join me in basking in the sweet victory of this little girl's fight.

H.
Writer. Jesus lover. Wife. Momma of four.
Home, style, family, relationship, poetry, and more <3
See all posts by H. →