Quackers
December 19, 2020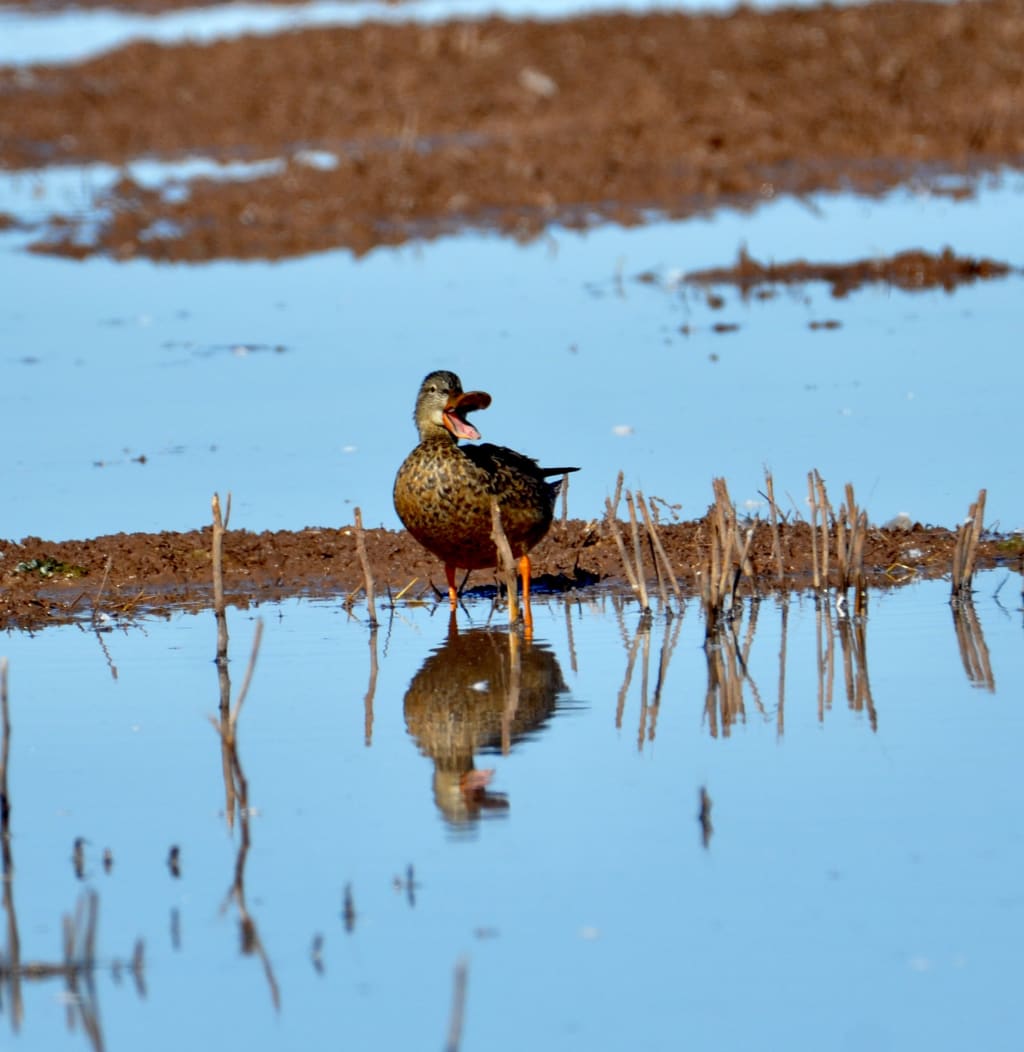 I took this photo with a borrowed 600 mm lens. It was my first time using a lens of that size and I have to say that it was very cool to use that lens. In a way, I felt like a photographer for National Geographic and that was a great feeling.
The reason that I named this piece "Quackers" is partly due to the fact that the duck had its mouth open at this time. Which when I found out he did, made me even more excited about this photo. When I took the shot, I didn't know that he had his mouth open, so it was a great surprise.
However, let me describe the scenery in which I found Mr. Quackers. In all honesty, when my father told me that one of his old coworkers invited him to go take photos, and I tagged along, I didn't think much of the place. Also, I don't own a 600 mm lens which as seen above worked perfectly. So I didn't think I would be able to take great photos, but when we got settled my father's friend let me borrow his. I was like, whoa this is so cool.
So there we were taking photos of these beautiful Sandhill Cranes that came from Canada all the way down here in AZ, and of course, I also took pictures of ducks. I gotta admit that it is no easy feat to handle a 600 mm lens without a tripod. There were plenty of times where I couldn't get a clear shot because of how much my arm was shaking, but I did get some good shots. It was honestly so beautiful and so amazing to be able to take pictures of these beautiful birds.
As the day progressed we were able to see waves and waves of these cranes. They would be right in front of us and all the way towards the mountains on the horizon. I kept telling my father that it looked like the birds from the lion king or from a national geographic film. What was once blue water was soon covered by grey birds. My dad's friend said that these cranes would rest at the spot that we were at, in the morning they would go and feed off the cornfields near the mountains and then return back to the preserve. It was honestly very beautiful.
It was also due to the fact of how well my nature pictures turned out that I decided to get more into photography. Right now I have my father's old camera and its a pretty good camera. On one of my other social accounts I have this quote in my bio, "There is one thing the photograph must contain, the humanity of the moment." — Robert Frank. I really like this quote because it is true. The best photographers became great because they captured the human aspect in their photos, which should be the goal of all photographers. It's very similar to the movies. In order to get people to remeber your movie, it must touch their heartstrings.
Photography is an amazing art that can capture many words in just one picture. Very much how art and music express emotions and feelings that could otherwise not be expressed with words.
I want to continue in photography and perhaps this will be the first of many photos that I will upload and discuss. So I hope you all like that and that eventually, my future photos will be enjoyable. So enjoy and I hope you all had a wonderful and merry Christmas!!
In this chapter we will look at several questions. What is the relationship between photography and memory? How can a still image/photograph produce or recall memories? What information do we get through photographs and through memories? How do memories transform through language and what does naming/defining memories do in terms of remembering and forgetting? How do the images/memories exist through projection?

Using the help of tools, heal, water, and even fire, these 10 Polaroid manipulation techniques are sure to amp up any photographer's skill set. With some of the coolest end results, these methods will transform your photography with your own hands.

Smartphones have come a long way to become an essential part of our daily life. One of the biggest advantages of Smartphones, apart from its other capabilities is the camera. Smartphone camera fulfils the majority of tasks in everyday life from selfies, social media posting to event photography and video recordings. Smartphones are smaller, thinner and lightweight as compared to digital cameras, and can easily fit into the pocket or purse. Due to the convenience and camera enhancements in recent years, many professionals prefer smartphone cameras over digital cameras. Although, Smartphone cameras has not replaced digital cameras, but they is fast gaining the advance features through their hardware and software enhancements.

I've loved taking pictures since I was a kid. Everywhere I'd go, a camera always came along too. Until a couple of years ago I never thought about actually making money from them. It was just something I enjoyed doing.

Lighting for video takes some skill. It's not an easy task. It took me a while to figure out what looks right, what looks natural, and what the heck I actually wanted when I was given a script or wrote my own script with specific settings.

My motto is "bare your skin," meaning be yourself in life and find comfort in being you. As a photographer I try to have the people I photograph become comfortable around me and be vulnerable with the camera. It is important to me that I am able to show people the beauty that they bring to this world and that is something I am working on doing for myself. Now we all know the statement, "photographers are the worst subjects." Yes, it is true at least for me. It is this sense of lack of control, we've made it up in our mind that it is already a bad picture or that we are not photogenic enough.