PHOTOVILLE ADVENTURES IN DUMBO
A variety of photographs were exhibited outside one of the prettiest places to gaze at NYC.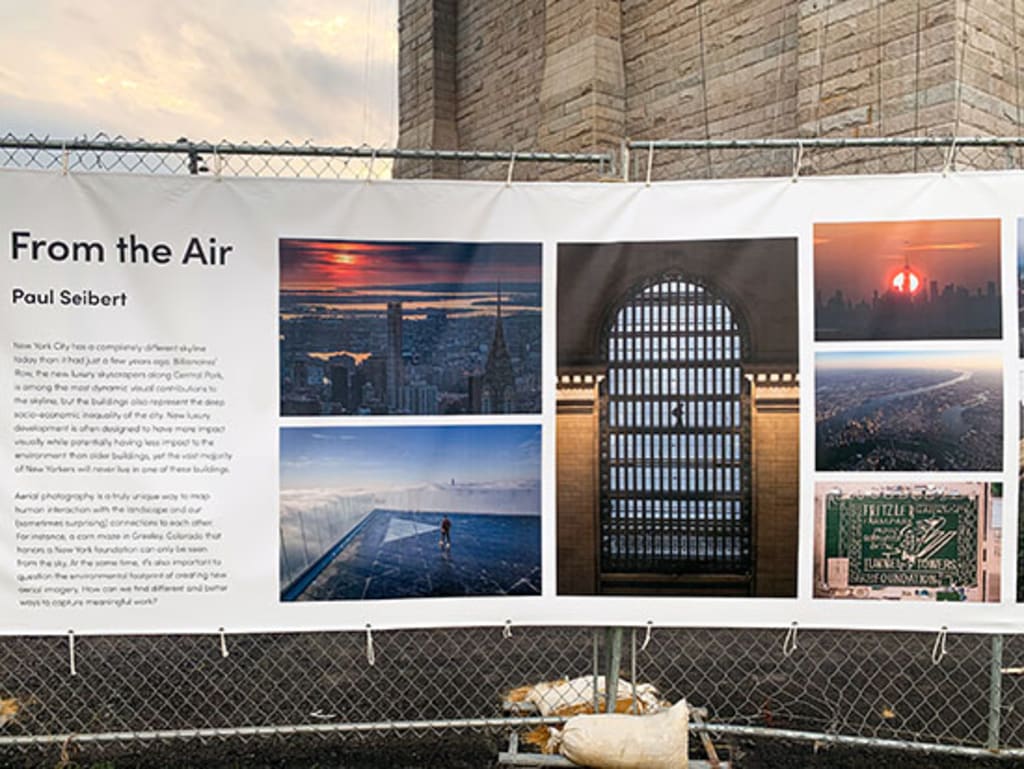 I visited the Photoville exhibit in Dumbo, Brooklyn and I never thought Dumbo could look any better until a dozen photography exhibitions were also laid out in front of the beautiful city skyline of Manhattan.
There were several photographers and photographs that stood out to me and by exploring the various photographic techniques used, I picked out what stood out to me in the exhibit. My favorite photography techniques include color, close-ups, rule of thirds, and the so-called playing around with the lighting. I'm also a big fan of photography art, as I discovered my own passion for it myself in high school and it's also an amazing way to convey thoughts and emotions to an audience.
'FROM THE AIR' BY PAUL SEIBERT
This exhibition stood out to me the most out of the bunch and this was because the photographer played a lot with the perspective he wanted to portray as he photographed buildings and locations from above and afar. The first picture on the left is a picture shot from very high up the famous New York City and I feel like he captures the sunset, the sky as a whole and the buildings of Manhattan from a great angle and perspective. He teleports the audience to a place where we can see the skyline from high up and we get to see the sunset which for most New Yorkers is a rare sight. Personally, seeing the sunset has become less regular ever since I moved to NYC and these pictures reminded me what it's like to see a beautiful sunset from afar.
Another photograph that struck me from the same photographer was the close-up picture of the Empire State but from an aerial point of view! It's magnificent as the closer you look the more details and parts of the building you see. If you look very closely at the highest point of the empire state where people can stand, you can see people in the observatory looking around the majestic city of New York. This photograph is honestly so amazing to me, and having a close-up picture that is actually covering such a huge building is an amazing perspective that this photographer allows us to see. Seibert, as he discusses in his description, wanted to show the NYC skyline and how it has come a long way and there is a deeper meaning to these buildings as they represent "the deep socio-economic inequality of the city". He also asks really good questions that intrigue the audience like "How can we find different and better ways to capture meaningful work" as he talks about the environmental footprint we are leaving on this earth.
In addition, there is also photography art below the close-up of the empire state, and that also amazed me as it's similar to something I did for my graphics course in high school. I blended the city of New York onto myself, and this photo is similar to that as the Flatiron building was blended with a mountain. The artist's skills are extraordinary and I was astonished by his exhibit, and I would really want to ask the photographer how he had the idea of showing the histories and futures of these buildings to make people see the environmental impact cities have on our Earth. It's a great way to persuade people indirectly.
GHOSTS ON THE HIGHWAY BY RY SHOROSKY
I couldn't pick only one exhibit since two photographers had caught my attention for different techniques, and therefore I had to present both! Shorosky presents a similar theme to Seibert's regarding the environment and how transportation is having a huge environmental impact on our Earth. Being a truck driver himself he has the opportunity to photograph so many different places, but also waste that he sees on the road.
'Ghosts on the Highway' made me see another side of digital photography as he makes his photographs seem like they come from a film camera as they all have a consistent filter. The pink and purple hues in his photographs truly mesmerize me and captured my attention from the second I saw this exhibit. The colors used in these photos are absolutely amazing and eye-grabbing. No one can pass by these photos and not admire them! The use of lighting is exceptional and this photographer seems to appreciate the playing around with color and light in his photos. The landscapes he photographs are so interesting and there is so much to learn from this photographer and how he handles his camera.
The gradient that he shows off here in this particular photo is so beautiful and it makes me feel many positive feelings. He also leaves us off in his description with a positive line for the future "One of the best ways to see the road forward is to engage with empathy." I would ask this photographer what he thinks should happen in the future in order for global citizens to save this planet before it's too late and of course I would ask him how he takes such beautiful pictures and what he thinks about while taking them.
"One of the best ways to see the road forward is to engage with empathy." -Ry Shorosky, photographer of 'Ghosts on the Highway'
Reader insights
Be the first to share your insights about this piece.
Add your insights