Photo Walks: Utah's Wildfire Season
Haunting Photographs of Burning Mountainsides in Springville, Utah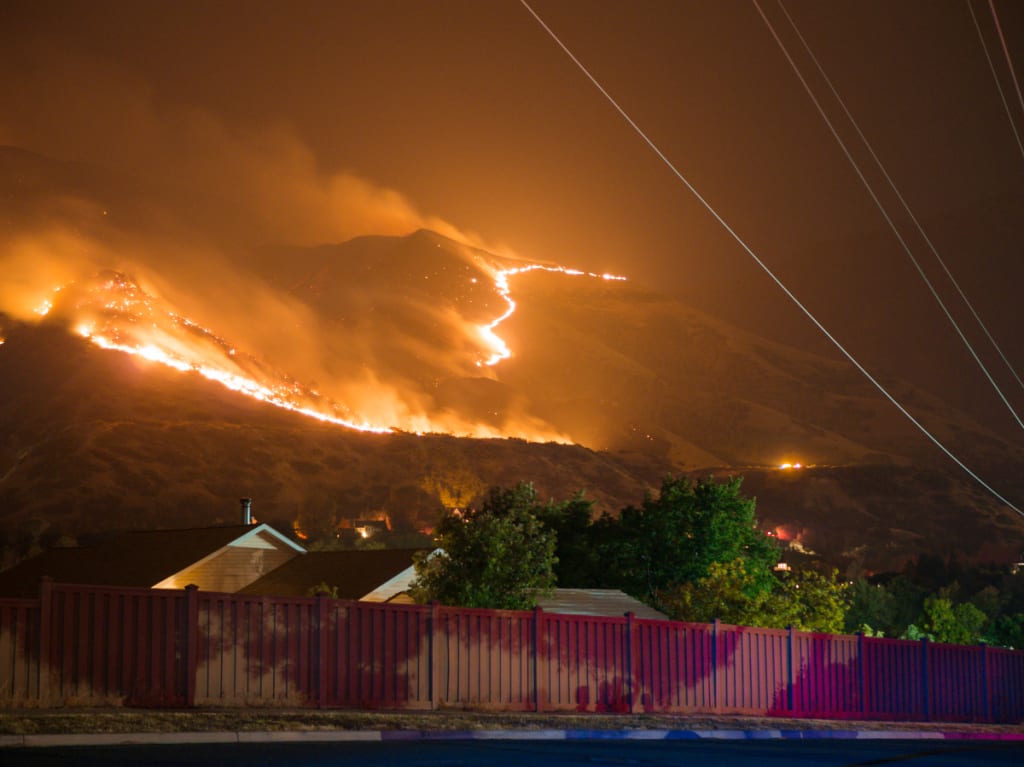 A wildfire looms above a neighborhood in Springville, Utah, Sept. 2020
It looked like lava flowing down the mountain. At first, I didn't even realize that it was there. I was visiting Springville to take photos around the small Utah town, not "storm chasing" wildfires.
My curiosity got the better of me, though. I got back in my car and drove towards the mountains. The sun was already beginning to set, the sky a brilliant violet gradient. Looking west, city lights sparkled orange and yellow. To the south, something more sinister glowed.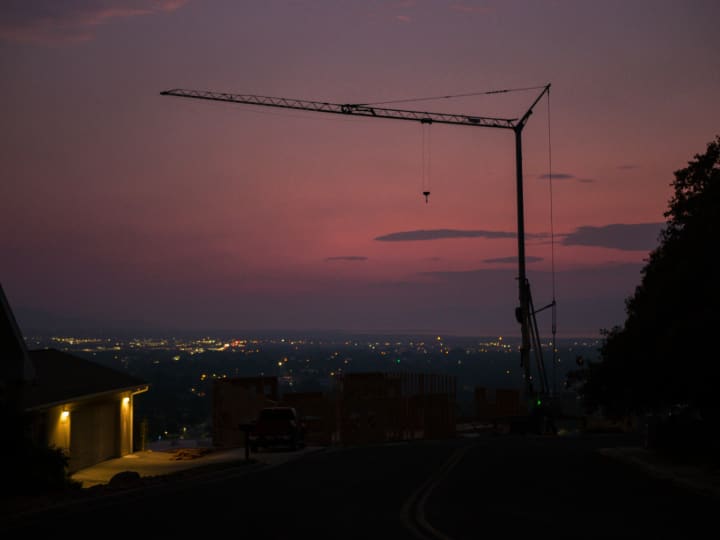 I pulled over on a hillside and took photos from a distance. The fire looked so much larger in person than it was looking on my camera. I felt drawn closer. I took a few more photos and then drove closer, entering a neighborhood across from the fire.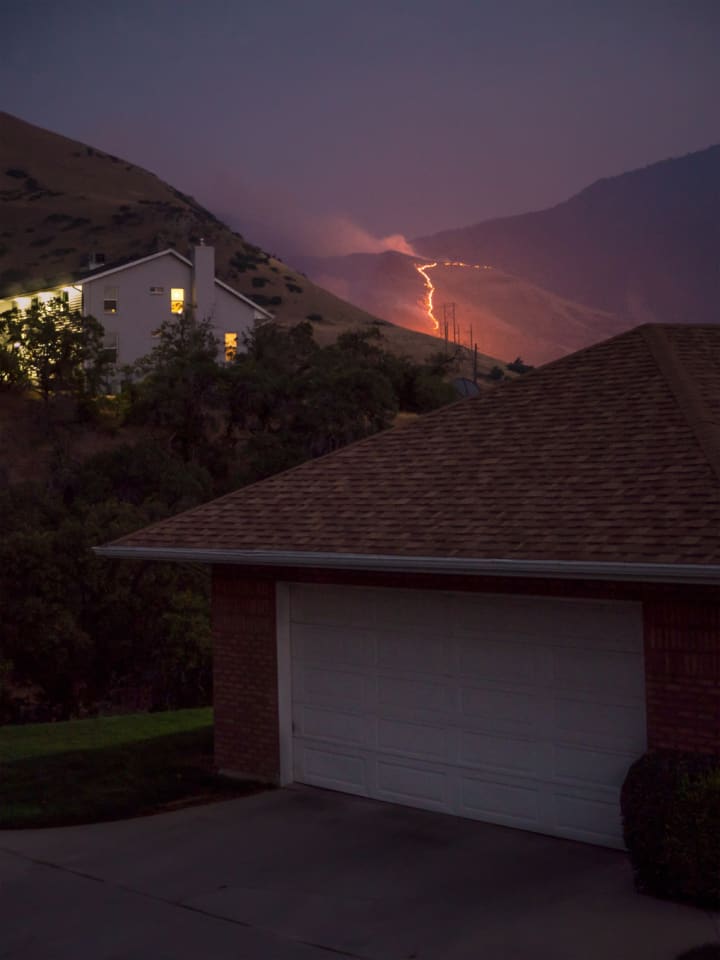 This photo went on to become my most-liked Instagram post. Prints of "Burning Dusk" are also available here.
Something about this photo resonated with me--and other people, too. In the foreground, there's this tranquil neighborhood scene. A driveway, lawn, and closed garage... lights on in a neighbor's home in the distance. Nothing out of the ordinary at all. But in the distance, a fire burns down the mountainside, the line of flames looking like a stream of lava. Windblown smoke rolls over the ridge into the dusk. Warm and cool colors collide in the sky and distant mountains.
The parallel slopes of rooftops and mountainsides framing the fire added a technical aspect to the composition that I really like as well.
From that spot, I decided I still wasn't as close as I would like, so I drove back down into the valley and tried to get closer. By this time, it was fully dark, and it seemed like everyone else in Springville had the same idea. A line of cars moved slowly down a main street headed in the general direction of the fire. I pulled over into a church parking lot and decided to walk, hoping to find interesting things at ground level to frame the fire around.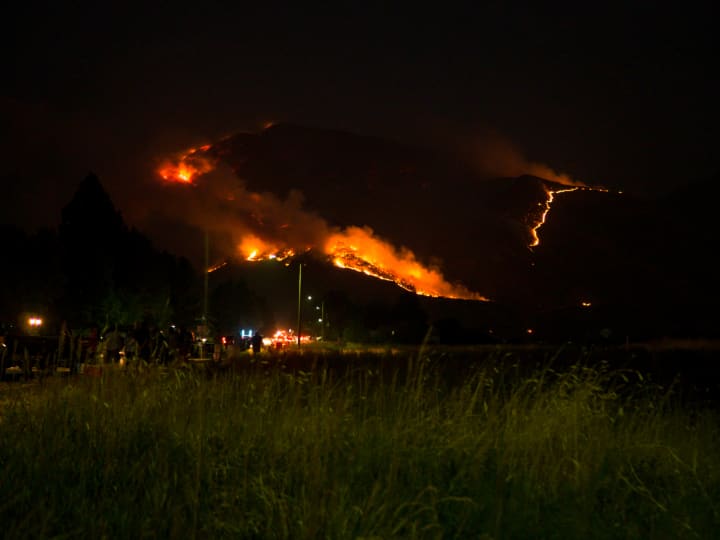 To the right side of the road was an empty field. Ahead, I could see two men standing and watching the fire, talking to each other. I felt pulled to the scene. Normally I would just compose the shot and take a few photos without them ever knowing. But I knew it was dark enough that I'd have to use a flash to get a good photo of them. And there isn't exactly a subtle way to do that.
I walked up to the two men and asked if I could take a photo of them. They seemed a little perplexed by the request, especially when I asked them to just continue looking at the fire exactly as they had been. (And who could blame them?) But they thankfully agreed. I took a few pictures as quickly as I could, thanked them, and chatted with them for another minute or two before continuing my walk closer to the fire. This was probably my second favorite photo from the night.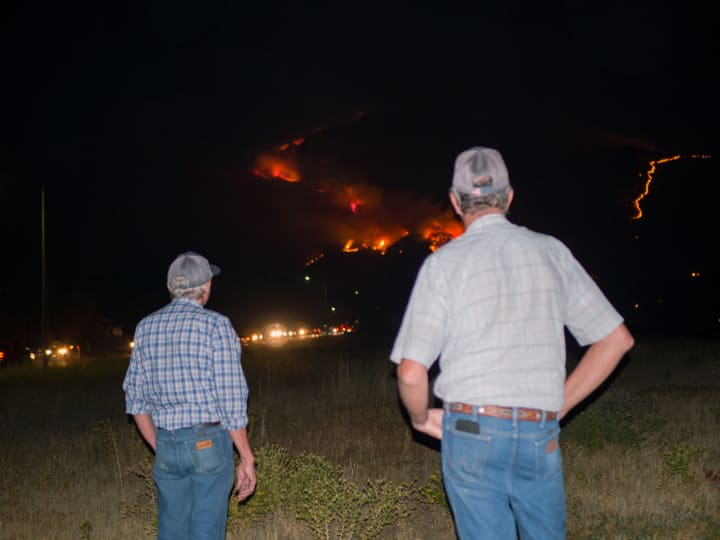 With my flash still on, I walked a little further into the field before returning to the sidewalk. I also really liked this shot of the tall grass and slivers of fire looking as though they were floating in the sky.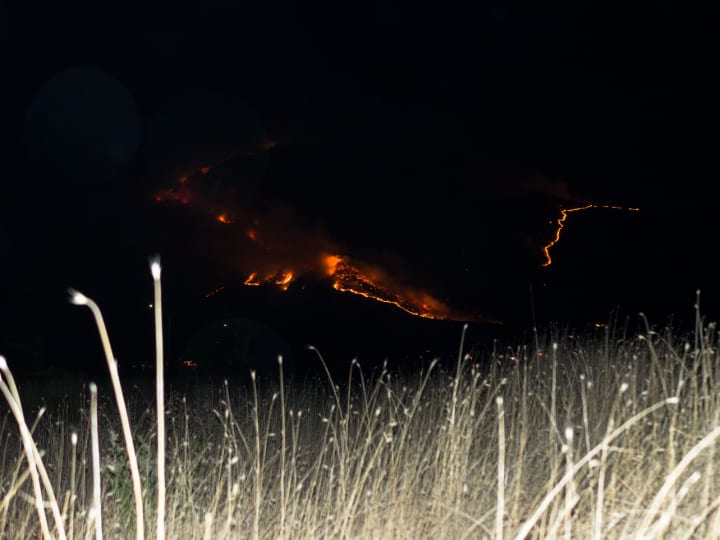 Everyone else driving and walking closer seemed to be more fascinated than terrified. Of course, the people who had been evacuated probably weren't the ones trying to get a closer look, either.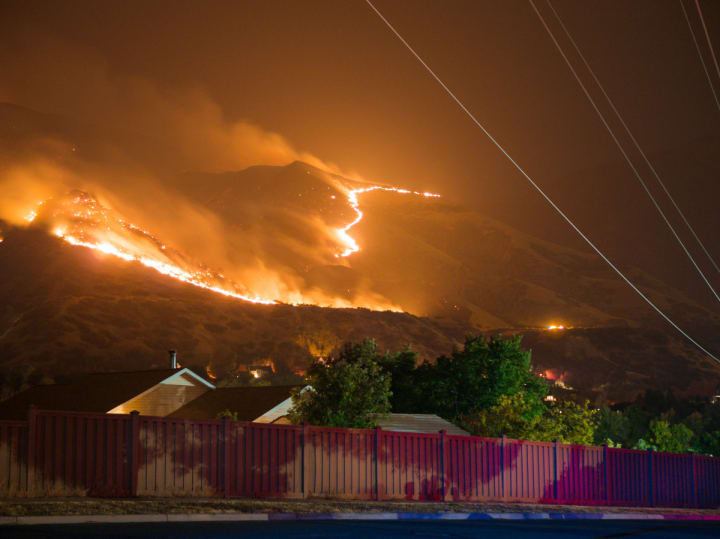 Finally, I reached the end of the road. (Or as far as people were allowed to go, anyway.) A police car was parked with lights flashing, the officer telling people to turn around their cars at that intersection. A news station had a van pulled over, a cameraman ready to record a piece.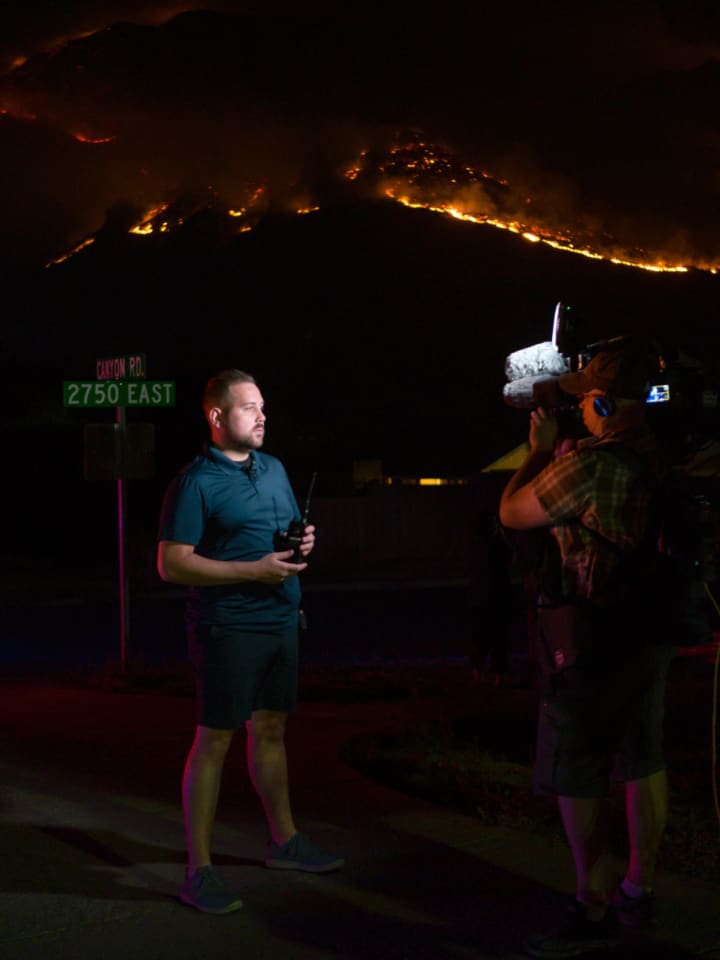 Seeing people in masks with fires in the distance felt apocalyptic. In a photo I entitled "2020," I captured a scene that feels to me like the mix of uncertainty, fear, and new-normal-ness that characterized 2020. The blue light courtesy of the nearby cop car adds a unique, ominous element. So many of my photos from this day can be credited to being in the right place at the right time.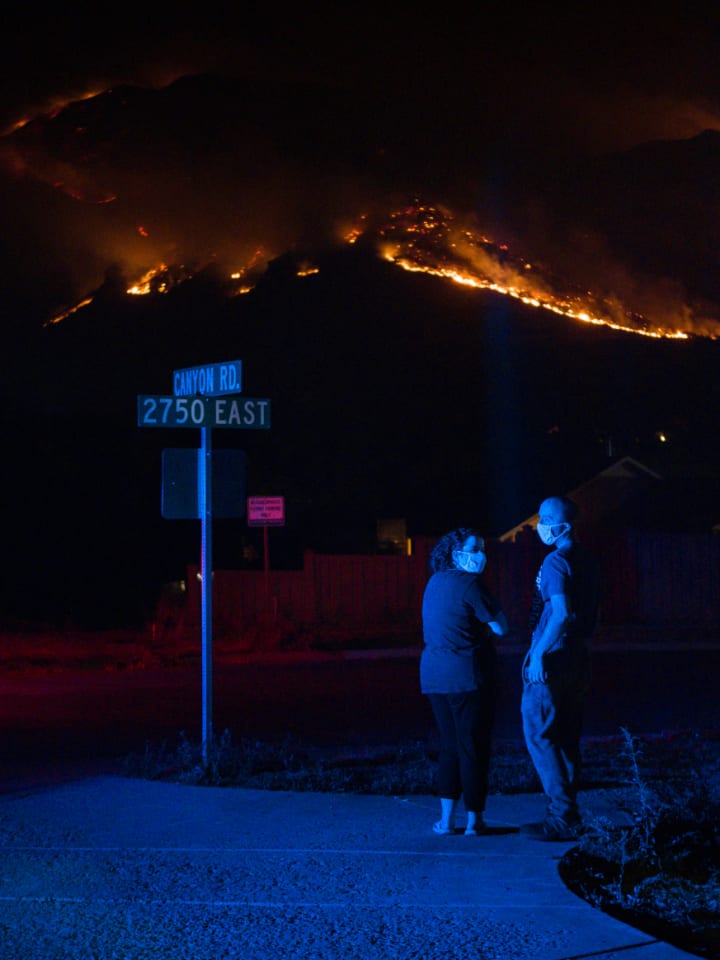 It was getting late, and I started the walk back to my car on the other side of the road, stopping often to look over my shoulder at the fire. It seemed to be growing. I never smelled smoke, but by the time I got home I realized my throat was dry and sore.
At one point, the night sky seemed to glow red.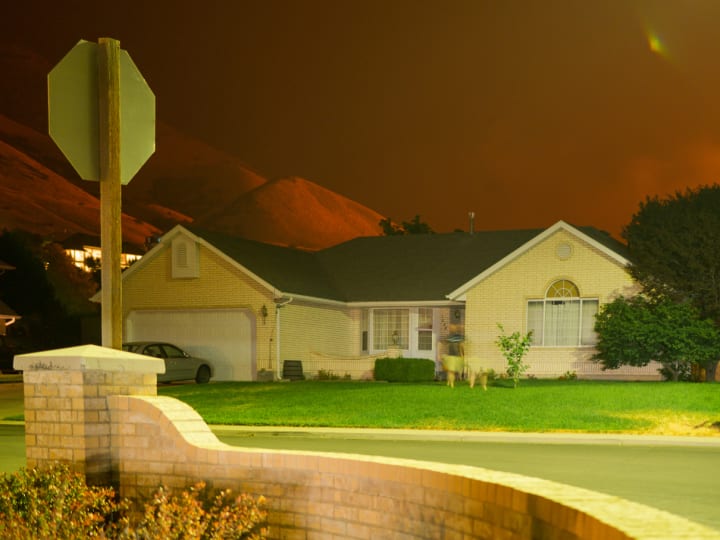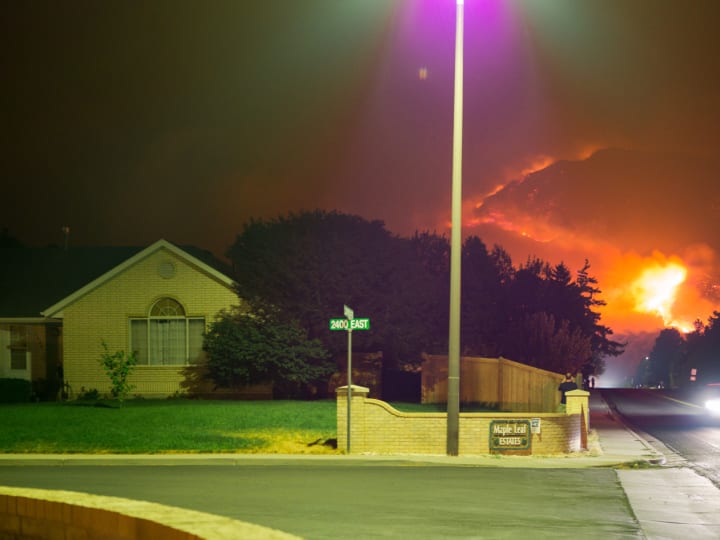 In this photo of sunflowers along the side of the road, you can see traffic lights from other curious drivers, but also the faint soft ember glow of the fire.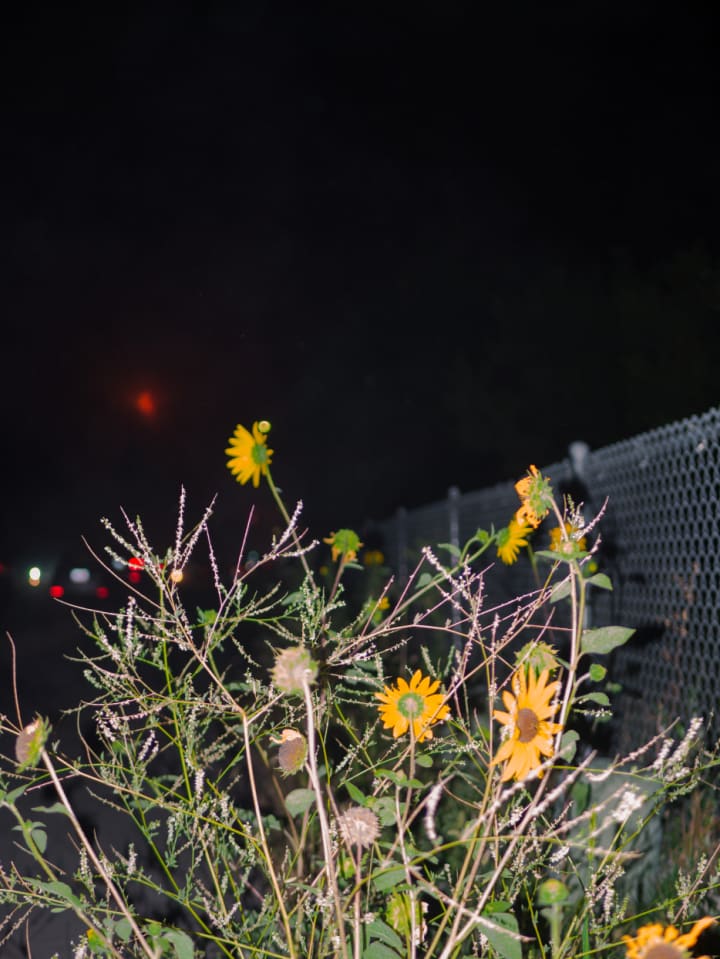 While over 200 homes were evacuated, some overnight rain mercifully helped fire crews control the fire before homes were destroyed. While property and backyards were scorched, homes stayed standing.
This relatively happy ending added meaning to the neighborhood photo for me. While the world around us may be burning (figuratively or literally) oftentimes our homes and loved ones can be a place of refuge and safety regardless of everything going on outside. The photo itself shows a lot of tension, but knowing that the homes were safe and that the fire was put out makes it more beautiful than perilous.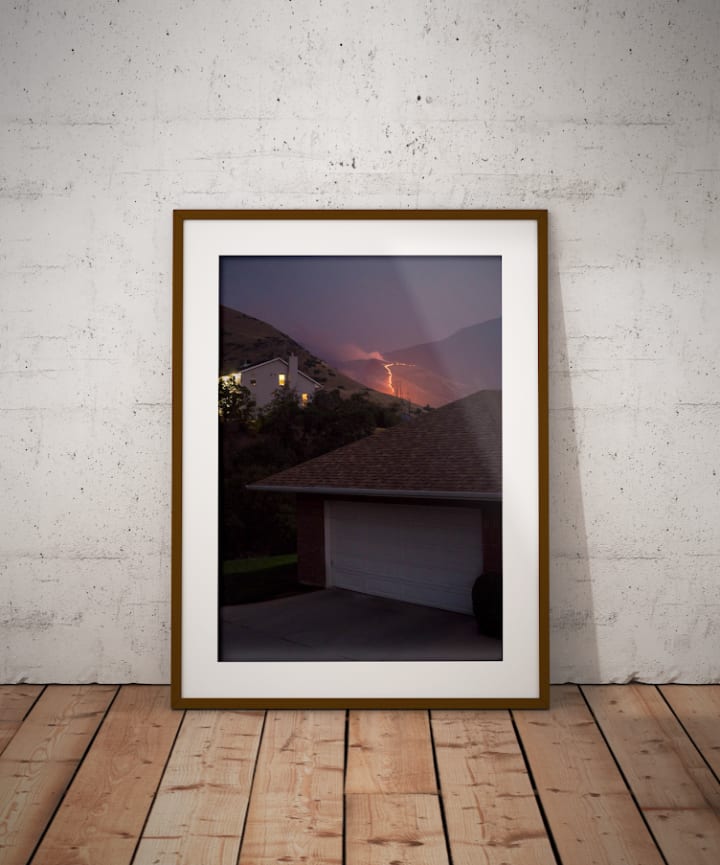 I want to be careful to not romanticize wildfires--they are dangerous, destructive, terrifying, and far too often the result of human carelessness. That said, I think it is possible to find beauty in their terror. I hope that showing the relationship between people and their homes with the unpredictability of wildfires here serves more as commentary and art than a romanticizing of something that threatens lives, homes, and our planet.
I hope you enjoyed the photos and hearing about my experience taking them. Please consider purchasing a print or leaving a tip on this article! That's gas & film developing money for future adventures! :)
My other posts about photography in Utah:
About the Creator
Oliver Dahl is a published author and photographer from Boise, Idaho.
He currently studies marketing at Brigham Young University.
Website: www.oliverdahl.com
Instagram: @OliverWDahl
Reader insights
Be the first to share your insights about this piece.
Add your insights