Oregon Tide Pool
Life above, under and on the surface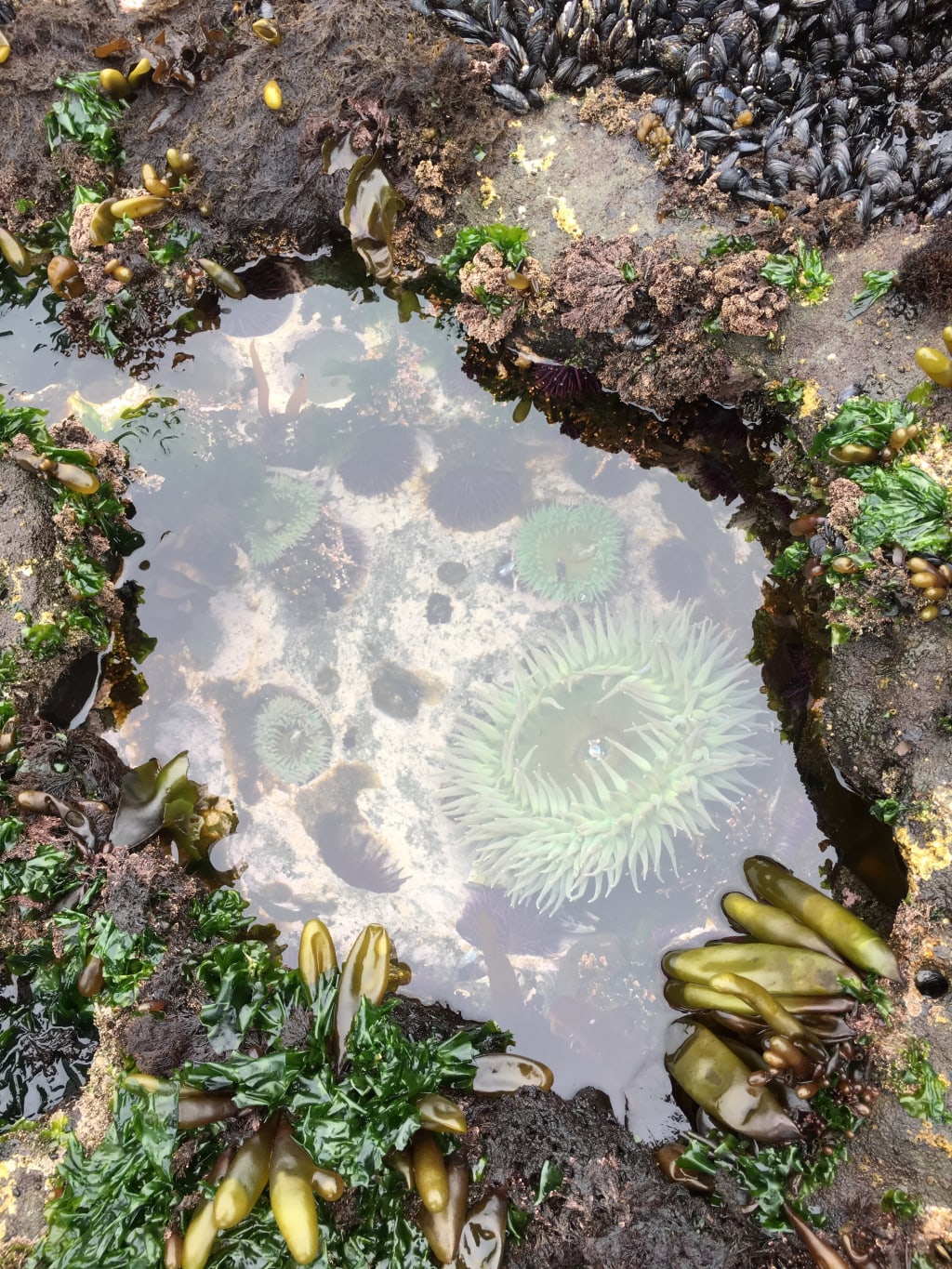 In the summer of 2018, my wife and I drove down the spectacular Oregon coast in our 2001 VW Vanagon. We camped in various campsites and enjoyed the clean air, good weather, beautiful scenery and friendship of other campers. We spent our days hiking along the coast and through the woods and in the evenings, made dinner at our campsite, eating smores by the fire and spending quality time together. In Southern Oregon, we camped at Sunset Bay State Park, just across the road from the beach. The following day, we hiked from Sunset Bay to Cape Arago, a fairly easy eight and a half mile walk that took us through the gorgeous gardens in Shore Acres State Park to the sea lions at Cape Arago, with plenty of photo ops along the way.
Since it was low tide, we were able to walk far out on the rocks and explore the hundreds of tide pools that were created when the water had receded. One particular tide pool caught my eye. It was a small tide pool, surrounded by kelp and mussels. At first, it didn't appear that there was much life in the pool, but upon closer examination, we realized that it was teeming with life. The tide pool contained kelp, anenomes, sea urchins and several types of small fish that darted around the pool. It was amazing that such a small pool could contain so much life.
I pulled out my iPhone 6s Plus and snapped several photos. Although there was a lot of glare, I managed to get a few good shots. I used the automatic settings and was amazed at the clarity of the pictures. The focal length was 4.15, F 2.2, exposure program 2 and exposure time 1/120. As an advanced amateur photographer, I find that iPhoto produces great results and is very easy to use.
As I always do, I went through my photos when I returned home. Of the hundreds of photos that I took, this one jumped out the most. I love the glassy surface of the water, the colors and textures of the anenomes, kelp and rock, and the contrast in color between the living organisms in the pool and surrounding the pool.
In my domestic and international travels, I usually bring two digital SLR cameras, complete with wide angle and zoom lenses, filters, a timer and a tripod, all in a big camera bag, but some of my best photographs were taken on my iPhone. Besides the amazing technical capabilities of the newer phones to capture amazing images, there's definitely something to be said for the spontaneity of phone pictures. I don't have to change any settings or figure out the lighting or do anything else that requires me to lose time and to take my eye off my subject. If the situation warrants, I just twist my Moment telephoto lens onto my phone, and that takes only a few seconds. There's no bulky gear to carry around and I don't have to worry about losing a bag full of expensive equipment. I just reach into my pocket, click on the camera icon and snap away. There are very few bells and whistles, and even a newcomer to camera photography can take outstanding shots with little or no training.
The most important lesson that I've learned over the years is that wherever I am, there are always great photo opportunities. You just have to look for them. Whether it's hiking along the coast, going on safari, watching my kids playing at the park or exploring the streets of any major city, I'm always prepared to snap that memorable photo. Our planet is an amazing place. Keep your eyes open and you never know what you're going to see.
Keep on snappin'!