Namche Bazar
On the way to Everest Base Camp trek seeing the beautiful Namche Bazar village.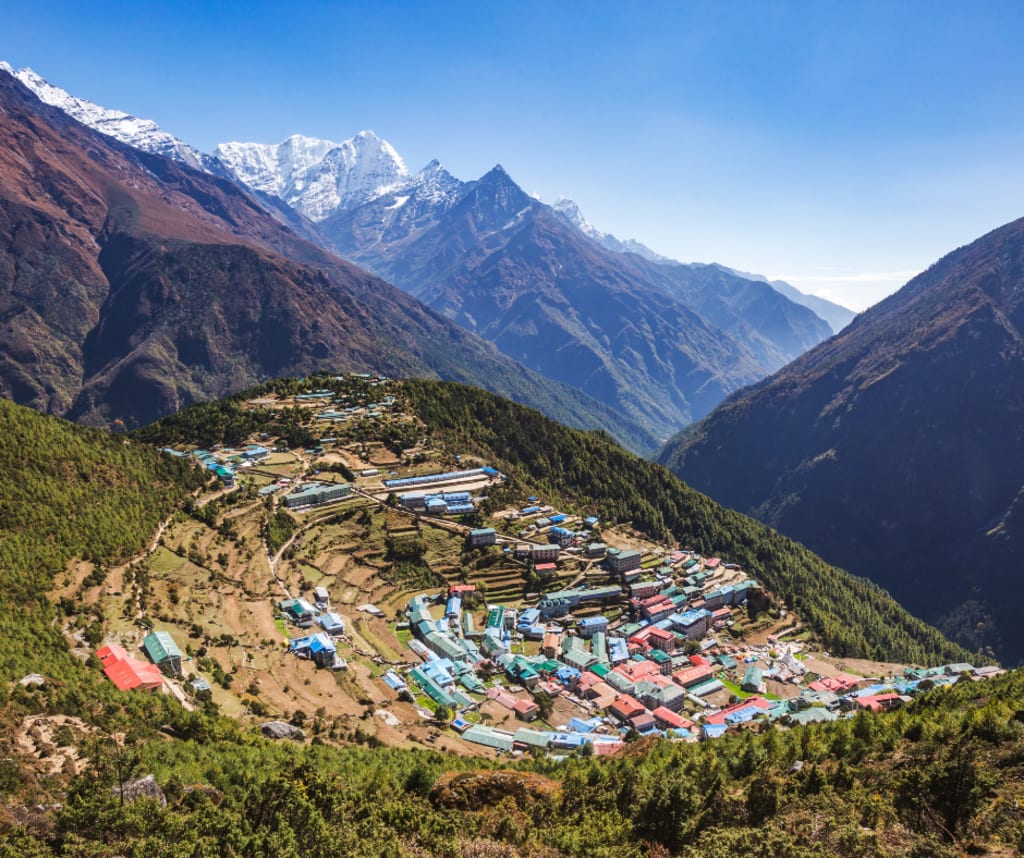 Namche Bazar village, Everest region, Nepal
Imagine a beautiful village high up in the Himalayan mountains of Nepal. This village is called Namche Bazaar, and it's a unique and wonderful place. It's like a special door that leads to the world's tallest mountain, Mount Everest.
Namche Bazaar, often called "Namche" for short, is a place where you'll feel like you've stepped into a different world. The mix of old and new is fascinating. While you can find modern amenities like cozy lodges, cafes with Wi-Fi, and shops selling trekking gear, you'll also witness the rich traditions of the Sherpa people, who call this region their home. The village is about 11,286 feet above sea level, so the air is thin, and it's important to stop here to get used to the high place before going even higher to the Everest Base Camp.
The Sherpas are known for their incredible strength and mountaineering skills. Many of them work as guides and porters, helping trekkers and climbers navigate the challenging terrain. When you visit Namche, you'll have the opportunity to learn about their unique culture, including their traditional clothing, food, and even their songs and dances. You might also notice colorful prayer flags fluttering in the breeze, a symbol of the deep spirituality that runs through this community.
Namche is not just a place to shop or rest; it's a hub of activity. As you explore the village, you'll encounter fellow adventurers from all corners of the world. People come here to embark on various treks and expeditions, making it a melting pot of cultures and stories. Sharing experiences and swapping tales around a warm cup of local tea is a common sight.
If you're interested in exploring the natural wonders around Namche, there are plenty of options. You can take a short hike to the Everest View Hotel, where you'll be treated to an astonishing panorama of Everest and its neighboring peaks. The Sagarmatha National Park, a UNESCO World Heritage site, is also nearby, offering opportunities for wildlife spotting and immersion in pristine nature.
But perhaps the most crucial aspect of Namche is its role in acclimatization. When you venture into the high Himalayas, it's vital to let your body adjust to the thin air to avoid altitude sickness. Spending a few days in Namche allows your body to adapt gradually, reducing the risks associated with rapid altitude gain.
But the real magic of Namche Bazaar is the incredible views. When you look around, you'll see some of the world's tallest mountains, like Mount Everest, Lhotse, and Ama Dablam. It's like being in a dream. You can also visit the Sagarmatha National Park Visitor Center to learn more about the amazing nature in this area. If you're up for a short hike, you can make your way up to the Everest View Hotel for even more breathtaking sights.
As the sun sets behind the Himalayan giants, the clear night sky in Namche reveals a stunning display of stars. Away from the lights of the city, you'll be able to witness constellations and celestial wonders that city-dwellers rarely get to see.
What's wonderful about Namche Bazaar is that it's not just a stop on the way to Mount Everest; it's a destination in itself. The people here are incredibly friendly, and you'll get to experience their unique way of life. The stunning natural beauty, the friendly locals, and the exciting things to see and do all make Namche Bazaar a fantastic part of any adventure in the Himalayas.
In summary, Namche Bazaar is more than just a stopping point on the way to Everest; it's a destination that offers a rich tapestry of experiences. Whether you're a seasoned trekker or just someone who appreciates natural beauty and culture, Namche has something to offer. It's a place where you can rest your weary legs, savor local delicacies, and connect with the spirit of the mountains and the people who call them home. So, when you plan your next adventure in Nepal, make sure Namche Bazaar is on your itinerary—you won't be disappointed.
Reader insights
Be the first to share your insights about this piece.
Add your insights