Meet Jamie Nicole Brown: A Real Southern Socialite and Predominant "Modelpreneur"
Kentucky-born music/performing arts heiress and Renaissance woman is strutting her stuff with modeling and photography in Tennessee.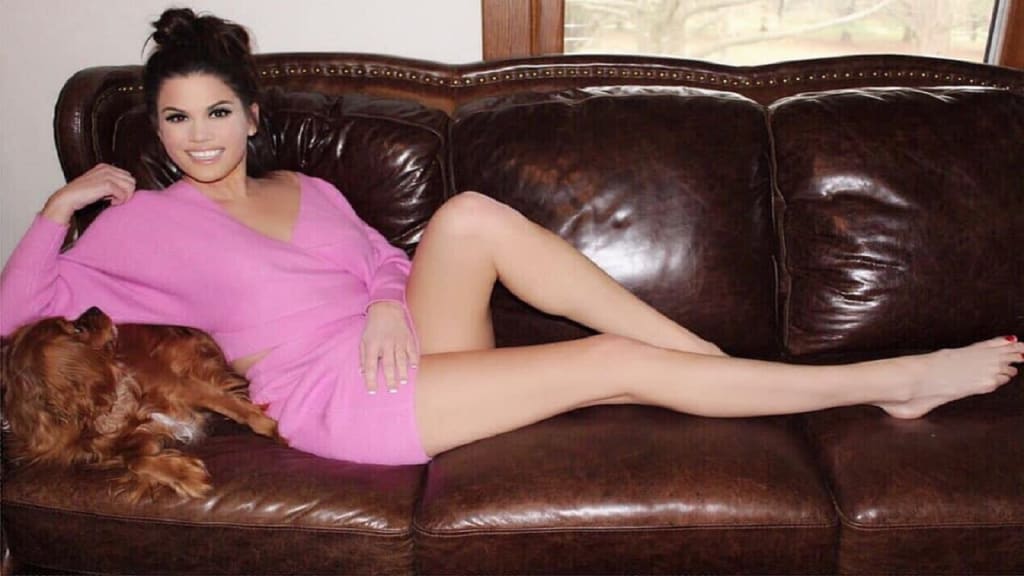 Pinup Portraits Photography
For some people, opportunity doesn't come knocking at the door to save you from a burning house when the chips are down. To a chosen few, opportunity comes as factory equipment ingrained in their DNA prior to birth.
When members of this exclusive societal club grow up to become smart and resourceful adults, success is practically guaranteed. However, throughout time, some of the predestined occupants born into splendor have squandered their family's generational prestige. Some of them do this by disavowing historically-held principles, which govern the preservation of their family's illustrious ancestral lineage. This is a common mistake made by heirs and heiresses who are fixtures of the entertainment industry's establishment.
Then there are those quicksilver human products of the entertainment industry who watched, learned, and earned even as they were children growing up backstage behind all the bright lights. These are the stars who actually expand their family's business of being industry insiders.
Jamie Nicole Brown (pictured) is one of those people. Born in Louisville, Kentucky, Brown is the daughter of Al Antee, a man who was known by many big performers in entertainment as a major concert promoter and established arena operator. From the iconic Frank Sinatra, Dolly Parton, to the late Lou Rawls, Antee's status as a magnate of performing arts and entertainment centers has helped bolster the careers of some of America's greatest musicians in a number of genres. The Antee family eventually relocated to Tennessee and brokered flair in the Nashville music scene.
The city of Nashville, Tennessee is a place many people consider to be a Mecca for country music in America. Brown asserted herself well in this city by using her sense of style, natural beauty, and photogenic facade. Brown, a self-proclaimed "modelpreneur," is a bona fide country music video vixen who made appearances in the televised visuals for hits by the likes of Garth Brooks, Brad Paisley, Phil Vassar, ZZ Top, and Ashley Monroe. The former Hooters International Calendar Girl's image has also been featured in ad campaigns for Budweiser, Toyota, and Ford.
I initially became acquainted with Ms. Brown in 2014 from a business standpoint. At that time, I was providing services for a copywriting agency and she was one of the company's clients. Brown was a valued client with a multi-faceted investment lineup that includes a fine arts studio, a vintage antique business, a music management company, and much more. In 2015, I was let go by the copywriting agency where I landed my first opportunity to do business with Brown. At some point, she also parted way with this company as a client.
However, our separate departures from that agency did not stop Brown from maintaining contact with me. Impressed by my written and verbal communication skills, Brown retained me exclusively as her digital publicist and Public Relations Representative. This five-year business relationship has given me the honor and privilege of working with an amazing woman who is a true American socialite, visionary, and fearless dreamer that sets trends.
You can read my exclusive debut interview with Brown I've conducted for Photography Media below.
Victor Trammel: How long have you been modeling and what were some of your favorite experiences as a model?
Jamie Nicole Brown: I did my first commercial when I was five-years-old. It was for an upcoming roller-derby event for Louisville Gardens. My father was the manager of that arena in Louisville, Kentucky when I was a child. I have so many memories from modeling. I was able to meet so many people along the way. I love seeing a project from start to finish and watching it all come together!
Great modeling goes hand-in-hand with great photography. At what point in your career did you see that was a great idea for you to merge both skills for yourself?
I enjoy looking at photographs from Old Hollywood. Seeing all these incredible photographers of times gone by that were able to capture candids of actresses from that time that showcased their true personality. They allowed you to see something you don't always see in their films. I like to shoot that way... combining both posed and candid photos to express themselves in a combined effort. I started a couple years back by getting a tripod and practicing by shooting myself.
Which one do you prefer the most? Being in front of the camera or being behind it?
I love being the model. I love to be inspired by a photo I've seen and changing it. Sometimes the photographer doesn't capture a photo the way my eye sees it—at that time, I try it myself.
You've posted some excellent shots of still life and other forms of photography of yours online. Who was your biggest mentor as a photographer coming up while learning the craft?
Kevin Whitledge and Alan Messer were my early mentors. Messer actually won a Grammy for his photography in the Best Album Packaging category at the 1989 awards. My first professional photo was done when I was 14. Kevin took that one. It was a Black & White photo with jeans and a tank top. Pretty basic. I studied his photos, and learned how you can capture yourself reflecting on a surface—either in a mirror looking back or sunglasses sitting down and seeing your face in the lens of them. I always thought that was a cool concept.
Which model throughout American history has been your been your absolute idol?
Marilyn Monroe. Her life and mine have so many similarities. From her personal life being in the spotlight to struggles with depression. She was so good at smiling even when it hurts. I've been compared to her before. Marilyn was my idol because with her, I learned I wasn't alone with my journey. She helped me and allowed me to help other girlfriends thru traumatic experiences.
What should your followers expect to see from you in the future?
In the long run, I want to put a stamp on humanity that helps people in all walks of life. I'm also a certified art dealer and in the past, I was able to acquire selling rights for Michael Jackson's personal art collection of pictures he drew himself. Once I'm able to sell these rare personal items made by such a great late music legend, who knows? Like they say, the sky's the limit!