Making Visual Magic with eMotimo's Spectrum ST4
Spectrum ST4 Review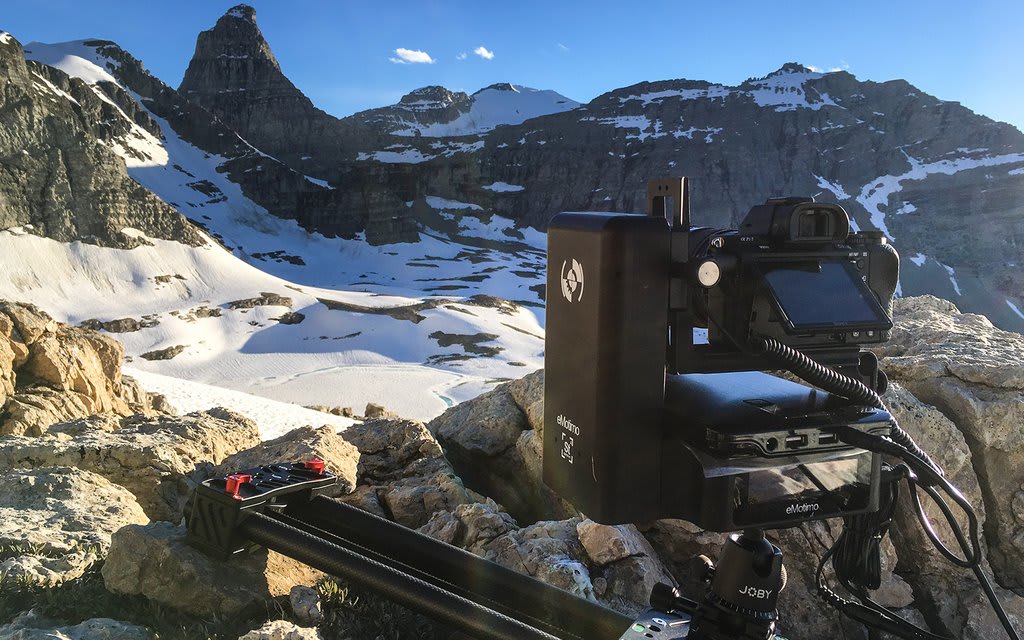 eMotimo Spectrum ST4 in the Mountains
With the current surge of technology, available it is no surprise that the quality of filmmaking efforts has increased as well. But as we all know, creating a movie is like painting a masterpiece, it requires hard work and specific tools to make that work of art come to life. For that reason you have to try out different mediums or camera equipment in this case, to figure out which one will help convey your message the best.
From experience, the most useful camera equipment has to be multi-use products, that allow your camera to incorporate various new elements with a single applicator. One multi-use item that has been extremely useful for various filming techniques has to be the Spectrum ST4, created by eMotimo. What makes the Spectrum ST4 attachments unique is its ability to be a great stand alone product that offers an incredible motion control pan and tilt head that can also be integrated with other products. Not to mention that it has a 4-axis motion controller for cinematography and photography allowing you to capture shots more efficiently and with greater ease, than other products on the market.
Besides having 11 different motor move presets on its own, the Spectrum ST4 can be integrated with products like the Dana Dolly in case you are looking to truly capture some unique shots and visual effects. The Spectrum ST4's 4-axis robotic mound makes it ideal for VFX and time lapse shots, due to its frame for frame repeatable technology. Thanks to its small size (7.35"x 7.3"x5") and its lightweight the Spectrum ST4 can easily be taken anywhere to shoot and realize the vision you have in your mind.
The Spectrum ST4's four most useful features have to be:
1. Ping Pong Mode, also known as interview mode is where you set up an A-B continuous motion that gives way for smooth dynamic movement. This continuous loop movement is an especially useful function for interviews that adds a smooth and dynamic movement to your filming session.
2. Complex Key Frames, allow you to set up to 9 individual keyframes for your camera moves as well as up to five keyframes for ideal time lapse sequences.
3. Repeatable Shots are ideal for shooting any time visual effects are involved since regardless of the speed, changing source voltage or payload, the shot is the same every time due to the Spectrum ST4's precise motion programming for focus, zoom or aperture control. This is all possible because of its built in ramp. By having control of the movements ramp you can easily start and stop your filming while still achieving a natural and seamless shot.
4. Portability can not be overlooked when it comes to camera equipment. If the gear you take with you is too bulky and heavy it just interferes with your entire shoot and it can sometimes be detrimental if the image you are trying to capture is time sensitive. That is why the Spectrum ST4 was created with the user in mind. Not only is it durable thanks to its wires and connectors being protected by CNC-Milled aluminum chassis but the gear itself only weighs 4.5 lbs and yet it can still support up to a 15 lb camera or excess gear.
With so much control at your fingertips, and at half the cost of its competitors it is no surprise that the eMotimo company got recognized for creating such a useful product and was named the 2017 Red Dot Design Winner because of the Spectrum ST4.
To Find out what else you can accomplish with the Spectrum ST4 visit emotimo.com.