Luminar 4.1.0 Update
Additional Features, Performance Improvements and More AI-powered Control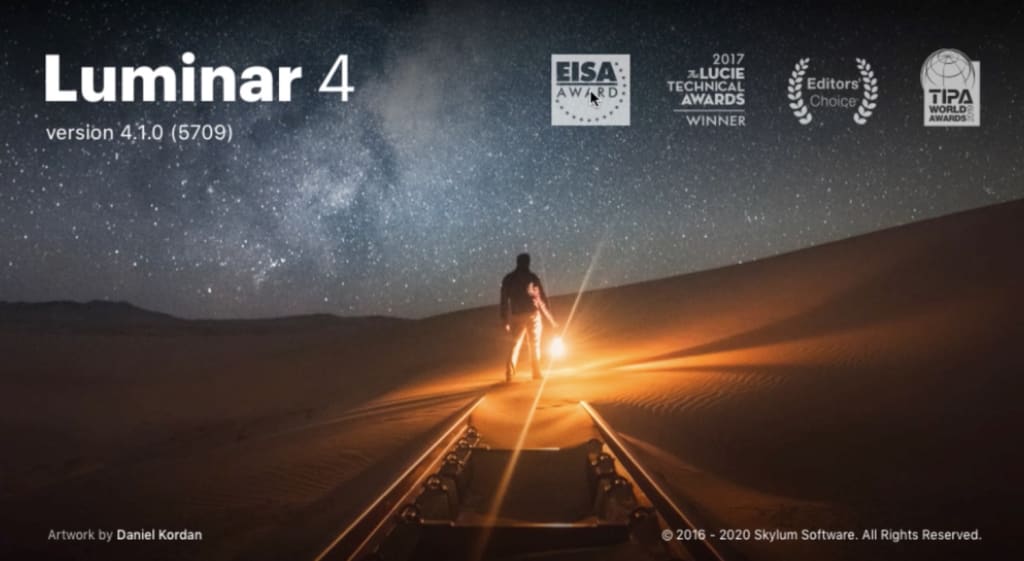 Skylum recently released Luminar 4.1, complete with several additional features, performance improvements to make workflow easier and to allow for more control in its AI-powered machine-learning tools. Released a month after its initial launch, the Luminar 4.1 update includes updates to AI Sky Replacement, the Erase tool, Portrait Enhancer and more.
AI Sky Replacement gets a new feature in the update called Atmospheric Haze for the AI Sky Replacement, which lets photographers add atmospheric haze that is usually seen during the day to their images. Coupled with the Sky Temperature and Sky Exposure sliders, it's now possible to achieve a perfectly balanced, harmonious image in a single tool. It keeps the light balance between the replaced sky and image foreground more realistic, leading to a more "finished" result.
The new release also supports using the Portrait Enhancer tool on more images, including ones with smaller faces in group portraits). The update also improves the Adjustments Amount slider for better tool blending with the original image, improves performance for blending modes and layers, adds full support as a plug-in for Photoshop 2020, fixes SmugMug login issues, and resolves 53 bugs that could lead to crashes or unexpected results.
According to what was announced by Alex Tsepko, CEO of Skylum, the app will receive other updates over the months that will improve the machine learning tools from time to time.
Released a month after its initial launch, the Luminar 4.1 update includes updates to the AI Sky Replacement, the Erase tool, Portrait Enhancer and more. Starting from the first, there is now the atmosphere option that allows you to add a slight haze to the photos with the click of a button.

**Click here to get my exclusive Luminar discount**
As we said, the Erase tool has also been enhanced, through a new technology that would make the removal of objects even more accurate. The Erase tool has been upgraded, using an all-new technology for precise object removal. Edges on the Erase tool are much softer, and the new algorithm means smarter selections for area replacement. The system - explains the company - would now be able to remove unwanted pixels even when dealing with complex backgrounds: the edges of the instrument have also been softened to offer a more gradual transition between the erased area and the one that remains.
The Portrait Enhancer tool can also be used with a greater amount of images, including those on which smaller faces are represented, such as in group portraits. Portrait Enhancer can now be used on even more images, including those with smaller faces like groups or environmental portraits.
The update includes accelerated performance which makes the Looks previews faster and they removed the memory leaks when switching images quickly during edits.
How to update
Luminar 4.1 is a free update for current Luminar 4 users.
On Mac, click on Luminar 4 > Check for updates in the menu bar.
On Windows, click on Help > Check for updates.
The update that can also be downloaded manually:
Windows: https://downloads.skylum.com/luminar4/win/Luminar4Setup_offline_5191.exe
MacOS: https://downloads.skylum.com/luminar4/mac/Luminar4_5709.dmg
Don't forget to uninstall the previous version of the app first.
"Since we released Luminar 4 last month, we could not be more thrilled with what we're seeing photographers create. With our first feature update to Luminar, we hope that these improvements will expand the possibilities for our users, and create new, exciting opportunities for their image creation workflows," said Alex Tsepko, CEO of Skylum.
While the new Luminar 4.1 update already packs some new and improved features, photographers can expect to see more updates to Luminar over the coming months, especially for its machine-learning tools.
___________________________________________________
David Sornberger is a self-taught Canadian photographer whose work is layered by surf, landscape, city and travel subjects. Learn more at his website where you can find links to his YouTube channel, weekly podcasts, blog and lots of free 'stuff'.