In our Bones, Stones, and Stars
Finding Grace from Cosmic Vistas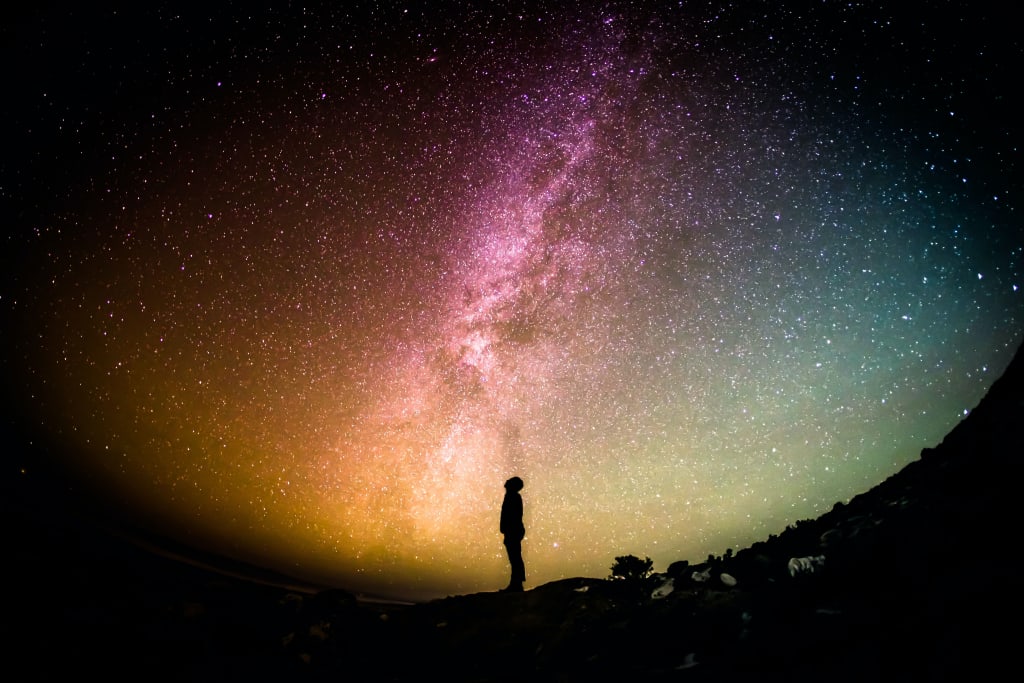 Photo credit: Greg Rakozy on Unsplash
"If I'd lost hope, this country never would have made it." [1]
Words etched into, not only a country, but the very bones of humanity.
* * *
Look up. What do you see?
Do you see a storm of nuclear fusion ninety-three million miles from Earth, the scattered photons of crimson-ringed, golden clouds, or do you shield your eyes and gaze away? Do you see the ghosts of a trillion stars shining from the Cretaceous age, a galaxy whirling with a supermassive black hole, or are you idly staring at a screen that uses the same quantum physics to understand the cosmos?
Look closer, deep into the history of time and stone.
From the violent explosions of ancient stars, humanity emerged to survive. Seventy-five thousand years ago, we gripped onto the edge of existence when Toba erupted its fiery guts and ash choked the sky for thousands of miles. And yet, we adapted, finding unity and refuge along the coast.
Through the ice age we survived when even the mighty mammoth and saber-toothed cat succumbed to a changing world. We dug our hands into the soil, sculpted loam, and cut our own story into monolithic stone. We have faced countless storms of nature's wrath as well as our own, and still we stand.
Babak Tafreshi, an Iranian photographer, captures our connection to the stars and one another. Through his 'true exposures of the universe,' he reminds us all of our wild splendor found in dancing ribbons of northern lights, falling cherry blossoms framed against the night, and supernovas that will outshine the moon.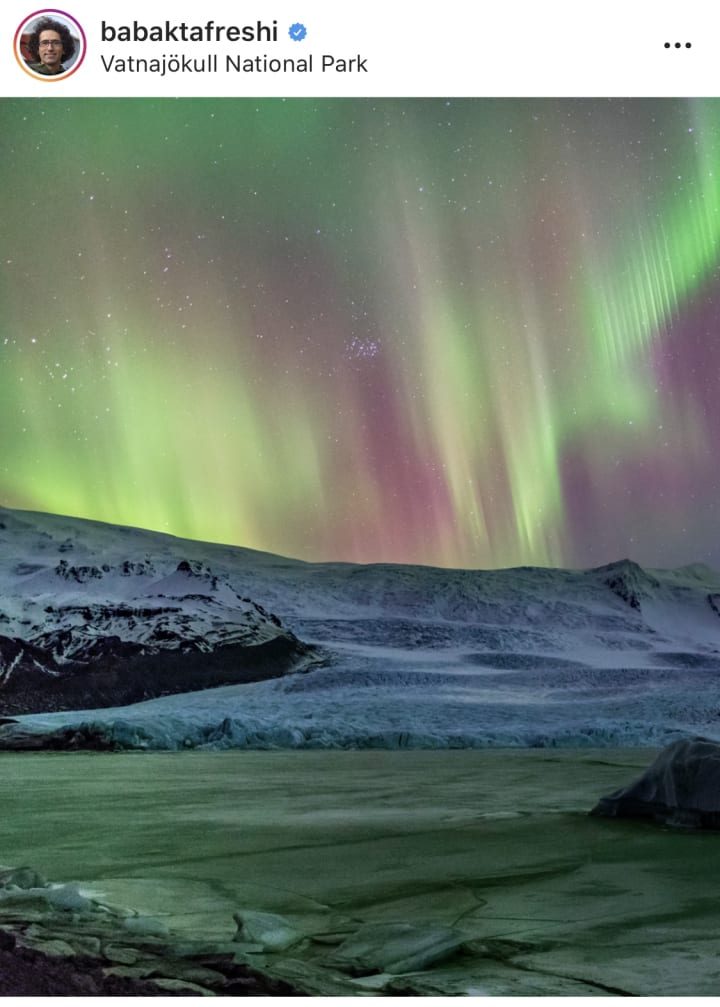 With awe and beauty, however, must come the coils of fear and mortality.
Look inward. What do you find?
Since the dawn of existence, humanity has had to face the setting sun. We've become master illusionists, distracting ourselves from the dread of that inevitable end in the form of comforting stories, art, altered states, clutching vainly at youth, or being the star of our insular dramas.
It is okay to be afraid. It is human to refuse to watch the sun set on our short days. For how would we ever enjoy the warmth of life if we were frozen with fear? Instead, we can valiantly defend our mortality with creativity, community, and compassion.
From the Chauvet cave paintings of wild horses thirty-thousand years ago to Michelangelo's prisoners struggling from raw marble; from the floating dance of ballet to the biwa lutes and taiko drums of Japan; from the prose of poets to comedy on a virtual stage, our ingenuity has helped us not just survive, but thrive.
Creativity builds community, and community breaks those fatal chains. Which is why during hardship, when those chains grow heavy, we hold onto one another all the more tightly. Right now—as in past pandemics—that weight is unbearable, but what other social species shows such a strength and universal compassion by sacrificing our need to be together, to be held? By our solitude, by helping those less fortunate, by bearing those chains for a time many of us have shown an awe-inspiring collective compassion to our global community.
However, to "have eyes, yet see not; ears, yet hear not; and hearts that neither feel nor understand" is the antithesis of that inspiring awe. [2] That is the true death of the self and society.
Through Shots of Awe, filmmaker and philosopher Jason Silva shows our conflicting human nature. He strives to convey that we are immortal in energy and thought, yet transient in body; we are creatures of habit, yet we venture into the unknown; we are forces of destruction, yet creation, and that to be human is to be simultaneously petrified and amazed by our brief existence.
Every life will know the dark veil of infinity; many will vanish, some will be as black holes, but a life well-lived will shine through like the stars.
Lift the veil and look in the mirror.
I was a child when I first saw the haunted eyes of Florence Thompson. Most know her as the Migrant Mother from the iconic Depression Era photo. Taken not long after her husband had died, this mother of Cherokee descent persevered through a life most of us cannot even imagine, nor want to, and hopefully we will not have to. However, hard labor, loss, and self-sacrifice—sometimes starving herself so that her seven children would not—failed to bend nor diminish her spirit.
Look at your reflection. Do you see it yet?
Billions of people experience such hardship and worse daily; others create their own melodramas out of habit and boredom, while some look up, look inward, and into the mirror. Do you have the courage to face fear and adversity, to open your eyes to the sunset and capture that last ray of light? Capture it in art, in song, in prose; dance with it; capture it in thoughtful action, in love, and a fierce self-love so strong that the world will know hope.
We walk along thin strands of an interconnected web. Trying to find balance when the threads of our lives are shaken or torn requires profound grace and a rugged grit.
"If I'd lost hope," Florence said in an interview not long before her death, "this country never would have made it."
And that, above all, is the undying spirit of humanity etched in our bones, stones, and stars.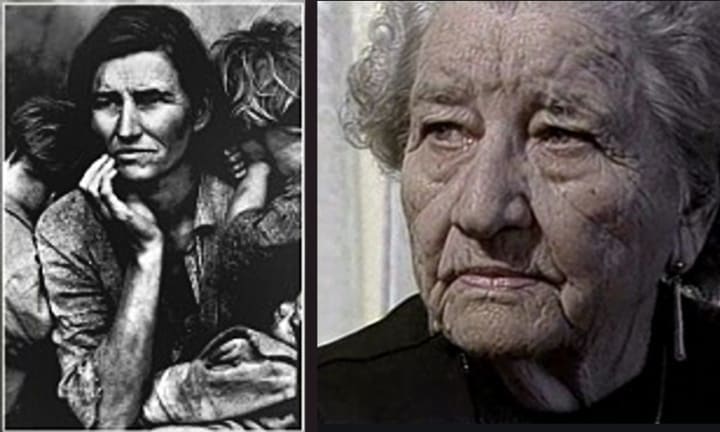 ____________________________________________________
Works cited:
[1] The Daily Mail https://www.dailymail.co.uk/news/article-2290879/I-lost-hope-Startling-interview-unearthed-woman-iconic-Great-Depression-image-talking-just-years-death-1983.html
[2] Jason Silva:Shots of Awe https://www.youtube.com/watch?v=8QyVZrV3d3o
art
I currently work as a freelance artist and writer, and—was—traveling the country with my husband (a professional juggler) in our converted van, The Millennial Falcon.
Receive stories by Elayne Griffith in

your feed