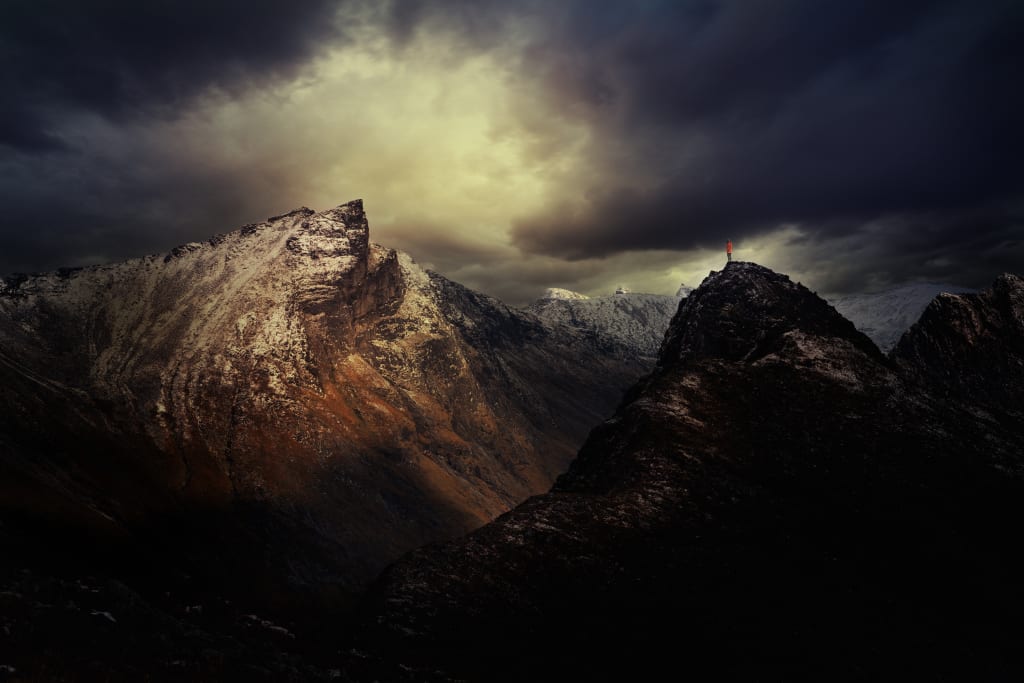 In Awe
In September last year, I visited my daughter, who is now living in Norway with her now Norwegian fiancé. My daughter and I spent an amazing 3 weeks sighseeing around the south part of Iceland, and then up the north west part of Norway, to the Senja/Lofoten regions. For an Australian lad, who is so accustomed to wide-open landscapes, these regions were a massive contrast and my jaw almost got sore being blown away by the startling rugged beauty of these two countries.
My daughter and I spent 3 days of the 3 weeks enjoying the incredibly beautiful Senja region in mid-northwest of Norway. As in most places in Norway, there are a number of hikes you can enjoy in any one area. We decided on a day hike up to stunning Mt Husfjellet. At only 680m, it isn't a high mountain, but what it lacks in height it makes up for in grandeur and absolutely jaw-dropping views. The hike is approximately 8km and starts off winding through beautiful birch woodlands, which were absolutely beautiful in their autumn hues of reds, yellows and oranges, contrasting against their white trunks. There was also a small brook running down this lower section, and the stunning array of colourful moss growing on the flat rocks also captivated our attention.
After about half an hour of walking through the birch forest, the trail opened out into some flat marshy lands, giving us views of the nearby fjord on our left and jagged steep mountains on our right, absolutely taking our breath away. The marsh was very wet and boggy, but most fortunately the locals had looked after us sightseers by erecting a wooden walkway along the trail to keep us dry. After about an hour and half we arrived at the bottom of Mt Husfjellet's cone shaped peak. From this point, the walls of Mt Husfjellet fall straight down about 150m, before tapering out to a fjord below. The stunning, but ominous cone face is known locally as the "Devil's Jaw". We spent about half an hour being blown away with the view and taking photographs, and were about to head off on the further half hour trek to the very top of Mt Husfjellet's cone peak, when a snow storm burst around the mountain and dumped on us for about 20mins. Our feet and hands became quite cold as we didn't have the adequate clothing for such a harsh storm, so after taking some more photos and video of the storm, we headed back down to enjoy more of the stunning views from this amazing mountain as the skies cleared. On the way down we parked ourselves on a small rocky outcrop and with the sun now breaking our through the clouds to provide some much needed warmth, we stopped to enjoy some lunch and take in more of the incredibly stunning views of fjords and jagged mountains. It was certainly a most memorable day of hiking – even the snow storm was thrilling to take in.
The image I have selected from this hike is one of me overlooking the valley to another jagged mountain peak. The clouds at the time were so foreboding and about to open up, fortunately they waited until I had taken the photo :-)
Overlooking this peak towards the fjords and valley below I had a sense of utter smallness and also being in complete awe of this amazing planet of ours. It truly is a staggering place to be and we can only pray that it stays this way for all our generations to come.
I have processed the image in Lightroom and Photoshop, adding contrast and darkening down and adding some purple to the clouds to really emphasis the angry mood that the scene presented to me. The equipment I used for it is my Sony A7Rii mirrorless camera, a Sony FE 24-280mm lens, with a Zomei Neutral Grad filter, and settings f/20, 1/125s, ISO250, focal length 89mm).