I Saw Egrets Today
Silicon Valley's natural beauty reflects its strange and challenging culture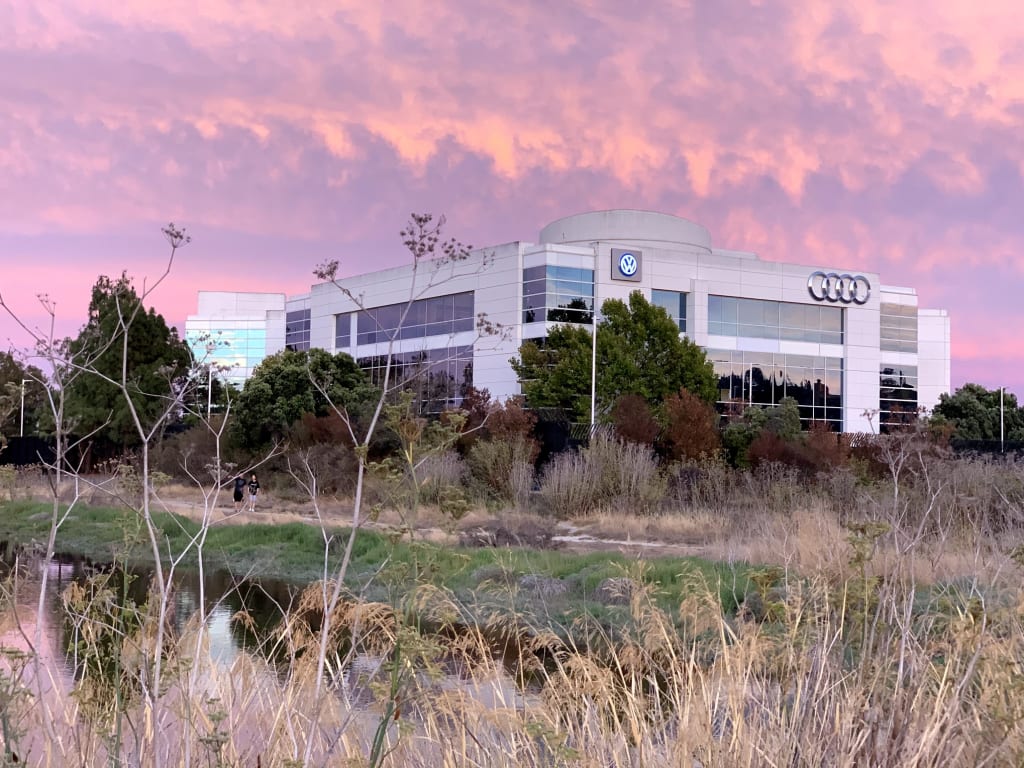 a Volkswagen building next to a wetland area
If you stop by the "Shorebird" campus of Google's Mountain View offices during the month of June, you'll see a handful of people sitting at folding tables with pamphlets, binoculars, and big stickers that say "I SAW EGRETS TODAY."
These are the volunteers of the Santa Clara Valley Audubon Society, who host "egret office hours" during the birds' mid-summer nesting season. They'll point out the best spots and angles to see the nesting birds, loan you their binoculars, and tell you everything you need to know about the native shorebirds. And, of course, you'll get a sticker you can wear the rest of the day to let everyone else know that you saw egrets today.
But what is this adhesive declaration really saying? What does it mean to see an egret, especially one nesting in the heart of Silicon Valley, where Google employees can "file tickets" about distressed birds and the company itself proudly blogs about its coordination with local wildlife societies to protect the habitats it stands on top of?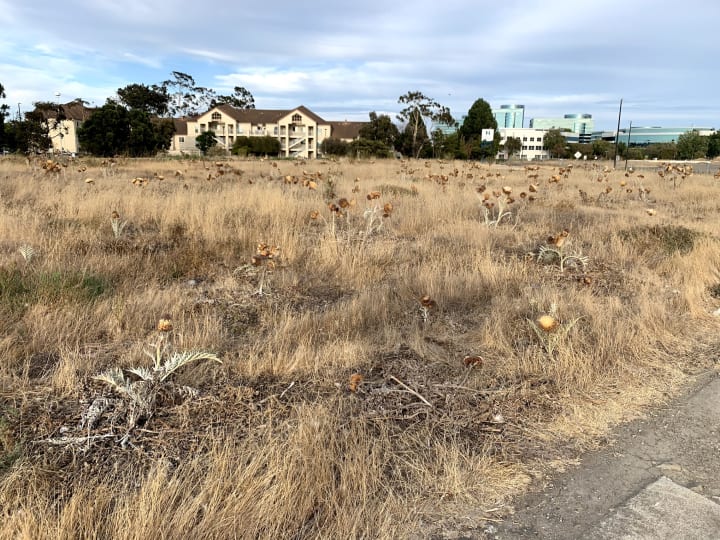 I'm not originally from Northern California, but I spent a few years in the tech world of Silicon Valley. I wrote documentation for massive tech companies and customer service content for scrappy startups. I attended "salons" where Stanford dropouts in tech company swag made plans for the Singularity, and I met friends for coffee at cafes where local heroes like Elon Musk and Sergey Brin were known to hang out.
Silicon Valley isn't an easy place to live, especially since its very existence has become a social, political, and economic hot button. And though there are plenty of things to say about the area and its culture, I think the cheery little sticker informing everyone that "I SAW EGRETS TODAY" does a good job of capturing just what makes Silicon Valley so special and so strange.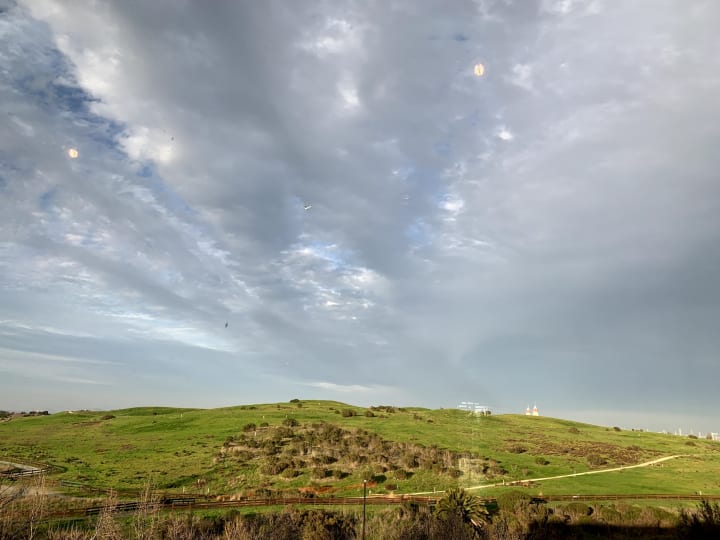 Egrets are native to the Silicon Valley area because they are shore birds, known to live, feed, and nest in the wetlands formed at the edges of great lakes and oceans. And Silicon Valley, despite its concrete-blanketed office parks and manicured suburbs, is itself a wetland.
It's no accident that another term for the region is "The Bay Area," or that roads and parks in the area bear names like "Shoreline" and "Shorebird." Silicon Valley itself is built on top of the San Francisco Estuary and its adjoining marshlands. In fact, before the cities that make up Silicon Valley became known as the technological epicenter of the world, manmade salt pools were the primary economic driver in the region.
Today, cyclists and runners who live in Silicon Valley can make their way along trails that look out over marshes and baylands. Local organizations fight to preserve the natural flora and fauna in battles that often pit conservationists against big money developers.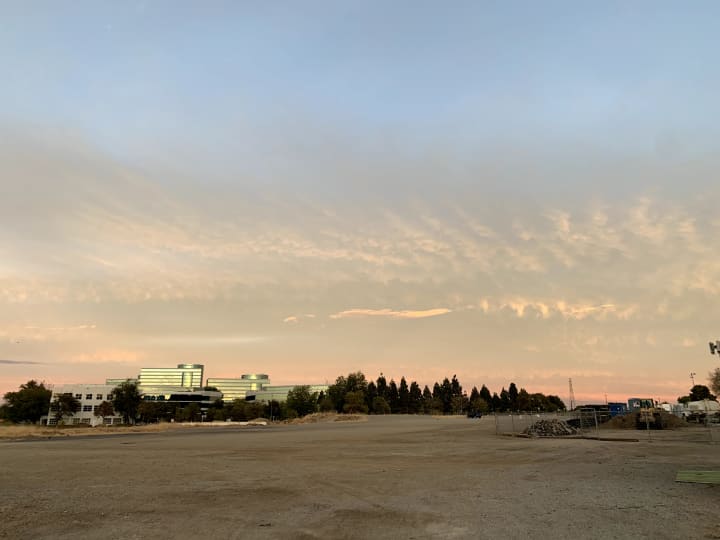 In some traditions, the egret symbolizes balance and harmony. It's not hard to understand why, once you've seen one of these birds standing perfectly still, balanced on one leg, staring meditatively down at the waters. The egret, living on the knife's edge between water and land, symbolizing the constant dynamism of life as a balancing act, also serves as an excellent symbol for Silicon Valley's unique position in the world.
To live in Silicon Valley is to live like an egret, caught in the active tension of balance, shifting from one leg to the other, watching the water for darting fish and dangerous shadows. Northern California may be known for its laid back, hippie mindset - but it's also home to some of the biggest tech companies in the world. Every day, extreme wealth and marginal poverty intersect in the cafeterias and "micro-kitchens" of Google and Apple, where engineers making six figure salaries enjoy free food made by minimum wage, non unionized workers.
A careful balance of ideologies is required to survive in the ever-shifting landscape of bio-hacking and "Less Wrong" disciples. At dinner parties and on employee mailing lists, the libertarian politics of the CEOs clash with the progressive attitudes of their employees. Culturally, Silicon Valley resembles the tidal flats that dot the region, with waters constantly rising and falling to create an unpredictable world of tall grasses and muddy ponds. Like an egret picking out fish while keeping an eye out for predators, living in Silicon Valley means keeping abreast of everything from venture capital bets to self improvement fads.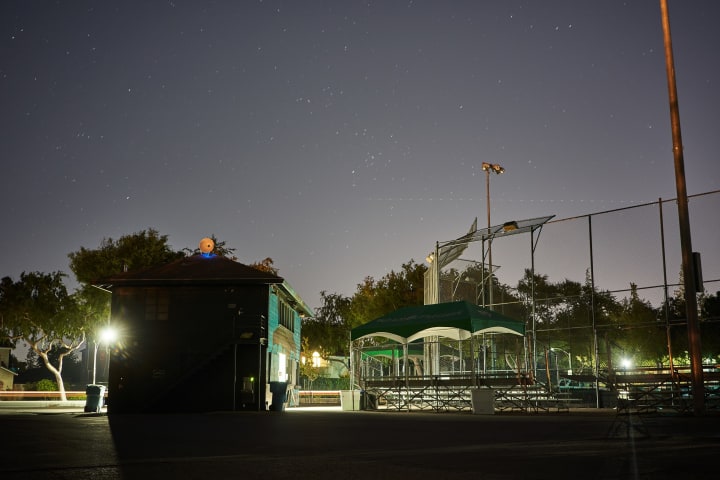 Nowhere is this balancing act more evident than in images of the area, where dot-com era architecture shares the horizon with native grasses and wildlife. The "Googleplex" looks out over Shoreline Lake Park and the Permanente Creek Trail, while the Facebook headquarters sit adjacent to Ravenswood Preserve.
Whether it's an early morning jog, a "walking meeting" with a project manager, or a ride around town on an iconic GBike, it's impossible to ignore the fact that Silicon Valley does not exist on some isolated platform, specially constructed to give tech companies and their buildings a home. Rather, it was built on top of an existing world, one full of fish and birds and plants. This reality forces the area into compromise with the world around it, though such compromise is a concept that technology often resists or tries to deny.
After living in Silicon Valley for the better half of a decade, learning its landscape and its limitations, I think everyone responsible for the culture and ongoing existence of the area ought to take a lesson from the creatures who were here long before us and will be here long after we depart. Instead of holding up individual men and women as heroes, denying our influence on the larger world, and narrowing our focus to specific inventions we've determined qualify as "innovation," we can look out at the birds who represent balance and invite us to draw multiple things into harmony.
I think we'd all be better off if we, as a city, looked out beyond our standing desks and macro-balanced lunches so that we could say, every day, "I SAW EGRETS TODAY."

In this chapter we will look at several questions. What is the relationship between photography and memory? How can a still image/photograph produce or recall memories? What information do we get through photographs and through memories? How do memories transform through language and what does naming/defining memories do in terms of remembering and forgetting? How do the images/memories exist through projection?

Using the help of tools, heal, water, and even fire, these 10 Polaroid manipulation techniques are sure to amp up any photographer's skill set. With some of the coolest end results, these methods will transform your photography with your own hands.

Smartphones have come a long way to become an essential part of our daily life. One of the biggest advantages of Smartphones, apart from its other capabilities is the camera. Smartphone camera fulfils the majority of tasks in everyday life from selfies, social media posting to event photography and video recordings. Smartphones are smaller, thinner and lightweight as compared to digital cameras, and can easily fit into the pocket or purse. Due to the convenience and camera enhancements in recent years, many professionals prefer smartphone cameras over digital cameras. Although, Smartphone cameras has not replaced digital cameras, but they is fast gaining the advance features through their hardware and software enhancements.

I've loved taking pictures since I was a kid. Everywhere I'd go, a camera always came along too. Until a couple of years ago I never thought about actually making money from them. It was just something I enjoyed doing.

Lighting for video takes some skill. It's not an easy task. It took me a while to figure out what looks right, what looks natural, and what the heck I actually wanted when I was given a script or wrote my own script with specific settings.

My motto is "bare your skin," meaning be yourself in life and find comfort in being you. As a photographer I try to have the people I photograph become comfortable around me and be vulnerable with the camera. It is important to me that I am able to show people the beauty that they bring to this world and that is something I am working on doing for myself. Now we all know the statement, "photographers are the worst subjects." Yes, it is true at least for me. It is this sense of lack of control, we've made it up in our mind that it is already a bad picture or that we are not photogenic enough.