How to take portraits like Joel Meyerowitz
Learning to shoot like a Master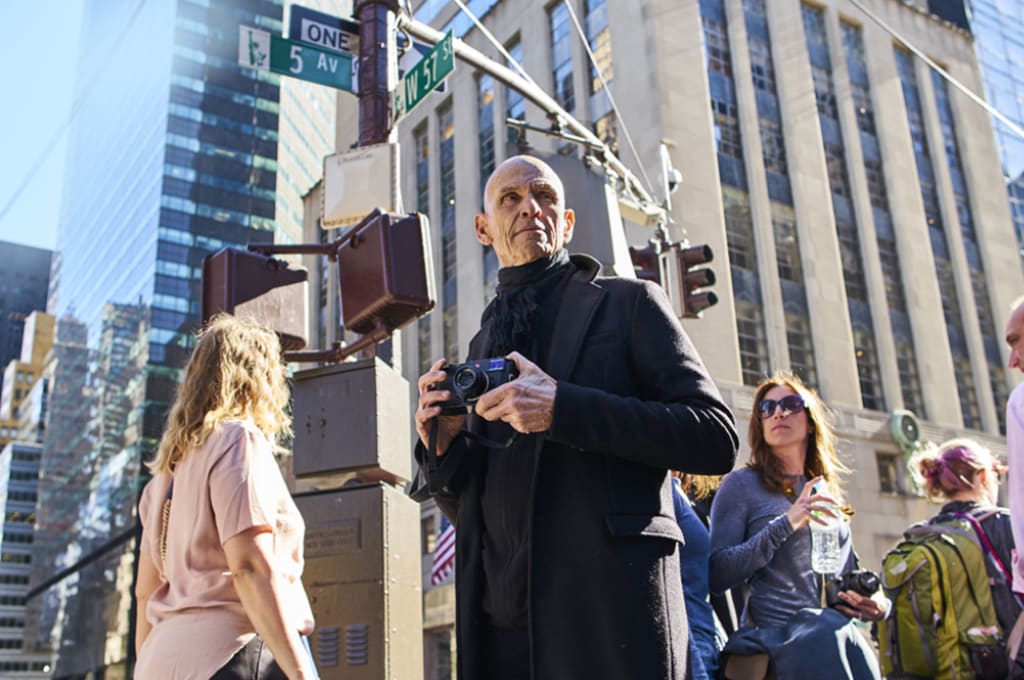 Joel Meyerowitz in the Masters of Photography course
I recently took the Masters of Photography masterclass by Joel Meyerowitz, and I learned a lot from both watching the videos and going through the homework assignments. With each lesson, you are encouraged to go through and try to put things into practice yourself. Here's some of what I learned, and why it has helped me to become a better portrait photographer.
Study masterful photographers
This was one of the biggest lessons that I took away from the course, and I'm pretty glad, because it means that taking the course itself was a great decision! Early on in the lessons, Meyerowitz talks about the value of studying old photographers, those who were the masters of their craft.
The idea is that by reading photography books, you can build up what Meyerowitz calls a 'library of ideas'. This means that when you are out on the street or doing a client project yourself, you can look back in your head and remember what you have seen in truly great photographs. You might linger by a geometric staircase to see if you can capture a Cartier-Bresson decisive moment, for example.
The great thing about this tip that I loved the most is that Meyerowitz is himself regarded as one of the great photographers. Therefore it's really doubly useful – we get to learn which photographers influenced his work as well as being able to take his work for our own influences.
Anyway, studying his work definitely helped me to improve my portraits as well as my street work. So this tip is a great one!
Be enthusiastic and passionate
One thing I couldn't help but observe throughout the whole video series is how enthusiastic and passionate Meyerowitz is. Even while walking around New York to capture some street photography on the go, as part of the lessons, he can't help but get distracted by everything he sees. There are points where he will break off in the middle of a sentence in order to go and capture something that he has seen.
He does always finish the point later, so this is more endearing than annoying! It's also part of the lesson itself, as we get to see how his mind works while looking for people to photograph on the street.
Meyerowitz has had a long career and some really iconic images under his belt. After many years of working in the same industry, you would think that many people might be a bit jaded or at least not as enthusiastic anymore. But he still gets excited just going out to take pictures, which is a great lesson on how passion plus skill can create a lifelong fulfilling career.
I'm not sure whether it matters if you are passionate first and go and only take pictures that you are enthusiastic about. Maybe you can learn to get enthusiastic, too, and then use this to fuel your work. But either way it does show that feeling that way about what you are doing is a great way to push yourself to perform better. If you love what you are doing, you are more likely to keep doing it, and it's only through lots of work and practice that we can reach master status.
Follow your instincts
We learn a lot about Meyerowitz's instincts in the video lessons, and how he believes that this is something you should always follow.
Let's break from talking about the teacher for a moment, and focus on the student: me! I went out for one of the homework assignments to do some street photography. I haven't done this for a long time, since I was in university and a lot cockier. This time around, I found that I was quite shy.
After that initial awkwardness wore off a bit more, I started to try to listen to my instincts. What was funny was that I did this alone, and also when I was with someone else. My friend would point things out to me as possible shots and I found that I have an instinct which tells me whether they will be right or not. I look, and I can decide right away whether to shoot it or not, depending on whether my instinct tells me it will make a good shot.
Maybe the shot would be a good one if my friend took it, but not for me!
I even tried some of their suggestions, going against my instinct, and found that these results were not so great. However, the shots where I did trust my gut – hung around watching something, for example, because I sensed that something great might happen – were much more rewarding.
These were just my first ventures back into the world of street photography for a few years, so I didn't come up with anything amazing yet. But I do feel that I learned a lot about my instinct, and how to let it lead me around the street to find great shots.
Turns out, when a master of his craft gives you a homework assignment, you can bet that it will be for a reason!
Trying and learning
One big thing I picked up from the Masters of Photography course is that Meyerowitz is a master precisely because he has spent so much of his life working on his craft. There are times when he casually throws out numbers and techniques that sound like witchcraft to me, and I have been photographing for over a decade. This is the result of sheer experience.
It's pretty nice to skip all those years of work and get the secrets straight from the horse's mouth, so I feel like my photography is much stronger after getting those tips. I've really learned quite a lot about the way in which Meyerowitz works, and being able to apply that to my own work has been really useful.
So, in conclusion, I might not be photographing exactly like Joel Meyerowitz yet. But combining his wisdom with my own style has already given me some pretty fabulous results!