How to Make Money as a Photographer
Exploring Active & Passive Income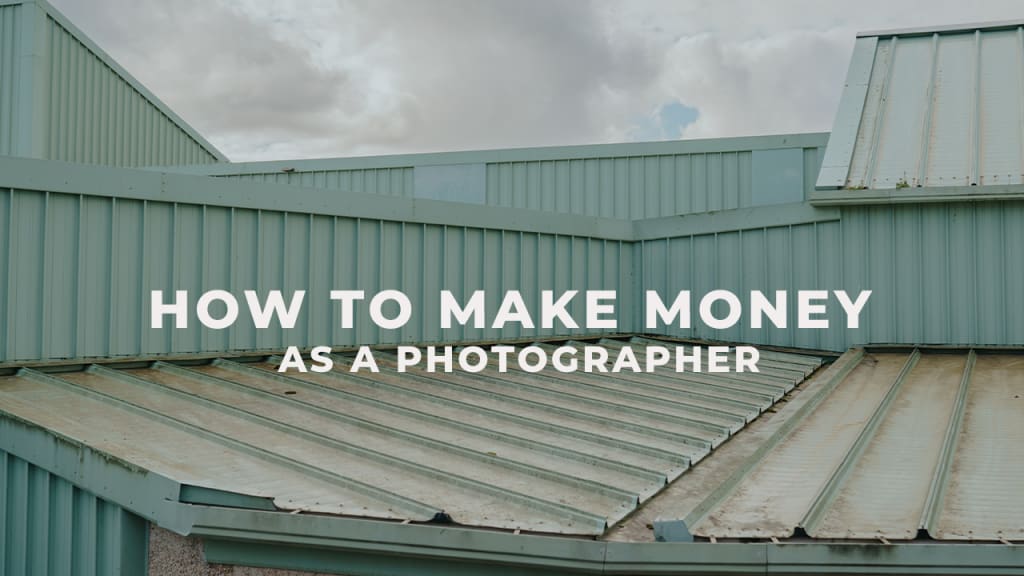 How to Make Money as a Photographer
The question of how to make money as a photographer is something that I'm asked frequently, and I understand why. Photography can seem like an oversaturated market, especially in more recent times, and understanding how you can earn a living off of something you love always seems to be a question people dream for the answer of but can never find.
I've been working as a photographer for going on six years now and, don't get me wrong, being a freelancer isn't easy. Like anything, it has its ups and it has its downs. Thankfully, one of those advantages is that I get to wake up every day and do a job that I love (even if it means that I sometimes have to spend my days answering emails and sending contracts, which is definitely the less glamorous side of working in the creative industry).
But how do you actually make being a photographer financially sustainable?
In an ever-changing world, with the rise of new ways for artists to make money, such as the recent NTF crypto-art boom, the answer is also always changing, but I'm going to break down this article into two types of income you can make as a photographer: active income and passive income.
Active Income vs. Passive Income
When we talk about active income, we're talking about income that results from actively working. The chances are, most people you know make their money this way: they go to work, do their job and are paid for the job they've done and the time they've spent doing it.
When we're talking about passive income, however, we are talking about work where you do it once and get paid for it, or you at least do the bulk of the work and the rest is just maintaining it. For example, the idea of making money here on Vocal could be seen as a passive form of income: you write the article once, and then are paid per read or view, earning yourself an income that continues after the initial work has been done.
Active Income
Firstly, let's talk about active income. As a photographer, the most obvious form of active income is going out and doing photoshoots. As a portrait photographer myself, this is the way in which I make the majority of my income. But, not one to just point out the obvious and leave it at that, let's go into a little bit more detail about how you can actually get booked for your first shoot.
How to Get Booked for a Photoshoot
To start booking shoots, you really want to have nailed down three things: your audience, your portfolio and networking.
When we talk about audiences, it can be useful to try and identify your niché. A niché refers to a specialist subject or area of expertise. For example, within the photography field, fashion would be a niché, as would be sports, or wedding photography or music photography, for example.
Whilst it's not always essential to restrict yourself to one niché, it can help you to market yourself when you're first starting out if you do. Simply put, it's easier to identify who your target audience is and who you want to market to if you refine yourself to one area of photography. I would recommend starting out within a specific niché and then pivoting into other areas of photography that you enjoy as you grow your business.
Once you've identified your niché, you want to consider who your ideal client is. Understanding who you want to target is going to make it a lot easier for you to create marketing material and build a portfolio that is going to catch their attention and effectively communicate with your dream clients. The way you target wedding couples is going to be in a different way to the way you'd target a sportswear brand, for example.
The next step is to try and meet these ideal clients. Unfortunately, a lot of the creative industries revolve around the philosophy of who you know, not what you know, and because of that, networking is a fundamental aspect of running a successful photography business.
Networking can disguise itself as a lot of things. You could attend a physical event and network with people in real life, or you could use your online presence to network with your ideal client. Similarly, creating a good system of word of mouth and leaving a positive impression on the clients you do secure can go a long way in getting future work.
Once you've identified your audience and you're ready to network with them, it's time to ensure that you have a strong body of work to be able to put in front of your ideal client.
Building your portfolio is probably the most important of all three of these steps and there is an abundance of ways in which you can do so. For example, if you know someone that fancies themselves as a bit of a model, or you have friends who aren't camera shy, then asking them to model for you can be a great way of building your initial portfolio.
There are a lot of advantages to shooting with the people that you know. Namely, you're generally going to feel a lot more comfortable and will have more time and space to experiment, learn and try new techniques. Similarly, it's likely that the model will be comfortable with you too, given your existing relationship.
If you don't want to rely on your friends to model for you, hiring a model or reaching out to a modelling agency to "test" with some of their new faces can be a great method. Often, modelling agencies offer tests with their newer bookings on a TFP (trade for print) basis, meaning that both parties work for free in order to enrich their portfolios.
But if you're not looking to get into the portrait niché but instead you want to go into an area of photography such as products or food, then you're in luck. Producing and building your portfolio and food portfolios is arguably the easiest type of portfolio to build, as you can do it with the things around your house.
If it's weddings that you want to get into, consider setting up a styled shoot. Usually on a collaborative basis, you can reach out to a stylist, HMUA (hair, makeup artist) and a couple of models and set up a wedding-styled shoot to enhance your portfolios.
Once you've built this content, it's important to set up a good online presence for your work to live and exist on. This could be across social media or your personal website, but essentially you just want a place for people to be able to find your work.
Making More Money Through Upselling
Now that we've covered the basics of making money through active income, there are opportunities to push this further. For example, another form of active income is to upsell to your client. Upselling is essentially when you already have a client or prospective client and you offer them additional services to what they're currently looking for.
For example, if you're a real estate photographer, you could also offer the company headshots for their staff as well as the real estate content. Or, if you're able to do videography as well, offering them a promotional video alongside your photographs is a common and often successful upsell.
Passive Income
Let's talk passive income.
The first type of passive income that I want to cover is selling prints.
There are a few different ways of selling prints. As a photographer, you could choose to physically hold the stock and to process and ship that stock out. This method is a little bit more of an active approach since you have to order the stock and fulfil the orders yourself. However, there is a way to bypass all of this.
Print on demand is a great way of selling prints and minimising the amount of work that is involved. You can use websites such as Redbubble, Pixieset, Darkroom or FRONT (a UK equivalent to Darkroom which is launching soon) which allows customers to order a print and the website prints, packages and ships it to your client. You simply provide the artwork and take the profit. It's as simple as that.
Another method of making passive income is by selling stock imagery or licensing your photos. There are a lot of different places that you can sell stock imagery, such as Adobe Stock, Shutterstock and Getty Images, among countless of other websites.
Selling stock imagery is one of the simplest forms of passive income because all you have to do is upload your photos - maybe from a holiday or a walk in a forest - and you upload those photos to these sites and the users of the sites are able to purchase usage licenses. As well as photographs, you can also upload videos onto these websites and often videos sell a bit better as it's currently a less saturated market.
A top tip here is to pay attention to what is currently selling. If you can identify what is trending, you can identify what kind of content you can create to be in with a chance of making more sales.
With stock photos and print on demand, it's a good idea to have uploaded a broad array of content. Whilst you still want to ensure that it's quality content, having more content on these websites helps for the algorithm to work in your favour and increase the chances of your work selling.
Hopefully this guide will assist you in starting to make money from your photography! If you're interested in learning more about the business of photography, I frequently upload videos to my YouTube that you might find useful. Good luck and keep creating!