Creating a moodboard is a great way for you to clarify your vision and communicate the concept behind an upcoming photoshoot shoot, whether you're working with a full team or only a model. In this article I'm going tell you how you can create your own.
But hold up, what exactly is a moodboard? It's a selection of images which together portray a certain mood or narrative. These images are then shared with the photography team, so that everyone is on the same page. Check out an example I made here: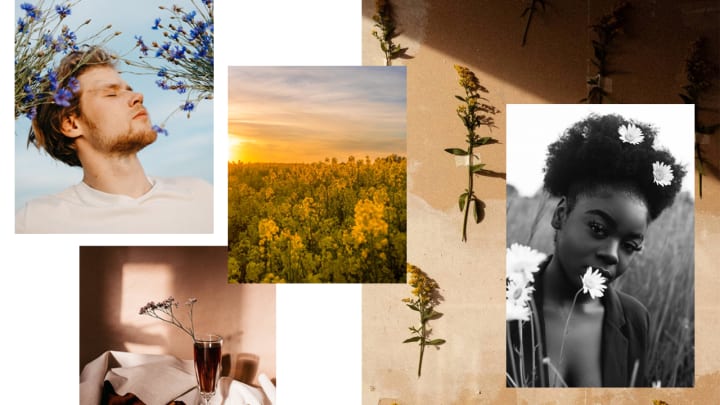 The above moodboard is warm, soft, and pretty, with a lot of floral imagery. It suggests that the photographer wants to work at golden hour and to incorporate flowers in the shoot too.
As you can see, from just one simple collage, a lot has already been communicated. But note that this is only a basic example, depending on the shoot you might want to include more images that show inspiring outfits, makeup looks, hair styles, and so on.
Moodboards work best when they portray the photographer's vision, and when they are shared with the entire team so that everyone can work towards the goal of realising this vision.
Now that you know what moodboards are and why they're useful, let's make one!
Step 1: Source the images
When you're putting together a moodboard, Pinterest is the place to be. Of course, there are thousands of inspiring images on the site that you can access by simply searching for keywords. But, even better than that, is the fact that when you click one image, a whole host of similar images appear below. This means that you can find a lot of relevant images very quickly.
I recommend creating a board on Pinterest especially for your upcoming shoot. To get the ball rolling, search on Pinterest for a word or phrase that's related to your theme, for instance 'floral photoshoot' or even just 'flora'. Once you find an image to pin, go ahead and do so. Check out all the related pins below this image to hopefully find even more suitable images.
Pin, pin, pin!
Once you've collected a few images for this board, Pinterest will get better at suggesting more images for you to add.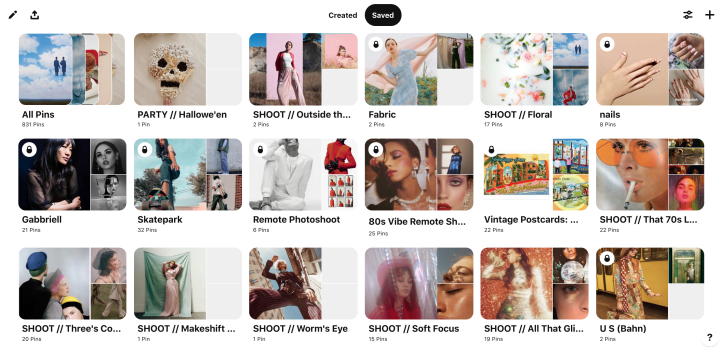 Step 2: Create the moodboard
At this stage you've got a lovely collection of images on your Pinterest board. You could simply share this link with your team, but it's more professional if you make an actual moodboard from the images you've found.
The easiest way to do this is to open up either PowerPoint or Keynote. You could also use Photoshop for this. Make a presentation with just one slide.
Now, simply go to your Pinterest board and screenshot all of the images that you've found that you think capture the vibe that you're going for.
Insert all these images into your slide. Move the images around until it looks good.
Look at your creation. Is this graphic conveying what you need it to? If there are any images that are overly distracting or don't quite fit the theme, just delete them. There is no need to overload your slide with too much, even just four or five photos could be enough to capture your vision.
Once you're happy with your moodboard, it's time to share it!
Step 3: Share the moodboard
Now, you may be thinking... Did she just commit the cardinal sin of stealing other people's images without credit? Don't photographers hate that? Well, not really. Let me explain...
The moodboard isn't something you're gonna share with the public. You should never be posting this on Instagram or including it in your newsletter. A moodboard is only for the team to reference. It should only be shared in private, and therefore it is okay to use the images you find online in this way.
So, who should you send it to exactly? Share the moodboard with anyone who will be working on the photoshoot. You can email it to the model, stylist, makeup artist, assistant photographer, hair stylist, set designer... whoever is involved!
If you're hoping to work with an agency model, you can also include the moodboard in your initial email to the agency. This could increase your chances of securing an agency model because it shows that you have a clear idea of the photos you want to take, plus the modelling agent can see if these kinds of photos are missing from the model's portfolio.
And remember...
A moodboard is a leaping-off point of inspiration for you and your team. It is not something to religiously stick to. On the shoot day, ideas are bound to come up on the fly. When they do, feel free to run them.
Don't feel like you can't try something just because it wasn't on the moodboard. Your pre-production and planning will guide the shoot, but embrace serendipity too!
_____
Want a step-by-step guide to planning your own photoshoot? Get a free trial of Skillshare and check out my class here: How to do a Street Style Photoshoot: Finding a Model, Location Scouting, Styling & the Shoot Day.
Follow me on Pinterest and Instagram, @shotbyclairep, too! Thanks for reading!