How I Lost My DRONE in the Lake!
What NOT to do when flying your drone
If you're a videographer like myself who loves new gear (let's be real, who doesn't?) and want to be able to diversify your portfolio with different shots and angles, buying a drone seems like an amazing idea and investment... but it comes at a cost.
No, I'm not talking about the cost of the drone. With DJI coming out with new cameras and drones all the time, it has become easier and easier for the average consumer or amateur/semi-pro videographer to acquire one without spending an arm and a leg. That being said, they're still not exactly cheap.
I currently work at Costco selling phones and at the time, they had displayed the Mavic Mini bundle for around $500 CAD. In the times where the traffic was slow at our kiosk, I would stare at the drone with wishful thinking. It honestly seemed like this drone was taunting me. I would walk past it some days and other days I would pick up the information card and read the specs and what was included in the bundle. Then I would immerse myself in countless YouTube videos of reviews and unboxings. I knew I didn't have the money and at the time and I didn't have the jobs that made it necessary for me to buy it. There wasn't the return on investment yet until I had a client who required me to have one. Then, I had a client who wanted to do a shoot that required one.
So after staring at it for weeks, I finally was able to bite the bullet and purchase one!
Having bought a drone, I felt like I had all the gear I could ever need. I had my mirrorless camera (Nikon Z6) with the 35mm and 85mm Nikkor Z Mount lenses 1.8 aperture. I had the Ronin SC gimbal for stabilizing and the GoPro Hero8 action camera for tight spaces, wide shots, time-lapses, and any quick action shots. With the drone, I had everything I needed. I felt like a real filmmaker that people would take seriously.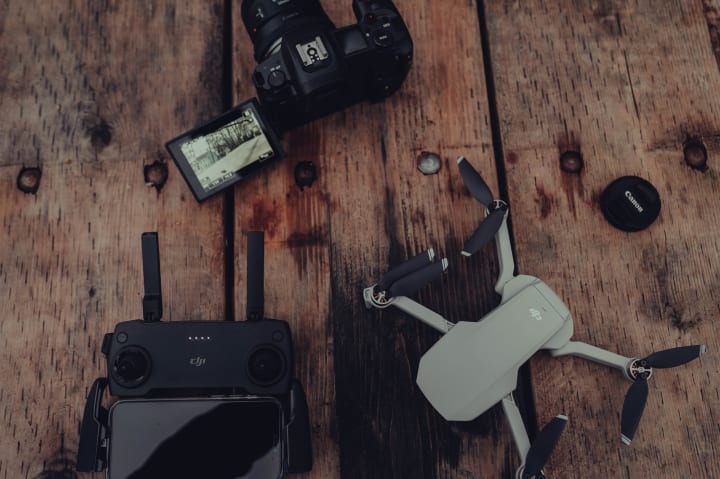 The problem is, I didn't take the time to properly learn how to fly the drone before becoming ambitious cocky because I felt that I was a confident and capable filmmaker. What I didn't realize was it was a different beast than anything I had dealt with before. It was more than just using a camera; there was a portion of it that required flying and steering the device!
I took it out on a windy day with some friends during golden hour. I decided it would be a good idea to make some bold moves by flying the drone underneath a tree and between my two friends and then out onto the lake. The lake with the sun setting on it was so beautiful. Once I flew it out, it hit a branch and I was sure it was going to go into the water but I was able to correct it and save it from going in... this time.
I flew the drone around the lake and when I was ready to fly it back to the dock, I decided to fly back in the same DANGEROUS way I flew out. This would ultimately be my downfall as the drone hit the exact same branch and fell into the lake.
We then had to jump into the water and spend the next hour in the lake looking for the drone I had just bought and needed for a shoot the next day!
We didn't end up finding it.
Thankfully my client was understanding and we worked something out for them.
Shortly after this catastrophe, the Mavic Mini bundle went on sale during the Boxing Week deals and I bought it for the second time for around $400 CAD. Definitely an expensive mistake but I absolutely have learned my lesson. I've flown the new drone a couple of times and miraculously haven't lost it or sunk it. I think a good idea would be to try to avoid doing anything risky especially around large bodies of water in the future.
In this chapter we will look at several questions. What is the relationship between photography and memory? How can a still image/photograph produce or recall memories? What information do we get through photographs and through memories? How do memories transform through language and what does naming/defining memories do in terms of remembering and forgetting? How do the images/memories exist through projection?

Using the help of tools, heal, water, and even fire, these 10 Polaroid manipulation techniques are sure to amp up any photographer's skill set. With some of the coolest end results, these methods will transform your photography with your own hands.

Smartphones have come a long way to become an essential part of our daily life. One of the biggest advantages of Smartphones, apart from its other capabilities is the camera. Smartphone camera fulfils the majority of tasks in everyday life from selfies, social media posting to event photography and video recordings. Smartphones are smaller, thinner and lightweight as compared to digital cameras, and can easily fit into the pocket or purse. Due to the convenience and camera enhancements in recent years, many professionals prefer smartphone cameras over digital cameras. Although, Smartphone cameras has not replaced digital cameras, but they is fast gaining the advance features through their hardware and software enhancements.

I've loved taking pictures since I was a kid. Everywhere I'd go, a camera always came along too. Until a couple of years ago I never thought about actually making money from them. It was just something I enjoyed doing.

Lighting for video takes some skill. It's not an easy task. It took me a while to figure out what looks right, what looks natural, and what the heck I actually wanted when I was given a script or wrote my own script with specific settings.

My motto is "bare your skin," meaning be yourself in life and find comfort in being you. As a photographer I try to have the people I photograph become comfortable around me and be vulnerable with the camera. It is important to me that I am able to show people the beauty that they bring to this world and that is something I am working on doing for myself. Now we all know the statement, "photographers are the worst subjects." Yes, it is true at least for me. It is this sense of lack of control, we've made it up in our mind that it is already a bad picture or that we are not photogenic enough.